Coworking and nomading is a shift from traditional 9 to 5 working schedule. As a digital nomad, you may be isolated trying to get your work done from hotel/hostel or Airbnb.
Coworking space is not just a cool office established near the ocean, urban jungle or countryside, it's also a hub full of creative people like you, innovational ideas from start-upers, designers, IT gurus, independent entrepreneurs or writers what can be beneficial for the growth of your business indeed.
No matter wherever in the world you are, with our list of the coolest coworking offices in amazing destinations across the globe you'll find the right place to be for you and your laptop.
Put your hands up if you would like to work 100 meters from the beach and pumping waves in the tropical paradise. Well, who wouldn't!
Dojo Bali is a community of inspiring entrepreneurs and nomads from across of the globe. Dojo often take advantage of the presence of top brains from the industry and organizes events such as knowledge sharing, think-tanks, workshops, popular community BBQ, networking events, community trips.

During the work is necessary to refresh yourself. Dojo offers a range option in their café or just next door is a popular and highly addictive smoothie hub Nalu Bowls. If coffee doesn´t take the desired effect you can dip into the pool or the ocean which is 2 minutes walking distance.
Dojo is definitely the best spot to truly experience the digital nomad lifestyle at it's BEST!
OTHER COOL ALTERNATIVES IN BALI:
What about Egypt? Is it on your bucket list? If it's not, it should be so that you don't miss out on this paradise. Dahab, South Sinai is an amazing old hippie beach town along the Red Sea with incredible diving and affordable prices. Dahab is the place where modern Digital Nomads meet the original Nomads, the Bedouins.
Those who visit Dahab always return or stay way longer than planned. The expat community and locals mix their different cultures and religions to live peacefully together. Visitors and locals connect over the love for this magical place.
The CoworkInn Dahab is the very first Coworking Space on the Red Sea and offers all that you need. Located directly on the sea in the heart of Dahab. With the best Wifi in town, Skype space, Meeting Room, Pool access, Yoga studio (offering all different types of yoga classes), stunning view of the sea and amazing mountains of Sinai. All of this has created a very strong community with plenty of events and trips in and around Dahab.
Bansko is a small mountain village in the gorgeous Pirin mountain range in Bulgaria. In the summer there are only 8000 inhabitants, but in the winter this ski resort has 40,000 hotel beds to fill. The magic of this rural location is the growing community of digital nomads that Uwe and Matthias have built in the last 18 months since opening Coworking Bansko.
There are many events and activities to grow your business, to make connections with other members or to have fun in the mountains. The winters are full of amazing skiing and snowboarding opportunities, while in the summer people go hiking and mountain biking. Plus there are some world-class music festivals organized every July and August by the municipality.
Bulgaria is also an attractive location due to its 10% flat income tax and buying a studio in Bansko is possible for €10k, so a lot of the otherwise transient location independent members have started to move their residency to Bansko to create a base for them.
Personal review: I've spent 2 months working from La Casa Redonda coworking space. It's located in very cool neighborhood, called Laureles, which is definitely the best choice for a digital nomad in Medellin,.. in case you wanna avoid Poblado (the most touristic part of the city).
Laureles is affordable, has digital nomad meetups, good cafes & restaurants, local vibe.. (not too much of a party, but for that, you go to Poblado which only takes 10-15 minutes in Taxi, or 45 in traffic).
La Casa Redonda is spacious 2-floor artistic building with an amazing rooftop where you can chill or attend meetups (BBQs). You will meet a bunch of digital nomads from all around the world and very welcoming local entrepreneurs who will become your friends in a few days.
Puerto&Co – Puerto Viejo de Talamanca, COSTA RICA
Costa Rica is not yet a well-known destination for digital nomads, but that may change soon with beautiful workspaces opening throughout the country.
If you have been working for the last year or more in South-East Asia, it's probably time for a change. Costa Rica doesn't offer the same in terms of cheap prices but provides something incredible, which is its rich biodiversity. There's no place like Costa Rica.
Puerto Viejo de Talamanca is a small village in the Limon province. You'll be blown away by the charm of the area. Waking up to howler monkeys, biking by the beach and surfing in the Caribbean Sea. It doesn't get any better than that!
And to top it up there's a unique coworking space in the center of town, Puerto&Co. There are literally no walls (a truly open space) in this cowork and they offer a fast and reliable fiber optics internet connection as well as a couple of meeting rooms.
Canary Islands are becoming a popular choice for digital nomads in "Europe" (Africa). The main reason might be the clima!
Weather is amazing all year long and there are plenty of options for sports activities (surfing, kite surfing, hiking etc.)
Since it's the biggest WINTER HUB for nomads in Europe, we've decided to list, CoworkingC, one of the oldest coworking spaces in Las Palmas.
It's super nomad-friendly, spacious and located in the heart of Las Palmas. They organize a bunch of events & meetups! The most known is Nomad City. The second edition will happen this year in December 2017.
You can also use the option of co-living and rent a place in their 4 bedroom apartment. With these guys, you will get proper nomad & local experience ever.
In case you would like to try other islands, here are few recommended coworking space around: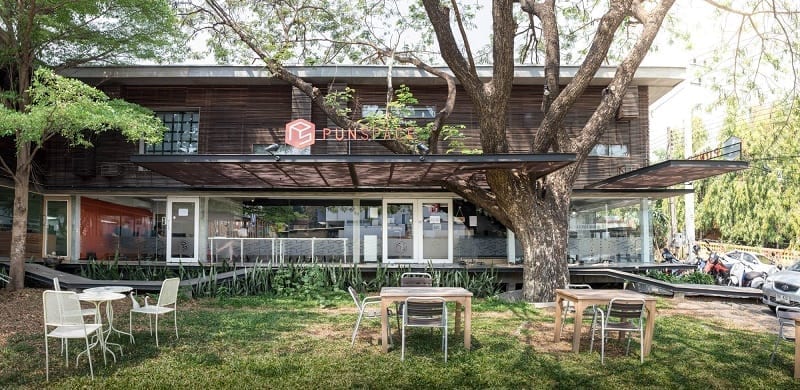 Chiang Mai is a popular Thai destination of digital nomads. North of Thailand is happy to have Punspace and its members can switch between two locations with 1 membership:

Punspace Nimman is for those who want to stay close to many popular coffee shops, restaurants, pubs, bars, as well as to banks and convenience stores. The tranquility can be found in the courtyard during work breaks.

Punspace Tha Phae Gate is situated in the old city part of Chiang Mai close to many cultural landmarks as well as good food and drinks. Burkta Coffee downstairs serves good coffee to energize you all day and Makerspace next door provides access to tools and machines for making your own products.
The capital of Germany is undoubtedly a hub for creative minds from all around the world. Freelancers, startups or CEOs of companies come to the city for inspiration, enhance their skills and meet like-minded professionals.
Betahaus aims to foster entrepreneurship, creativity, rapid prototyping and innovative product development. The concept is a reaction to changing constellation in working habits. Nowadays more and more jobs are less dependent on permanent locations. The ideas are being born in different locations and conventional structures are shifting towards flexibility.
At Betahaus the workspace meets the network of independent entrepreneurs who can work together or spend time with people in an environment that naturally boost productivity, inspiration, and motivation. As they say: "However you collaborate; it will help you accomplish goals and develop business opportunities."
In collaboration with professionals from various fields, at Betahaus are held approx. 50 events every week to support the development of the community.
Betahaus also launched an Academy which offers plenty of courses such as marketing & business development, crafts or web design. Courses are for small groups taught by experts to help people deepen their knowledge or give the opportunity to learn something new.
Moreover, if you plan to roam around the world you may find useful a Member card. Except for own network of 4 coworking offices (Berlin, Hamburg, Sofia, Barcelona) Betahaus is partnering with coworking spaces in the United States, Italy, Denmark, Bosnia, and Herzegovina.
Holder of Member card has 5 free days per month whilst in Betahaus offices you can work as much as you want. Check out regular updates of the list and new offices joining the partnership.
MOB creates a chain of possibilities between professionals who may not have a chance to get to know. Creating cross relations between your new friends and their friends is a initial part of reaching community goals.
MOB acts as a facilitator in this process providing all the necessary tools to turn ideas into something real.
Other alternatives:
Impact Hub is a coworking network focused on building entrepreneurial communities for impact at scale. To reach this objective, they offer three main things: Community & Workspace, Startup Support and Programs & Events.
Impact Hub has more 100 offices in more than 50 countries, with about 16000 members all around the world with very diverse and complementary backgrounds.
Located in Alcântara, close to the surprising LX Factory and inside the Carris Museum complex, Impact Hub Lisbon has a large and very bright coworking area, decorated with many plants. This former warehouse has high ceilings with loads of natural light. The vintage furniture creates an informal and relaxed atmosphere to enable creativity.
It also has an amphitheatre to hold all kinds of conferences, talks and presentations, as well as a meeting room and two private Skype booths. Finally, it has a large kitchen/dining room with many things available to members, (free!) coffee and where events are regularly organized for members of the Lisbon network!
Finally, how not to talk about Lisbon, the Portuguese capital that has managed to keep its authentic character and its unique atmosphere in Europe, which today attracts more and more companies and digital nomads!
With Impact Hub Lisbon, you will not only be able to enjoy its incredible community in this beautiful city, but also all the benefits of its huge network around the world!
A unique combination of work & surf coworking office was created by Slovak entrepreneur Peter Fabor. What was his intention? "I couldn't find a place where I could work, live and surf." Surf Office has now 2 branches offering accommodation, workspace, and community activities.
One is situated in the heart of Portugal's capital city Lisbon and the second on one of the world's top urban beaches, in Las Palmas de Gran Canaria. Let Surf Office inspire you from Surf Office on Vimeo.
Other "coworking" alternatives in Lisbon:
Photo Credit: Off The Path
In the heart of the Maboneng Precinct, OPEN coworking office offers an inspiring, creative and unique environment in which to work, meet and innovate. Entrepreneurs who prefer an uncluttered space will clap their hands.
A comfortable environment offers desks and meeting rooms with 2 essentials for every nomad: a great coffee and reliable Internet.

Johannesburg City Centre has a vibrant energy to the spot has become a widely popular destination between those who love to feel the urban vibe. Within OPEN was established a creative and collaborative community of professionals who share the inspiration in this network of workers and motivate to you expand.
CocoVivo is a special pick on my list because of its stunning location for those who want to connect work with a stay in a beautiful remote area.
With accommodation for up to 20 people, Wi-Fi, two kitchens, an indoor meeting space, an outdoor meeting space right above the Caribbean Sea and may activities provided by the resort you will find perfect work-holiday balance.
The area is perfect if you need to focus on projects without any distractions. After the work, you can relax in a hammock, try paddleboard, swim in the Carribean sea, go diving, hiking in the jungle or explore the magnificent world-class reef right at the doorstep.
Jump off the diving board in the cabin and snorkel through the magic underwater world of brightly colored coral, fluorescent fish and bioluminescent plankton, accompanied by wild dolphins and turtles.
Canadian network of entrepreneurs is located in a cool bricked house and shares the passion for the development of new businesses.
BrightLane's motto says it all: "Comfortably your business, we take care of the rest." Join the flow working together on King Street West and inspire yourself to expand your business, find new clients or customers or widen the network of your partners.
The Box Jelly – is one of the first Hawaiian locally-owned coworking offices in Honolulu! Their vision is simply "to create a central place for independent people to be able to work in a community", says the owner Rechung Fujihira for PBN.
The whole community is expanding very fast along with the digital nomad trend regardless of the high cost of living in Hawaii. It's becoming one of the biggest international hubs for digital nomads and international entrepreneurs.
While staying in Hawai, you should also check out:
Design Spaces – San Francisco, USA
Coworking office in San Francisco is a hub for start-ups and already hosted companies many incubators. The owners know the current trend of abandoning traditional jobs.
Although they have pros and line up life, it comes with sacrificing our freedom and ability to fully control our lives. Work community in Design Spaces can help you to beat the loneliness and bring your ideas to reality.
CANOPY is the most exceptional network of shared workspace and private offices for freelancers, digital nomads, agile companies, and entrepreneurs alike with locations in three famous San Francisco neighborhoods.
Interior is designed by 2 friends, creatives Amir Mortazavi and Yves Behar and built out by M-PROJECTS.
Coworking CANOPY comes with creative & modern design, generosity of space, a distraction-free environment, flexible membership plans, and concierge-style services & programs. CANOPY centers on the premise that where you create, work, grow and become a successful and productive individual.
CANOPY coworking space is a member of The Global Collective, a group of workspaces around the world that have the same culture and focus on the same values.
All members have access to any of The Global Collective workspaces around the world gratis for two days per month, including locations in Europe:
Blender (Manhattan)
Fora (London)
Fosbury & Sons (Brussels & Antwerp)
The Bureau (Paris)
The New Work Project (Brooklyn, NYC)
Price starts at $275/month
Australian largest coworking space has an added value of a network of mentors, investors, service providers, potential customers which you´re seeking at the very beginning of your business.

Fishburners is a non-profit organization which means a competitive price of the membership thanks to the sponsors. Own coffee and beverages in the fridge is a treat. Members have also access to special offers and discounts, events, workshops, and community fun activities.
Outsite is a high-end co-working space network for digital nomads around the world! It's also a coliving space which means they can accommodate you as well. This great concept can take your nomad and professional life to another level!
If you surround yourself with creative & successful and energetic nomads/entrepreneurs or other remote workers, you simply can go wrong and you will grow!
SELINA is a fast-growing hostel chain for digital nomads but you could also call them coliving, coworking space or "hostels with coworking".
They focus on community and bringing amazing, creative and active people together. Types of guests can vary depending on the location. It might be sometimes more surfers, backpackers or hard-working digital nomads.
What we can say for sure, you always find SELINA in amazing destinations & premisses!