Fall is one of the best times to travel in the U.S., thanks to cooler temperatures and reduced crowds after the summer tourism peak. Even better, the autumn season brings gorgeous displays of fall colors as trees prepare for winter.
Pumpkin flavors, cozy sweaters, and crisp air make travel from September to December even more enticing. In fall 2022, enlist your favorite travel partner and check out these 15 best places to visit in the United States.
Door County, Wisconsin
Dairy farms, lakeside cliffs, lighthouses, and trail hiking are three favorite fall attractions in Door County, Wisconsin.
Fields of gold, quaint red barns, deep blue Lake Michigan, and autumn leaves together create the perfect palette for the season. Navigate corn mazes, haunted attractions, and even the Cookie Maze to test your internal compass.
Of course, Wisconsin is the Dairy State. So here, you simply must enjoy sampling cheeses and other flavors for which the region is known. They all taste better alongside local apple cider, beers, and teas.
Blue Ridge Parkway of TN, NC and VA
Whether driving or hiking is your preferred means for tree-peeping, tasting, and exploring, the Blue Ridge Parkway offers three states of enjoyment.
Connecting the Shenandoah and the Great Smoky Mountain national parks, the Blue Ridge Parkway is a scenic route treasured by Americans from coast-to-coast for its year-round beauty and hundreds of miles of hiking trails.
But fall is when the mountains put on their best show in hues of gold, red, brown, and green. Besides what your eyes can take in above ground, you can also enjoy the unique views of ancient underground caves.
Bar Harbor, Maine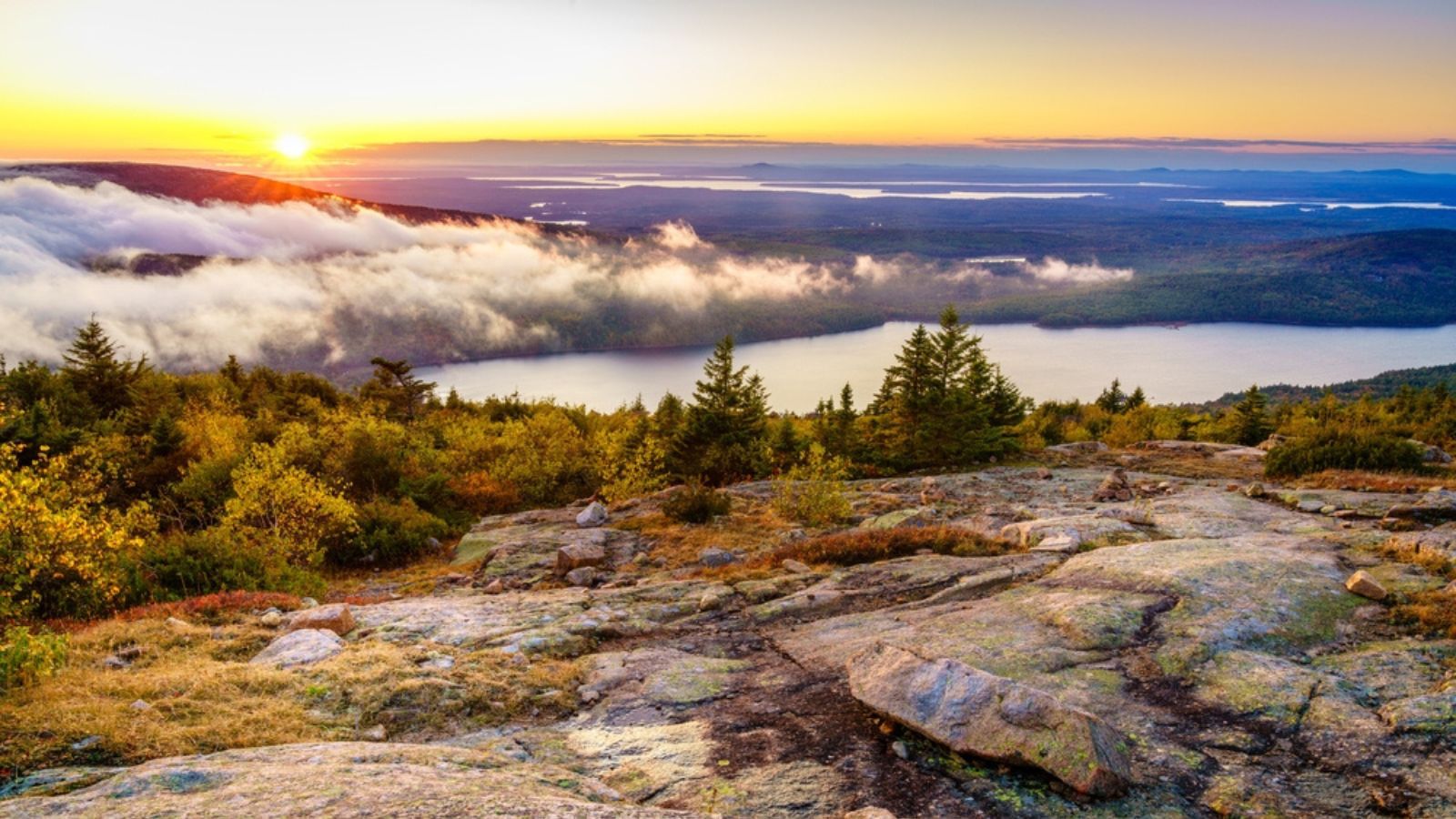 Maine's Acadia Byway is one of the most scenic routes you can drive in the 50 states, particularly during autumn. This 40-mile route skirts through Acadia National Park. It curves past beautiful vistas where the Atlantic Ocean meets a carpet of dramatic leaf colors beneath mountains awaiting their first dusting of snow.
Along the way, you can enjoy Maine's bounty of seasonal cuisine and preserves, along with a tasty microbrew. All of these flavors accompany the state's best-known fare, lobster during the peak of its season.
If Maine's world-famous leaf browsing and lobster rolls are not enough for your autumn entertainment, consider taking a whale-watching tour along the breathtaking coastline. Another option is a two- to five-day Windjammer Autumn Foliage cruise, running through September 30 each year.
Lancaster, Pennsylvania
Apple picking is one of the greatest traditions of fall. Nowhere is this annual event more colorful and authentic, than in the orchards around Lancaster, PA.
After you pick your fill of fruit, you can enjoy more of Amish country and its slower pace. This region is like taking a step back in time, to horse-drawn carriages and handicrafts.
Besides fall colors adorning every tree, there is something to see along every mile of the highway. Your taste buds will not feel left out, either. This region is perhaps best known for its baked goods and fresh produce sold in quaint roadside stands and farmer's markets.
The Berkshires, Massachusetts
Another great East Coast location for fall leaf-peeping is the Berkshire Mountains of Massachusetts. This time of year is also festival season, a time when you can usually find a nearby festival to attend every weekend.
Take in some chowder, fresh apple cider, or a local microbrew for a taste of Massachusetts flavor. These mountains are an easy drive to Boston, where you can continue your journey rooted in history, fall colors, and regional flavors, all with a distinctive accent.
Michigan's Upper Peninsula
The fresh, crisp air of autumn is the perfect time to explore Michigan's Upper Peninsula, just before the winter snows begin. As in New England, here you can find a bounty of fall colors topping trees along ribbons of scenic roads.
But unique to this area are Palms Book State Park and Porcupine Mountains Wilderness State Park. In these pretty managed lands you can explore by car and hike to peer into the crystal clear 40-foot natural spring and dozens of mystical waterfalls these lands offer.
Williamsburg and Jamestown, Virginia
If you are an American or British history buff, few places in the U.S. offer a step back in time as vivid as historic Williamsburg and Jamestown, Virginia.
Sure, fall colors and local flavors make everything around these quaint colonial villages even more beautiful. But you can learn so much about the founding of our country, at the same time.
Historic Jamestown Island takes you back to the landing place of the first New World settlers from England and right into the world of Pocahontas, Chief Powhatan, and area native tribes.
You can walk beneath a canopy of autumn colors on the island or explore the Jamestown Settlement museum. In Williamsburg, explore local shops, reenactments, and restaurants still housed in colonial buildings from centuries ago.
New York City
Although NYC may not be your first thought for leaf peeping, Central Park takes on a unique air and beauty during the fall season.
People from all over the world come to New York to enjoy its colorful autumn bounty. But that bounty is not just in the park. It is in every restaurant, farmer's market, and street Manhattan has to offer.
Explore renowned sites from history, movies, and TV while walking beneath falling leaves. Or shop until you drop in the spirit of the upcoming holiday season.
Stop for hot beverages or a microbrew in a historic pub. No matter what you choose to enjoy about New York City, autumn makes it all even better.
Woodstock, Vermont
A breathtaking region ideal for self-guided fall enjoyment is Woodstock, Vermont. New England is perhaps best known among travel agents and tourists for its fall colors. But the real bounty of Vermont trees goes beyond the visual senses. Here, you can enjoy the world of delights locals create with their world-famous maple syrup.
If maple-dressed pancakes are not your preferred dish, you can taste the flavors of Vermont in everything from toasty hot beverages and taffy to baked goods and ice cream.
Take a hike to enjoy picturesque views of mountains, colorful forests, quiet farms, and covered bridges. Or, enjoy Vermont from your car as you drive a ribbon of roads weaving your way to breweries, cheese shops, and other shopping delights.
Chicago, Illinois
Chicago is the mecca of the Midwest, a city best enjoyed in the cool air of fall. Here, you can enjoy a multitude of cultural attractions while sipping on your pumpkin spice.
Get into the spirit of Halloween by touring haunted attractions, in costume, or as you are. Leaf-peep in the Botanical Gardens or set out into the suburbs by car to enjoy a sampling of Midwestern farm season, complete with apple picking, corn mazes, and pumpkin patches.
Black Hills, South Dakota
Beyond Sturgis' annual motorcycle rally, South Dakota is not given enough credit today as a tourist attraction. But this home of Mount Rushmore offers so much more to take in.
The Black Hills are a fall favorite among those who know about South Dakota's true beauty. Exploring Custer State Park and taking in the rock spires and views of Through the Needles should top your list, too.
Ouray, Colorado
Called the "Switzerland of America," Colorado's Ouray is a picturesque mining village surrounded by snowy peaks and the San Juan Forest.
There is so much to explore in the Rocky Mountains, particularly before the snows when autumn colors abound. But topping most visitors' lists is Box Canyon Park with its 85-foot waterfall and Cascade Park's waterfalls, too.
You also simply must drive the Million Dollar Highway to check out the views that earned it this name.
Columbia River Gorge, Oregon
This 80-mile canyon along Oregon's Columbia River offers the perfect views to take in during fall.
But you do not need to stay in your car to enjoy this beauty. Put on your hiking shoes and really explore to get the most out of the Pacific Northwest.
Then, take in the flavors of apple and pear picking season, pumpkin patches, and a bounty of farmer's markets.
Yellowstone National Park
Fall is the ideal time to escape to Yellowstone National Park, Wyoming. Although temperatures are on the cooler side, ranging from 20 degrees to 60 degrees Fahrenheit, the crowds have thinned out since summer.
You can take a hike sure to provide up-close views of bears, elk, pronghorn, bighorn sheep, deer, moose, and eagles. Many seasonally closed roads stay open for bicyclists and the biggest brown trout are biting.
Besides all of these fun activities to pursue, you can take in the gorgeous fall palette of colors and crisp, clean air while sipping hot cocoa on your lodge deck or vehicle tailgate.
Monterey, California
Monterey, California remains temperature year-round. In Monterey, you can attend the longest continuously running jazz festival in the world during late September.
In October, catch the breathtaking Monarch butterfly migration between Mexico and Canada at the Monarch Butterfly Sanctuary in Pacific Grove.
Other options include sampling flavorful vintages at local wine-tasting rooms, taking a whale-watching tour along the coast, or visiting nearby The Farm or Serendipity Farms for pumpkin, fruit, and vegetable picking.