Although typically when we read into the world's best surfing spots we find ourselves being sent towards the west coast of the United States of America, Australia or to Bali on Java in Indonesia but the reality is that there are a great many amazing spots for surfing in Europe. That's why we have created this guide to the amazing surf spots in Europe.
Recommended read: Life is better when you surf??!! 🙂
From the United Kingdom to Spain from France to Portugal the surf in western Europe can be pretty spectacular when it wants to be! Traveling through Europe on the hunt for the best surfing spots would be a great way to spend your holiday in Europe and may find yourself never wanting to come home! Some of the places might be kind of pricey but definitely worth spending, so no excuses here!
Check out: Best Camps for Beginners & Advanced Surfers in Europe!
The weather in Europe is unpredictable at the best of times but if you get a good sunny day you could easily be in Bali or the Sunshine Coast of Australia for the waters are oh so very blue, clear and believe it or not even warm too!
If you are good enough you may find yourself touted to come and teach at one of the many surf schools along the coasts of Spain, France and Portugal. This is a great way to travel around Europe, see the world and teach what you are passionate about!
---
Table of content:
Portugal | Spain | England | France | Ireland | Canary Islands (Spain) | Italy
---
Peniche, Portugal
Peniche in Portugal has for many years been one of the most popular surfing destinations in Europe at it is not hard to see why. Peniche is very easy to access for there are many budget airlines like EasyJet and RyanAir that fly to many destinations within Europe for a very reasonable price. If you want to bring your own board then you will find yourself forking out a small fortune as budget airlines are famed for their stinging bagging prices.
Nevertheless, there are over 200 different surf schools in Peniche and ample beach from which to learn the ropes before you head out onto the water.
When? – The main season for surfing in Peniche runs from September through to October.
Check our comparison: Best hostels in Peniche for surfers!
Sagres, Portugal
Lots of empty beaches and amazing landscapes won't let you down. The waves are suitable for all levels of surfers so just find a spot that suits you best. The locals are not the friendliest but if you respect their culture and mind your own business you won't have any problems. You should definitely visit, Sagres won't leave you disappointed.
When? – the season is all year long but winter can deliver some pretty awesome uncrowded days.
When we think of Spain we think of flamenco and bull-fighting, not necessarily surfing but rest assured that Spain is home to some of the best surfing locations in the world, not just in Europe and San Sebastian is no exception.
The best time of the year for surfing in San Sebastian is in the winter months, the water is not as cold as in Cornwall, England but it is still pretty chilly. San Sebastian itself is nothing particularly special, quite built up with tourist resorts but that's not what we're about, we are about the surf, right?
When? – The surf in San Sebastian is best in the winter months of November and December. The temperatures sit around twenty degrees so not too cold to cope!
Mundaka, Spain
Accessible from the city of Bilbao, Mundaka is another of Spain's amazing surf spots. The surf is best in autumn and in spring and the tepid waters are a joy to be in. The beaches around Mundaka are perfectly clean with soft creamy sand. After a long day out on the water hang out in one of the many beachside bars and cafes and enjoy a freshly caught fish dinner washed down with some classic Spanish sangria.
When? – The best times to head to Mundaka for surfing are March and April and September and October.
Watergate Bay, like Sennen Cove, can be found in the county of Cornwall in south west England. Watergate Bay is far more popular with holiday-makers and tourists than Sennen Cove and as such you will find yourself battling for space on in the surf in the summer high season. That said, the best surf at Watergate Bay rises in the autumnal months of September and October.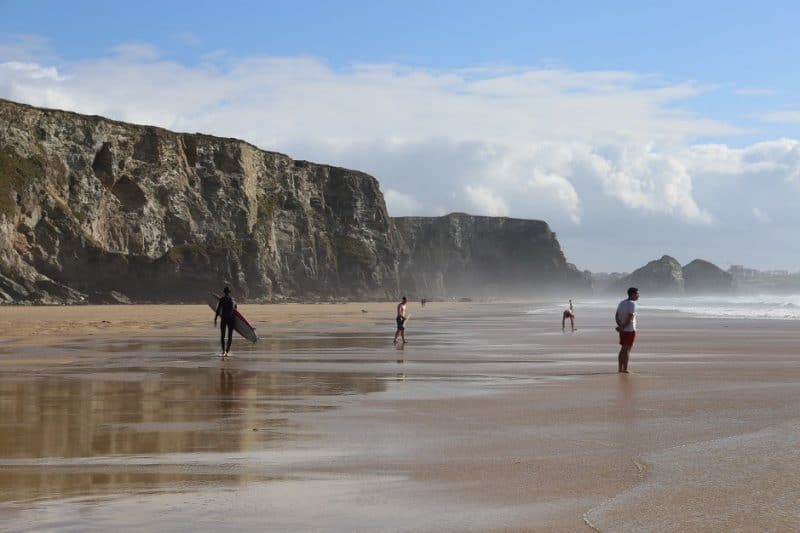 Watergate Bay and Sennen Cove are a short drive from each other so if you are heading to Cornell be sure to check out both spots and compare notes!
Sennen Cove, England
Sennen Cove is one of the United Kingdom's best-kept secrets when is comes to surfing in Europe. Sennen Cove can be found nestled away in the most southerly county of England, Cornwall. Surfing in the Atlantic Ocean can be bitterly cold at times so make sure that you bring your full suit with you!
Sennen Cove offers a good few surf schools too for those who want to learn how to surf or brush up on their skills. The surf at Sennen Cove is good for beginners in the summer, if you can deal with the busy beach that is.
When? – The best surf season for pros at Sennen Cove peaks between September and October.
Again, when we think of France we think of fine wines and Parisian cafes but Biarritz confidently makes the grade as one of the top ten amazing surf spots in Europe. Like with most places in Europe, during the summer months of June, July and August you will have to battle with the crowds for some half decent surf but, again, the best time to surf in Biarritz is in the winter months of October through to December.
For those looking to learn how to surf in a great location with easy waves the Biarritz is the place to go in the summer!
Lacanau, France
Sticking with France our list of amazing surf spots now takes us to wonderful Lacanau tucked away in the south west of France on the Atlantic coast. The small town of Lacanau has a typically French feel about it and is a great place to hang out for the summer if you want a relaxed and hassle free existence in Europe. Not as popular as other French beach resorts Lacanau is a hidden gem of this western European nation.
Lacanau has some wonderful beaches too with some great sand dunes to run down too if you fancy releasing your inner child!
When? – The top months for surfing in Lacanau are January and December when the rideable waves are in excess of 70% consistently.
Hossegor, France
Hossegor is arguably the best surfing spot in France. Hugely popular with local border and international travelers Hossegor is a must visit! If you choose to head to Hossegor then you are in luck, you can kill two birds with one stone and ride the waves at Biarritz too for it is just a short 43km drive away. Like with Sennen Cove and Watergate Bay remember to keep notes to pass on to your fellow surfers.
When? – October, November and December are the months when the surf at Hossegor peaks.
Many people think the Canary Islands are their own country and in many ways they are but they are firmly in the Spanish jurisdiction. If you want to eat, drink, chill, surf and meet like-minded travelers then The Bubble is the place to do it. A popular spot with backpackers making their way around Europe The Bubble is the complete package. What is more there are a tonne of cheap and friendly hostels to stay here too meaning you can stay for a long time and a good time too!
When? – The best surf at The Bubble spans a lengthy few months from November through to February.
Playa De Las Americas, Tenerife
Playa De Las Americas is lovely town of Tenerife Island which is the main spot for surfing but also for tourism. Therefore, you can start from there but spend some other days in more secret spots. Life there is quite affordable, even during the main season. It has perfect all year long climate which makes it ideal surfing destination for Europeans in Winter. Outside temperatures are between 22-28°C and water temperatures usually around 19-23°C and that's pretty dope, right?
As a highlight, you could consider the view you get while sitting on the board in the water waiting for your wave. Tenerife has the 3rd highest volcano on the island in the world and you can enjoy some seriously stunning views from there.
When? Main season for PROs picks up from October until February. For beginners it's ideal ALL YEAR AROUND.
Now, here is a country you did not expect to feature in this list! Ireland's Atlantic Coast does in fact boast some pretty good surfing spots and Bundoran Beach is certainly one of them! This beach even hosted the European Surfing Championships back in 2011 just to give you an idea of the wave quality.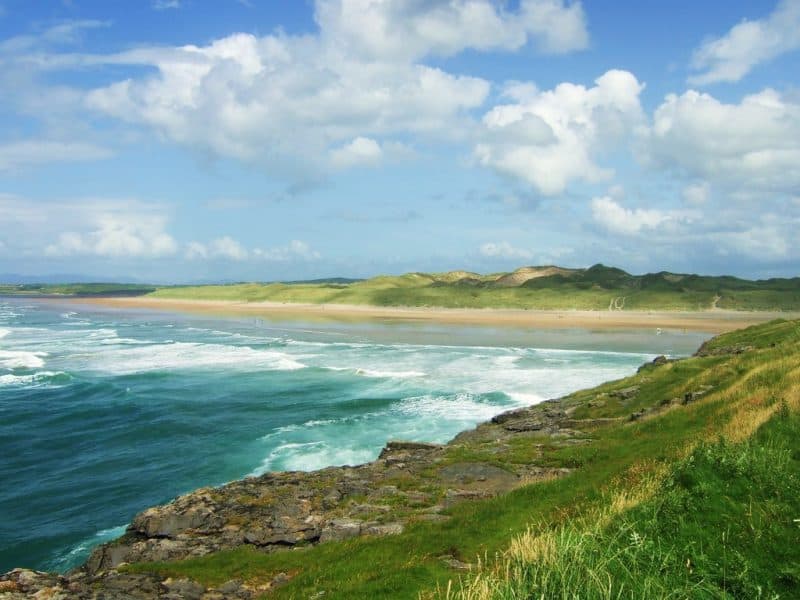 Bundoran Beach, Ireland (Photo credit: A_K_M_/Flickr)
When? – As with Cornwall in England, the best season for surfing in Ireland is autumn, between September and October.
Sardinia has so many surfing spots you can't imagine. It has the most consistent waves on the Mediterranean sea so you can't go wrong with choosing it for your surfing holiday. During the summer you can chill on the beaches on the sunny days and enjoy the waves on the windy ones. It also has many cultural monuments and hiking trails you can explore while you are on the island.
When? – the best time to surf in Sardinia is winter.
---
Author BIO: Linda is the founder of easytravel4u.com, she is passionate about traveling and also excited to share with you all her travel experiences and tips. Connect her via her social media Twitter and Facebook.