September 14: Torrential rains, flash floods, and a likely tornado hit New England. Hurricane Lee is up next
September 14: What should you do if you're traveling during a hurricane?
Desert News published a detailed FAQ article about how can you prepare if you're traveling during a Hurricane. (For more check here)
September 14: Hurricane Lee – live: Bermuda sees heavy surf as alerts issued across coastal New England
Bermuda experienced the onslaught of Hurricane Lee on Thursday, characterized by strong winds and hazardous ocean conditions, while conditions deteriorated along a significant portion of the eastern United States coastline.
This hurricane boasts wind speeds nearing 100mph and is currently tracking northward at 12mph, with expectations of accelerated forward movement into Saturday.
A hurricane watch extended across the U.S.-Canada border, encompassing sections of New England and reaching up to Nova Scotia. This Category 2 storm is anticipated to make landfall in either Maine or Nova Scotia over the weekend.
Hurricane Lee has expanded in size while remaining active in the Atlantic, with an unpredictable trajectory that may potentially affect the eastern shores of the United States or Canada over the upcoming weekend.
September 12: FAA Reroutes Flights After Storms Impacting The New York City Area
Thunderstorms in the New York City area on Monday evening caused disruptions to flights at the three major airports in the region. The Northeast experienced heavy rainfall and occasional lightning, leading the Federal Aviation Administration (FAA) to redirect certain flights and delay or cancel others.
JFK Airport experienced the highest number of flight disruptions, with 274 departures delayed, making up 37% of their daily operations. There were 70 flight cancellations at JFK, which reportedly had the fewest cancellations among the three airports. Boston Logan International Airport, although not in New York, also faced adverse weather conditions. The airport registered 245 delays, accounting for approximately 32% of its operations, and saw 75 flight cancellations, as per FlightAware data.
September 12: Hurricane Lee to Affect Bermuda: September 2023 Travel Alert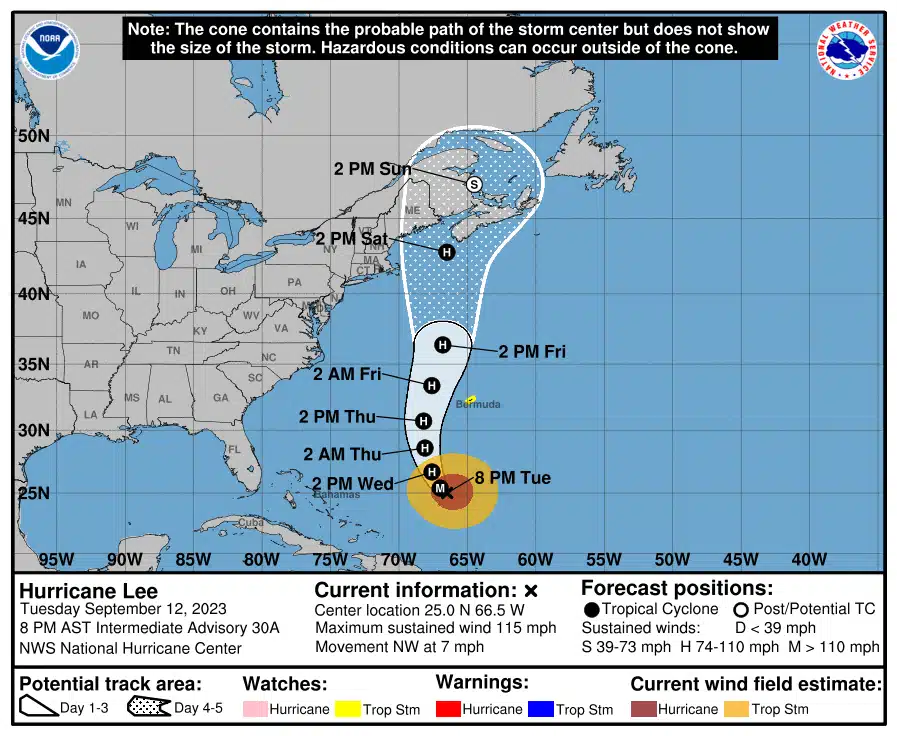 September 12: Hurricane Lee is impacting cruise itineraries (updated)
Hurricane Lee, previously located far out in the Atlantic for an extended period, is now affecting certain Caribbean, Bermuda, and Canada/New England cruise itineraries as it shifts northward. (Check for the updates on changes on seatrade-cruise.com)
LIVE: Tracking Hurricane Lee | NBC News
September 12: Hurricane Lee likely to pass New England's coast by the end of the week
The National Hurricane Center anticipates Hurricane Lee's trajectory as it moves northward from the Caribbean, possibly reaching the waters near the Massachusetts coast this upcoming weekend. However, the impact on New England remains uncertain at this point, as stated by Torry Dooley, a meteorologist from the National Weather Service based in Boston.
The tropical depression began its formation last week and rapidly intensified into a formidable Category 5 hurricane. Last night, Lee weakened to a Category 3 hurricane, bringing sustained winds ranging from 111 to 129 MPH as it traversed multiple islands in the northeastern Caribbean. Winds at this velocity have the potential to uproot trees, inflict roof damage, and result in power outages.
September 8: As Hurricane Lee Strengthens, Travel Could Be Affected
All eyes in the Atlantic are currently on Hurricane Lee, which has strengthened to a category 4 storm and could reach a category 5 as early as Friday. Hurricane Lee is the 13th named storm of the 2023 Atlantic hurricane season and the 4th hurricane. It is projected to reach its peak intensity over the weekend and will pose a threat to the Southwest Atlantic during the early portion of next week.
Hurricane Lee strengthened rapidly throughout the day on Thursday, intensifying from a category one, early the same morning. Though the storm is currently forecasted to make a turn, potentially missing the Southern United States, it could affect parts of the Caribbean, as it intensifies. Marine warnings are in effect throughout the Caribbean Sea and travel may be impacted during shoulder season.
How close the storm will get to reaching land may not be determined until late in the weekend. Computer models show Lee moving to a west-northwestern track, keeping it away from the US, but possibly moving it closer to Bermuda. If Lee makes a slower turn to the North, the Eastern US could be vulnerable to intense wind and rain, particularly areas north of the Carolinas.
It's still too early to tell just how the hurricane will affect the Northern Caribbean, but travelers are encouraged to watch Lee closely and to be prepared for possible delays and changes to travel arrangements.
Depending on the trajectory, the Bahamas, Bermuda, Hispaniola, and the East Coast could experience dangerous rip currents and high surf. The British and US Virgin Islands and Puerto Rico will likely stay safe from the more damaging effects of Hurricane Lee, but could experience rain and some high winds. Though the recent models are promising, this storm has the potential to be extremely dangerous and disruptive, so care should be taken when traveling to the Caribbean and Southeastern US.