If we should name one thing California is known for, it would certainly be its world's class beaches. The state is blessed with an 840-miles-long coastline and offers everything from developed beaches, such as Coronado Beach, Santa Cruz or LA beaches, to natural beaches, like the ones in Big Sur or around Point Reyes National Seashore.
Activities you can engage in include swimming, surfing, kayaking, scuba diving, hiking, and many many more. California is also a great spot for a family vacation and, of course, camping.
Suggested: Best places in California to Visit in May 2022
In total, there are more than 420 public beaches to choose from. But which one to go to? Don't worry, we have hand-picked the ten best of them so you could spend less time searching and more time having fun. So, here they are:
Capitola Beach, Capitola
Capitola Beach is one of the top beaches on the West Coast. It is secluded and tucked away from the busy life, yet near Santa Cruz.
The beach is extremely artsy and located in the middle of Capitola Village and is fun for everyone. You are sure to see kite flying, surfing, swimming, and volleyball on the beach.
What sets Capitola Beach apart from others is that it is enclosed on both ends by cliffs. Not only can you enjoy the beautiful water and sunshine, but you can also go shopping at Capitola Village. There are plenty of amazing shops around.
Moreover, you can eat at world-class restaurants and watch the sunset at Capitola Beach.
Pfeiffer Beach
One of Big Sur's few accessible beaches is also one of the state of California's most picturesque. Pfeiffer Beach, which is roughly 10 miles southeast of Andrew Molera State Park, is impressive due to the surrounding breathtaking cliffs and variety of rock formations.
Visit this hidden gem to take pictures of Keyhole Rock and explore the tide pools. Remember, however, that because of the underlying rocks and strong currents, the beach is not suitable for swimming.
Pfeiffer Beach, best known for its purple sand, is also popular with residents but relatively undiscovered by visitors to Big Sur. The beach is highly recommended for its breathtaking views of the offshore ocean stacks and occasional good surfing conditions.
This beach is good for climbing over the rough terrain, enjoying the views, or getting lost in the wilderness, as it is a long two-mile hike to Highway 1.
If you plan to stay overnight at this beach, try to reserve one of the spacious log cabins available for rent at Glen Oaks Big Sur, just 15 minutes away.
Santa Barbara Beach, Santa Barbara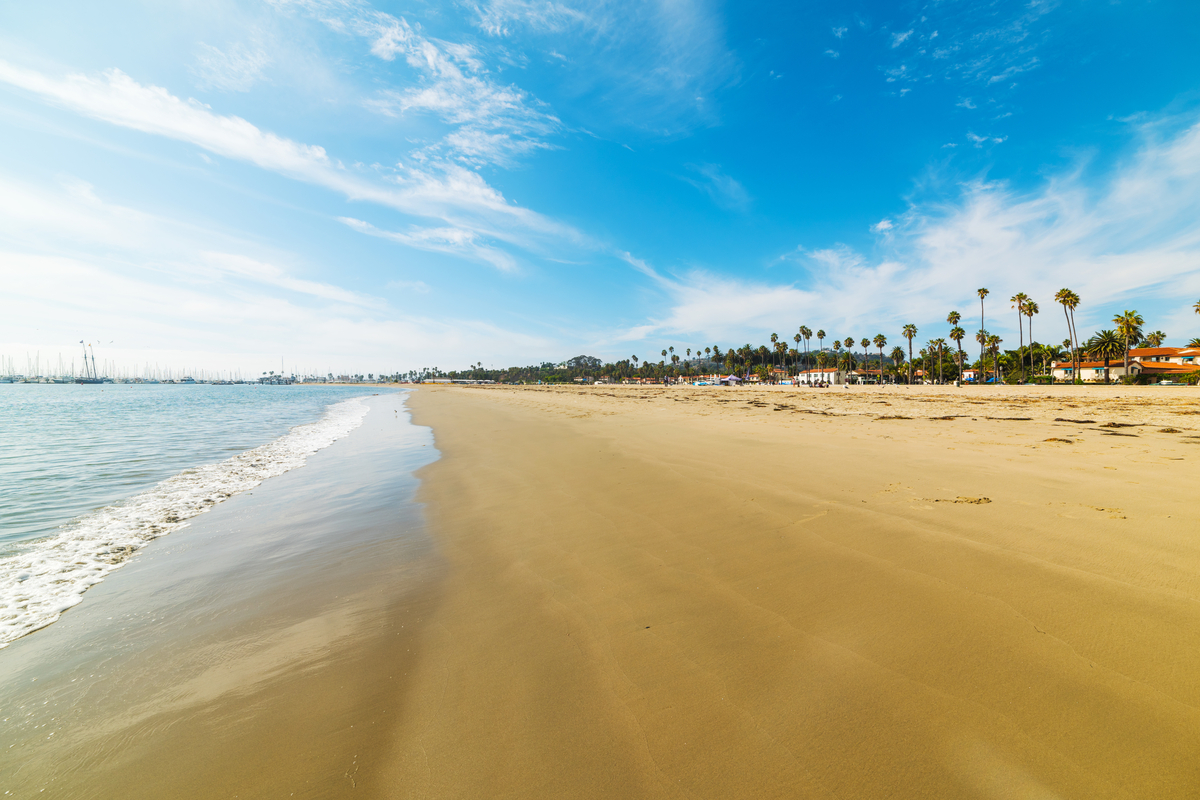 This beach isn't only known as one of California's best beaches. Santa Barbara was also named "America's Best Beach Town" by Coastal Living Magazine for its literary tradition, adventure, and natural beauty. The city's great beaches have drawn thousands of visitors to the area annually for over 100 years. That's why the city and county of Santa Barbara are popular vacation destinations.
Santa Barbara is one of the best cities in California when it comes to surfing. The conditions are consistently perfect. The waves are ideal for all skill levels, with plenty of spots to choose from. In addition to surfing, there are also plenty of things to do only a short drive away from the city. You can visit the Santa Barbara Water Garden and Butterfly Grove. Many wineries are also located around the city.
Torrance Beach, Torrance
Torrance is a highly populated city in Los Angeles County, California. It sits on the Palos Verdes Peninsula near the southern tip of the greater Los Angeles urban sprawl. It was incorporated in 1927 and provides a wonderful coastal escape to those looking for a beautiful natural setting with plenty of comforts nearby.
Some of the best beaches in California are located within this city, making it an attractive place to spend some time. The community comprises different residential communities spread out along the peninsula's coast to provide various vacation options for visitors and locals alike.
One of the most popular attractions in the area is Torrance Beach. The beach itself offers everything you need for a fun day at the beach, including showers, restrooms, a playground, and lifeguards to watch over everyone who visits.
The beach also has plenty of parking which can be an important aspect of your vacation if there is traffic during your holiday or if you are coming from farther away to visit.
Torrance Beach is also close to popular neighborhoods, including Redondo Beach and Manhattan Beach.
Malibu Beach, Malibu
Malibu Beach is a beach town located in Los Angeles County, California, on the shores of Malibu Lagoon. Locals also call it Surfrider Beach, named after the non-profit organization "The Surfrider Foundation."
This foundation has been responsible for saving over 9,000 waves along the Malibu coastline since 1984. Malibu's beaches offer some of the best in the entire state of California.
Malibu is a destination that attracts millions of visitors each year because of its proximity to many other famous locations and the local beaches in this area. The town is located approximately 30 miles west of Los Angeles and only five miles north of Ventura. Therefore, it is an easy drive from many other major cities in Southern California.
The beach area is also a surfer's paradise, and many Hollywood celebrities regularly vacation here.
San Clemente Island
San Clemente Island is a small island in the Channel Islands National Park located in the northwestern part of Southern California, approximately five miles offshore from the coast of Orange County.
Once a part of Rancho Las Bonitas, this island belonged to William A. Wilson. It was named after Saint Clemens by explorer Juan Manuel de Ayala. He traveled through the area in 1775 while looking for a route to China. The first European settlers on San Clemente Island arrived in 1818. That's when Spanish soldier José Castro came ashore and established an outpost called La Punta.
Some of the best beaches in California are located within this city, making it an attractive place to spend some time. The community comprises various residential communities spread out along the peninsula's coast to provide various vacation options for visitors and locals alike.
With the many beautiful beaches, landmarks, and unique shops, you can see why San Clemente is called the "Switzerland of America."
Santa Monica Beach, Santa Monica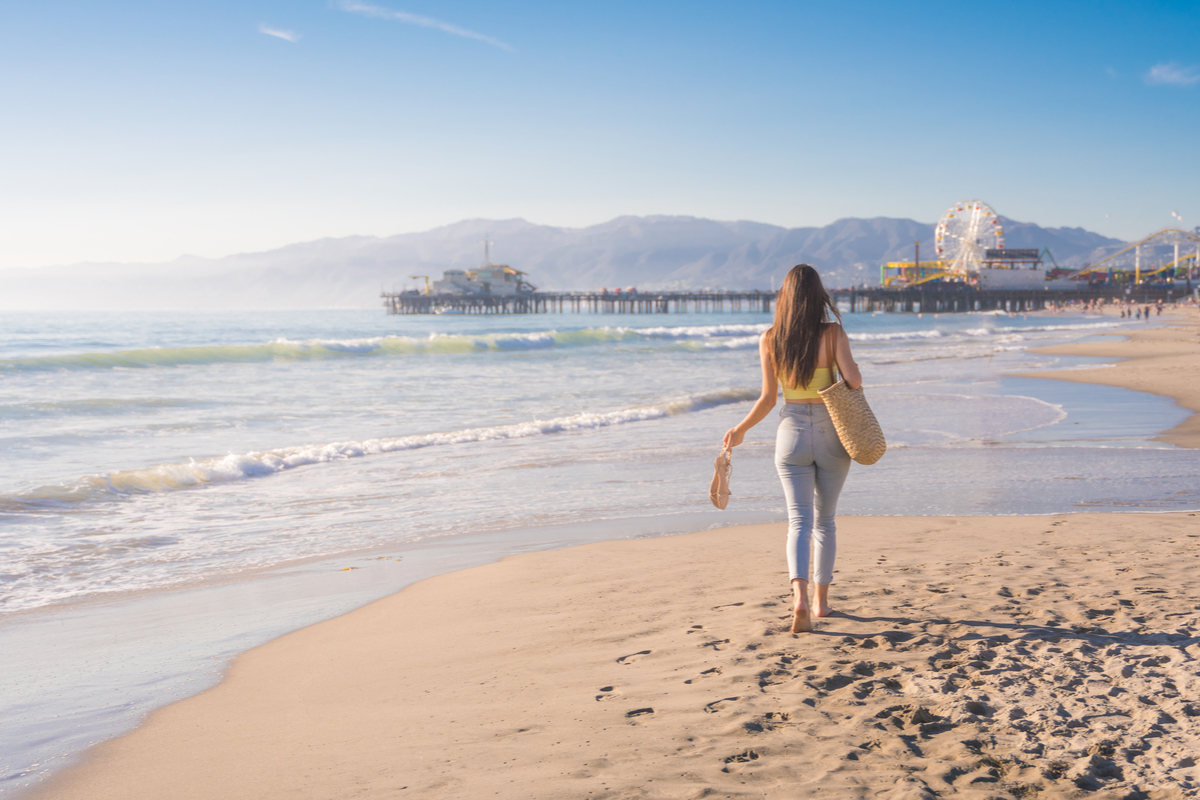 Santa Monica is a beach town in Santa Monica, California, on the Pacific Ocean. It has been a popular vacation destination for over a century and continues to attract both local and foreign tourists to the area.
There are dozens of attractions throughout the city that make it an attractive place to visit, including some of the best beaches in California. The beaches of Santa Monica are all ranked on their list of Top Ten Beaches in America and deserve their ranking for the comfort, beauty, and fun available while visiting this city.
The best places to experience nature are at the water's edge and some excellent beaches. This is especially true in the case of Santa Monica, where large dunes, small coves, and rocky cliffs are all a part of the scenery.
Much of the beachside can be walked or explored by bicycle, providing a leisurely ride along the coast with some amazing views to go along with it.
The beach has also been voted one of California's most beautiful stretches of shoreline. The city also prides itself on being one of America's top surfing destinations. That makes it a must-visit destination for anyone interested in learning how to surf or just listening to good music while browsing local surfwear shops.
Main Beach, Santa Cruz
Take a fun adventure at Main Beach in Santa Cruz. There is a popular amusement park and boardwalk at Main Beach which is why it is also known as Boardwalk Beach.
Main Beach is one of the best surfing beaches with thrill ride waves. If you are looking for a sunny beach in Central California, this beach should be at the top of your list.
Tourist attractions are located all around the beach. The waters at Main Beach are significantly warmer than other beaches, making it a go-to spot for sunbathers and surfers.
Bring your family for a fun-filled day at the beach and amusement park. There are both thrills seeking roller coasters and rides for the little ones. It comes as no surprise that this is a favorite summertime beach for families.
Coronado Beach – San Diego
Coronado Beach is a picture-perfect beach. It is also known as Central Beach. If you are looking for a postcard-worthy beach scene, this is it.
The beach begins at Hotel del Coronado and spans north to Sunset Park. The sand at Coronado Beach sparkles because it contains the mineral mica. Spend a day at the beach and relax or bike along the shores. This beautiful and serene beach is also perfect to have a romantic date or spend time with your family.
On the backdrop of the southern end of the beach, you can view extravagant homes. If you are a dog lover, you will enjoy North Beach, which is nearby. The northern end of the beach is also great for working out.
Coronado Beach offers free parking, restrooms, and shower facilities. Depending on the weather conditions, there may be lifeguards staffed throughout the beach.
Various fun activities like paddleboarding, surfing, swimming, and boogie boarding can be done at Coronado Beach. No wonder it was named one of the best beaches in the U.S. multiple times.
Huntington Beach
Huntington Beach is a coastal city in Orange County, California, noted for its beach culture and "blessed" status during the annual surfing event called the Huntington Beach International Surfing Competition.
The entire city of Huntington Beach lies approximately thirty miles southeast of Los Angeles and about a mile west of Santa Ana. The area is also home to many surfing hotspots such as Sunset Beach and Surfers Point, all located close.
The area is a popular surfing location for professional surfers and amateur enthusiasts alike. It has a small but highly regarded gay community, as well.
The Huntington Beach Pier is one of the sites in the local area that attract tourists. The pier features shops and restaurants and a steel cable suspension bridge extending over the water to serve as an observation deck.
Huntington Beach is also home to the world-famous Huntington State Beach and Huntington State Park. Those are just two of many attractions in this well-known beach town.
The fact that it's been awarded a Blue Wave Award for five consecutive years complements its beauty. In addition to a Blue Wave Award, it has also received the Surfer Poll Award for the Best Overall Beach in California. With all that it has going for it, Huntington Beach unquestionably boasts beautiful beaches and various activities to keep its guests busy and entertained.
Santa Barbara is a city located in Santa Barbara County, California. This city is known as the American Riviera due to its beautiful beaches. It also borders the Pacific Ocean. The city of Santa Barbara has a total population of 90,410. It also ranks as one of the safest cities in the country.
La Jolla Shores, La Jolla
If you are in San Diego, be sure to visit La Jolla Shores Beach. It is a mile-long beach filled with beauty and a crescent-shaped shoreline.
This lovely beach has sea cliffs and rocky reefs. The coastal landscape of this beach provides outstanding views. Both surfers and families love this beach.
Kayaking and scuba diving are both activities that are commonly seen on La Jolla Shores. Not only is the water beautiful, but on the northern end of the beach, there are sea cliffs and a nature walk.
Although the beach is small, it is a popular swimming destination because of its tame waters.
Stinson Beach, Marin County
Are you looking for a hidden gem? Stinson Beach is approximately 20 miles northwest of San Francisco near Mt. Tamalpais State Park, about 35 minutes from the Golden Gate Bridge.
The white sands make the beach a hidden North California secret. If you want to relax and watch the soothing waters or partake in a game of volleyball, this beach is the place to be.
Surfing, hiking, picnicking, and sightseeing are all great to do at Stinson Beach. Take a break from the fast-moving city life and enjoy the joys of white sand and beautiful water at Stinson Beach.
Carmel Beach, Carmel by-the-Sea
Carmel Beach is located on Ocean Avenue. The beach is centered on California's Central Coast. No matter what time you go to Carmel Beach, you will have fun!
The scenery is majestic and there are activities for all members of your family. Be sure to check out the scenic pathway to witness the true beauty Carmel Beach has to offer.
Carmel Beach is one of the cleanest and most well-kept beaches in California and the panoramic views are picture-worthy.
Navarro River State Beach, Mendocino
Navarro Beach is located at the end of the Navarro River in Mendocino County. It is also a part of the Navarro River Redwoods State Park.
This location is amazing for kayaking and canoeing. The famous Arch of the Navarro is located on the north end of the beach. The park is an added plus to visiting the Navarro River State Beach, which boasts driftwood-covered sand.
Sand Dollar Beach, Big Sur
Sand Dollar Beach is located approximately 7 miles south of Limekiln State Park. It is the largest unbroken stretch of sand located in Big Sur. It is crescent-shaped and filled with pale sand.
Sand Dollar Beach has a rocky coastline. The scenery includes tall sea cliffs and the bright blue waters of the Pacific Ocean. Although the coastline is beautiful, it is pretty hard to access.
The beach area also contains great parking, picnic tables, vault toilets, and a trail. The picnic area is located on the southern Big Sur coast.
Sand Dollar Beach is named one of the best places to surf in Big Surf. It is also a popular destination for fishing. Sand Dollar Beach is full of things to do and you will definitely not get bored there.
Point Reyes National Seashore
Are you looking for a great shoreline? Look no further. The Point Reyes National Seashore is 80 miles of shoreline with beautiful beaches.
In this area, there are over 3- beaches. When visiting Great Beach, plan for an all-day adventure.
Although it is close to Sonoma County and the San Francisco Bay area, you must take many rural roads to access it. But once you arrive, you can witness the breathtaking waters and scenery of Point Reyes National Seashore.
A fun fact is that the Point Reyes National Seashore was created to protect natural ecosystems and the wilderness.
Manhattan Beach, LA
Manhattan Beach is a harbor city located in Los Angeles County, California. It is just across the street from the more well-known Venice Beach, California. It is famous for its great beaches and scenic views.
The area consists of a few great beaches, one of which is Manhattan Bay Beach. This beach was voted one of the Top Ten Beaches in America. The Top Ten list was compiled by the "Surfer's Point Guide" magazine based on numerous surveys by surfers and others during the high season each year.
This beach has also been voted as one of California's Best Beaches by SandCastle Magazine. The magazine states that the beaches of Manhattan Beach are "clean, beautiful, and perfect for a fun and relaxing day in the sun."
Newport Beach
Newport Beach is a city located in Orange County, California. It sits at the southernmost tip of Orange County, across from Seal Beach, just south of Los Angeles.
This coastal city has approximately 100 miles of oceanfront beaches and bluffs, all within a few minutes' drive from town. The sand in this area is white or yellowish-white in color. There are also numerous rocks along the bluffs and coastline that you can access either by hiking or kayaking.
Some of the best beaches in California are all located within this city, which makes it an attractive place to spend some time. The community comprises various residential communities spread out along the peninsula's coast and provides various vacation options for visitors and locals alike.
Newport Beach has also been voted one of California's Best Beaches by SandCastle Magazine.
Trinidad State Beach, Humboldt County
Last, but certainly not least there is the Trinidad State Beach in Humboldt County. You can find this beach about 20 miles north of Eureka. There are astonishing offshore rocks, and the tide pools are noteworthy.
The beach stretches from Trinidad Head which is next to the stunning town of Trinidad. The location of the beach makes it easily accessible to visitors. Parking is no hassle, and you can enjoy a day trip with your favorite people.
Due to the cold water and sometimes dangerous waters, this beach is more for relaxing or walking. Take a long stroll on the beach and breathe in the nice scenery.
If you travel up the coast, there are the protected waters of College Cove. At College Cove, you can swim when the waters are calm. Great caution should be taken due to high tides.
Hermosa Beach
The word "hermosa" means beautiful in Spanish, and it is easy to see where Hermosa Beach gets its name. Given the caliber of the Southern California coastline, the two-mile sandy beach is undoubtedly one of the most sought-after beaches in the region.
Hermosa Beach, located about 20 miles southwest of Los Angeles, is a beach that can appeal to a variety of beachgoers. Visitors will find that the ocean is calm enough for swimming or great for surfing, depending on the time of year.
Visitors will love strolling along the beach, the 1,140-foot Hermosa Beach Pier and the mile-long boardwalk, where sunsets are especially magnificent.
Beach volleyball, surfing, paddle boarding and sandcastle building are just a few of the activities that make Hermosa a top beach destination, along with biking. Hermosa's main street is Pier Avenue, which is home to a number of popular restaurants, hip stores and lively bars.