Cancun in the Mexican state of Quintana Roo offers many beautiful beaches. That's why this sunny coastal resort is one of Mexico's most popular holiday destinations.
The Cancun area has so much to offer, including world-class shopping, dining, and nightclubs, as well as the famous Mayan ruins, found only in this part of Mexico.
But let's talk about the beaches. They are the main reason why so many people flock to this area, and they range from long stretches of sand where you can enjoy a casual day at the beach up to luxurious resorts with their private beaches.
Check out: Best beaches in Mexico post
Best Beaches in Cancun MAP
Latest Seaweed Sargassum Map in Cancun and Riviera Maya (JUNE 7)
Best Beaches in Cancun
Playa Tortugas
Located just west of downtown Cancun, this is a small but often very busy beach lined with many palapas and restaurants (some even offer free beach chairs and towels). There's also a popular beach club known for its foam parties.
The main advantage of Playa Tortugas is that it has something for everyone. There are activities like volleyball, basketball, and soccer. There's also a lot of shopping nearby if you want to pick up some souvenirs or other local handicrafts typical in this area of Mexico.
But what makes Playa Tortugas especially popular is that it's not very crowded at all until the weekend. And then it fills up, thanks to the residents who come here en masse from Thursday through Sunday for a day at the beach.
The downside is that there's quite a seaweed sometimes, especially after a storm. But overall, this is a very nice and clean beach with beautiful sand and near-perfect water conditions if you don't mind the occasional seaweed.
Playa Delfines (Playa Delfin)
It is one of the best beaches in Cancun, located just west of downtown near the Hotel Zone. It's got a great coral reef with many fish, so it's popular with snorkelers. There are also kayaks for rent.
There are plenty of palapas here, plus lots of beach chairs and towels available (for a small fee) at the many beach clubs, including bars and other facilities like food, stands. There's even volleyball if you want to play with other people who happen to be on this stretch of sand.
Some parts of the beach are a little rocky, but overall, the sand is soft, white, and very clean. The water conditions can't be beaten as this stretch of beach offers some of the calmest waters in Cancun.
Playa Marlin (Playa Palancar)
It is another very nice beach within the Hotel Zone area, located just about a mile west of the previous beach.
The water is very calm and crystal clear, making it a favorite for families with kids. There's also a popular seafood restaurant right on the beach if you want to grab some lunch.
There are palapas and chairs and towels at any of the many beach clubs along this stretch of sand.
If you want a luxurious experience, the Playacar Palace also has its private beach club a short distance from the actual beach. The only problem with this area is that it can get very crowded during holiday weekends or when special events are happening in Cancun.
El Embarcadero
It is a great spot for snorkeling with white sand and calm water. There are also boat rides available to take you out into the big blue.
There's plenty of beach access here, plus many palapas and beach chairs (for a fee) at several beach clubs known for their food quality. The area gets busy on weekends and holidays, but it's not as crowded here as in other areas.
Playa Caracol (Playa Tortugas)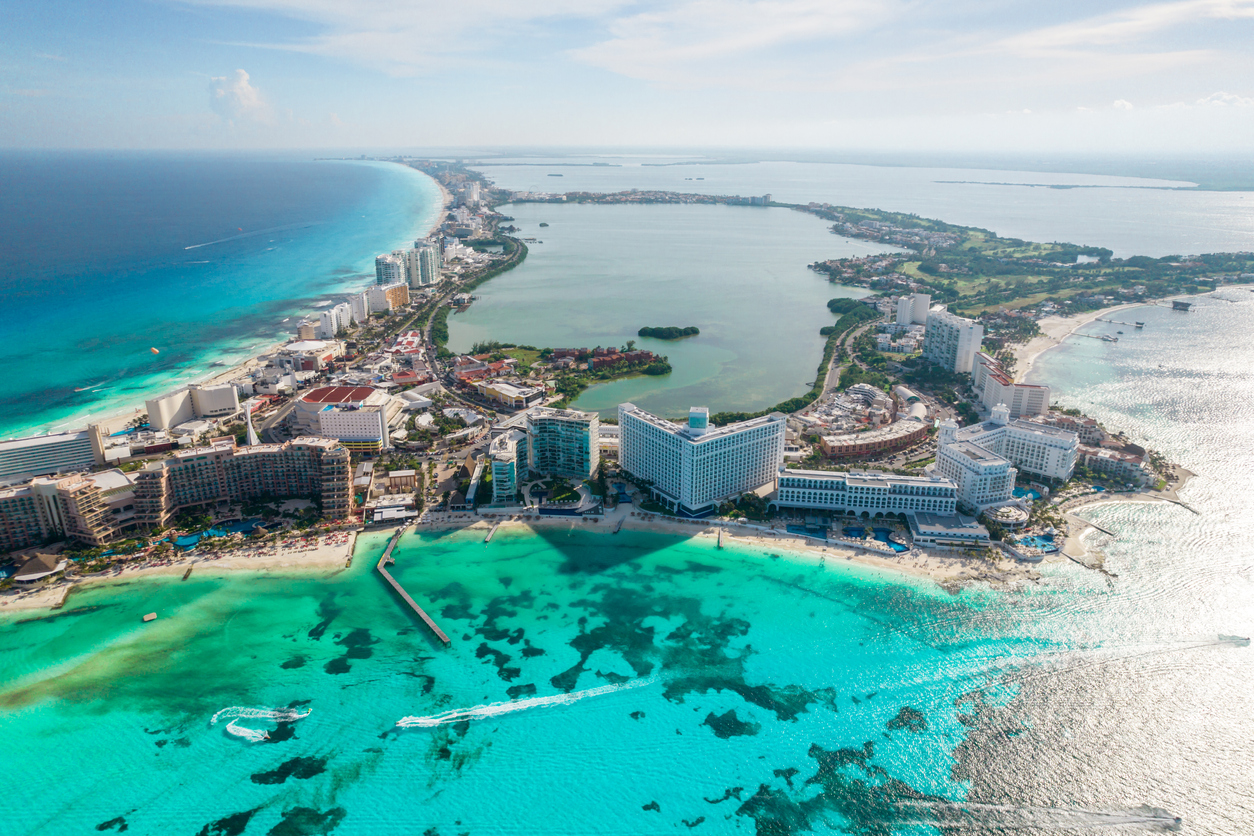 Located just to the east of downtown Cancun, this stretch of clean white sand is great for walking and relaxing among charming beachfront resorts. There are restaurants and palapas nearby, plus activities like volleyball for those who want to play on the sand.
There are also parasailing tours available here where you can float over Cancun's famous blue waters and catch amazing views of the hotels on this side of town.
Playa Marinero (Playa Langosta)
It is located about halfway between the Hotel Zone and downtown Cancun. There are many kayaks available here if you want to take a tour around Cancun's famous coastal area.
Beach chairs, towels, parasols, food stands, restaurants, bars, and other amenities are available at various beach clubs. The water is calm, so this is a nice spot to spend the day. It gets busy on weekends, but not during weekdays or holidays.
Are the beaches in Cancun swimmable?
Well, not all of them are. There are spots where the water is too rough to swim at. But overall, Cancun has some of the best beaches in Mexico, and you can easily spend a whole day by the sea relaxing or swimming.
It's certainly worth stopping by one or more of these amazing beaches during your next visit to Cancun.
Cancun is one of the places to go if you are an avid beach lover. Just about all beaches but one have clear turquoise waters, white sands, and plenty of hotels with bars, restaurants, and other amenities.
Over time there have been many developments on these beaches which means that several areas may be overcrowded, especially during holidays and special events. However, some areas remain relatively untouched by development, so you can still enjoy the natural beauty of these beaches.
Sian Ka'an, Biosphere Reserve
Located South of Tulum lies the biosphere reserve of Sian Ka'an, a UNESCO World Heritage with 23 archaeological sites, and some of the most stunning unspoiled beaches worldwide.

Visitors mostly access the beaches by hiking -with a guide- through the jungle to an opening. They can also drive down the Quintana Roo coastline from Tulum down to Punta Allen to discover some exposures.
Beachgoers can also engage in customized nature excursions away from the crowded mass group tours. These types of customized experiences are highly recommended since they allow unique access to the region's wildlife, coastal wetlands, lagoons, and hidden beaches.
So, Sian Ka'an is not only THE place to tan on the beach and explore ancient Mayan routes but also to spot endemic birds, dolphins, marine turtles, and over 500 species of fish.
Isla Contoy
First and Foremost, Isla Contoy is one of the few beaches in Cancun not affected by the dreaded Sargassum algae growth.
This pristine natural treasure is located just a few miles off the coast of Cancun, near Isla Mujeres.
Located on the second-longest coral reef in the world, Isla Contoy has gorgeous blue Caribbean waters and white-sand beaches. The location is ideal for world-class diving and snorkeling.
Over 150 species of tropical birds and four endangered species of sea turtles call the island home. On this strictly protected island, these animals and a few scientists are the sole permanent residents.
Here is everything you should know before visiting the island!
According to official sources, generally, a tour to Isla Contoy
"Costs between $100-150 USD and often includes Isla Mujeres.
Includes a light breakfast, drinks, snacks on the boat, and a buffet lunch.
Picks you up at your hotel in Cancun, Playa del Carmen, or Riviera Maya.
Takes you to Ixlache Reef for snorkeling.
Lasts from 9 am to 5 pm (not including pick-up time).
Does not include a $10 national park fee (payable in cash on the island)."
Costa Mujeres
Costa Mujeres is something of a hidden gem, close enough to Cancun to enjoy all it has to offer but still providing a quiet and tranquil retreat for your vacation.
It's a world of shallow, azure seas and white sand beaches of breathtaking beauty. Inland is the tropical rainforest and mangroves that are full of life.
Costa Mujeres also has its own impressive natural landmarks to explore, such as Isla Blanca beach, archeological sites, Chacmuchuc lagoon and much more. Isla Blanca beach is often regarded as the best beach in the region.
If you are not staying in one of the hotels nearby, you will have to rent a car, but it is definitely worth it.
You also need to be prepared for the fact that there are no public facilities or restaurants nearby. However, it is the absence of development that allows this beach to remain so pure and gorgeous.