Costa Rica is home to volcanoes, jungles, and beautiful, diverse beaches. Tourists visit this land to soak up the sun, swim, surf, and explore the laid-back beaches spread out along the coast.
The nature of its landscape begins to change as one moves from one place to the next. Some of the best beaches are located on the Nicoya Peninsula, situated in the North.
Check out: Best beaches in Colombia
Best Beaches in Costa Rica MAP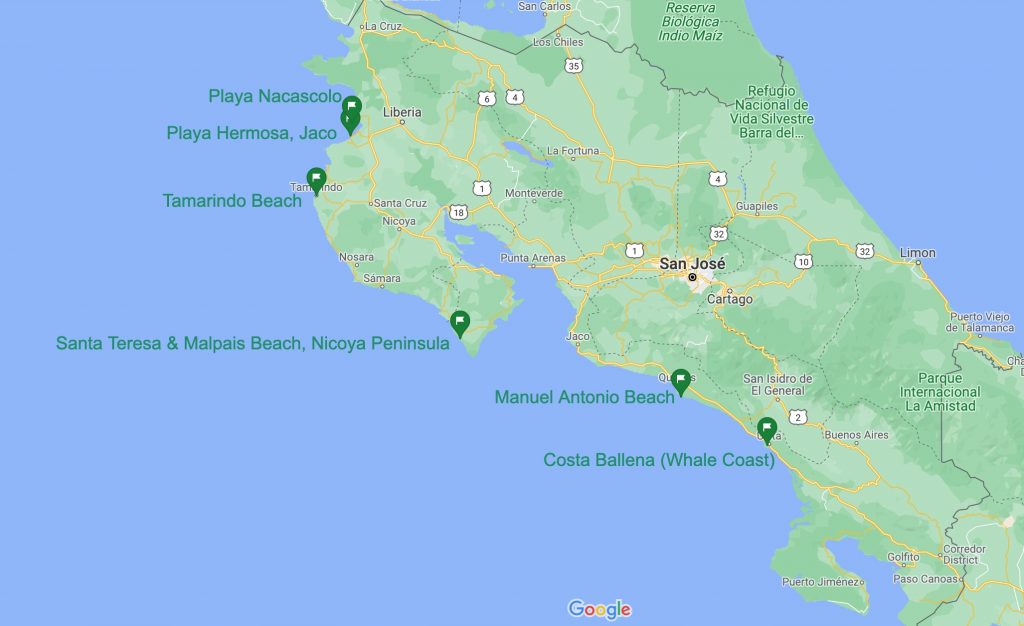 This list of the 10 best beaches in Costa Rica should help visitors decide where to vacation.
Manuel Antonio Beach
Manuel Antonio town is home to the Manuel Antonio National Park. Numerous beautiful beaches surround this park.
Playa Espadilla, for example, sits right in front of Manuel Antonio town. It's beloved by the locals for its clear water and small waves.
It measures around two miles long and is highly recommended for tourists who like to walk along the beach. It's also a great place to spend the day with family.
Playitas Beach is another beach a traveler may want to visit. It starts at a rocky headland, marking the end of Playa Espadilla beach.
Tamarindo Beach
Tamarindo Beach is the second most popular beach in Costa Rica. It doubles up as home to many restaurants, rental apartments, and tourist resorts.
It has many dining options and bars meant to entertain locals and tourists.
Tamarindo has exciting energy that can prove fun and infectious, especially for those who like to explore new locations.
Visitors to this beach love the idea of getting to fish and surf during the day and interacting with locals in the evenings by the beachside bars for happy hour drinks.
Playa Nacascolo
It sits on the northern end of the Pacific coast, a few miles from the Nicaragua border. The dry climate in Playa Nacascolo is one of its appealing features.
The drier climate in the area is relative to the far south. Often, the wet season starts in May and ends in September. But even during this season, the rains last for more than a few hours.
Short rains mean that visitors have enough time to soak up as much sun as they would like. Over the years, the region has developed a reputation for its swanky resorts.
If looking for something cheaper than a resort, visitors to Playa Nacascolo can always check out the other low-cost accommodation options on offer.
Adventurous activities to engage in on a visit to this beach include:
A visit to public beaches
Tour of local wildlife sanctuaries
Taking part in watersports
Costa Ballena (Whale Coast)
Hermosa Beach and Uvita Beach are beloved coastal treasures bordering the "Whales Tail." The "Whales Tail" sits in Punta Uvita on the South Pacific coast inside the Marino Ballena National Park.
Aerial photographs of this park have shown that it has a sandbar shaped like a whale. Coincidentally, it's the exact location where humpbacks return to every year.
The humpbacks make their return between August to October and from December to April. Sea turtles also visit the park to nest between May and November.
Visitors to the area can rent snorkeling gear to help them explore its coral reef or opt to go on a whale-watching tour. Other viable options include renting standup paddleboards and kayaks.
Jaco Beach
Party animals definitely shouldn't miss Jaco Beach. It lines the town of Jaco which is full of restaurants, bars, and music venues.
During the day, many bars set up stalls right on the sand and offer tasty cocktails as well as fresh coconuts. Apart from enjoying delicious drinks, you can also engage in swimming, jet skiing, and horseback riding.
Thanks to moderate waves, Jaco Beach is a great spot to learn surfing. You can rent a board there and sign up for surfing lessons – there are plenty of schools around the beach you can choose from.
If you're an experienced surfer and are looking for bigger waves, the world-class Hermosa Beach is 6 miles north of there.
Playa Hermosa, Jaco
Costa Rica is one of the few countries globally that are bisected by volcanoes. Many of its volcanoes are still active.
Playa Hermosa, Jaco translates to "beautiful beach" and is the latest recipient of the World Surf Reserve award. It's an award given to beaches to appreciate their efforts to protect the natural and marine environment.
The beach boasts volcanic sand that has a distinctive dark grey color. For those in the area who would like to dip their toes into white sand, they should check out Playa Blanca.
It's located thirty minutes away from Jaco and features a beautiful tree-lined cove.
Santa Teresa & Malpais Beach, Nicoya Peninsula
The Nicoya Peninsula, located South of Guanacaste, is home to several beach destinations popular with yogis and surfers. They include:
Malpais
Santa Teresa
Carmen Beach
The above-mentioned are the small beaches that serve the locals and tourists visiting Santa Teresa and Malpais towns. They stand out on this list as visitors have to use beaten paths to get to them.
Tourists looking to spend time on a secluded beach with great surf options should visit Santa Teresa beach. Malpais beach is best for exploring rocky tidal pools and playing in the white sand.
Conchal Beach, Guanacaste
Located 1.2 miles (2km) away from playa Brasilito and nearby the famous beaches of Flamingo and Tamarindo, Conchal beach is one of the Gold Coast's hidden gems in the Guanacaste province.
Some of us choose our beaches based on the activities they provide, but what about a beach that is simply too gorgeous to pass up?
Strewn with white sand and tiny seashells acting as natural water filters, this beach is a must-see for any seasoned traveler.
Conchal Beach provides a variety of sailing experiences that can be tailored to your own sense of adventure. Perhaps you'd want to go snorkeling or scuba diving in the morning and then explore nearby beaches in the afternoon. Here, anything's possible.
One of the reasons why travelers love this beach is because it's the only beach in Costa Rica offering massage services right at the coastline.
Beachgoers will find massage tables installed right under palm trees. If you're tempted to use this service, it will only set you back about $25 per hour.
Liberia's international airport is only about an hour away, making this apparently inaccessible wonder surprisingly accessible.
Playa Guiones
Playa Guiones is one of the most beautiful beaches in Costa Rica. The water is warm all year round, making it ideal for surfing and swimming.
On this beach, you can have a party, have a relaxing picnic, read a book, and frolic on a boogie board. The long beach is ideal for an afternoon stroll. By the way, there is even a thriving community of female surfers here!
Development is forbidden on the beach itself, as it is on many beaches in Costa Rica, and no structure can be higher than the tree line. The goal is to safeguard nesting sea turtles, which rely on the moon for navigation and would become disoriented without it.
A beautiful thing about Nosara, the town hidden in the vegetation, is that you can end a beach day with a fresh fruit smoothie or a cocktail at one of the many outdoor bars.
Playa Llorona, Corcovado National Park
Playa Llorona is located in the province of Puntarenas, in the Osa Canton, and is part of the magnificent Corcovado National Park. This beach is not only known for its beautiful tropical beaches but is also a popular destination for those who enjoy hiking and wildlife.
The Osa Peninsula is often considered one of the most biologically diverse areas in the world. It is truly one of the best spots to visit in a country that is full of them.
After exploring one of the oldest forests in the world within the National Park, head to the beach. Make your way to Playa Llorona, especially at low tide, because the beach is tiny. The name Playa Llorona translates to "crying beach" or "crybaby beach." It gets its name from the beautiful waterfall that pours into the smooth sand.
This virtually untouched beach is surrounded by dense tropical vegetation and borders Punta Llorona to the northwest and the mouth of the Corcovado River to the southwest.
Playa Flamingo
One of Costa Rica's most family-friendly beaches is Playa Flamingo because of its combination of gentle surf and quality development.
The fine sand slopes gently down to the sea, and because of its westerly location, beautiful sunsets are constantly experienced here. The atmosphere is sophisticated and relaxed, and expensive residences and condominiums are scattered across the hills at either end of the beach.
You'll love Playa Flamingo if the words "hostel" and "counterculture" turn you off. There are excellent restaurants on the coast. Off the coast, there are excellent opportunities for diving, sailing, and sport fishing.
Costa Rica Beaches FAQs
What's the best beach in Costa Rica?
Manuel Antonio Beach and Tamarindo Beach are the most visited beaches in Costa Rica. They're loved by locals and travelers from around the world.
Which is the best part of Costa Rica?
The best places to visit and stay in Costa Rica are Manuel Antonio National Park and the Osa Peninsula. They both boast of great attractions and amazing things to do all year round.
Is the sea warm in Costa Rica?
The seawater in Costa Rica is pretty warm, with temperatures above 20°C/68°F, making it ideal for swimming. Please note that the water temperature in Costa Rica is on the decline.
All the Reasons to Visit Costa Rica
Costa Rica is the adventure capital of the expansive Central America region. Apart from the 10 best beaches in Costa Rica mentioned above, the country has many activities to offer, including zip-lining above the jungle canopy to hiking in its rainforests.
Its shorelines have proven popular with surfers worldwide and boast turquoise waves and sun-kissed sands. A visit to any of the beaches mentioned in this list will ensure you get to enjoy your time in Costa Rica.