Phuket is the go-to destination for beachgoers in Thailand and beyond. The rainforested island has everything from powdery white sands to clear blue waters. There are over thirty beaches around the island, all with something different to offer. Depending on the beach you choose, you can experience different facilities, sceneries, and atmospheres.
Everyone has something they look for in a good beach. But with the huge amount of choice Phuket offers, you don't have to worry about being stuck on a beach you don't like. There are beaches you only visit for the day while others you can book a hotel and enjoy the nightlife as well. Considering Phuket is one of the most visited destinations in Thailand, some of the beaches tend to be overcrowded.
That's why timing is everything when planning a beachside holiday adventure to the island. For an unforgettable experience, choose the right beach and always check the weather before you visit. Whether you want to find solitude on sugary sand or the best location for water sports, these are the six best beaches in Phuket.
Freedom Beach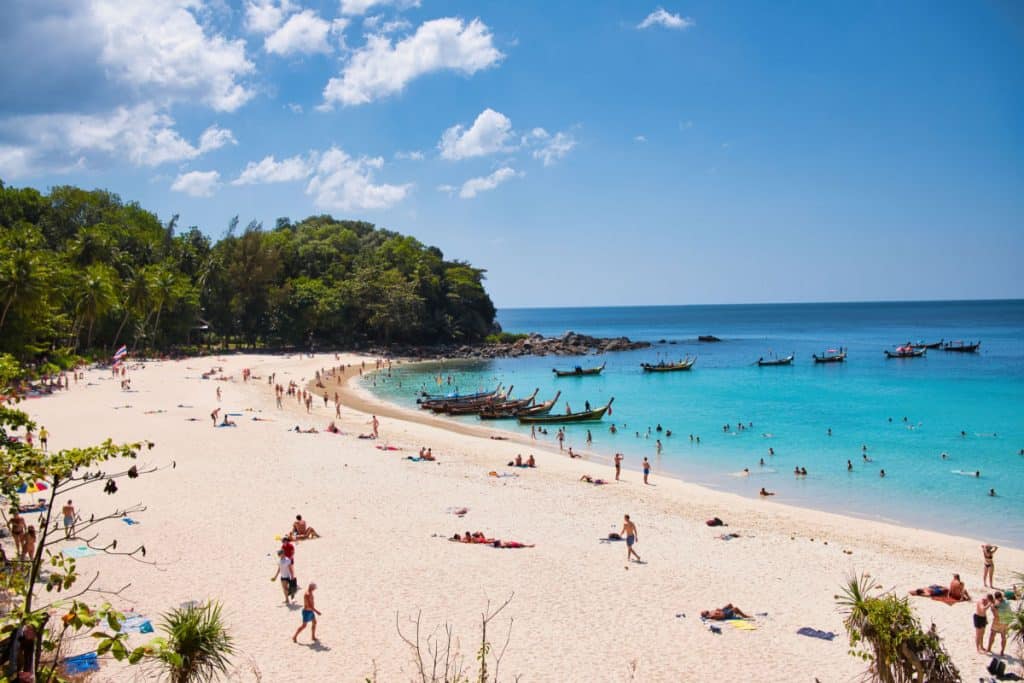 Freedom Beach is blessed with clear blue waters and soft white sand. It's one of the cleanest beaches with virtually unexplored beauty. It's the spot for ultimate relaxation because it's relatively quiet. There are two ways to access the picturesque beach, from the hilltop or by boat, but it's worth the effort.
The boat ride or the jungle trek to the beach is also an adventure on its own. Visitors relax at the beach all day without having too many people around. Freedom Beach should top your list if you want an off-the-beaten-path kind of beach.
If sitting by the waters and enjoying the sand is not adventure enough for you, there are cement stairs at the northern part of the beach to climb. This will give you a panoramic view of the clear water and the reefs below. It's not the ideal sport for water sports; if that is your thing you should find a busier beach. At Freedom Beach, you can swim to your satisfaction and probably play soccer or volleyball.
However, there is one restaurant around the beach offering some delicious bites. At least you won't have to worry about running out of snacks and cutting your adventure short. The jaw-dropping bay is surrounded by thick jungle. It makes it a great spot for unique photos for anyone looking to capture its beauty.
Kata Beach
Kata Beach is divided into Kata Yai and Kata Noi. Kata Yai is the larger part of the beach with all the facilities, including hotels. Kata Noi is the smaller and less populated side of the beach. Kata Beach is very popular for families, mostly because of the easy access to shopping and dining facilities. This is a great place to visit for anyone looking for a bit of socializing and an endless stretch of white sand features.
The nodding palm trees, soft seabed, and clean waters are all you need to have an adventurous time. But snorkeling during the high season in the laid-back atmosphere is worth the trip. Kata Noi Beach is great for surfers in the monsoon season, between May and October.
For a romantic evening, you will enjoy the beautiful landscape bathed in the golden light during sunset. Kata viewpoint has also become a major attraction; you will have a spectacular view of three bays. Kata Yai has some of the best swimming spots on the island. Even little kids can go splash a bath and enjoy the waters.
Kata Beach has plenty of activities, which usually results in plenty of traffic. It won't be as secluded as Freedom Beach, but you will still have an amazing time. If you want to flex your shopping muscles or splurge a little, there are luxurious facilities around.
Patong Beach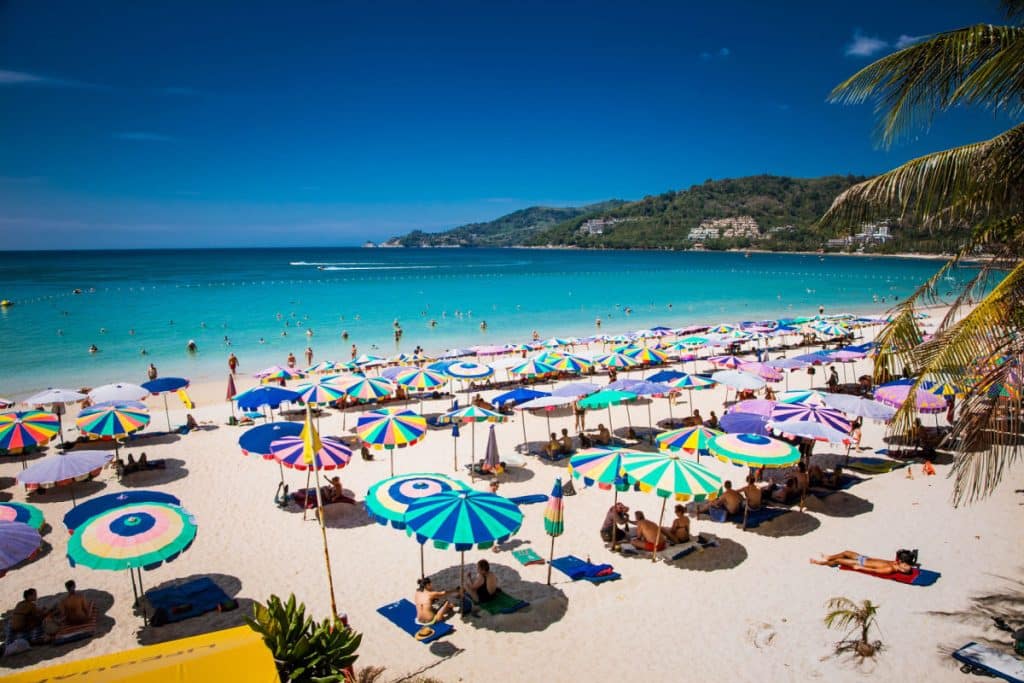 You've probably heard of Patong Beach because it's arguably the most popular on the Island. The longest beach also tends to be very populated because of the variety of water activities available on site. The beach can get quite busy but still beautiful and adventurous. There are many hotels to choose from with a variety of dining experiences.
This is where you go to enjoy the local cuisines, amazing nightlife, and shopping besides the beach itself. The famous nightlife scene features bars, nightclubs, and discos. If you are traveling alone, Patong Beach is the place to go because you won't feel lonely for a second. You can jet ski, go scuba diving, parasailing, snorkeling, or any other thrill-seeking water sport you want.
There is Pull out your best-bathing suit because this is where you go to see and be seen. There is no other livelier beach than this. But the northern end of the beach tends to be a bit quiet. You should complete the trip with a tour of the town behind the beach.
The town is a great place to explore the local culture and people when you want a break from the nice sand and water. There are high seasons when the beach is fully packed, but if you go off-season, you might enjoy the attractions and activities without too much traffic. Despite having plenty of accommodation nearby, booking a spot early is always wise.
Karon Beach
You can't talk about the incredible beaches in Phuket without mentioning Karon Beach. The third longest beach on the island is where you will find the best coral reefs. It's also known for having the best spot for windsurfing. Diving into the water will open your world to colorful marine life. You will be honored to walk on the fine, soft, and squeakest sand on the island.
The beachfront restaurants mean you don't have to go far to get a decent meal. Street-style seafood is readily available. Karon Beach is much quieter than Patong and other sandy neighbours. It's the best of both worlds. You can enjoy a laid-back experience and still easily access shopping and dining amenities.
There are plenty of things to do, including swimming, parasailing, jet skiing, and diving. If you go to the south end of the beach, you can also enjoy snorkeling. Parasailing is great for a little bit of adrenaline rush and a birdview of the bay. Visiting a long beach like this is great because the place never feels crowded. However, there are many families and couples that choose to spend their free time there.
Even a nice afternoon at Karon Beach is amazing. But if you want to take in all the surrounding beauty and attractions, plan a trip for a few days. There are other attractions close to the beach, like the Karon temple, which is open for visitors all week.
Kamala Beach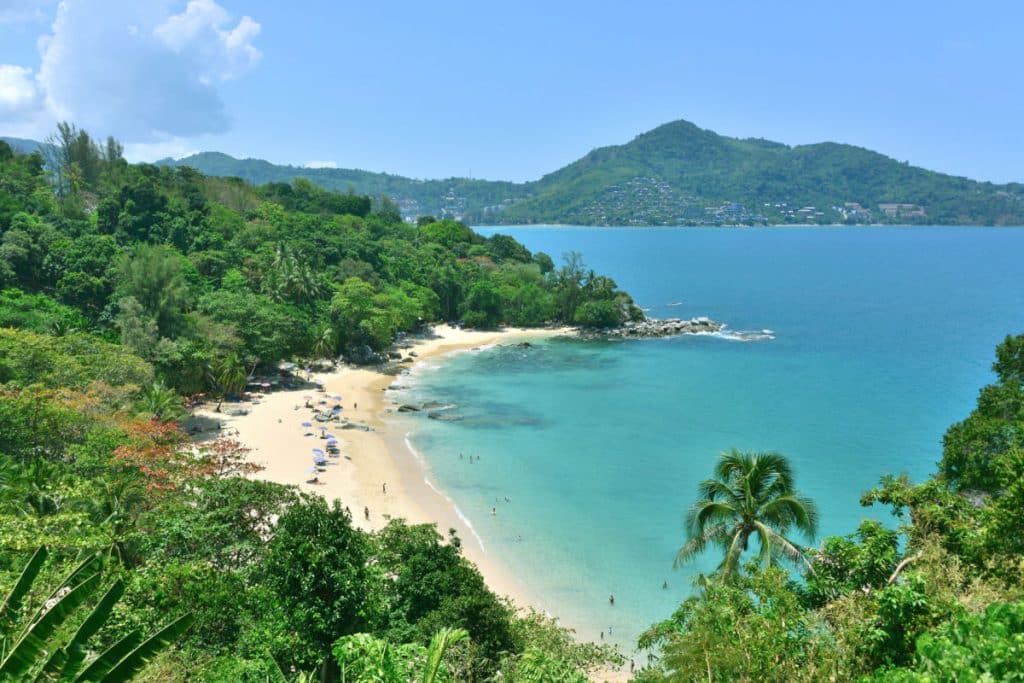 It's easy to see why Kamala Beach is among the best in Phuket. The tranquil and shallow waters make it a great place for families. Everyone can enjoy swimming and bathing without running into thousands of tourists. The place doesn't seem to attract loads of visitors which is great because it can be a break from the hustle and bustle of your daily life.
It's one of the few beaches that have managed to maintain their local authenticity. There is even a small fishing village around. Despite being very quiet during the low season, there are plenty of water activities to enjoy in the high season. Some good old-fashioned fun can be very fulfilling, especially when vacationing with friends or family.
There are funky cafes and shops on the nearby street with some friendly locals. It might not be the busiest beach on this list, but that's part of its charm. With most beaches worldwide, you will run into a few bottles and human pollution. But Kamala Beach is one of the cleanest on Phuket Island. You can even volunteer for one of the organized clean-ups while you are there.
The sunsets here are magnificent. Enjoy the chilled-out evening vibe with a meal from one of the available restaurants. The beach is backed by a beautiful lush green jungle that completes the view and atmosphere. You shouldn't miss out on this hidden gem.
Nai Harn Beach
Nai Harn was once a well-kept secret until its beauty couldn't be hidden anymore. It's now a very popular beach destination in Phuket. Small islands and green hills surround the beach. There are shallow waters and incredibly soft sand that visitors never seem to get enough of. It's one of the best spots to go kiteboarding and surfing. The currents are very strong in the low season and much calmer during the high season.
There is a lake just behind the beachside where you can catch a boat ride. You won't have to fight crowds to get a comfortable place in this small piece of heaven. The shops that line up the shore offer a variety of refreshments for beachgoers.
The bay's park is protected, which is why the beach has not been overdeveloped. You will notice there are fishing and sailing boats anchored in the calm waters. There is a Buddhist temple offshore worth exploring. You should always try to find other activities around the beach you can do to kill time when you are not in the water.
Behind the line of trees, you will find a wide range of street food and Thai restaurants. Trying new foods will be part of the adventure. When you time your visit to Kamala Beach properly, it will be more than an average beach-going experience. You will find the best water conditions for swimming and snorkeling between November and May.
Why Visit Phuket?
Phuket doesn't run short of amazing beaches. There are so many options to pick from depending on the type of adventure you are seeking. Some of the beaches offer high-end, luxurious hotels and nightclubs that make your stay even more pleasant.
The island's popularity is mainly because of the long sandy beaches. Picking a destination for your next trip is not easy. Hopefully, this list gives you an idea of where you will go for your next beach adventure in Phuket.