There are a lot of beaches in the United States, but with just 12 of them, you can spend your entire summer on the beach without ever having to think about where to go next. With this list, you will be able to find the perfect beach for you and your family without even having to leave home.
If you are looking to maximize your time at the beach in the United States, you will want to make sure that you visit at least one of these beaches.
They offer a wide range of what you could want from a beach vacation. You could spend your day just laying on the beach. But since there are so many things to do, you don't have to. Jump in the ocean, fish, sail, or relax at one of the private clubs along with friends and family members. They have plenty to offer.
These beaches are located in the United States and feature just about everything that you could want from a perfect beach vacation. Ready to go? Here they are!
Best Beaches to visit in the U.S.
Siesta Key Beach, Florida
You don't have to go to another country to experience picture-perfect sugary white sands and turquoise waters – visit Siesta Key Beach, a beautiful stretch of coastline just off Sarasota which has been for years ranked as one of the top beaches in the whole of the U.S.
As the name suggests, it's a place perfect for relaxation. The area boasts plenty of amenities, including accommodation, shops, restaurants, tennis courts, volleyball nets, and kayak rentals. Therefore, the beach is also suitable for adventure seekers and families with children.
The sand predominantly consists of quartz, so you don't have to worry about burning your toes either even on the hottest days.
There is a large, free parking lot at Siesta Key Beach, but note it can get filled quickly. Also, if you want to lay your towel right by the sea, make sure you arrive early.
Clearwater Beach, Florida
Clearwater, on Florida's Gulf Coast, is considered one of the best beaches in Florida State. This appealing vacation spot with wide, groomed beaches, spectacular sunsets, and a strategic position for everything going on in Tampa Bay.
Everything on this beach is more sophisticated and "expensive" than in other Gulf Coast beach villages, yet you get your money's worth.
The key reasons why families flock to Clearwater to create lasting experiences are cleanliness, safety, white sand, and clear and shallow water.
Clearwater's public swimming beach is also great for families with children because it is the only city in Florida that provides lifeguards and beach upkeep 365 days a year.
Destin, Florida
Visit Destin, Florida, also known as the "Crown Jewel of the Emerald Coast" and the "World's Luckiest Fishing Village," for its stunning beaches, consistently ranked among the most beautiful in the country, and some of the best fishing in the world.
Destin is located on the Florida Panhandle and has miles of beautiful white sand beaches. The Shore at Crystal Beach Park is a wonderful place to swim and relax, while Henderson Beach State Park and Grayton Beach State Park both offer nature walks on gorgeous white sand beaches.
Your money will be well spent if you travel here. Destin offers everything your heart desires, including the best fishing spots, golf courses, adrenaline-pumping adventure activities, museums, upscale shopping centers and excellent restaurants. It also has beautiful white sand beaches with crystal clear waters.
The beaches along the Emerald Coast near Destin and Fort Walton are perfect for dipping your toes in the sand. The Okaloosa Island, Destin and Fort Walton Beach areas are cozy and family-friendly.
Malibu beaches, Los Angeles
This renowned beach community is located just 20 miles west of downtown Los Angeles. It can be challenging to choose a beach in this area because there are so many alternatives.
The 2-mile Zuma Beach offers strong surfing waves, whale watching opportunities, golden sand for sunbathing and sandcastle building, multiple lifeguards for swimming and surfing safety, nets for beach volleyball courts, and fishing for those with a permit!
Surfrider Beach, as the name suggests, is one of the best places to surf and is very close to the Malibu Pier.
El Matador State Beach, located near Zuma, offers breathtaking views of cliff formations.
Point Dume State Beach and Preserve should be on your list of places to visit when looking for a classic beach in Malibu.
This gorgeous sandy beach, adorned with an overhang of cliffs and headlands and dotted with rocky coves, is a beautiful place to relax and have fun in the sun.
This beach is operated and maintained by the County of Los Angeles and offers all kinds of amenities.
At Point Dume State Beach and Preserve, you can engage in numerous activities, including fishing, diving, swimming, and surfing.
You can even watch California gray whales when they migrate between December and April!
South Padre Island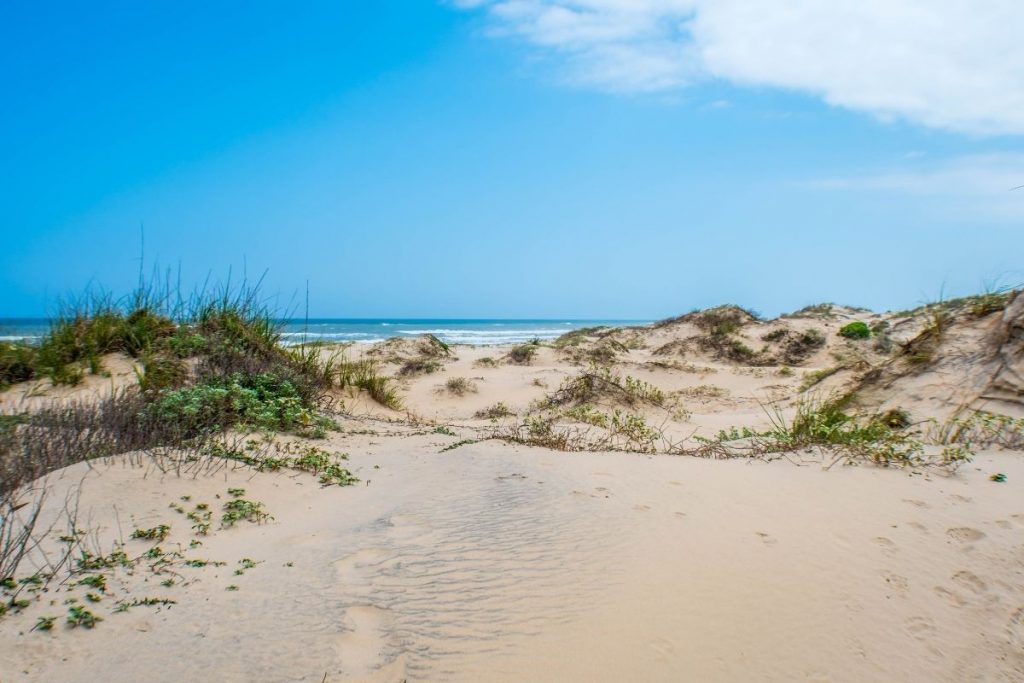 This beach located on the southernmost point of Texas spans over 320 feet of beach with an average depth of 7 feet. The water temperature ranges from 81-86 degrees, with a white sandy bottom ideal for swimming and snorkeling. The limestone cliffs create some cool ocean currents that make this beach extremely popular due to its diverse bathing environment.
A few of the activities you can do on South Padre Island include riding bicycles and jogging on the white sandy beach, hiking at the park, and enjoying the island's many bars and restaurants. Some programs allow visitors to hunt for sea turtles, learn about archeology, and fish with cast nets. A great place to relax while you spend your day at one of the best beaches in the United States is visiting one of its many private clubs where prices are high, but the quality is great as well. In addition, you can work out at the fitness center while you are on the island.
The easiest way to get to South Padre Island is through the Corpus Christi airport, located in Texas. If you choose this route, it will take about an hour and a half. The best way to get to South Padre Island from Houston is through Texas Route 35. This is a 4-lane highway that connects you to Corpus Christi and the journey takes around just over 2 hours.
Florida Keys
The Florida Keys are located approximately 35 miles south of Miami and offer a summer seafood festival.
The Florida Keys are the southernmost part of the United States, made up of over 60 islands on both the Atlantic and the Gulf coasts. It was originally named after Christopher Columbus, but later it was renamed after Don Pedro Menendez de Avilés, a Spanish conquistador. Located in Florida, these islands have been known for their great fishing and offshore pirate history since colonial times.
The islands are also known for their tropical temperatures, stunning waterfalls, and colorful coral reefs. If you want to go snorkeling in the Florida Keys, you will want to make sure that you go in the summer months when the water is warmest. The places that see the most visitors are Key West and Islamorada. Over a dozen private clubs also allow visitors to relax, swim and enjoy their resort's facilities.
The easiest way to get to the Florida Keys is through Miami International Airport, which will take about 2 hours. For those who want to save money on their trip, you can also fly into Trunk Bay, located in the Dry Tortugas National Park, about a 5-6 hour drive from Miami.
St. Petersburg Beach
This city beach offers a lot of things to do, including living history exhibits, a lighthouse, and bike trails. The St. Petersburg Beach area is home to many events such as the annual Gasparilla Pirate Festival, sand sculpting contests, and great marine tours.
You can also participate in some outdoor activities such as biking and running along the bike trail or swimming in the ocean. There are also a lot of other activities that you can do on the beach, such as playing volleyball, surfing, and kayaking.
The St. Petersburg Beach Amphitheater is located on the white sand beaches of this city and is one of the best places to enjoy live music and dance. Visiting St. Petersburg in April will allow you to take full advantage of everything it offers because it is the off-season for tourists which allows you to enjoy better rates at the hotels and resorts. There are also a lot of art galleries and other things to do for those who want to explore the city.
The easiest way to get to St. Petersburg Beach is through the St. Petersburg-Clearwater International Airport, which will take about 30 minutes. If you are coming from Orlando, you can take I-4 West and exit onto SR 60 W/Gulf To Bay Blvd in Largo, Fl 2001. This will lead you to the beach from there.
Waimea Bay Beach Park
Located on the northern side of Oahu, Waimea Bay Beach Park's shoreline is made up of lava rock. With a sand bottom that goes out around 100 yards, this location is great for snorkeling and scuba diving. You can also see many types of coral as you snorkel or dive in Waimea Bay.
You can swim and enjoy all the fun in the sun activities offered at this beach. The average water temperature ranges from 73-77 degrees Fahrenheit. The tide and weather can be a factor when coming to this beach during the summer months. In addition, it gets very hot when it's sunny.
The easiest way to get to Waimea Bay Beach Park is through the Hilo International Airport. The drive will take about 35 minutes, a flight from Honolulu takes about the same amount of time. To find hotels closer than you would have originally thought, you can try booking on Kayak or Hotwire.com.
Lanikai Beach Park
This is the only beach park located on Oahu. Located in the Honolulu-Waikiki area of the islands, it provides over 6,000 feet of sand and clear crystal water. It also has an accompanying restaurant, lodging options, a kiddie pool, and a little park that is great for families. In addition to all of these activities, it is located in a family-oriented area with lots of activities and restaurants, including a drive-in movie theater complex.
The easiest way to get to Lanikai Beach Park is through Honolulu International Airport which will take about 45 minutes. You can also fly into Kahului Airport to provide further convenience. It is just a short distance away. There are also plenty of hotels and B&Bs within a 10-mile radius of this beach park, so you will not have to worry about finding a place to stay near the beach.
Coronado Beach Park
Coronado Beach Park is located on the northeastern end of San Diego. It's where the Coronado Ferry Terminal is, which will take you to the Downtown San Diego area. This park has a sandy beach that goes to the ocean. The sand here is white, clear, and glittery and extends from north to south along much of its length.
The water temperature here ranges from 70-80 degrees Fahrenheit. During the summer months, the weather can be a factor. It can get cloudy with high winds and water surges. There is also a grassy area perfect for playing games, including volleyball, soccer, and Frisbee.
The easiest way to get to Coronado Beach Park is through San Diego International Airport, which will take about an hour, depending on traffic. There are also several hotels in the area that would be great for vacationers.
Jekyll Island's Beaches
Jekyll Island is a barrier island located in Glynn County, Georgia. The area has a lot of beautiful beaches with white powdery sand and bluffs for recreational adventures such as fishing and geocaching. Some beaches include Jekyll Island Beach, Saturn Beach, Suntide Beach, and Eagle's Point Beach. Jekyll Island has many things to do, including a pier, marina, boat rentals, boating activities, etc. During the summer months, Jekyll Island experiences a high demand for lodging and hotels.
The main beach on the island is Saturn Beach. It features white sand, jetties, and nautical-themed structures for visitors to enjoy. Saturn Beach is also home to a popular stargazing area where you can see the first light from the sun over the water. There are also many restaurants and dining establishments on the island including a Subway, ice cream parlor, gift shops, and more.
The beaches on Jekyll Island are a great place for families to get together and have a great time during the warm summer months. The average water temperatures range from 75-80 degrees Fahrenheit. You can also take advantage of many activities such as kayaking, fishing, and boating. There are several hotels and resorts for vacationers to choose from, too.
You can easily access Jekyll Island by flying into Savannah-Hilton Head Airport, which will allow you to arrive in about one hour. You can also drive the beach route which is approximately two hours long, or you can drive on the main highway that terminates in Moreland Beach and Jekyll Island. It is highly recommended to investigate beach hotel rates to find the best place to stay.
Myrtle Beach Area
Myrtle Beach area is the largest metropolitan area in South Carolina and it's considered the best beach in South Carolina. It is known for its shopping, golf courses, beach activities, and has great weather for swimming, boating, and fishing. This area has many hotels and resorts that are both historic and modern so that you can stay in either a historic hotel or a brand new resort.
The Myrtle Beach area is home to the world-famous Myrtle Beach International Speedway, which hosts NASCAR's biggest races. The tracks are located in the south end of town near the water and can be seen from a distance as you drive through the area. The Indiana Dunes National Lakeshore is also located within easy driving distance of this city.
The easiest way to get to Myrtle Beach Area is through Charleston International Airport, which will take about 40 minutes. If you do not want to drive, the Grand Strand Express bus service has stops throughout the entire area. You can also fly to the Myrtle Beach International Airport in North Myrtle Beach, which is only a short 20-minute drive to all of the major tourist attractions.
Why visit beaches in the U.S.?
In conclusion, most of these beaches are considered family-friendly because they have many attractions and facilities for visitors to choose from. They also have a lot of activities that would be great for families to enjoy, such as boating, fishing, water sports, shopping, and more.
Many of the beaches listed here are close to hotels and other types of accommodation, so you don't have to worry about finding accommodation in this area.
You will also find that many of these beaches are easy to get to which is very convenient, especially when traveling with kids.