While you may be tempted to bring any old blanket along on your camping trip, experienced campers know better. Temperatures drop quickly as night falls, even on hot summer days, and you quickly find yourself bundling up.
When it's time to put the fire out, you want to know you will have protection from the elements.
The right blanket is also crucial for your comfort while sleeping outside. There is nothing worse than trying to fall asleep after a tiring and satisfying day outside, only to be kept awake by rocks digging into your back and brisk night air. All it takes is one miserable night of camping to step up your blanket game.
After researching and purchasing the right tent, lanterns, and camp stove, it's easy to skip past the blanket.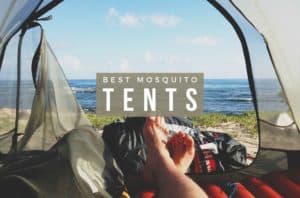 There are a lot of options, designs, and materials out there when it comes to camping blankets, not to mention the price range. Luckily, we did the legwork for you; here are the 6 best camping blankets on Amazon.
At 80 inches long and 54 inches wide, this weatherproof blanket is a great choice for avid campers. The Sorison blanket is made with a blend of synthetic down and microfiber, which makes for a warm, soft, and thick blanket. It's resistant to wind, rain, pet hair, as well as odors and stains.
This cozy blanket is also machine washable and fits easily into a shoulder sack with straps and a storage pocket. The atomicLoft insulation makes this blanket a solid choice for camping in cold or windy conditions. The thick fabric will keep you warm and dry, with plenty of room.
The Sorison blanket comes in gray and blue and boasts three to five times the typical amount of insulation found in similar products. Made with ripstop nylon with a water repellent finish, this puffy blanket is lightweight and easy to carry. An added bonus? 10% of proceeds from your purchase go to charity.
Sold in red and gray, this affordable outdoor blanket may be the right addition to your camping gear. Made with a durable polyester backing on the outside and thick polar fleece inside, it is both waterproof and windproof.
What's different about this one? It doesn't slide around like many sleeping bags in this price range. It's ultrasonically quilted and has thick layers, with a double waterproof polyurethane coating between the layers. This blanket folds up quickly and easily into a sack with a secret pocket for your keys and phone.
The Down Under Outdoors blanket makes a nice camping blanket, and it can easily double as a picnic blanket, beach blanket, or stadium blanket.
Use it on the wet grass at the park, the sandy beach, or a cold football game. It is a quality made Australian product with a lifetime warranty from a small family business. Machine washable and 82 inches by 55 inches.
Kelty camping blanket comes in nine different color selections, including an ombre galaxy option for all your stargazing needs. Do you have a camping bestie?
Grab one for them while you're at it because this blanket makes a perfect gift. The Kelty bestie blanket is easy to wash and stores compactly in a pack bag.
The blanket measures 75.5 inches by 42.5 inches. It's made with a polyester taffeta shell and a poly pongee liner, which is a durable and tightly woven fabric. The product is insulated with Cloud Loft, making it very warm on chilly nights.
Kelty's fun design makes it appealing to a younger crowd, but the durability and functionality (at a great price) make it an excellent choice for any camper. The color choices range from a fun ombre, to a camo green and orange, as well as brown, blue, and red options. This one is slightly smaller than some other sleeping bags and marketed for women, although they are a great option for kids and men as well.
Marketed for both camping and survival kits, this blanket stands out because of its thick and heavy material.
Made with 80% wool, it weighs over four pounds and comes in military gray, navy, and olive green. If you want to look like a serious survivalist roughing it in the great outdoors, this is the blanket you're looking for.
The company has recently improved the product by triple washing it to enhance softness and reduce shedding. The wool is loom woven and naturally flame-retardant, with no added fireproof chemicals. The blanket is lock stitched on all sides and the contrasting thread provides a simple, clean look.
The remaining 20% of fabric is made of hypoallergenic synthetic fibers. These longer fibers help to secure the wool and make the Arcturus Military Wool Blanket both washable and significantly more durable.
The wool softens with each wash and stays warm even when wet. Line dry is recommended. The military blanket measures 88 inches by 64 inches and folds nicely.
The least expensive option on this list and available in six beautiful color combinations, this blanket is handwoven on a wooden loom by artisans in Mexico.
They are made of 100% recycled acrylic and cotton and are both stylish and practical. These Mexican blankets are thick and warm with a timeless quality and design, including just about any color you could want.
Measuring 65 inches by 40 inches and weighing three pounds, this indoor/outdoor blanket covers a twin bed and is perfect to throw in the back of your car for picnics, concerts, beach trips, and camping. They are machine washable and get fuller with each wash, making them long-lasting and extremely soft. While the beautiful quality may look more like something to keep on your couch, they are thick enough to keep you warm and cozy while camping.
The company behind these traditional Mexican blankets is Benevolence LA, and their mission is to create handcrafted products that tell a story while also giving back. Each purchase helps provide clean water for African villages. The blanket is also delivered in eco-friendly packaging, so you can feel good about choosing this company.
These camping blankets are a work of art, each option depicting a different outdoor scene when spread out: the beach, desert, forest, Grand Canyon, the night sky, and the Wild West. They are also reversible.
Measuring 80 inches by 54 inches, the outer layer is made of ripstop nylon and filled with high-grade water repellant goose down. Goose down stays dry, dries quickly, and provides a considerable amount of warmth and fluff.
APSMILE believes their product will keep you warm in weather as chilly as 40 degrees Fahrenheit. They are a leading manufacturer of down feather products and a well-known brand. The blankets are also treated with polymer, making them waterproof, windproof, and stain and odor resistant.
This blanket is easy to pack in a portable sack, lightweight, and machine washable. If you're looking for a traditional camping sleeping bag with an interesting design, this product may be right up your alley. This one is also a great option for traveling and would not take up much room while flying or backpacking.
The Right Blanket for You
Camping requires a lot of essential gear, and a warm blanket is undoubtedly a necessity. Whether you are backyard camping with your bestie or an avid survivalist, these blankets will get the job done. If you're looking for a standard sleeping bag, a wool blanket, a handcrafted throw, or a fun design, these six options are an excellent place to start.
Ranging from $20 to $60, there's bound to be a camping blanket in your price range. Even better, the range of options means that if you're shopping for the whole family, you're likely to find something that works for everyone.
All these blankets can be used for more than just camping, and many costumers also used them for beds, couches, picnics, and soccer games. They are warm, cozy, and the perfect thing to throw in your trunk or on your back for all your summer adventures. Or, you know, all those very serious and cold camping trips.