When you go camping, you need to provide your own light source for the dark hours of the night.
You leave the city with all its lights and brightness behind. You're probably thinking that having a flashlight on hand is one of the first camping essentials, but sometimes the most obvious thing is the one we overlook.
The question is which flashlight should you bring? Will a lantern, torch style, or headlamp style be the best fit for your needs?
There are several factors to consider when choosing a flashlight for your next camping trip. The variety of choices available on the market makes the choice more difficult than simply grabbing a flashlight from the shelf.
You'll want a good quality flashlight that is lightweight but illuminates your way. Your best choices will fit easily into your gear without taking up too much space. Rechargeable, water-resistant, and LED are all available features in a variety of styles.
Here we go, 10 of the best flashlights for camping:
One of the biggest selling points of this flashlight comes in its name. As a result, you do not need to use disposable batteries to charge it. It also provides a considerable amount of quality as it is especially bright. Although its exact number of lumens is not revealed, it is believed to be around 350. Regardless, it can light an area 600 feet ahead of you.
Another benefit offered by this camping flashlight is its strong-magnet feature, which allows you to, in many cases, have both of your hands-free to focus on what you are working on. This can come in especially handy if you are using it to set up or fix your tent in the middle of the night.
You can also use it in a rainstorm, but it is recommended to not use it while immersed in a body of water.
Meanwhile, it takes up minimal space in your backpack, coming in at 4.7 inches, while it weighs just 3 ounces. In fact, you could simply place it in your pocket instead.
However, do take into account that some users have stated that the battery that it comes with drains faster than they would prefer.
Compact, handheld flashlight.

Powered with standard AAA batteries.

Adjustable zoom and 5-mode settings.
The Amuoc Tactical Flashlight is small enough to fit in your pocket, backpack, or purse for ultimate portability. It's powered by 3 standard AAA batteries or a single-button style rechargeable Lithium-ion battery.
This light features a CREE T6 LED chip to make it super bright. The LED bulb provides S1000 lumens to provide focus up to 1000 feet away or to light an entire room with bright light.
Easily adjust between high, medium, low, strobe, and SOS modes with the tap of a button. To focus the beam of light, rotating the head of the flashlight allows you to zoom in on an object or out for a wider beam.
A lotus top design helps to protect the lens of the flashlight. Waterproof construction makes it perfect to use in any kind of weather. The light is designed to be durable for use in multiple situations. It's even rated to be explosion-proof.
FENIX PD36R PRO
Yes, FENIX PD36R PRO might look similar to Amuoc at first sight, but what's inside is actually very different. It's not the cheapest. However, you will be stunned by its performance.
It can produce up to 2800 lumens which makes you see up to 415 yards. That is more than enough for recreational use. It has other 4 brightness levels and the runtime is also pretty impressive – 42 full hours! With regular usage, it should last for about 2 months at one charge.
Then, you simply re-charge it through the UCB-C port – both the battery and USB-C cable come with the flashlight. You will also get a holster and a lanyard.
What else makes FENIX PD36R PRO stand out? It's waterproof, dustproof, and shock-resistant.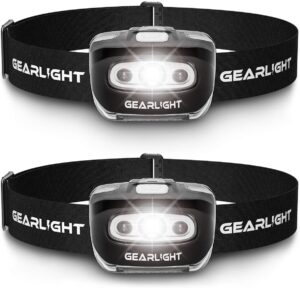 If you are looking for a comfortable-feeling, lightweight, high-quality, and bright camping flashlight that you can wear on your head, this might be your best option. Many users have reported that it offers tremendous brightness for its size while you can also easily reduce that brightness to two other relatively lighter options, or, by pressing the power button for three seconds, utilize its red-light mode.
In addition, its band is easily adjustable, allowing it to readily fit heads of varying sizes. In other words, this would be just as useful for a child as it would be for an adult.
They are also easily adjustable directionally. For example, you can tilt them down when you are coming upon others or are entering residential areas so as to not bother those individuals.
As for the estimated lumens being used, most users have estimated the highest setting being up to 200 with the lower one coming in at around 50-75.
Do note that this headlamp requires a pair of AAA batteries, which are not included. With the weight of those batteries added, each of these flashlights weighs 3 ounces.
Durable and water-resistant.

Bonus carrying holster.

One year, no questions asked warranty.
The GearLight LED Tactical Flashlight is designed to handle rough treatment. It can be dropped from a height of up to 10 feet or be submerged in water for a short time and continue to work.
This light is ideal for a variety of uses. It's compact enough to carry in a pocket, backpack, or purse. Since this is a 2 pack, you can choose to leave one at home and carry one with you or keep one and give one to a friend or family member.
The LED bulb makes this light 10 times brighter than a traditional incandescent flashlight. It can light a room for hours powered by 3 AAA batteries. If you need more focused light, this flashlight can focus on an object up to 1000 feet away.
Five settings and adjustable focus allow you to choose the width of the beam from the flashlight. High, medium, low, SOS, and strobe settings make this light useful in a variety of situations.
Lightweight and waterproof.

Multi-functional with 5 light modes.

Perfect for hiking, camping, and emergency use.
The LE Rechargeable LED Camping Lantern features 5 light modes. There is a front spotlight mode, left side mode, and a right side mode that features a red flashing light. The multiple modes make this flashlight appropriate for a variety of uses.
This super bright light features a CREE T6 LED light that provides you with 1000 lumens of brightness. The bright light has an irradiation distance of up to 1650 feet.
While the lantern is large, it is lightweight. It weighs less than 30 ounces. The lightweight nature of this lantern makes it portable enough for a child to successfully carry it.
When it's fully charged, the main light works for up to four or five hours. The side white light can work from five to twelve hours. In an emergency, this rechargeable lantern can also serve as a power bank for charging your smartphone to keep you connected to the world around you.
MPOWERD Luci Base Inflatable Solar Lantern
Take your camping trip to the next level with MPOWERD Luci Base Inflatable Solar Lantern. The best thing about it? Charging with solar panel.
The battery lasts for up to 50 hours on a single charge. The maximum light output isn't too bad either – 360 lumens. Thanks to the matte finish, it disperses light evenly and provides a warm, cozy ambiance.
If the day is cloudy, don't worry. You can quick-charge it anytime through USB, which can also be used to charge your mobile devices.
Another great feature of this lantern is that it can be collapsed into a small disc, and you can therefore take it on any sort of adventure. It is also waterproof and can be as well hooked to the tent ceiling.
Two-way hook for hanging.

3600mAh power bank for charging phones or other devices.

Multi-functional with 6 lighting modes.
The Wsky Rechargeable Camping Lantern Flashlight is ideal for camping, hiking, or searching for lost items. It's designed to be used as either a flashlight or a lantern.
With six lighting modes, this lantern provides a multifunctional light source. There is a red light mode that is ideal for use in an emergency situation. The torch lights for use as a flashlight while the exterior features 360-degree lighting to function as a lantern.
You can say goodbye to having to remember to purchase batteries for your light with this lantern. It operates on a rechargeable lithium-ion battery. Not only does that battery power the lantern but also it is able to function as a convenient power block for your phone or other devices.
Use the handle to carry the lantern like a flashlight. Alternatively, use the two-way hanging hook to hang the lantern to light your campsite or tent when camping. While hanging, the dimension of illumination is extended.
This lantern is designed to withstand rain or other rough weather. Its rubber exterior makes it both durable and water-resistant. The lantern has been rated to withstand hurricane weather as well as earthquakes.
Suitable for both adults and children.

Durable, comfortable, washable band.

Ideal for camping, hiking, and other outdoor use.
The Energizer LED Headlamp is the perfect personal light source for camping, hiking, and other outdoor activities.
Designed to be worn on your head, the light is a hands-free device.
The light switches between high and low modes and shines for up to 35 meters or just over 100 feet. It's bright enough for reading or performing other tasks around the campsite. It's a static light meaning that the headlamp remains stationary and doesn't pivot.
A washable headband makes this a durable personal lighting choice. The headband adjusts to fit almost any size making it appropriate for both adults and children. The adjustable band helps to keep the lamp firmly in place when performing more active tasks like jogging or running.
The lightweight, comfortable headlamp is virtually indestructible. Even dropping it from a distance of a little more than 3 feet will not destroy this durable light.
This easy-to-use headlamp is ready for use as soon as you remove it from the box with the included Energizer Max batteries. The simple, reliable headlamp makes a great gift for any outdoor enthusiast regardless of age.
Torch-style flashlight [2 pack].

Zoomable with adjustable focus and 5 light modes.

No questions asked, one-year replacement warranty.
The BINWO Super Bright LED Tactical Flashlight features a bright LED bulb that creates a large floodlight or a more focused spotlight. The intense spotlight beam reaches a distance of over 600 feet. This high-performance flashlight is designed to work for approximately 50,000 hours.
You can easily switch between five light modes to provide the appropriate lighting for your activity. Fully pressing the switch on the light switches it on or off. A half-press on the switch allows you to toggle between high, medium, low, strobe, and SOS light modes.
Adverse weather conditions aren't an issue with this durable, waterproof flashlight. An aluminum alloy body makes the flashlight a sturdy choice for daily use. The skidproof, abrasion-resistant construction makes this an appropriate choice for long-term usage.
The compact mini size of this flashlight makes it easily portable. It fits easily in a pocket or bag. The size in combination with the easy-to-use tail switch design makes this a light that is easily operated with one hand.
Conclusion
When you are camping or engaging in other outdoor activities, it's important to have a durable, quality light source. Considering the activity in which you are engaged will help you to choose the appropriate light for you.
Torch-style flashlights are typically hand-held models with a focused beam. They are usually highly portable and easily operated with one hand. Many of them are compact enough to fit into a pocket, purse, or backpack.
Another highly portable style of the light source is the headlamp style. These are designed to be worn on your head, and that makes them a more personal style of light. Typically, they don't illuminate as large an area as a torch style, but they do produce enough light for individual activities.
The lantern style of light is designed to light a larger area than either a headlamp or a torch-style light. Many of them are designed to be hung to light an entire campsite. Some of these style lights also feature a torch function to enable the use of more focused light.
The selections we have highlighted here offer a variety of light modes for adjusting the intensity of the light beam they provide. Many of them offer a zoom feature to focus on an object at a distance. They all feature LED lights for ultra-bright light.
Each style of light we've highlighted shares some features.
Choosing the appropriate flashlight for your next trip should be based on your personal preference and your choice of activities.