While fried chicken and horse racing may be what the state of Kentucky is known for, it has much more to offer. Kentucky is home to a plethora of gorgeous camping locations. Backwoods camping, camping near rivers and water, and even mountain camping are all available in Kentucky.
Home to several state and national parks, as well as large lakes, rivers, forests, and natural areas, Kentucky is the perfect, if not surprising, a place to take your next camping trip. Choose from a rugged, backwoods experience, a classic campground, or a themed family-friendly facility.
Most campgrounds include water sports, hiking, and wildlife viewing, and many offer other unique features such as alcohol distilleries, historical tours, or inflatable waterparks.
Whatever your choice is, camping in Kentucky will not disappoint, so get pack your car, get out there, and have fun.
Jellystone Park at Mammoth Cave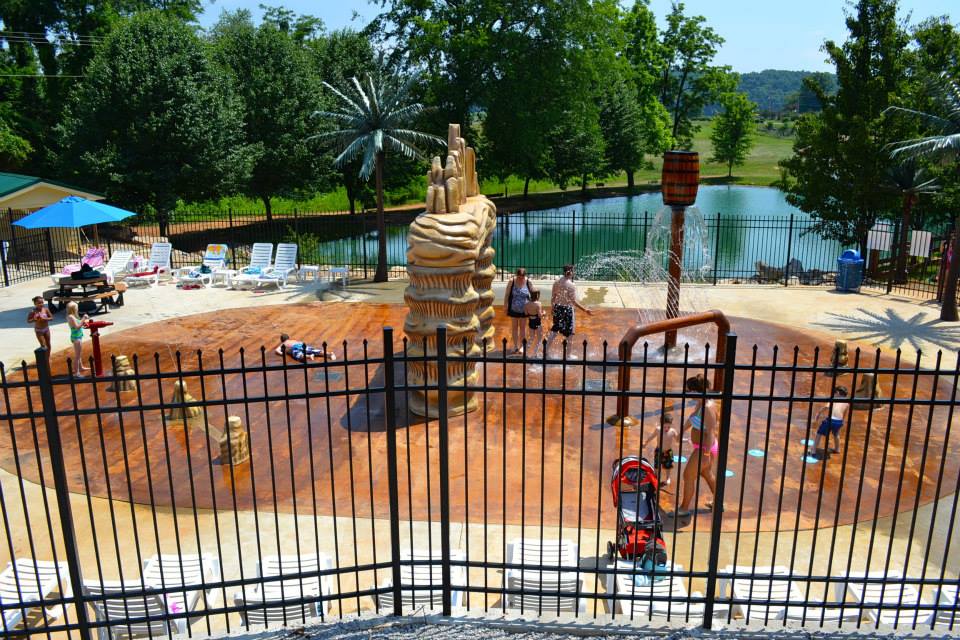 Address: 950 Mammoth Cave Rd Cave City, KY 42127
Phone Number: (270) 773-3840
For a fun and kid-friendly camping experience, try this Yogi-Bear-themed campground. Another privately owned campground, Jellystone was voted 2019 campground of the year by the ARCV and continues to receive excellent reviews.
Campers have access to basic amenities such as fire pits and picnic tables, as well as deluxe amenities, inlacing church services, trash pick up, and all-hours access to a visitors center.
Karst beach is the perfect family-friendly water experience. Boasting a 2.3-acre lake, an inflatable water park, beach volleyball, and other recreational activities, the beach is the campground's main attraction. However, campers can also enjoy golfing, biking, and cave spelunking nearby. For those who love to shop, Huckleberry Knob is a camp store with vendors selling artisanal items.
Campers can choose from 13 different unique cabins, each following the classic Yogi Bear theme. Or, for those who enjoy it, the campground offers both RV and tent camping sites. For anyone searching for a fun and unique camping experience, try Jellystone campground!
Kentucky Horsepark Campground
Address: Campground Rd, Lexington, KY 40511
Phone Number: (859) 233-4303
Attracting over 40,000 campers a year, this campground is one of Kentucky's finest camping resorts. Located right in the heart of the famous Bluegrass region, it provides a laid-back atmosphere, perfect for a relaxing family vacation.
As a part of the Kentucky Horse Park, visitors can engage in numerous equestrian activities, such as horseback riding, polo, fairs, horse shows, and parades. Kentucky Horse Park is also home to the International Museum of the Horse, the largest of its kind in the World.
To stretch your legs, there is the 12-mile-long paved Legacy Trail from the campground to downtown Lexington, suitable for both walking and bike rides. The campground itself features a kid's playground, tennis, basketball, volleyball courts, and a swimming pool (open from May 31).
You can choose from 260 water and electricity hook-up sites with 20/30/50 amp service. Each site has a fire ring and a picnic table. For those looking for a more idyllic stay, there are also electric primitive and primitive sites.
Whispering Hills RV Park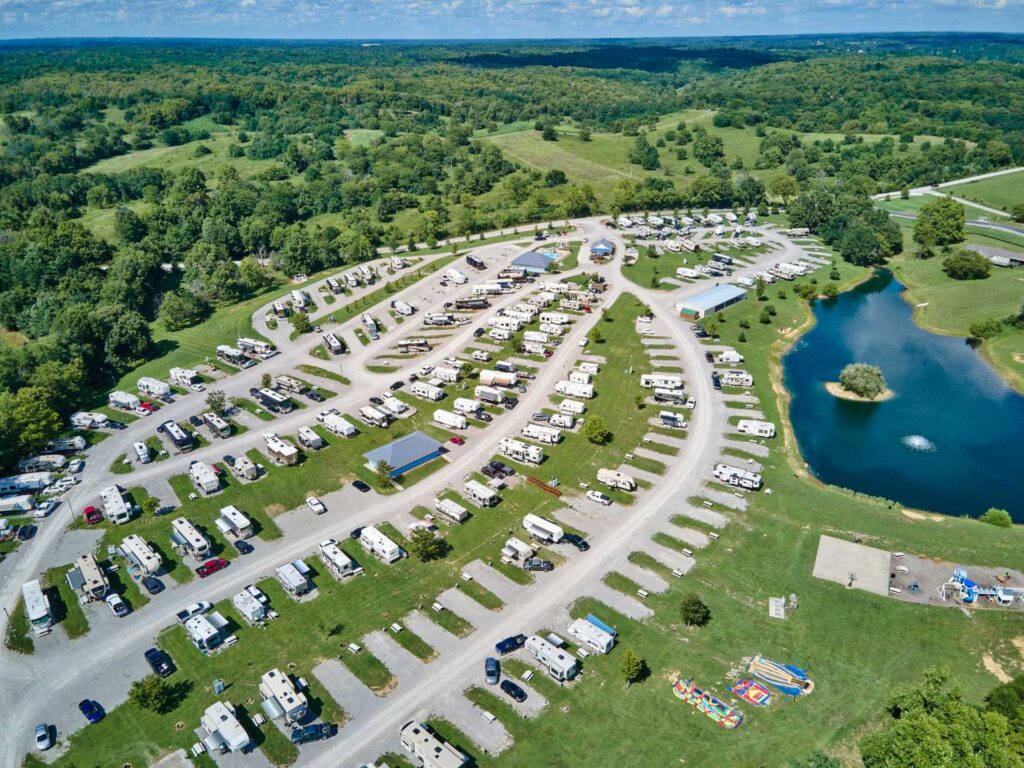 Address: 257 Rogers Gap Rd, Georgetown, KY 40324
Phone Number: (502) 863-2552
Nestled in the horse country of Georgetown, Whispering Hills RV Park is a place to enjoy a leisurely stay of fishing, swimming, basketball, or discovering the area. Experience Kentucky on horseback, walk through the antique stores and historic buildings of the downtown or visit the nearby full-scale replica of Noah's Ark.
Outdoor enthusiasts will love the close by Veterans Memorial Wildlife Park, the natural habitat of a variety of game species, birds, reptiles, and amphibians. The Bourbon Trail and local wineries are also just a stone's throw away.
The campground offers 230 pull-thru full hook-up sites with 20/30/50 amp service, of which most have their own fire ring. There are also 9 premium sites with concrete pads, tables, and double rocking chairs. Kids can make use of a playground, swings, bouncing houses, and bouncing slides. Pets are welcome.
Elkhorn Campground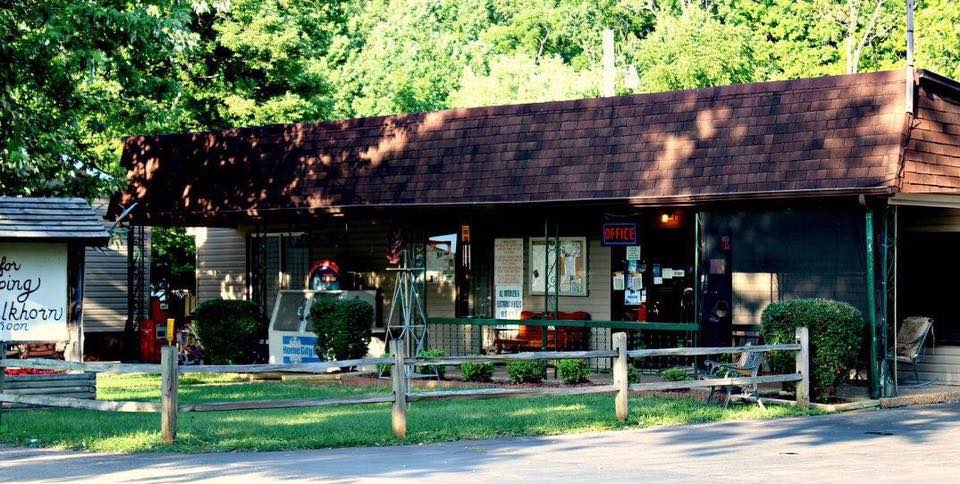 Address: 165 N Scruggs Ln, Frankfort, KY 40601
Phone number: (502) 695-9154
This family-owned campground is set in Frankfort, the capital of Kentucky, along the banks of Elkhorn Creek. It's family-oriented and ready to fulfill every camper's needs.
It features 125 sites, most of which are paved. More than 60 of them are full hook-ups, including cable TV, while some of them are extra-long even for the largest RVs and suitable for campers that are towing.
Guests can cool off in the swimming pool, play a round of putt-putt, or shuffleboard. This campground also has horseshoes, volleyball, and basketball courts. Kids will like the huge playground with swings, slides, and other equipment.
Even though Elkhorn Campground operates mainly during the camping season, note that some sites are available in winter.
Hillman Ferry Campground
Address: 820 Hillman Ferry Road, Grand Rivers, KY 42045
Phone Number: (270) 924-2181
Located in Land Between the Lakes and just a short drive from Grand Rivers, Hillman Ferry Campground offers a blend of nature and modern facilities for the ultimate vacation experience.
There are 374 lakefront and wooded sites that can accommodate various camping units, from small tents and campers to large motor homes. Both primitive and full hook-up sites are available. For those looking for a bit more comfort, there are also vacation cabins suitable for up to 8 people.
Swim, fish, boat, hike, and bike, or just relax in the shade of trees or by a campfire. In the summer season, there are also recreational programs offered by the staff. Adventure enthusiasts can explore the Old Rock Quarry Site, but note that it's a rather dangerous place, so take extra care if you decide to visit it.
Pioneer Playhouse Campground
Address: Pioneer Playhouse, 840 Stanford Rd, Danville, KY 40422
Phone Number: (859) 236-2747
Nestled in Danville and just a stone's throw away from the Pioneer Playhouse – the state's oldest outdoor theatre – this campground is a perfect choice for campers who enjoy performing arts.
The property consists of 35 sites with water and electric hookups, bathhouses, and a dump station. In summer, there is a show every night from Tuesday to Saturday. Along with the performance, you can enjoy a home-cooked dinner but you have to let the campground know in advance.
Note that Pioneer Playhouse is a "first come, first serve" campground. However, the spots rarely fill up, so you don't have to worry about having to leave for a different camping site if you arrive late in the afternoon or at night.
Camp on the Kentucky
Address: 5486 Cummings Ferry Road Versailles, KY 40383
Phone Number: (859) 879-6402
Camp on the Kentucky is a privately owned and operated campground located in the north-central part of the state. The campground is tucked into a curve of the Kentucky River and offers both RV and primitive campsites. Each site offers amenities such as water and electricity hookups, campfire pits, and picnic tables.
Wildlife, hiking, and other outdoor recreation are all available at the campground. The area is also home to numerous horse farms, many of which offer horseback tours of the area. Or, for a less outdoorsy experience, try visiting the Bourbon distillery. Learn how each of Kentucky's six historical varieties of Bourbon is made, and sample some too! The Wildside winery is a quick drive from the campground and offers wine made with local seasonal fruits. Afterward, walk over to the antique store for some shopping.
Camp On the Kentucky offers a wide variety of activities and is perfect for all types of campers. It is perfect for those looking for a quaint and quiet getaway.
Kentucky Lakes Campground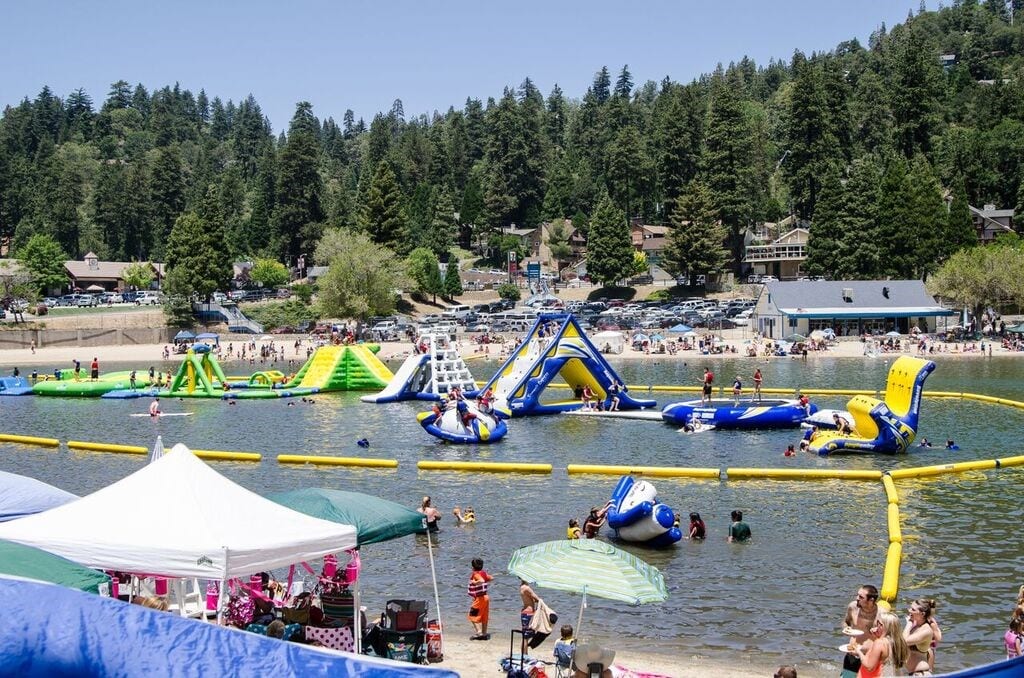 Address: 1777 Prizer Point Rd, Cadiz, KY 42211
Phone Number: (270) 522-3762
Kentucky Lakes campground is an ideal spot for families and those looking for plenty of fun activities. Located in the southernmost corner of the state near Tennessee, this campsite boasts everything from a water park to outdoor movies. A camp store and a floating restaurant are also unique features. Try one of the restaurant's catfish and chips baskets for a true Kentucky meal!
Boats are available for rent, or campers can bring their own for a day out on the Kentucky lake. Jet skiing, paddle boarding, and other sports are also permitted. Campers can choose from deluxe cabins or RV sites, which come complete with a patio. Each campsite comes with a 50 max amp, a fire pit, and free access to all amenities. Cabins also include cable TV.
For anyone looking for a deluxe, all-access camping experience, Kentucky Lakes is the perfect place!
Cave Run Lake Campground
Address: 2375 KY 801 South Morehead, KY 40351
Phone Number: (606)-784-6428
This cabin campground is located on Cave Run Lake in the Daniel Boone National Forest. The campground is nestled into Northern Kentucky's beautiful hills and offers a wide variety of nature-filled recreation.
Campers have access to several different hiking trails which range in both distance and difficulty. For those who don't enjoy hiking, the campground also offers mountain biking and horseback riding trails. Boat-launch access and swimming areas are available as well.
The lake is great for swimming and water sports, but also offers a large sandy beach perfect for those who want to spend the day relaxing. Ideal for all types of people, Cave Run Lake campground offers primarily cabin camping but includes tent and RV sites for those who like a more rustic experience. Each campsite has a picnic table and campfire pit for those delicious camping meals.
Adventure-seekers, outdoor enthusiasts, and comfort campers alike will all find something to love at this campground.
Red River Gorge Area
Address: 3451 Sky Bridge Road Stanton, KY 4038
Phone Number: (606)-663-8100
The Red River Gorge Area is another area of the Daniel Boone National Forest. This geological preservation is aimed at those who enjoy dispersed, or backcountry, camping.
Campers do not have access to any amenities such as fire pits, bathrooms, or visitor centers. However, the breathtaking views of the area make up for its lack of amenities. The Red River Gorge is known for its hiking, biking, wildlife viewing, and canoeing opportunities.
Licensed campers may even hunt, fish, and trap in the area. Small game is most common here but there is no shortage of big game either. Camping here is for experienced campers, due to the remote and secluded nature of the area.
The Forest Service does not recommend that children camp here. Black bears are often sited in the area, which means that extra precautions must be taken to properly store food and garbage.
In addition to bears, hikers may also see otters, woodchucks, raccoons, and big game such as deer and moose. Anyone visiting should be prepared for a difficult yet rewarding camping experience!
Zilpo Campground
Address: 8697 ZILPO ROAD SALT LICK, KY 40371
Phone Number: 606-768-2722
Zilpo campground is a nationally run campground ideal for families, friends, and groups. The campground sits on a sandy peninsula of the beautiful Cave Run Lake, and campers can enjoy private campsites surrounded by groves of hardwood trees.
Zilpo boasts a variety of outdoor recreation, including swimming, and water skiing. boating, and hiking. The lake is a fisherman's dream, as it is home to a wide variety of different species of fish, offering top-tier fishing. The Zilpo Lake trail is a moderate hiking trail ideal for children. For a more challenging hike, try one of the connecting trails, which stretch for many miles through the Daniel Boone Forest.
Visitors may choose to rent cabins, RV sites, or tent sites, each offering basic amenities such as shower access, a fire pit, and lantern poles. Each RV site has access to electricity, water, and sewer hookups, and cabins offer a deck with a lakefront view, air conditioning, and furniture. For those who love furry friends, select Zilpo cabins do allow pets, and other cabins offer wheelchair-accessible ramps. The site also gets good mobile phone coverage and some cabins offer Wi-Fi.
Zilpo campground is the perfect experience for campers looking for privacy, beautiful views, and a wide range of recreational activities.
My Old Kentucky Home Campground and Historical Site
Address: 668 Loretto Road Bardstown, KY 40004
Phone Number: (502)-331-9054
My Old Kentucky Home Campground is a state-operated facility perfect for history buffs, families, and those looking for a less rugged camping experience. The campground is located on the same property as the old Rowan Family Mansion, and campers can enjoy tent or RV camping.
The campground is most well known for its tours of the mansion. These tours offer a glimpse back in time into colonial Kentucky. Visitors will be able to see one of the largest collections of 18th-century antiques in the area, as well as period art and clothing styles, worn by actors in the home. Tour guides will perform the famous song "My Old Kentucky Home" for a fun ending to the tour.
After visiting the mansion, take a walk across the impeccably manicured grounds and play a game of golf. Or, go watch a live musical performance at the amphitheater. Bird watching, shopping, and tennis are also available.
Afterward, settle down for the night at your campsite, nestled among the rolling hills of North Central Kentucky.
Walnut Creek Private Campground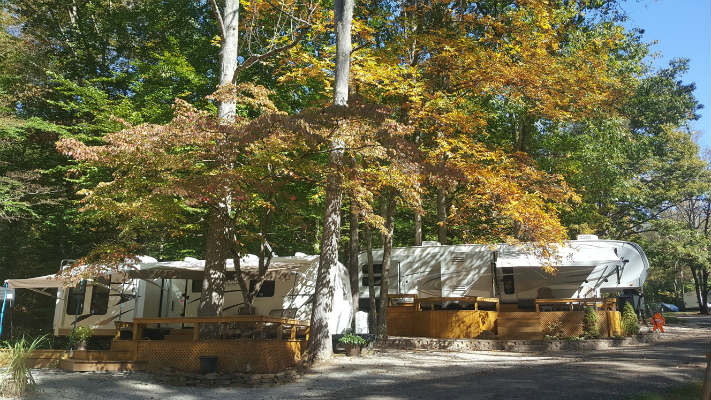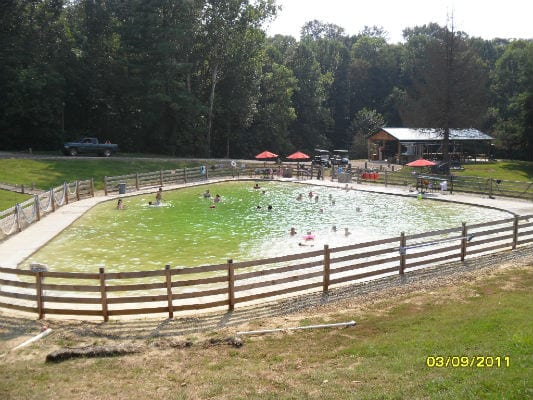 Address: Scottsville, KY 42164
Phone Number: (270) 622-5858
Walnut Creek Campground is a small, privately owned campground perfect for those looking for a quiet getaway. The facility boasts views of the creek, which winds quietly through the area.
Campers can choose from tent or RV sites, and portable restroom facilities are available. Keep in mind that showers and RV hookups are not available, but other basic amenities are. Each tent site sits in a grassy area with plenty of room to spread out. Picnic facilities are well maintained and perfect for mealtime or simply a nice place to sit and chat.
Down below the campground is a boat launch and a small beach area for relaxing on warm summer days. For those who like something more action-packed, try renting a jet ski and riding around the creek, or going for a quiet boat ride with friends. The area also offers a variety of hikes and walking paths, as well as wildlife viewing and other outdoor recreation. Walnut Creek Campground is the ideal location for a family-friendly, quiet, no-frills camping experience.
---
Clearly, Kentucky has no shortage of camping. With its huge variety of camping experiences, everyone will find a trip they love in this great state. Whether swimming, hiking, or touring historical sites is on your list, get out there and see what Kentucky has to offer!
Campsites are easy to book online, most are not too far from major cities, and they all offer a quiet place to get away for a few nights. There is no reason not to go!
Have kids? Try a family-friendly campground complete with a waterpark and movie theater. Want to really get away? Take a hike out into the forest and experience true backwoods camping.
Want to go with friends? Pack up the car and head to one of the classic campgrounds. No matter what type of camping you happen to be searching for, the state best known for its South Eastern charm will never disappoint, so get out of the city and try Kentucky-style camping!
FAQs about camping in Kentucky
What's the biggest state park in Kentucky?
Kentucky has 49 state parks, including state resort parks and state historic sites. In terms of the size of the land, Taylorsville Lake State Park is the largest state park, while Lake Barkley State Resort Park is the largest state resort park in Kentucky.
How much is RV camping in Kentucky?
Pricing of RV camping in Kentucky varies depending on the season, location, and facilities of the campground. However, the rates usually fall between USD$ 30 and USD$ 50 per night.
Where can you camp for free in Kentucky?
Free camping in Kentucky isn't exactly a thing, yet, you can still find some nice boondocking spots. Most free camping sites can be found in Daniel Boone National Forest, such as in Beaver Creek Wilderness or along Swain Ridge Road. Wildlife management areas also provide some dispersed camping.
When does the camping season start in Kentucky?
While the campgrounds in Kentucky State Parks are open all year round, the main camping season is from April to October. Weather-wise, spring and fall are the best seasons to visit the Blue Grass State.