Virginia is a land of history and beauty. From the beaches on the Atlantic Ocean to the Blue Ridge Mountains, past rolling hills with dogwood trees and mountain laurels, farms, and towns, Virginia is indeed for lovers as their advertising says. But the Old Dominion is also for retirees, kids, teenagers, and families.
Virginia was one of the original thirteen colonies before the American Revolution and one of the hotbeds of the Revolution. Historical sites abound, not only from the Revolution but from the Civil War. Virginia is wonderful for history buffs.
But if you want to get close to the natural side of Virginia, you need to go camping. Camping in this state offers incredible variety. If you love camping, or if you want to try it for the first time, here are eleven of the best camping sites in Virginia.
Cherrystone Family Camping Resort – BEST RATED
Address: 1511 Townfield Dr., Cape Charles, VA 23310
Phone: 757-331-3063
The Cherrystone Family Camping Resort, which was family-owned from its founding in 1964 until it was sold in 2021, is home to 300 acres of natural beauty set on the gorgeous Chesapeake Bay. More than 700 spots are available here, and many of those are protected from the sun by tall trees.
On this expansive property, you get to enjoy access to a beach, dog park, fishing piers, swimming pools, cafe, and general store. The wildlife that can be viewed from here is impressive as well. With it being located on the eastern shore of Chesapeake Bay, you can also enjoy some gorgeous sunsets from here.
An extensive laundry facility is on-site as well. It is open 24 hours a day.
Do note that during busy times, this resort can get loud although quiet hours should be observed from 11 p.m. to 7 a.m. Also, the property is large enough that some visitors rent golf carts to get around.
False Cape State Park
Address: 4001 Sandpiper Rd, Virginia Beach, VA 23456
Phone: 757-426-7128
Looking for primitive camping by the beach? Then, False Cape State Park is a spot you cannot miss. There are no showers, electricity, or stall bathrooms, so get well ready before your trip. In exchange, you will be able to enjoy more than six miles of unspoiled beaches and the ocean.
This park is especially popular for its wildlife. It boasts over 300 species of birds, otters, white-tailed deer, red fox, loggerhead turtles, as well as the famous American bald eagles. Apart from nature, you can enjoy kayaking, swimming, or just relaxing at the beach.
Note that False Cape State Park is accessible only by foot, bicycle, or boat. If you are coming with your dog, a boat will be the only means for you as pets are not allowed on the access trails of Back Bay National Wildlife Refuge. From April through October, visitors can also make use of a tram.
North Bend Park & Campground
Address: 64 N Bend Dr, Boydton, VA 23917
Phone: 434-738-0059
Set on the 50,000-acre John H. Kerr Reservoir, North Bend Park offers as many water activities as you can think of. From swimming and fishing to canoeing, kayaking, and boating, this campground will definitely not leave any family member disappointed.
On the other hand, the 800 miles of shoreline are a great option for campers who enjoy hiking. There are various trails around the lake, each of which offers a different scenery. Some of them are suitable for biking.
The wildlife is also abundant there. When exploring the park, you can come across wild turkeys, foxes, whitetail deer, and even bald eagles.
Even though the campground consists of nearly 250 sites, you won't feel cramped there. The sites are very well-spaced and some offer water views.
Other amenities include very clean showers and restrooms, picnic areas, an amphitheater, and playgrounds for the kids.
Virginia Beach KOA Holiday
Address: 1240 General Booth Blvd., Virginia Beach, VA 23451
Phone: 757-428-1444 (information) or 800-562-4150 (reservations)
The Virginia Beach KOA Holiday is a spacious property that is conveniently situated 5 miles south of downtown Virginia Beach and 2-1/2 miles west of the Atlantic Ocean. Within a couple of miles are attractions such as the Virginia Aquarium & Marine Science Center and the Ocean Breeze Waterpark, both of which are to the north and also on General Booth Boulevard.
Offered on the grounds include pool access during the summer and options to pay extra for firewood, propane, a tour shuttle, and bicycle rentals. If you are visiting during the winter holiday season, be prepared to enjoy some gorgeous lights that will be on display here.
Do note that those traveling in groups might experience a tight fit in the cabins, internet connectivity may be spotty, and this site is near Naval Air Station Oceana – i.e. planes will be flying overhead on a regular basis.
Holiday Trav-L Park – Best Family Camping in Virginia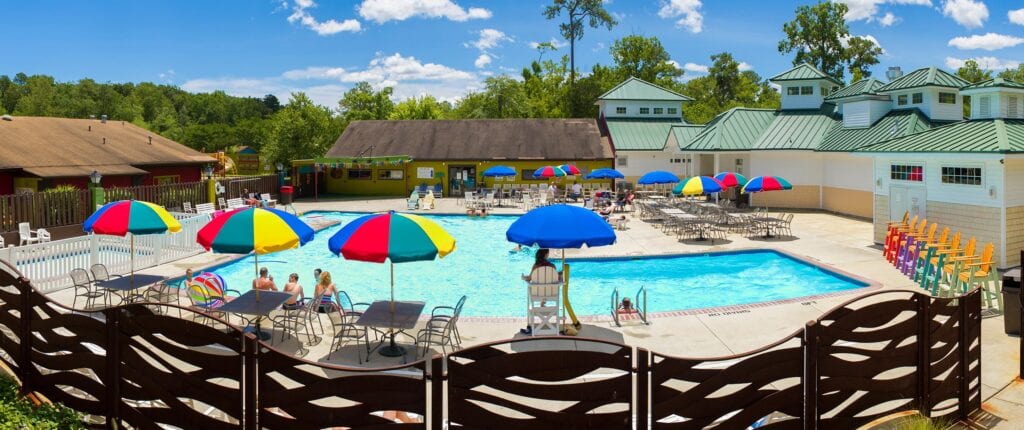 Address: 1075 General Booth Blvd. Virginia Beach, VA 23451
Phone: 757-425-5117
This campground is in Virginia Beach and is the closest camping site to the Atlantic Ocean.
They have a parking lot one block from the beach.
There are almost 100 tent sites, along with cabins and RV sites.
Basketball, playgrounds, miniature golf, volleyball, bike paths and a swimming pool offer lots of family fun.
There's even a one-acre dog park for your furry friends. Spend
Spend the days at the beach, then hang out at the pool or take the kids into the city for fun.
You might want to bring your surfboard. Virginia Beach is the home of the East Coast Surfing Championships, so you know the surfing is good. You can rent boards and let the kids learn.
The Cape Henry Lighthouse is a great place to explore.
You can treat the kids to an indoor skydiving experience or take them to the Aquarium or both.
Virginia Beach is a tourist town. There are dozens of exciting things to do, including laser tag, amusement parks, sports parks, and shopping. And the seafood is great.
Crabtree Falls Campground
Address: 11039 Crabtree Falls Highway, Tyro, VA 22976
Phone: 540-377-2066
The campgrounds is on the Tye River, providing lovely scenery.
Cabins with views of the river, RV sites, and tent sites right on the river are available. Most of the tent sites do not have water or electricity. The bathhouse, camp store, and parking lot are not far.
A half mile walk will take you to Crabtree Falls, the tallest waterfall east of the Mississippi River. The water cascades down 1200 feet, providing spectacular views. The hike from the road up to the falls will take about 1.5 hours, good for older children and teens, but young children and toddlers will not tolerate this walk well.
Spy Rock is four miles away from the camp. The hike is moderately difficult and takes about 40 minutes. But at the top, you will have a 360 degree view of the Blue Ridge Mountains, one of the most beautiful views you have ever seen. Don't forget the camera.
Horseback riding is available in Montebello.
There are several breweries and hard cider barns nearby.
There are lakes and rivers throughout the area and the fishing is great.
Outlanders River Camp
Address: 4253 US 211, Luray, VA 22835.
Phone: 540-743-5540
Situated on the shore of the Shenandoah River in the Blue Ridge Mountains, this campground has beautiful scenery with the calm waters of the Shenandoah flowing past.
Cabins, RV sites, and tent camping are all available.
The grounds include 100 acres of forest with 3/4 mile of riverfront.
You can rent canoes, kayaks, boats, and jet skis. Tubing is a popular recreation.
Fishing in the river is excellent.
There are multiple swimming areas.
Hiking and biking trails wander along the river.
Near the campgrounds is Luray Caverns, the largest caverns in the eastern United States. These caverns offer guided tours along paths through some of the most amazing rock formations, stalactites, and stalagmites that you'll ever see.
After the caves, you can spend some time shopping in the antique shops and art galleries in Luray.
There are three wineries nearby.
Historical sites include three Civil War battlefields.
If you really want to give your kids a thrill, sightseeing flights in either a fixed wing aircraft or a hot air balloon are available.
If that's not enough adventure, you can go horseback riding through the forest with a guide or take the kids ziplining.
Picture Lake Campground
Address: 7818 Boydton and Petersburg Plank Road, Petersburg, VA 23803
Phone: 804-861-0174
South of Richmond, this site offers a pleasant campsite.
The unique feature is its proximity to the Virginia Motorsports Park. The Park has weekly events. So when you're done fishing and swimming and hiking, you can go watch Nascar racing.
Cabins, tent sites and RV sites are all available.
A large swimming pool will cool you off after a day at the races.
There are historical sites nearby. The Petersburg National Battlefield has a 16 stop driving tour that takes you through the park.
The Pamplin Historical Park and the National Museum of the Civil War Soldier sprawls over 400 acres with antebellum homes and museums.
And to get your adrenaline flowing, there's the Virginia Skydiving Center less than a mile from the campground.
Restaurants and shopping are available in Petersburg, a few miles away.
First Landing State Park
Address: 2500 Shore Drive, Virginia Beach, Virginia 23451.
Phone: 757-412-2300
Located on Cape Henry, which separates the Atlantic Ocean from the southern shore of Chesapeake Bay, First Landing sprawls over nearly 3000 acres south of Fort Story Army Base.
This is the spot where the first colonists landed in 1607. Those colonists went further inland to found Jamestown. Now First Landing is Virginia's most popular state park.
With nearly 20 miles of hiking trails through marshes, lagoons, and forest and 1.5 miles of beach on Chesapeake Bay, the park is great for families, especially with children.
And don't forget your dog. Pets are welcome in all of Virginia's state parks.
First Landing has cabins as well as electric hook-up campsites.
There are boat ramps, picnic areas and a store.
Since the park is tucked into a corner of Virginia Beach City, there are restaurants, shops, movie theaters, and even several amusement parks nearby.
Cape Henry Lighthouse is great for exploration.
This campground is perfect for people who enjoy camping but prefer being close to civilization.
Chickahominy Riverfront Park
Address: 1350 John Tyler Highway, Williamsburg, VA 23185
Phone: 757-258-5020
The campgrounds overlooks the beautiful Chickahominy River.
The park features a large outdoor pool, a volleyball court, and a basketball court. A camp store can supply necessities.
There are two bathhouses.
Canoes, kayaks, and paddleboards are available for rental.
Boat ramps are available.
Fishing is good. In fact, there are several fishing tournaments through the year.
In addition to water sports, hiking and biking trails wander along the river.
For history buffs, this park is perfect. Jamestown, the first settlement in Virginia in 1607, is minutes away, with recreations of the original settlement. Yorktown and Williamsburg are also close by.
Freedom Park is the site of a Revolutionary War battle as well as the location of the first free black settlement in America.
Kidsburg in the Veterans Park in Williamsburg has a fantastic collection of buildings, including a tribal village and a pirate's ship. just for kids to explore.
Pocahontas State Park
Address: 10301 State Park Road, Chesterfield, VA 23832
Phone: 804-796-4255
Twenty miles from Richmond, nearly 8000 acres of wilderness await you.
The park has camping sites, yurts, and cabins, picnic areas, showers, laundry facilities, and grills.
There are 90 miles of trails for hiking, biking, and horse riding.
The Aquatic Center has multiple pools, including an Olympic size pool, a toddler pool, two tubular slides, and a fountain.
There are three lakes within the park for boating and fishing. Boats, including canoes, kayaks, paddleboats and paddleboards are available for rental.
A 2000 seat amphitheater in the park is the site for the Pocahontas Premieres series of concerts and entertainment.
Since the park is close to Richmond, there are restaurants, shopping, an antebellum plantation, galleries and sports parks. The area is rich in historical sites.
You can stand where Patrick Henry gave his "Give me liberty, or give me death." speech.
The American Civil War Museum and the John Marshall House are nearby. Whether it's family fun, history, fishing or nature, Pocahontas Park has it all.
Grayson Highlands State Park
Address: Grayson Highland Lane, Mouth of Wilson, VA 24363.
Phone: 276-579-7092
Located in southwestern Virginia in the Blue Ridge Mountains, the park has magnificent views of the mountains.
Trails lead to the two highest peaks in the state, Mount Rogers and Whitetop Mountain.
The campgrounds are close to an entrance to the Appalachian Trail.
Campsites are equipped with picnic tables and grills, water and electricity. However, there are no showers or bathrooms at the site. Come prepared to rough it.
There are 23 campsites with stalls and stable areas for horses as well. Not only can you bring your dog, you can bring your horse.
If you don't have a horse and want to ride, a nearby stable has guided horseback rides through the park.
You can rent canoes and tubes for tubing down the river.
Take the children to the alpaca farm for some warm and fuzzy animal bonding.
One of the most charming aspects of the park is the wildlife. Wild ponies roam freely. The best trail to take for pony viewing is the Rhododendron Trail. The kids will be thrilled.
Almost everywhere you look in Grayson Highlands, you will see spectacular views, no matter what the season. Do not forget your camera.
---
Whether you want a nice, peaceful vacation where the most excitement is tubing down a river, or you want to try ziplining and a hot air balloon tour, Virginia has it all.
Hiking, biking, and horseback riding. Swimming, fishing, boating, kayaking, and paddleboarding. Wandering around battlefields or exploring lighthouses.
Surfing in the Atlantic Ocean or canoeing down the Shenandoah River, watching egrets and great blue herons. Standing on top of Spy Rock, almost literally on the top of the world or wandering through caverns with eerie and gorgeous rock formations. These and more are waiting for you.