Camping is one of the best ways that you can spend time with family or friends. There are several activities you can undertake while you are out camping. These may include chaining and cooking your animals and playing with ropes to pass the time.
One thing you have to ensure is that you get prepared with all you need to use at the camp. One thing you should never forget is a camping knife. Arriving equipped with a camping knife means that you will make life easy in the woods as you enjoy the outdoors together.
There are various reasons why a knife is an essential camping accessory to carry with you. First, you can use a camping knife both to catch and prepare animals for food. Also, a camping knife helps in lighting a fire, especially when there are no other ways to light fires at the camp.
Here are the top 7 camping knives that you may buy for your next camp:
Victorinox Swiss Army Pioneer X
9 tools in one
Compact
Trusted manufacturer
Not only is Switzerland known for its super-quality watches, but it's also a renowned blade and knife manufacturer. So why not take this iconic pocket knife for your next camping trip?
Victorinox Swiss Army Pioneer X features a classic knife (65mm blade) as well as a pair of sharp scissors, a can opener, a bottle opener, a wire stripper, a spike, and a screwdriver. Sadly, there is no corkscrew, so you might have to use one of the good old tricks. Have you tried opening a bottle of wine with your shoe?
It weighs only about 0.08 kilograms and is 3.58 x 1.02 x 0.67 inches when folded. Therefore, it's a perfect companion for backpacking trips. Just put it in your backpack or a pocket of your trousers – you won't even notice it.
Great value for money
100% money-back guarantee
Pocket-sized
It's the perfect knife for outdoor activities. Remember, the best bit about camping is living on game food.
Therefore, you have to hunt for survival. You need a good pocket knife that can help you do that easily. There are various features that you will like about this product.
First, it has a liner lock that helps to prevent unexpected closure. This liner lock is dirt-resistant, and this will not let whatever you cut hold onto its surface. It's suitable both for people that use the left and right hand to cut things.
Also, you will love how durable this knife is. It has the durability you desire in a knife and cuts with razor sharpness. Besides, it is corrosion-resistant to prevent rusting. That means you can easily use it even without sharpening.
If you do not love camping, you have someone that loves it.
This knife is a perfect gift that you can give. It's foldable and easy to carry around. Whether it's your father, husband, or brother, it is the ideal gift for a man. You, therefore, can purchase it even if you do not love camping.
It's sturdy

Corrosion-resistant

Unique design

Great value for money
It's a knife that has the best cutting blade for outdoor needs. The clip is hard and made from stainless steel.
It's corrosion-resistant and cuts with a high level of sharpness. With the Mossy Oak knife, your camping days will be as easy as they have ever been.
One of the unique features of this knife is its handle. It's rubber made and provides an excellent grip that is good for camping. The rubber is soft to make it comfortable to hold the knife. Also, it gives high friction and is also non-slip material to prevent accidents.
Also, the package comes with more than just a knife. You will get a sheath that will make it easy to store the knife. Also, you will find a silver sharpener and a firecracker to make your camping experience better. All these items get delivered as a package making it money-saving.
You can use this knife for different purposes. For example, it can help in hunting self-defense, and outdoor sporting. Therefore, it's all-around and worth adding to your collection.
It's durable

It's versatile

It's sturdy
It's a comfortable top-carry knife when moving around in the woods or anywhere else.
It comes with a high-quality nylon pouch. You can use the bag to carry the knife safely. Besides, you can take it out quickly in case of an emergency.
It's a heavy-duty product that you will use for many years to come. You can be sure about its durability because both the blade and handle are of durable material that is not easy to break. Also, you can use it for various activities without any breakages.
Also, it's the perfect gift for anyone. If you can identify that person who loves camping, then you should think about buying a camping knife. This knife is giftable and the best option that you may go for if you need a special gift.
You have a quality guarantee when you buy this product. It's a warranty that will ensure you get a product that is free from any defects. It shows that the manufacturer has confidence in the knives they make. You can spend on it with confidence in your decision.
Foldable and portable
Comfortable grip
Easy to open
It's the most convenient knife you can choose to buy. It has a pocket clip that makes it easy to move anywhere that you wish. Also, the pocket clip makes it easy to access when you want to get it quickly. Also, it has thumb knobs that make it much more convenient to use.
Also, the manufacturer kept the buyer's security in mind while making this product. It has a security lock that ensures the knife does not slip off and fall. The liner lock will make you feel secure carrying it around and also safe from losing it.
It's a durable product that can stand the test of time. It has an aluminum steel blade that does not catch stains and is also corrosion-resistant. Therefore, you will find it easy to use it in any environment. Also, it has aluminum handles that will last for many years to come.
Also, you will love this product because of the quality guarantee it has. It comes with a warranty that will assure you of the security of your money. Also, it helps to show that the manufacturer trusts the equipment that they make.
It's sturdy
Great value
It has an ergonomic design
It's a safe knife to use. There are several safety features that the manufacturer has put in place to ensure that the user does not get hurt while using this knife.
First, there is a lock that prevents accidental opening. Also, the handle has a unique design that prevents slipping.
Also, it has a sturdy fire starter that does not break easily. Also, that makes it convenient to light fires at the campground. The best thing about the fire starter is that you can reuse it as many times as you wish. The fire starter is also safe and reliable, even in wet weather.
Besides, it is a high-quality product that you can expect to last long. The handle is non-breaking, and the blade is stainless steel made. With these two features, you can be sure that the knife will last long, even when you use it to cut hard things.
The fire starter is durable also and water-resistant. That means it won't break just by falling, and it will work correctly even after heavy rain pours.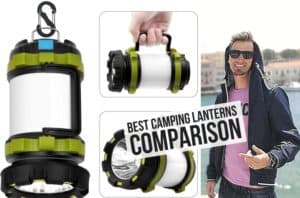 Corrosion-resistant

It has a performance grip

It has a sheath included
It's a perfect knife for food preparation and cutting tinder. It's the ideal outdoor knife owing to the versatile design that makes it useful.
Therefore, you can use it for several purposes without fearing that it will break or lose its sharpness. The hardened stainless steel blade is a great feature.
Another thing to note about the steep blade is that it's corrosion-resistant. Therefore, you will not worry about rust and other things that may make it lose its sharpness. Also, it is razor-sharp to make your camp life easy.
More features of this product include the manufacturer's warranty that gives you confidence in their products. Therefore, you can buy with confidence that you will not lose your money. The package includes a sheath that has a belt clip for more safety.
You can also be sure of a good grip with this Morakniv camping knife. The patterned grip makes it easy to hold your knife because it's soft and comfortable to hold. That also helps to reduce any instances of an accident. It's, therefore, an excellent knife to move around with while you're outdoors.
Conclusion
There are various types of knives that you may buy for your camping needs. The first type is a foldable knife, and the other is a fixed-blade knife. Mostly, you may find fixed-blade knives to be great options because of their sturdy design. Also, you may love foldable knives because they are safe to slip into your pockets.
Since camping is a perfect time to bond and enjoy, having the type of knife that makes you comfortable is the best thing. You can check out the features of the knife that you would like to purchase. A durable, stainless steel-made blade will do for an enjoyable camping experience.
Also, if you love camping, you may note that carrying more than one knife is essential. There are several situations that you may need to use a knife, and having one is not feasible. Ensure that you carry knives that can perform different purposes when camping.
The best 6 camping knives in this article have the best features that you can look for in a knife. Therefore, you can choose one that appeals most to you if you need a camping knife. Also, it has to match your budget to be the perfect knife.