When you're on a camping trip, moving around your tent or campsite after dark can be a challenge. A lantern is a convenient solution and essential for great camping experience — it sheds a wide ring of light, enabling you to find walk safely at night.
Depending on the type of camping you like to do, a lantern can be used in addition to or in place of a headlamp or flashlight.
As you're looking for a camping lantern, the first thing to consider is the size. If you're hiking to the campsite, look for smaller, lightweight models that take up minimal space in your pack. For car camping, you have more flexibility to choose larger lanterns that can illuminate a wider area.
Camping lanterns come in two major designs: hanging and freestanding. Hanging lanterns are ideal to use inside a tent; they clip into a post or strap, shedding light without taking up space on the floor. Freestanding models can rest on a camping table, cooler, or the ground.
6 Best Camping Lanterns for Outdoor Trip
Best Camping Lanterns for Outdoor Trip in 2021
• Collapsible frame for easy storage and custom illumination
• Top handle for carrying and hanging
• Batteries included
When you need serious brightness, this Vont camping lantern is a great choice. It's made with 30 different LEDs, so it emits an exceptionally bright light. The lights are oriented to cast light in a full circle, ensuring the widest possible ring of illumination.
The Vont lantern is constructed from military-grade materials; they're waterproof and weather-resistant, enabling you to use the lantern in the rain or other harsh environments.
That way, you don't need to worry if you're hiking through the woods or using the lantern in a busy, high-activity campsite. If the light falls, it's tough enough to withstand the impact without cracking or breaking.
Using this light is easy — just pull up on the metal handles to expose the clear shade and the LEDs. This action automatically turns on the light. Don't want to wake up your camping buddy? You can adjust the brightness by raising and lowering the light.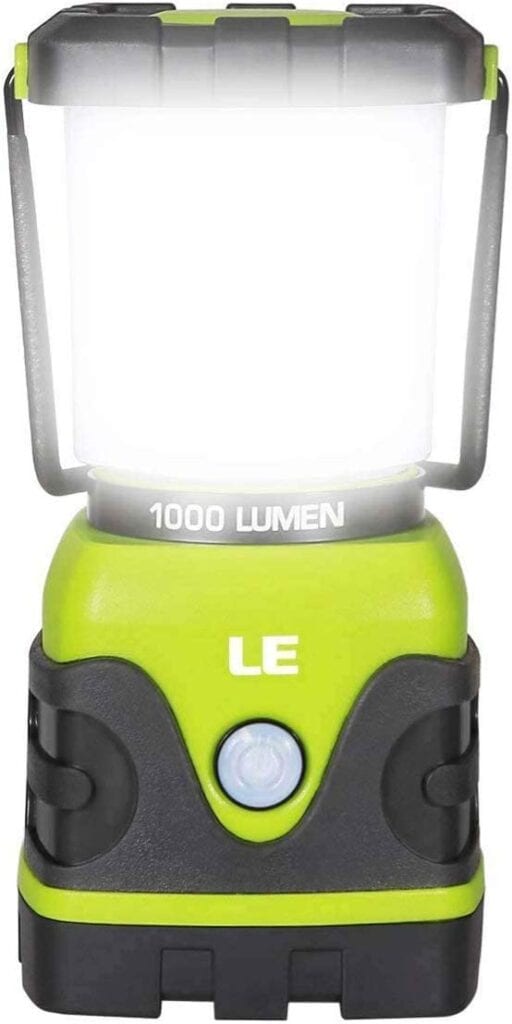 • Batteries last for up to 25 hours
• Waterproof materials for safe outdoor use
• 360-degree light distribution
This LED lantern is one of the more versatile camping lights on the market.
It starts with the installation — use the solid base to rest the lantern on a picnic table, the tent floor, or any other flat surface.
It's wide and sturdy, so it won't tip over if you bump it or shake the table.
Prefer to hang the lantern? There's a hook on both ends, so you can suspend it from a lantern pole or from the center of the tent. Use the bottom hook when you want maximum illumination; it positions the light facing down for extra brightness.
This lantern comes with four different lighting modes, including warm white, daylight, combined, and flashing. Dim the glow by long-pressing the power button until you reach your desired brightness.
Check out this video review:
• Six lighting modes for flexible illumination
• Strobe and red light options are helpful in a wilderness emergency
• Rubber cladding for durability and impact resistance
If you're a backpacker, this Wsky lantern is a must-have piece of gear.
It's small and durable, so you can clip it to the exterior of your backpack for quick access when you need it most. The integrated clip also makes it easy to hang the lantern from the tent ceiling or a tree branch.
Need to walk through the wilderness after dark? This lantern converts into a flashlight; it even features a side handle for easier carrying and light direction. Don't worry if you drop it on your way down the path — the frame is super-durable and water resistant.
This lantern is more than a light; it also doubles as a portable power bank, so you can charge your phone or other electronics. Just plug your cable into the built-in USB port. With its 3600mAh capacity, you'll have enough extra power to keep your phone going during a weekend trip.
---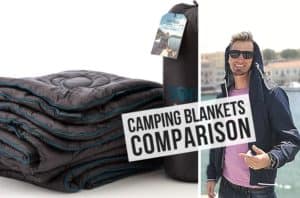 • Lightweight and compact for comfortable carrying
• Fan motor is quiet to allow easy nighttime use
• Adjustable frame for flexible positioning
Stay comfortable during warm-weather camping trips with the help of this portable lantern from Odoland. It comes with a built-in fan, so you can enjoy better air circulations on hot nights in your tent. With two different fan speeds, it's easy to customize the cooling.
This model uses an innovative design; the lights are built into a ring, which also acts as a base. That way, you can set the fan on a table even when you don't need the extra light. A durable hook assembly flips out from the fan body, enabling you to hang the unit.
Flip the switch to activate 18 LEDs and brighten the interior of your tent. They operate at a cool temperature, so they're safe to use in a tent or over long periods of time. Since each component of this lantern is highly efficient, it helps maximize battery life on extended trips.
• CREE T6 LED light offers ample brightness
• Supports a 5V DC charger adapter for flexible power
• Waterproof and durable
Navigate a dark campsite safely with this LE lantern.
It features a built-in front spotlight with a remarkable range of 1,650 feet — this extended beam helps you see a long way down a road or hiking trail. That way, you can walk around a dark campground or find your way to a backcountry campsite safely and confidently.
When you're hanging out in camp, use the side light panel for a traditional lantern-style glow. With five lighting modes, finding the right brightness is a breeze. Plus, since this lantern comes with a built-in battery pack, you can charge your smartphone in the evening so it's ready to go for the next day's adventures.
This LE lantern is constructed to IP44 waterproofing standards to protect the inner electronics from rain, splashes, and accidental falls. At just 29.98 ounces, it's comfortable to carry around your site or in a backpack.
• Available in red or black
• Palm-sized for easy carrying
• Anti-fall clip hook offers secure installation
Designed with an ultra-compact, lightweight frame these DealBang camping light bulbs are an ideal solution for backpacking trips or in-tent use.
They're about the same size as a traditional light bulb, so they take up a minimal space. The top is equipped with a clip hook that fastens to the exterior of your pack or hangs from an interior surface inside your tent.
Each lamp in this set emits 150 lumens of light; that's enough to send a soft glow around a compact space. Choose from three different lighting modes to suit any situation: high, low, and strobe. The frosted cover eliminates harsh shadows and creates a light that's easy on your eyes.
Using these small light bulbs is easy — just drop in three AAA batteries and lock the top. A single button activates the light and flips through the different lighting modes.
A camping lantern seems like a simple piece of equipment, but it can go a long way toward making your outdoor excursions more comfortable. With its bright illumination, you'll be able to move more confidently after the sun goes down. Whether you're walking to the campground bathrooms or enjoying dinner on a picnic table, the lantern can help.
With so many different types of camping lanterns on the market, the trick is to find the one that best suits your style. If you like to explore the campground after dark, look for a lantern that doubles as a bright flashlight. If you're a backpacker, a smaller model or a model with built-in emergency flashers can be a great choice.
The best part? Your camping lantern can be useful in a range of other situations, too. Use it as you're trying to find items in dark corners of the garage or attic, or keep it on hand in case of a power outage. Each one operates without a power cord, so you can use it virtually anywhere.