Whether you are new to the world of camping or an experienced camper, you know the importance of a good night's sleep.
When you're in a tent, it may seem like a good night's sleep is unattainable. Just thinking of another night's sleep on the cold hard ground may bring back bad camping memories. However, it is definitely possible to get some quality sleep on an inflatable air mattress.
When searching for an air mattress for two people, there are a few things to keep in mind. These include customizability, durability, and packability.
Today we'll compare the six best options on the market to help you determine what is best for your camping adventures. Specifically, we'll explore the different materials used in making a quality camping mattress and the types of valves that differentiate between them. We'll also discuss who is the best consumer for each product to help narrow your search.
The WellaX UltraThick FlexFoam Sleeping Pad provides a nice level of comfort for you as you sleep in the outdoors. This is due to its 3 inches of thickness, which allow you to also sleep on your side or move around while you sleep with no discomfort, even if you have settled down in a rocky area. As a result, you will be able to enjoy a relaxing, regenerative sleep, allowing you to take on the next day with vigor.
These sleeping pads are also abrasion- and tear-resistant and waterproof, ensuring that they will last through numerous nights in the wilderness. In addition, they provide a blend of weight and quality, coming in at 7 pounds while providing a lot of value for that weight. Meanwhile, its pack size is 31 inches by 8 inches while it extends to 77 inches by 28 inches when it is inflated.
You should note, however, that it is not the softest sleeping pad that you could purchase, but, after taking everything into account, it may be the most comfortable one overall. Another thing to consider before purchasing is that this is not a viable option for backpackers.
The PowerLix sleeping pad provides an ultralight option for those who want to sleep in the wilderness. It weighs only 1-1/3 pounds and is just 11 inches by 4 inches when packed, making it a good option for backpackers. Most have also reported that it is easy to blow up and deflate – inflating takes about five minutes – while its non-leak air valve ensures that your sleep will remain comfortable throughout the night.
This sleeping pad consists of hexagon-shaped air cells that have been designed to ergonomically support the sleeper's pressure points and ensure that they experience a restful sleep. Its thermal insulation also provides protection from any cold ground that it has been placed upon. It is waterproof as well, so there is no need to worry about it getting waterlogged if you find yourself in a storm.
This durable product, which has been shown to take a beating and continue providing a restful spot, is made of 75D nylon and is rip-resistant. It is accompanied by a waterproof carry bag, an inflating bag, which can be turned into a pillow, and repair kits. The carry bag can also be used to place your clothes or other belongings in.
The Lightspeed PVC-Free Air Bed Mattress is designed for two people and available in blue and green.
The bed features two-way Boston valvae and a patented stabilized system so that you can adjust the firmness to your liking. The dimensions of this mattress line up with a typical queen-sized mattress.
Since it is PVC free, the mattress is more temperature stable, abrasion-resistant, and more durable than PVC air beds. This air mattress includes a battery-operated pump and an oversized storage bag. A great feature of this bed is the independent connector system. It works to evenly distribute weight and minimize movement disturbances between partners during the night.
The Lightspeed air mattress is built to last and can hold up to months of use without having to refill it. It's notable that the mattress firmness will vary with the temperature. For example, when it's cooler, you may notice that the mattress is less firm than when the temperature is higher.
Also, note that the bed itself can get cold when the temperatures drop, so you may want to line it with a blanket underneath a fitted sheet to keep the heat in if you'll be using it in colder environments.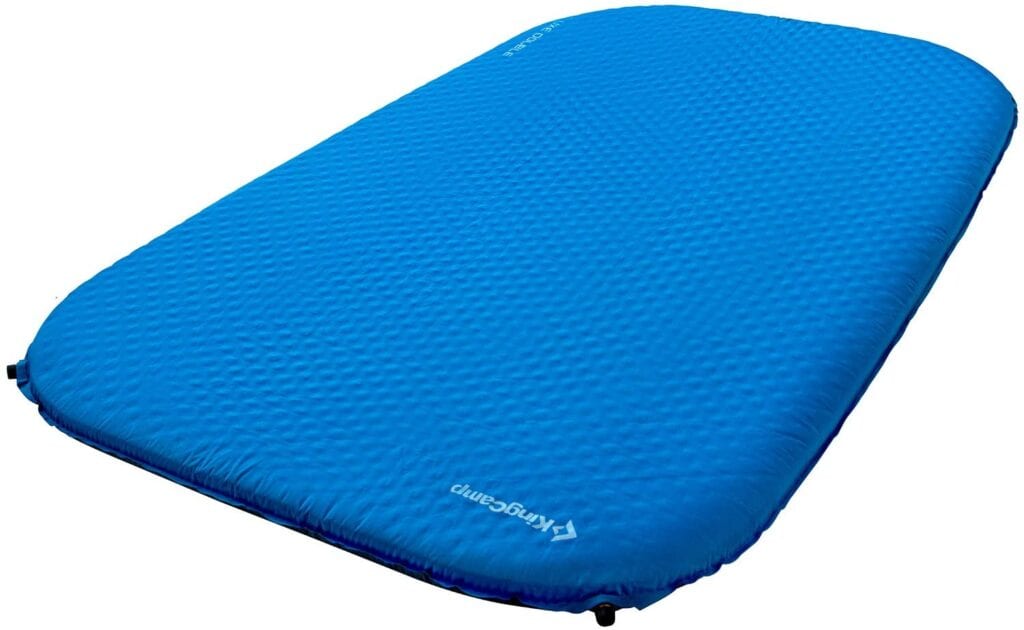 This mattress is unique because it is made of a jet stream foam that allows for faster inflation and deflation.
The mattress is damp-proof and made with two durable non-corrosive brass valves that allow for self-inflation. The KingCamp foam mattress is thicker than normal sleeping pads and made out of 100% polyester. The pad is designed with a "wave system" to make the sleeping surface more solid and comfortable. When rolled up, the pad has elastic straps to make it easier to carry.
It also comes with two repair kits. If you love sleeping on a cot when camping but don't want to haul one around, this is a great alternative. It should be noted that the bed will inflate to a thickness of about three inches on its own.
If you want a little bit more support, you will likely have to inflate it yourself. This mattress is great for campers who like to sleep on their side.
Unlike traditional air mattresses, you won't have to worry about sinking to the ground when you're trying to sleep on your side. This bed is great for people who have back problems and definitely eliminates the feeling of rocks underneath your bed when camping
The ALPS air mattress is unique because it comes with a state-of-the-art rechargeable pump with a car and a wall charger. This allows for easy inflation and deflation without any extra effort!
Note that the charger needs a full twelve hours of charge before you use it for the first time. This type of charger may be a downfall if you are looking to camp in remote areas where you won't have access to an outlet.
However, you can inflate it with a manual air pump if you purchase it separately.
It's designed with lightweight PVC-free polyester oxford fabric and a coil system for a durable sleeping area. Before you need to deflate the bed, be sure to grab the special nozzle that is designed to deflate the bed.
The durable fabric holds up to months of use without needing to be re-inflated. Since the bed is made out of PVC free material, you won't feel every move your partner makes while they are sleeping.
The ALPS brand offers a limited lifetime warranty on this product. The storage bag is designed a bit large for the bed itself. It could use more structure to better hold the deflated bed
The Camping Cot by Coleman is great for the camping couple that can't get behind the idea of sleeping on the ground.
This combo comes with a cot, side tables, a queen-sized air matters, and a battery-operated air pump. The side tables snap onto the bed frame so you don't have to worry about knocking them over when you get out of bed.
The bed itself is made with coil construction that will contour to the body for better support. The bed is factory-tested to ensure that there are no leaks and that it stays firm all night. It comes with a sewn-in cover that is attached to the cot so you don't have to worry about the mattress moving or falling off the cot.
The cot is made out of a durable steel frame that supports up to six hundred pounds. This bed is perfect for taller people as it is designed for heights up to six feet two inches and comes with a carrying case. Something unique about this bed is that it can be comfortably used indoors or outdoors which is great if you want to get some use out of it even when you aren't camping.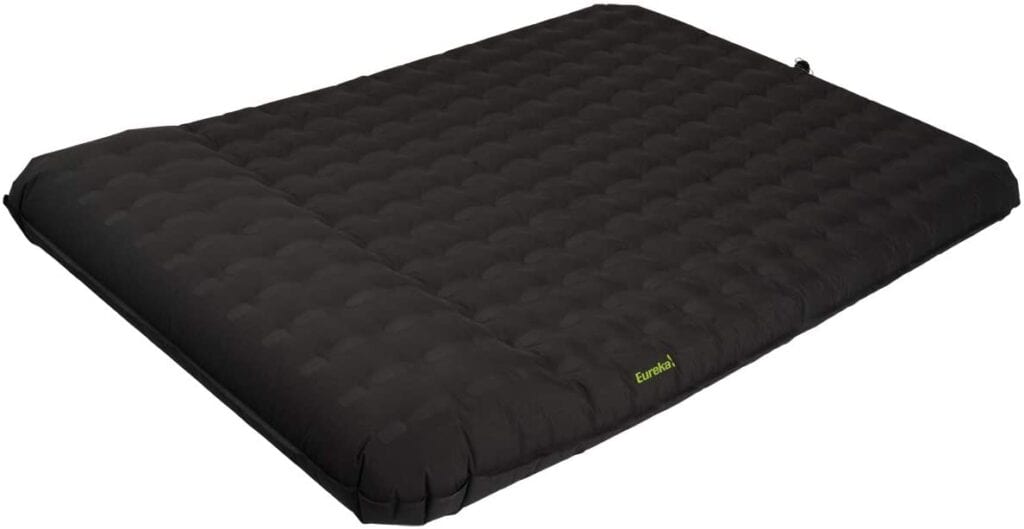 The Eureka! air mattress is designed with super-soft fabric on the top and bottom to help keep the bed and your sleeping bag from shifting during the night.
It comes with a rechargeable pump with an inflate and deflate valve. It has an internal stabilization system that absorbs movement instead of transferring it from side to side. Something unique about this bed is that it comes with an integrated raised pillow.
The grippy fabric also sets this mattress apart from others on the market. It works best when paired with sleeping bags and tent floors that also feature the stealth grip fabric.
Despite being a thin mattress, it's still comfortable for two adults to sleep on. The mattress holds air through the night so you don't have to worry about re-filling it.
Its construction really does help to eliminate feeling when your partner is tossing or turning during the night. This mattress can be used for tent camping, unexpected guests, or even on the water! This bed is also a great size to fit in the bed of a pickup truck. Imagine fishing from the comfort of an air mattress!
You can use this mattress even in the coldest of climates because it doesn't get cold like thicker mattresses
The Exped Megamat Sleeping Pad is a superior basecamp pad designed to be more like a bed than a sleeping bad. It will keep you warm and comfortable while car camping, rafting, or hanging out at basecamp.
This pad is self-inflating and it's easy to adjust the firmness of the pad with the included compact mini pump.
Something unique about this pad is that it is designed for all-season comfort. The included innovative carry sack makes packing up a breeze.
The mat features an edge-to-edge sleeping surface and is free of harmful chemicals. This pad is great for the camper that likes a primitive experience but also wants to be able to walk when they wake up in the morning.
The dimensions are great for taller people. The inflation and deflation process is easy and can be done in less than five minutes. The customizable valves are great for people who need to adjust the level of firmness of the mattress based on their daily pain levels.
Additionally, this bed is great for side sleepers because you do not have to worry about sinking to the ground like you would in a thicker mattress.
Bring this sleeping mat along on your next big trip if you want to take a nap in the great outdoors, or just use it as an extra guest bed now that camping season has begun.
The fact that it inflates with absolutely little effort is one of our favorite aspects. This camping air mattress for tents comes with a high-speed pump that will quickly inflate your air bed so you can enjoy your camping trip without wasting time with a manual inflation bed.
We like the pump because it can be used for other inflatables like pool floats and tubes. The air mattress is very well sealed, it has an inner flap so that no air escapes when the pump is disconnected. Most importantly, it is VERY comfortable.
The takedown is equally simple and easy to fold and pack. It is compact and easy to store. Another advantage, especially for children, is that it is low, so rolling off is not a problem.
Experienced campers know that anything can happen when in the woods. That's why the makers of this inflatable mattress have used strong PVC material and welded seams that can withstand even the worst outdoor conditions.
Perfect for transport, with an extra bag you can take comfort with you wherever you go.
Conclusion
Today six great camping mattresses were discussed. These mattresses are all available for purchase in the "double" size which is the equivalent of a queen-sized mattress.
Most people prefer a thin mattress that is packable so it is easy to travel with. However, there are some thicker mattresses on this list that will also provide you with a comfortable night's sleep. There are great options for people who like a primitive camping experience and those who like to be far off the ground.
When picking the bed that is right for you, you should consider things like budget, sleeping preferences including if you and your partner like to sleep on your side or your back, and how easy the bed is to assemble.
Also, don't forget to consider whether you will be driving to your campsite and unloading the bed or if you will have to carry it up a mountain before setting it up. No matter the camping experience you desire, there is a camping mattress on the market that will suit you and your partner's needs.