New Orleans, Louisiana is one of a kind, world-class city, full of food, drink, music, and fun. From the fabulous food in the French Quarter, the nightclubs along Bourbon Street, and of course, Mardi Gras, New Orleans is the best place to party.
However, once the party is over, you might crave the rejuvenating solitude only nature can provide. New Orleans is not only a unique, cosmopolitan city, but it's also set within one of the most unique landscapes in North America.
The Mississippi River bisects the state, feeding a rich diversity of landscapes and wildlife.
From the sunny Gulf Coast to deep, dark swamps filled with alligators, New Orleans is an island of civility set within an untamed wilderness.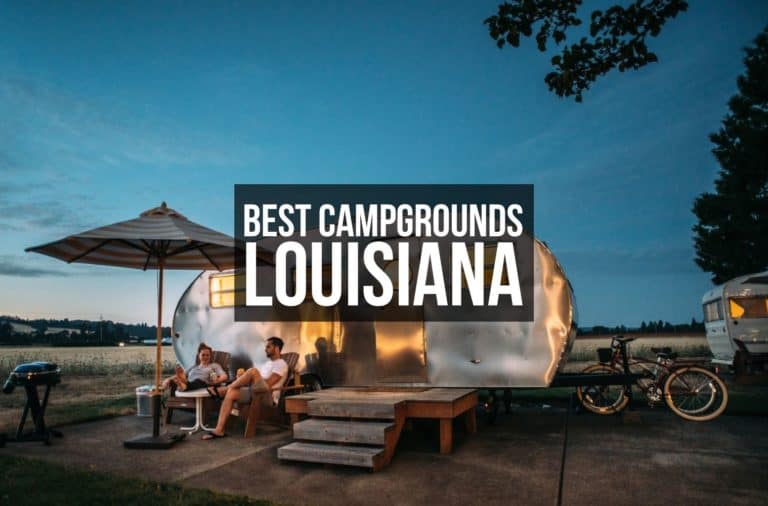 Put away your party shoes, get out your hiking boots and let's explore the best 10 state parks within a 2-hour drive of New Orleans.
This is a 704-acre coastal park near Pensacola is rated as one of the best Florida's state parks. Big Lagoon offers visitors the opportunity to swim, boat, fish, crab, paddle, hike, and camp along the park's saltwater tidal marshes and within the pine flatwoods.
The park is a bird watcher's paradise, with more than 23 species of wood-warblers, as well as many varieties of duck, sandpipers, and plovers.
The parks' beaches and shallow bays are a wonderful place to go crabbing and beachcombing. Likewise, the open woodlands offer the hiker plenty of opportunities to see all sorts of wildlife, including deer, raccoon, black bears, opossum, and more.
Big Lagoon has 67 RV campsites, but only five have 30-amp electric.
Otherwise, it's dry camping with water spigots and restrooms with hot showers dotted throughout the camping area. There is also a central dump station.
Bayou Segnette State Park
Just a 35-minute drive from the city of New Orleans, the 676-acre Bayou Segnette State Park has an outdoor activity for everyone.
It's located near Westwego, on the west bank of the Mississippi River. This remarkable habitat is home to alligators, nutria, armadillos, raccoon, opossum, American mink, and all kinds of birds, including bald eagles.
Both salt and freshwater fishermen will love this place, so be prepared to catch catfish, bass, bream, trout, and perch. You can also explore many areas of the park by boat that are not easily accessible by foot. Even if you're not fishing, cruising the waterways is the best way to see all of the incredible wildlife that abounds here.
There are playgrounds for the kids, and picnic areas large enough to host a big family get-together. Best of all, you can camp in Bayou Segnette.
There are 123 campsites, including 16 cabins and 98 RV campsites with water and electrical hookups. The campsites range in price from $25 to $33 per night and the cabins range from $150 to $175 per night.
This wonderful park is less than 35-miles north of New Orleans on the other side of Lake Pontchartrain.
Scattered around the 98-acre park you'll find a playground, picnic tables, and a group pavilion under a canopy of huge, old oak trees.
You can also spend your time relaxing at the Tchefuncte River. The crystal-clear Tchefuncte River is jumping with bluegill, bass, white perch, and bream. Fishing on the delta of the lake will yield redfish, channel catfish, and speckled trout. Crabbing along the river and in the lake is also very popular.
You can also experience history, by touring the gorgeous Otis House. The plantation-style mansion was built in 1885 was placed on the National Register of Historic Places in 1999. You can tour the Otis House Museum Wednesday through Sunday between 9 a.m. and 5 p.m., except on holidays.
You can also camp here at any of more than 100 campsites.
There are 81 RV sites with electric and water, and 20 dry camping sites, ranging from $20 to $28 per night.
Grand Isle State Park – Beach Camping near New Orleans
Around 100-miles south of New Orleans on the eastern end of Grand Isle, you'll find the lovely 140-acre Grand Isle State Park.
Visitors come here to birdwatch, beachcombing, boat, crab, fish, swim in the warm gulf waters, and camp. However, those who dare to camp here must be warned, Grand Isle is known as the most haunted beach in the country.
The island was once the haunt of French pirates, including the notorious Jean and Pierre Lafitte; it's thought the rebellious pirate spirits continue to patrol the shores of this stunning island.
Campers who wish to experience this hauntingly beautiful island can choose from 49 RV pull-through campsites, all with water and electric hookups, and a central dump station.
Camping fees range from $25 to $33 per night.
Lake Fausse Camping near New Orleans
This park near St. Martinville spans 6,000-acres of beautiful watery wilderness. You can combine your outdoor adventure by touring the nearby historic town of St. Martinville and the 157-acre Longfellow-Evangeline State Historic Site.
It's a glimpse into Louisiana's fascinating and diverse history, including the Maison Olivier, a plantation house built in 1815 by the wealthy Creole, Pierre Olivier Duclozel de Vezin.
Within the 6,000-acres of the park, boating, kayaking, and fishing opportunities abound. The boat launch is your gateway to the maze of waterways that snake throughout the park. The boat dock also features boat rentals, and the nature center is full of information about the incredible, natural environment.
There are 55 campsites here, including 50 RV campsites with water and electrical hookups and 5 primitive campsites.
Camping fees range from $25 to $33 per night. There are also 8 cabins for $150 to $175 per night.
Cypremort Point State Park
Around two hours west of New Orleans, you'll find Cypremort Point, the only location near the Gulf of Mexico that you can drive to.
The 185-acre park features a half-mile long man-made beach, perfect for relaxing and enjoying the sparkling water. You can also crab along the beach, fish, windsurf, and go sailing.
Finally, there is a 100-foot fishing pier jutting out into the bay is a spectacular place to not only fish but also enjoy the sunset.
In addition to the excellent water recreation, the park's marshland is also teeming with wildlife. You can see muskrat, nutria, alligators, deer, black bears, red fox, opossum, and all types of native birds.
There is primitive camping within the park, as well as six cabins overlooking Vermilion Bay you can rent for $150 to $175 per night.
Just around 60-miles north of New Orleans is a park with four distinct eco-systems; encompassing a hardwood forest, a tupelo/cypress swamp, mixed hardwood, pine forest, and the Tickfaw River.
The park has a mile of boardwalk and more miles of trails on which to explore this fascinating wilderness. You're free to bike, hike, and canoe around this wilderness; you can even rent a canoe if you don't have one.
Tickfaw State Park abounds with all sorts of native wildlife, and listening to the sounds of the swamp at night is an experience you'll cherish. Tickfaw is a quintessential experience of the Louisiana wilderness.
You can enjoy this unique state park in any of the 14 cabins for $150 to $175 per night, or anyone of 50 campsites.
Thirty of the RV campsites have electric and water and 20 just have water. Camping fees range from $25 to $33 per night.
Near the far western tip of the Florida panhandle, the Gulf Islands National Seashore offers tons of recreational opportunities for nature lovers.
From the pristine, white-sand beaches to historic forts, this string of barrier islands offers visitors much to explore. Fishing, swimming, beachcombing, crabbing, and relaxing in the sun are some of the best things to do in this watery paradise.
Luckily, there's camping here at the Gulf Islands National Seashore. The Davis Bayou Campground has 52 campsites with electricity near the oak and pine forests of the Davis Bayou.
There are no water or sewer hookups, but there are water spigots and a dump station at the campground. The fees range from $22 to $100 per night here.
The Fort Pickens Campground has nearly 200 sites suitable for RVs with electrical hookups. There are restrooms with hot showers throughout the campgrounds, as well as potable water. The campground fees range from $20 to $40 per night.
Chicot State Park – Best Kayaking Experience
This 6,400-acre state park is just 150 miles northwest of New Orleans. You can catch record-breaking crappie, largemouth bass, red ear sunfish, and bluegill in the clear, cool waters of Lake Chicot.
You'll also appreciate the ease of which you can get your boat in the water here at the marina. If you don't have your own boat, you can even rent one.
Hiking trails criss-cross Chicot's stunning landscape of cypress-tupelo lakes, hardwood uplands, and stunning mature magnolia forest. You'll be able to see lots of animals, including deer, raccoon, opossum, and hundreds of different bird species. If you want a quick look, stop by the 300-acre Louisiana State Arboretum, where you can see more than 150 species of plants native to Louisiana.
The park is not only full of natural wonders, but there is also an Olympic-sized pool on the shore of the lake.
Camping at the South Landing includes 18 cabins, and 108 campsites spurs with water and electricity.
The North Landing has 90 campsites with both water and electricity. The campground also features hot showers, a laundry, and fish cleaning stations.
Around 200-miles west of New Orleans is a 1,087-acre park state park abundant in the swampy landscapes the state is famous for.
Here you'll find lagoons filled with cypress interspersed with hardwood and pine forests. There are hundreds of different species of animals too, including 200 different species of birds.
You can find boat launches on the West Fork of the Calcasieu River. Here you can make your way deeper into the swamp, or go out to the Gulf of Mexico. If you don't have a boat, you can rent one to paddle around the park's serenely beautiful ponds.
Three hiking trails wind their way through the park. Of particular interest is the old Stagecoach Road, where you can hike to explore the many tributaries to the Calcasieu River.
This is a wonderful place to spend a few days, and you can; the park has a dozen cabins, 62 RV campsites, and 19 tent sites.
Some of the RV sites have electric only, and some have water and electric. The camping fees range from $25 to $33 per night.
New Orleans is the world-class city people from all over the world come to for food, music and partying, but rural Louisiana has much to offer too. If you're craving an exotic landscape of swamps, forests, and seashores, it's closer than you think.