Immaculate nature, scenic views, turtles, and black sand beaches. That is Hawaii – a tropical paradise.
Offering both adventure and a laid-back aloha spirit, it's a must-see for every traveler and vacationer. But lodging in a hotel can be costly. Therefore, camping is a great option if you are looking to explore the islands on a budget.
Suggested: Best things to do in Honolulu at night
Here are the 12 best camping sites in Hawaii:
Hulopoʻe Beach Park, Lanai
LANAI
People coming to Lanai are usually in search of a unique, private island-like experience. With Hulopoʻe Beach Park being the only official campground on this small island, an undisturbed stay is exactly what you'll get there.
It's set on the southern coast in Hulopoʻe Bay known for its scenic views and fantastic swimming opportunities. The campground features outdoor showers, restrooms, benches, and BBQ pits. As there are only 8 sites, the spots can fill up quickly during summer weekends, so better opt for a weekday term or reserve early.
The only downside is that it's significantly more expensive than other campgrounds in Hawaii. However, an overnight stay in such a secluded area is priceless.
Polihale State Park
KAUAI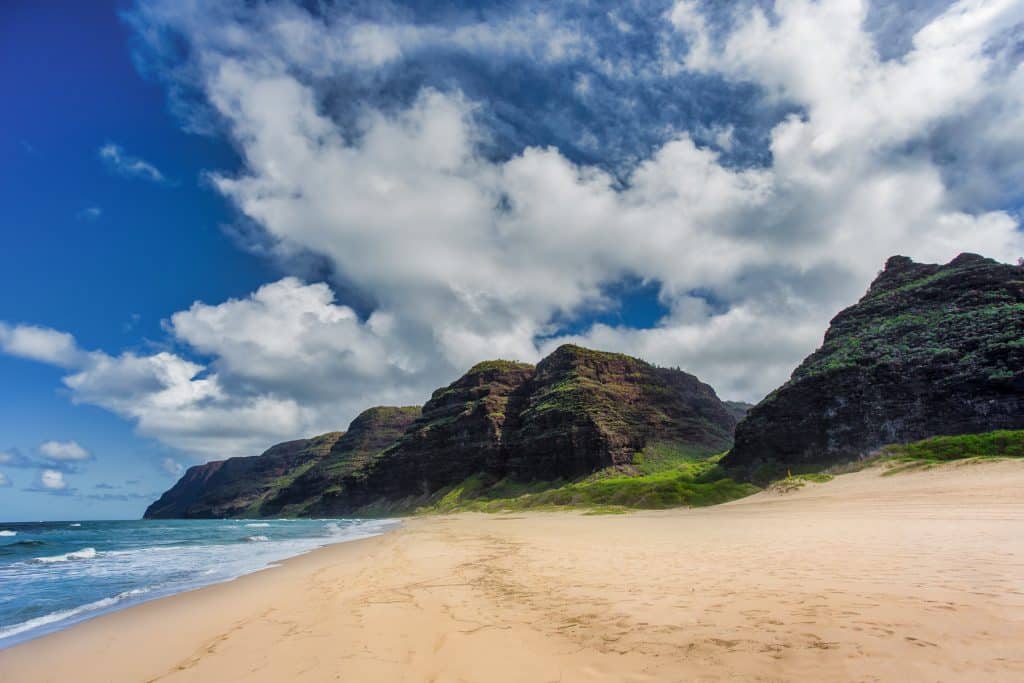 If you're looking for a secluded camping spot on the beach, Polihale State Park is possibly the best one you can find in Kauai. The access road is unpaved, so you might need a four-wheel-drive vehicle to get there. However, you will be rewarded with scenic views of the Nāpali Coast.
When the waters are calm, visitors can engage in swimming. Polihale State Park is also a great option for surfing, fishing, hiking, picnicking, lounging, or just a quick afternoon trip to nature. If you decide to stay overnight, you can watch the impressive sunset.
There are very basic camping facilities with toilets and outdoor showers. But the pristine nature will definitely make up for it.
Namakanipaio Campground
BIG ISLAND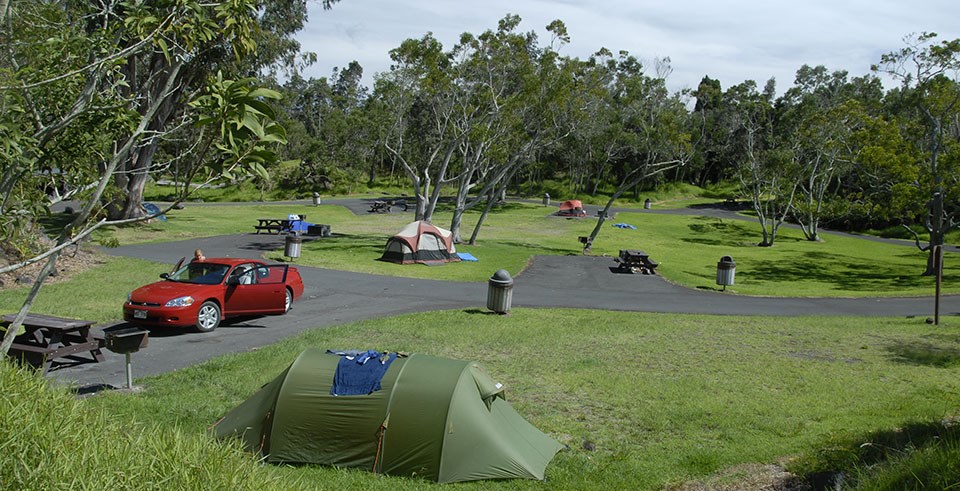 Nestled among fragrant eucalyptus and 'ōhi'a trees in Hawaii Volcanoes National Park, Namakanipaio Campground is one of the most unique spots to camp on the Big Island.
Set 4,000 feet above sea level in a spacious grassy area, you can spend a night in a tent or in one of their cozy cabins. They have recently been refurbished with new flooring and beds, and have their own picnic area. All guests also have access to restrooms, water, picnic tables, and barbecue pits.
Relax at the campground surrounded by chirping birds, or unwind in some of the best hiking trails on the island. Namakanipaio Campground is a must-visit for both solo outdoor enthusiasts and adventurous families.
Anini Beach Park Campground
KAUAI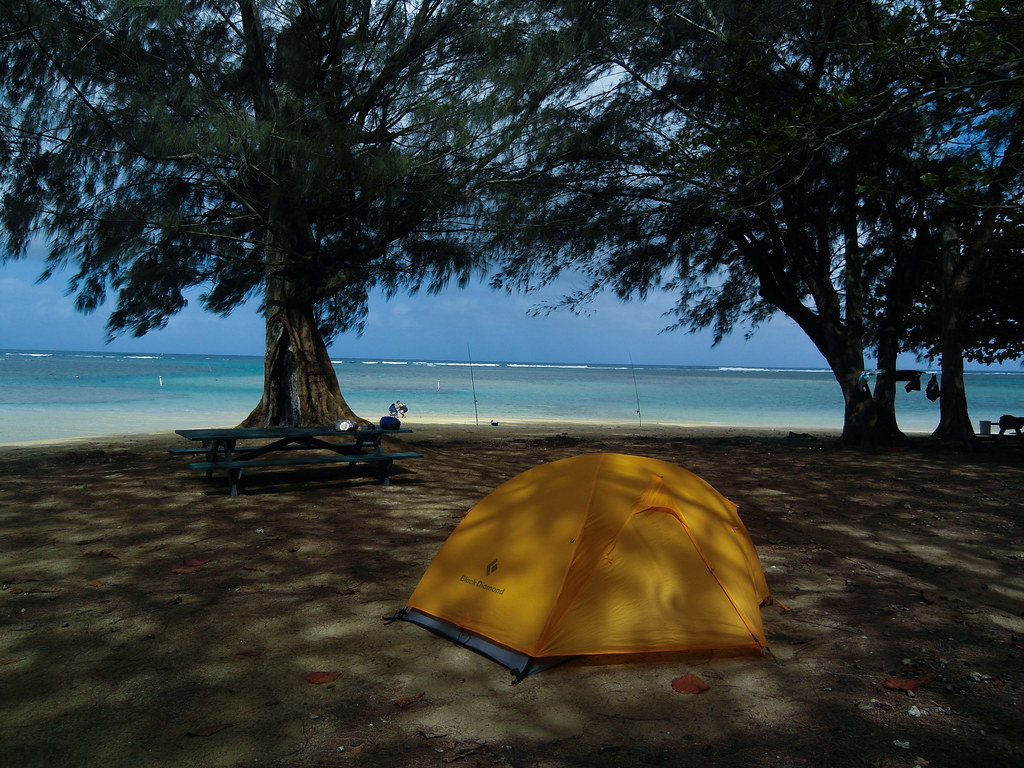 Set on the north shore of Kuai in Kalihikai Park, Anini Beach Park Campground is an amazing spot for campers who are looking for snorkeling, windsurfing, fishing, crabbing, and other ocean-based activities.
The campsites are under a canopy of trees that will protect you from rain and wind even during the stormiest nights. There are restrooms, fresh water showers, as well as large picnic tables. If you want to camp right by the ocean, bear in mind that you'll have to carry your stuff for a couple of minutes since you have to leave your car outside the park.
Anini Beach Park Campground is suitable for families with kids, too. However, even though Anini is a sand beach, be aware of sharp corals and rocks lying on the nearshore ocean bottom.
Note that this campground is closed on Tuesdays. Also, you'll need a permit to camp at this beach park.
Camp Mokulēʻia
OAHU
Sitting on the pristine waterfront of Oahu North Shore, Camp Mokulēʻia is an excellent place for rest, recreation, and renewal. Donated to the Episcopal Church of Hawaii by the McInerny family in 1947, the campground boasts a rich history.
The two-story studio and the maintenance shop were actually built already in the 1920s. The site was first used for occasional conferences and summer camps. Later, various summer camping and church programs, as well as school retreats, were established. Today, you can enjoy both numerous programs or just a restful overnight stay.
The campground features roomy and comfortable wooden tentalos which you can rent for USD$ 60 per night. They are located near the beach and are very well-ventilated. However, you have to bring your own cot or air mattress, as those are not provided. Primitive tent sites are available too. Flushing toilets and warm water showers are back at the camp.
Malaekahana Beach Campground
OAHU

Located between Laie and Kahuku on the northeastern shore of the island of Oahu, Malaekahana Beach Campground is claimed to be one of the most popular campsites in Hawaii.
Beach access provides guests with exciting ocean-based activities, such as swimming, bodysurfing, kayaking, sailing, and surfing. You can also watch sea turtles passing by in the pristine, crystal-clear water.
There is James Campbell National Wildlife Refuge nearby. And Moku Auia Seabird Sanctuary, also known as the Goat Island, is just 600 feet offshore. They are perfect places to watch endangered water birds and other tropical fauna and flora.
In the Malaekahana Beach Campground, you can camp either in your tent or your vehicle. Both tent and vehicle camping start at USD$ 9.41 per night per person. For maximum comfort, you can also rent one of the campground's stylish plantation huts. Note that there are only outdoor beach shower facilities on-site.
Kipahulu Campground
MAUI
The Kipahulu Campground has nestled just a stone's throw away from the Kīpahulu Visitor Center and a short walk from the ʻOheʻo Gulch Seven Sacred Pools. Overlooking the ocean cliffs, the campsite offers dramatic views of the sunrise. There are also plenty of hiking trails in the area. Moreover, its strategic location makes it a convenient stop for a night on the way to the close-by Hana.
You can either drive up or pitch your tent. There are picnic tables, BBQ grills, and pit toilets at the campground. There is no water on-site, so keep in mind to bring your own. You can also get some drinking water in the Kipahulu Visitor Center. A camping permit is not required, but you have to pay the USD$ 20 fee to enter the park.
Waiʻānapanapa State Park
MAUI
Low, volcanic cliffs and black sand beaches. That is Waiʻanapanapa State Park, a must-visit on your list in Maui. Located in a lagoon in Hana, this state park offers a range of scenic views, tropical hikes, and ocean-based activities, such as shore fishing, snorkeling, or scuba diving.
The campground has bathrooms, outdoor beach showers, drinking water, and fire pits, and it can accommodate both tent and van dwellers. There are also cabins for rent in the park. However, there is not much space for large RVs.
The price for a campsite is USD$ 30 (USD$ 20 for residents) per night. Whereas a cabin is USD$ 100 (USD$ 70 for residents) per night.
Note that campervans are allowed to enter only with a valid Campervan Permit. Also, a reservation is required prior to going.
Punalu'u Black Sand Beach Camping
BIG ISLAND
As the name suggests, Punalu'u Black Sand Beach camping lies on one of the most famous volcanic black sand beaches in Hawaii. Based on the rocky shoreline of Punalu'u Bay, visitors can spot the endangered Hawksbill turtles and green turtles basking on the beach. There are also various snorkeling points nearby.
Punalu'u Black Sand Beach features tent camping only on a designated grassy area, and a permit is required. The rates are USD$ 5 for residents and USD$ 20 for non-residents per night. The park offers picnic areas, restroom facilities, and outdoor beach showers. Unluckily, pets are not allowed.
This campsite is a great spot for outdoor lovers looking for spending a night in the open air. But be prepared to bring some rain gear, as the weather in the area is not always wishful.
Waimanu Valley Campsite
BIG ISLAND
Based at the end of the Muliwai Trail, Waimanu Valley Campsite is a spot for even the most adventurous campers. You can either enjoy the tropical forest scenery or some thrilling views of the ocean. Explorers will relish the close-by hiking trails, fishing, hunting, and canoeing, while loners will like the campground's secluded location.
Each campsite has its own fireplace made of volcanic stones. There are no showers, but you can jump in the river instead to freshen up. There is no drinking water either in the campground, so make sure to bring a few liters and enough food with you. Also, you better pack your raincoat, as the region gets frequent showers.
Sand Island State Recreation Area
OAHU
This weekend-only camping lies very near the urban core of Honolulu, providing an escape from the hustle and bustle of the city. It's a great option for those looking to enjoy camping while still being close to the metropolis.
It features free parking, public restrooms, outdoor showers, baseball fields, picnic tables, and beach access. Sand Island State Recreation Area also offers views of Honolulu Harbor and ocean sunsets.
The rates are USD$ 20 per night per campsite for residents and USD$ 30 per non-resident. Be aware that the sites are tiny, and some have no shade. You will also need a valid state-issued permit to enter the park.
Swanzy Beach Park
OAHU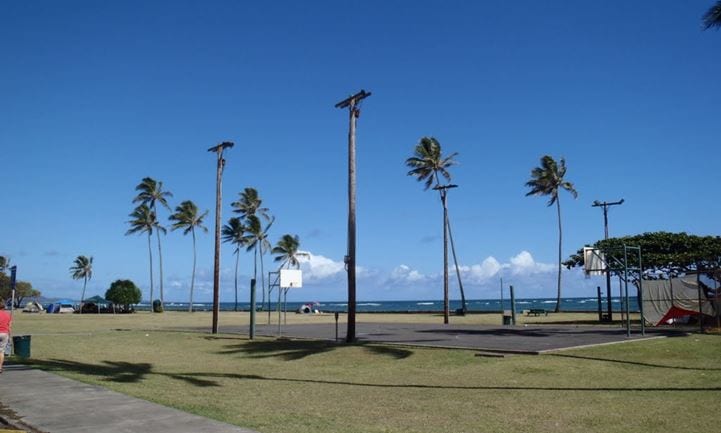 Nestled on the eastern shores of Oahu, Swanzy Beach Park got its name from an island resident Julie Judd Swanzy, who in the 1920s donated those five acres of land to the City and County of Honolulu to build a park. It now serves as a beach and a campground.
There are plenty of hiking trails in the area, such as the spectacular Crunching Lion Hike or the Pu'u Manamana Hike. The campsite itself has picnic tables, restrooms, showers, and a playground for kids.
Although it's a good spot for fishing, swimming isn't recommended because of the rocky nearshore ocean bottom. If you're lucky, you can catch sight of migrating whales in winter.
Note that the campground is open from Friday to Monday only, and a valid permit is required to camp there.
Conclusion
Those were some of Hawaii's best campgrounds, but there are plenty of other spots to visit during your trip. How about you? Have you found your favorite? Aloha!
FAQs about camping in Hawaii
When does the camping season start in Hawaii?
Even though Hawaii is a great camping destination all year round, the main camping season there lasts from May to October. If you like colder weather, you will be just fine in winter. However, don't forget that the islands receive the most rain during the winter season.
How much is RV camping in Hawaii?
Rates for RV camping in Hawaii vary depending on the campground and other factors. But usually, the prices range between USD$10 to USD$ 30 per night. If you are a Hawaiian resident, it might be a couple of dollars cheaper.
What's the biggest state park in Hawaii?
Hawaii Volcanoes National Park is the biggest national park and one of the most visited ones in Hawaii. Spread on the Big Island, it's also home to the state's most active volcanoes – Kīlauea and Mauna Loa.
Is there anything else I should know?
Note that state parks in Hawaii are usually open Wednesday-Thursday only, so you might need to have a backup plan if you are staying on the islands for more than a week. You will also need a valid camping permit to stay in a Hawaiian state park.