Idaho is one of the largest states in the country. Stretching from the American heartland to the Canadian border, Idaho has lots of things to see and do. Ten national parks make this one a fantastic choice for the nature lover.
The state offers lots of well-kept state parks with plentiful recreational opportunities. Places like Yellowstone and the slopes of Sun Valley means you're never at a loss for something to enjoy any time of the year. If you're planning a visit to this American state, you'll want a really good place to stay.
Many people choose to head here on a camping trip. Camping is easy in this part of the world. Campgrounds are present all over the state. Many are located within easy reach of the state's most famous attractions.
They're a chance to see one of the least densely populated and yet glorious of American states.
Ambassador RV Resort
Best Rated Camping Spot in Idaho
Phone: (208) 454-8584
Address: 615 Smeed Pkwy, Caldwell, ID 83605
Activities:
Exercise room
Library
Pool
Spa
Sauna
Nestled near Idaho's wine country and within the Boise metro area, Ambassador RV Resort is a perfect home base for campers who wish to explore the surroundings.
Sunnyslope Wine Trail in Caldwell is the next must-taste wine destination you need to visit. 17 wineries and vineyards, award-winning wines, and ultimate dining experiences. And all of that framed by panoramic views. This region simply can't be missed.
Families will appreciate the close-by Roaring Springs water park, Wahooz Family Fun Zone, as well as the Warhawk Air Museum.
The RV resort features 188 full-service sites. Unfortunately, no tents are allowed in the park. No RV? No problem. Park rentals are available too. But be sure to check their availability in advance. Amenities include a pool, spa, sauna, library, and an exercise room.
Boise Riverside RV Park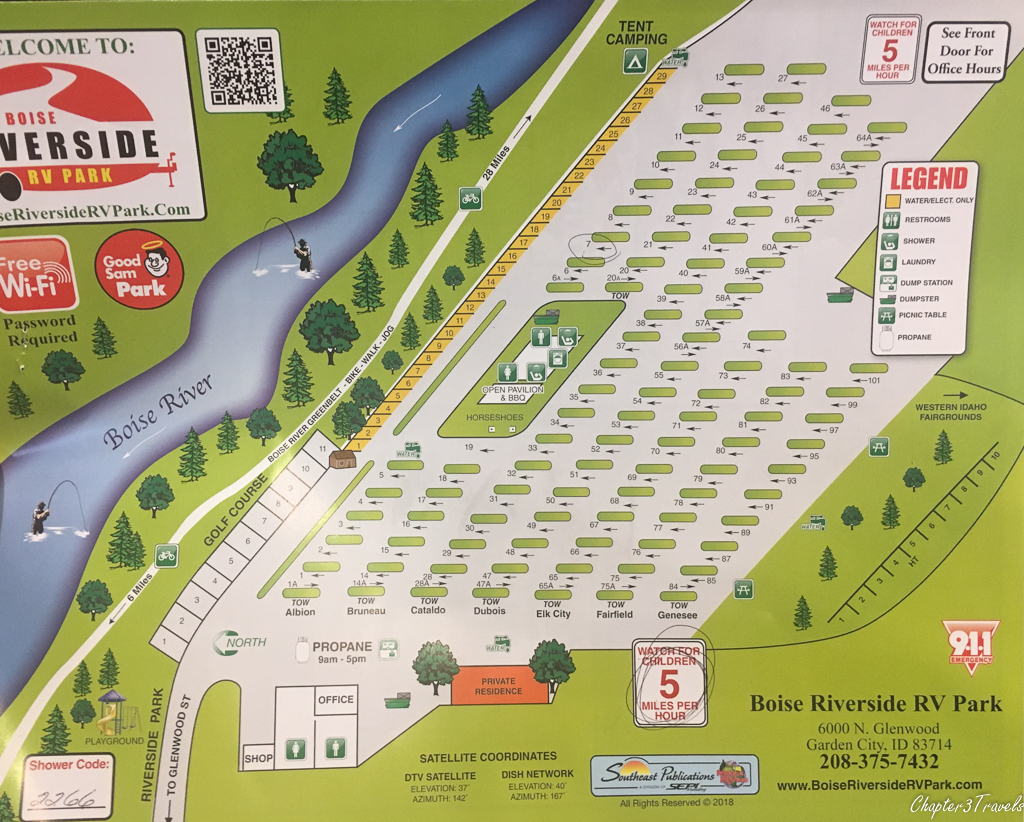 Phone: (208) 375-7432
Address: 6000 N Glenwood St, Garden City, ID 83714
Activities:
Golf
River floating
Rafting
Kayaking
Set in the Treasure Valley right on the Boise River, this RV park is an ideal spot for a camping getaway near many attractions. Engage in rafting, kayaking, and practice golf in one of the many area's golf courses. While in winter, you can enjoy skiing in Bogus Basin or Tamarack.
The park itself boasts a full range of enjoyment suitable for both solo travelers and families, such as river floating, walking, and biking trails. Bicycles can be rented straight from the RV park.
You can choose from both pull-thru and back-in full hook-up or water and electricity-only RV sites, as well as tent camping in a nice shaded area. There are also log cabins. Note that those sleep only two people.
Ponderosa State Park
Phone: (208) 634-2164
Address: 1920 Davis Ave, McCall, ID 83638
Activities:
This beautiful part of Idaho makes a great stop off on your way to somewhere or destination in itself. If you're planning a stay here, you'll find plenty to enjoy. The well-kept part is one that the whole family can appreciate. A junior ranger program means that little kids can get to know the area well and discover a leadership role in the natural world.
The park is an easy place to stay. Several lakeside deluxe cabins are great for people families and friends. If you're bringing your own tent, you'll find designated camp sites that allow you to put it up without a problem.
The site has lots of wonderful amenities that make a stay here a fun time. There are tables where you can have a meal you've brought with you as well as firepits so you can cook your own catch. After a day of kayaking sit back and watch the stars dance in the evening sky.
Phi Kappa Campground, Mackay
Phone: (208) 756-5100
Address: Trail Creek Rd, Mackay, ID 83251
Activities:
Fishing

Hunting

Mountain biking

Horseback riding
At 7,450 feet, this campground offers the kind of seclusion many campers adore. This is a great way to get away from sweltering summers. Warm days are followed in turn by cool nights.
For those who want to spend time in the mountains, the Phi Kappa Campground is an excellent choice. It's one where the focus is truly on the natural world. If you're looking for a place to relax and appreciate the fresh mountain air, this is the place for you.
Twenty-one sites make this one on the smaller site. That offers more chances to get to know your fellow campers. You can pitch a tent or bring along your own RV. Conditions are on the basic side Portable water can be brought from the well. There's a well kept outhouse and marked trails to follow many mountain paths.
Beauty Creek, Coeur d'Alene
Best Camping Spot in North Idaho
Phone: (208) 664-2318
Address: Coeur d'Alene, ID 83814
Activities:
Biking

Hiking

Fishing

Swimming

Boating
Beauty Creek lives up to its name. The site is set among the woods of a narrow creek. A short walk away reveals lovely views from a site more than two thousand feet above sea level.
This is a good one if you'd like to avoid some of the state's pricier temporary housing options. You'll find lots of trails that let you climb as much or as little as you want. If you like biking, this is a good choice with many trails. Swimmers and boaters can head off to the nearby lake for a chance to enjoy some of the nation's cleanest waters.
Twenty large camp sites offer room for a tent or an RV if you want a There's fresh drinking water and toilets. The site is paved so you don't have to worry about getting too much dirt on your camping equipment.
Shafer Butte, Boise
Phone: (208) 587-7961
Address: 3080 Industrial Way, Mountain Home ID 83647
Activities:
Camping

Birding

Hiking

Mountain Biking
Boise is a fabulous city to explore. If you're someone who wants to appreciate this growing city yet no lose your connection to nature, camping is an ideal option.
There are several camping grounds within easy reach of downtown. This is fantastic place to bring your whole family. Situated on top of the lovely Boise Ridge Mountains, the campsite is one that many people adore. You can rise up early and watch the sun as it spreads across the mountains. At night, you get the twinkle of Boise and a retreat of your own form which to watch them.
There are campsites designed for a single family as well as sites just right for a larger group. Many overnight sites here have tent pads, making a set up really easy. While there is electricity, there are toilets and places to picnic as well as set up a fire.
Boulder White Clouds Trailhead Campground
Phone: (208) 879-6200
Address: E Fork Rd, Challis, ID 83226
Activities:
Camping

Hiking

Skiing

fishing
Boulder White Clouds is ideal for the visitor who wants to spend a lot of time in the outdoors. This is where people can find the kind of rustic Idaho that lets the commune with the countryside.
It's a good place to get away from big city living and enjoy the many marvels of the mountains. Those who love to fish will find plenty of places to fish and catch lots of types of fish for dinner. Salmon and trout are particularly appreciated and easy to bring home.
Three campsites offer a place to pitch a tent in the heart of the park. There's well water and well kept bathrooms as well as picnic tables. There's also room for an RV. For anyone who really wants to get to know Idaho from the ground up, this is a good place to start their journey.
French Creek
Phone: (208) 382-7400
Address: P.O. Box 696 Cascade ID 83611
Activities:
Boating

Hiking

Fishing

Water sports
This well shaded camp is ideal for those looking for relief from the summer heat. You'll get access to a site situated along a rushing river. Relax next to it or bring your own boat and get out on the river.
The shallow waters near the shore are an ideal place to let children go wading and let the dog get some exercise. Those who adore fishing can bring their fishing pole and be assured of bringing in one of several kinds of fish such as perch, coho salmon and smallmouth bass. Bring your binoculars as this is an incredible place to see native birds including eagles and pelicans.
Nearly two dozen sites are found in among the towering pines. You can pitch a tent of your own or bring along your RV and generator for access to power. Book as early as you can as the sites next to the river tend to fill up fast.
Anthony Lakes Mountain Resort
Phone: (541) 856-3277
Address: 47500 Anthony Lakes Highway North Powder, Oregon 97867
Activities:
Canoeing

Hiking

Mountain Biking

Swimming

Fishing
Located in one of the most rural parts of the state, this is one for the true nature lover. At night, there's incredible star watching from any point in the camp.
During the day, well-kept trails invite walking, hiking and biking across some of the state's least visited areas. Hit the lakes for a chance to go boating or swimming. Fishing is easy with well-stocked lakes. The camp has cooks who will turn your catch into a gourmet meal or you can cook itself.
Guests are well served with thirteen sites for RVs. These provide easy hookups with power that makes it possible to retreat in your own cozy personal space.
There are cabins for rent if you prefer to have a place to stay when you arrive. Yurts are also here for use during the summer and winter months.
Alturas Lake Inlet
Phone: (928) 537-8888
Address: Sawtooth NRA, Stanley ID 83340
Activities:
Boating

Hiking

Fishing

Swimming
Cool, relaxing Alturas Lake is all about year-round recreation. Lovely Alturas Creek runs right through the heart of the campground, making it easy to enjoy the waters with kids and dogs. Come here in the summer and admire the many wildflowers on the banks of the creek. Then head off to the lake.
There's ample fishing along with opportunities to go water skiing or to take a dip in the refreshing waters. Visitors during the winter can ski on the many trails surrounding the lake and breath in the crisp air.
Staying here is very easy. Families can share a large tent with easy access to nearby toilets. Running water makes easy to get clean after a day spent along the many trails. There's picnic tables for a nice lunch and firepits for a chance to cook your own fish. The site is well paved and easy to get to from many local roads.
---
Idaho is a dream destination for many people. The capital offers a chance to experience one of the fastest growing cities in the west in person. The rest of the state is equally inviting.
Those who love the great outdoors should consider a stay here. They'll find many sites that allow for many activities the visitor can happily take in. There's miles of protected parks that show off how the area looked long before people ever walked into this part of the world. That makes it easy to find things to do to pleas the entire family.
From the foothills of the Rocky Mountains to the rushing waters of the Boise River, this is the state for everyone who wants to be part of nature.
For visitors, the state also provides a great many places to go camping. People can find lots of camping sites set in some of the most delightful state and national parks in the country.
Come here and go skiing when winter falls. As the season turns to summer, Idaho remains a paradise for everyone who adores being outside. It's all there for every visitor to admire when setting up their own personal camp.