Since its earliest days as part of both Spanish and French Louisiana, prior to becoming the nation's 29th state in December of 1846, with thousands of square miles of stunning natural beauty, the Midwestern of Iowa has long been recognized throughout the country for its bountiful game for hunting, rivers, lakes, and streams full of a multitude of fish, and breathtaking landscapes.
While many still associate Iowa with agriculture, the estimated 3.15 million people who make up the United States' 30th most populous state work in a number of industries unconnected to agriculture, today.
Despite this, the soul of Iowa is and seems destined to remain connected to the land.
Here, we take a look at ten great options for getting you and your family reconnected to the natural beauty of the outdoors in Iowa.
Check out the best camping spots in neighboring states:
– Best Camping Sites in Wisconsin
– Best Camping Sites in Minnesota
– Best Camping Sites in Missouri
Waterloo / Lost Island Waterpark KOA Resort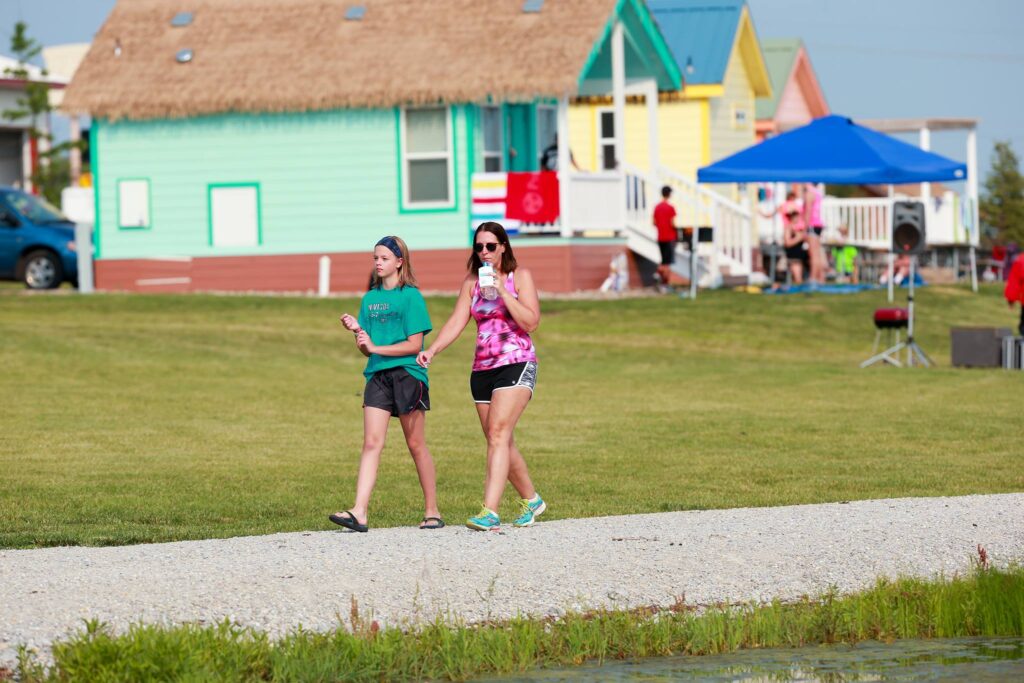 Phone: (319)233-3485
Address: 4550 Hess Rd, Waterloo, IA 50701
Activities
Swimming

Disc golf

Fishing
Set right behind Lost Island Waterpark and Adventure Golf and Go Karts, this KOA is a perfect spot for an adventurous family vacation, as well as a weekend getaway from the hustle and bustle of the city.
Swim, fish, play disc golf, or rent a paddleboat. Note that guests of Waterloo KOA also get discount vouchers for Lost Island Waterpark! Feeling tired after a day out? Just relax at the sandy beach or by a campfire.
Area attractions include the South Hills Golf Course, the Cedar Valley Nature Trail, and the Phelps Youth Pavilion / Waterloo Center for the Arts. Museum enthusiasts will appreciate the nearby Grout Museum District.
Stay in your RV, pitch a tent, or rent a vacation cabin, Waterloo / Lost Island Waterpark KOA awaits your visit.
Sleepy Hollow RV Park & Campground

Phone: (319)828-4900
Address: 3340 Black Hawk Ave NW, Oxford, IA 52322
Activities:
Fishing
Swimming
Pool
Basketball
Volleyball
Sleepy Hollow RV Park & Campground has been a popular family-friendly vacation destination for more than 50 years. Fish in the pond or sunbathe by its beach. Play basketball, volleyball, or plenty of games in the arcade room. Kids, on the other hand, will enjoy the in-ground swimming pool, hayrack rides, playground, and planned weekend activities.
There are RV and tent sites either by the lake or on a tree-covered hill. Cabins for rent are available too. For your convenience, there is a store at the campground that has everything from firewood to ice, snacks, beer, local Iowa wine, fishing gear, and, of course, everyone's favorite ice cream.
Conveniently set near Interstate 80, you can easily access the quiet town of Oxford or the city of Iowa. Shop in the Tanger Outlet Mall or visit the Coralville Reservoir. Other area's attractions include Kalona Amish Community, Amana Colonies, and Lake Macbride.
Adventureland Campground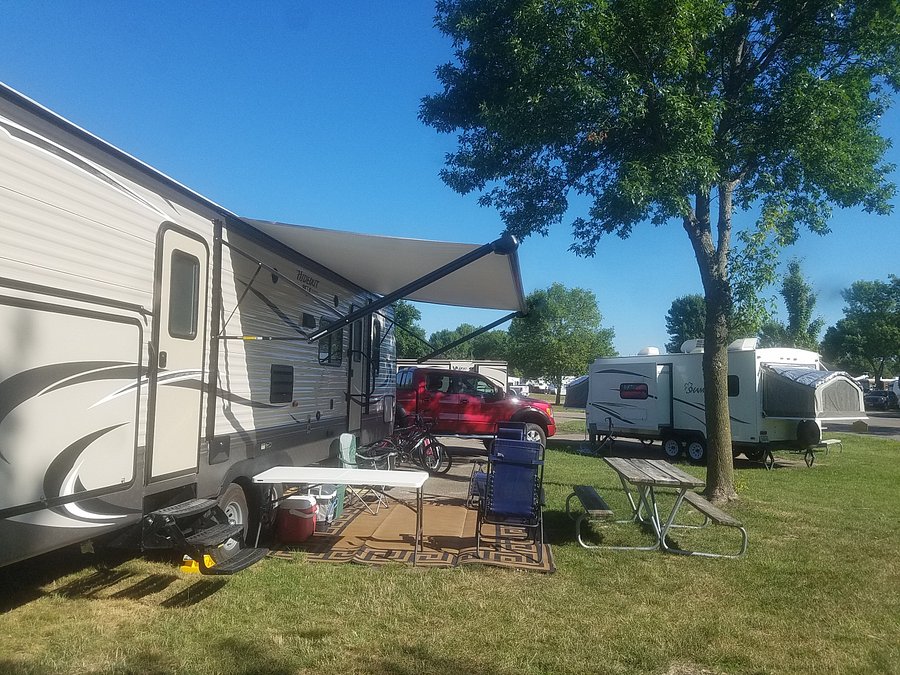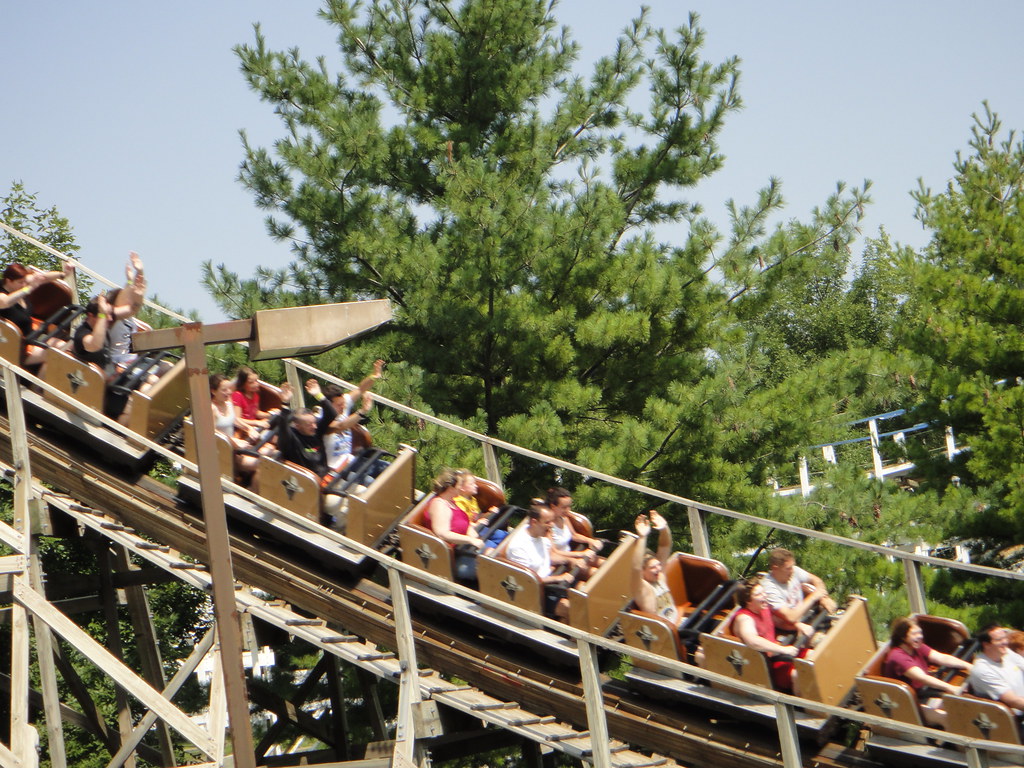 Phone: (515)265-7321
Address: 2600 Adventureland Dr, Altoona, IA 50009
Activities:
Adventureland Park
Pool
Playground
Adventureland Campground is a campsite that spreads around Altoona and very near Des Moines, the capital of Iowa. It features tent camping, as well as big rig-friendly RV sites with 30/50 amp service, some of which are pull-thru. Amenities include modern showers and restrooms, free WiFi, a playground, a swimming pool, and a dog run.
Based only five minutes of walk from the Adventureland Resort amusement and water park, the campground is a great spot for those hitting the road and stopping at the funfair for a day or two. You can engage in over 100 rides, shows, and other exciting attractions.
You can also visit the nearby Prairie Meadows, premium convention centers and casinos. Golfers will surely like the Terrace Hills Golf Course.
Harvest Farm Campground Resort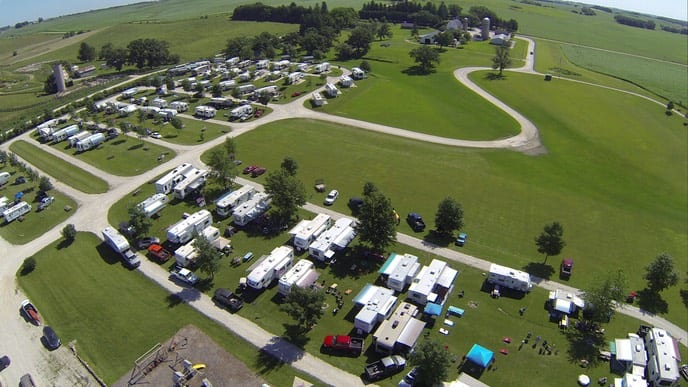 Phone: (563)883-8562
Address: 3690 318th Avenue, Cresco, Iowa 512136
Activities:
Boating

Swimming

Multi-Use Trails

Full-Service Spa
Located in Northeast Iowa near the town of Cresco, Harvest Farm Camping Resort (also listed online as Harvest Farms Camping) began with three Amish-built cabins that are not only still standing today but also in use and available for booking.
If the Amish cabins are too fancy for you or, more likely, booked up, Harvest Farm also has more than 80 campsites with well over half of them including water and electrical hookups. There are also 10 tent only sites available for those looking to rough it a bit more.
With plenty of water based activities available as well as being just minutes from the quaint and eclectic eateries and shops of nearby Cresco, Harvest Farm also sports a full service spa that offers everything from tanning beds to both a hair and nail salon right on the campground premises.
Pulpit Rock Campground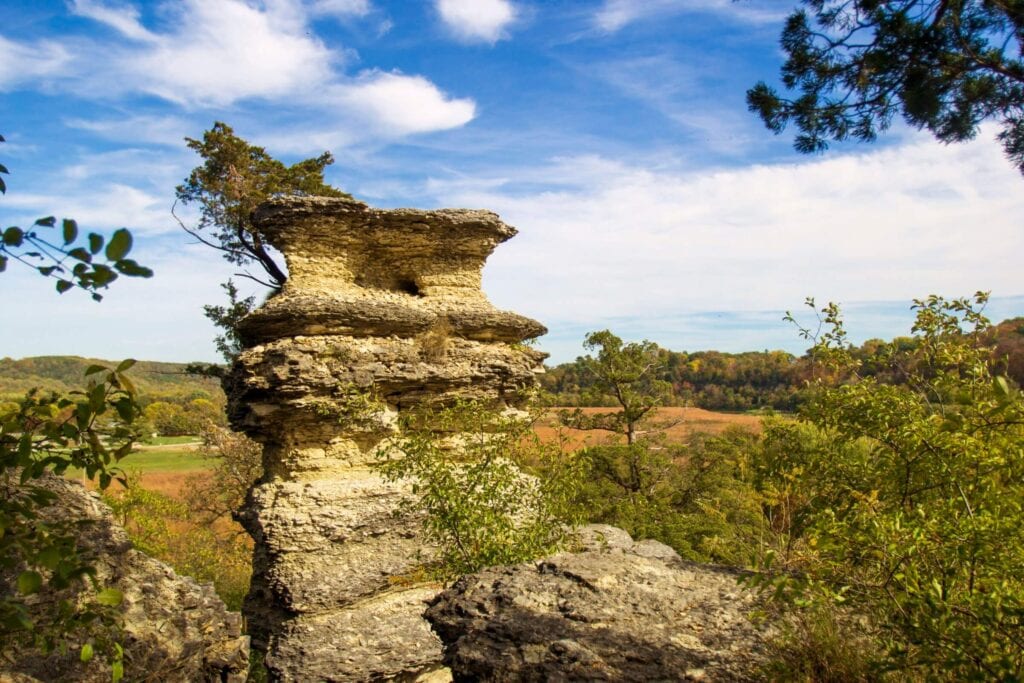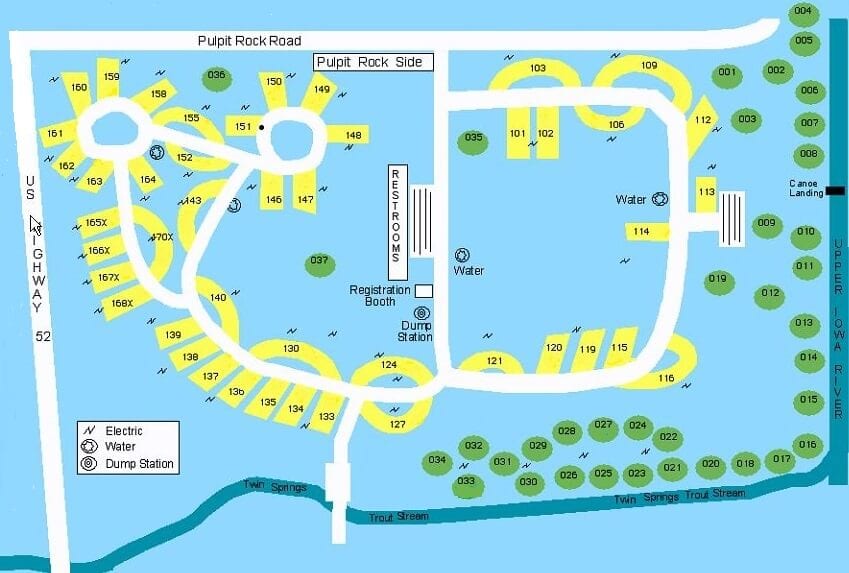 Phone: (563)382-955
Address: 505 Pulpit Rock Rd., Decorah, Iowa 52101
Activities:
Fishing

Walking Trails

Biking Trails

Basketball

Volleyball
Located in the Northeast area of the state and near the town of Decorah, Pulpit Rock Campground offers campers a variety of reasons to make their way to this gem in Winneshiek County. But, for many, it's the fishing stories that catch their attention, first.
Known for some of the best all-around angling opportunities in Northeast Iowa, Pulpit Rock Campground features plenty of great fishing right on site. However, if fishing isn't your idea of a wonderful day outdoors, Pulpit Rock also features trails for walking and biking as well as equipment and facilities for both basketball and volleyball on-site. If this is your gem, also consider driving and camping in Nebraska!
With over 80 back-in spaces, more than 30 tent spaces, as well as pull-thru sites with electric hookups, shower facilities, and Wi-Fi, there's plenty of room and options sure to please everyone in the group at Pulpit Rock Campground.
On-Ur-Wa RV Park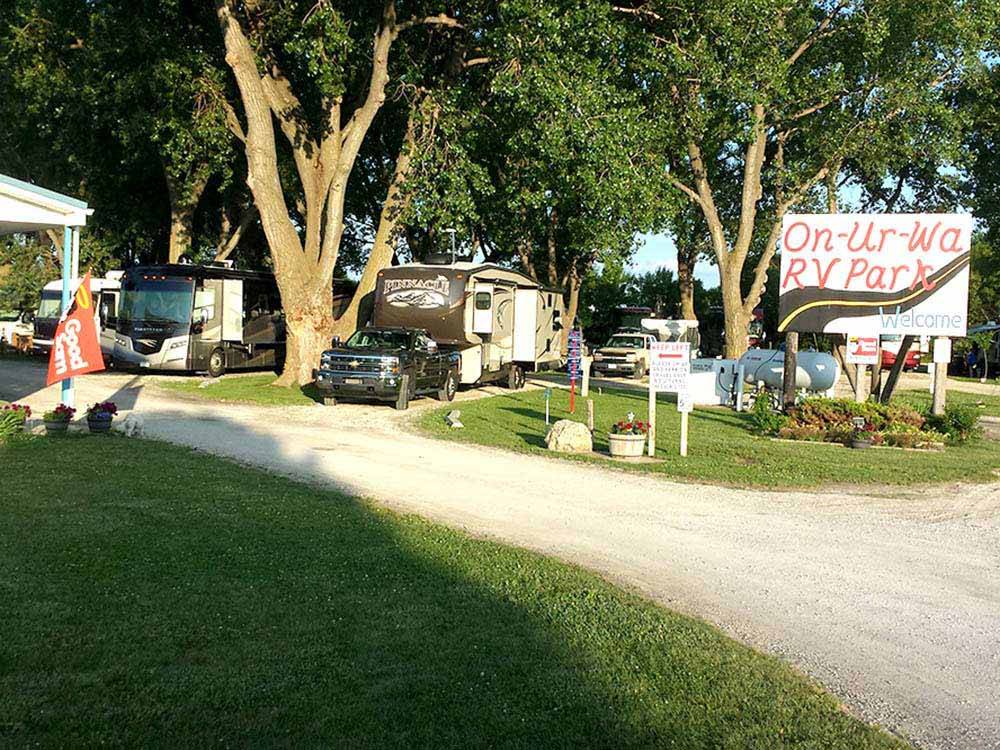 Phone: 712-423-1387
Address: 1111 28th St, Onawa, IA 51040, United States
Near Onawa, Iowa, there is a campground cool called On-Ur-Wa RV Park. It has campsites with full hookups that are suitable for large RVs. Many of them allow RVs up to 100 feet long to pull through.
It also has all the modern amenities you need for a pleasant stay. Guests especially praise the reliable wireless Internet and clean, hot showers.
On-Ur-Wa RV Park features a spacious community building, picnic tables, fire pits and grills.
Biking, hiking, fishing and wildlife watching are among the activities you can do here for as low as $36 per night!
The campground is near attractions like:
Gateway to the Loess Hills
Onawa's Historic Iowa Theater
Veteran's Memorial Museum
Kiwanis Railroad Depot Complex
Lake McBride State Park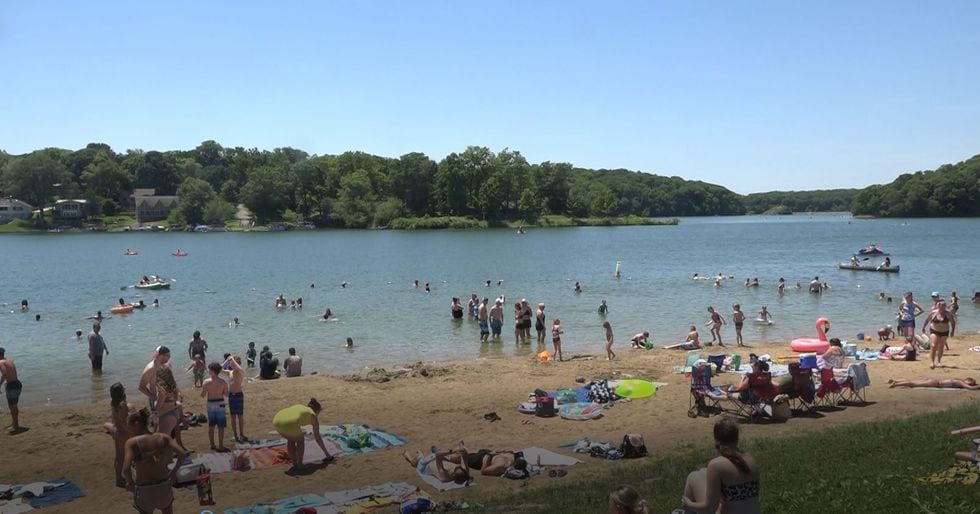 Phone: (319)624-2200
Address: 3525 Highway 382 NE, Solon, Iowa 52333
Activities:
Boating\Boat Rentals

Lakeside Beach

Swimming

Fishing

Multi-Use Trails
The first of the Iowa State Parks to make our list is Lake McBride State Park located near the town of Solon, in Johnson County, Iowa which is just East of Des Moines and South of Cedar Rapids.
Nestled along the pristine waters of lovely Lake McBride, Lake McBride State Park is actually two different campgrounds that have been combined into one spectacular place that offers something for everyone in the family.
Along with all the water-related activities available at the park, swimming, boating, and boat rentals, Lake McBride also includes miles of wonderfully kept and well-defined trails for walking, biking, and running as well as opportunities to go hiking off the beaten path if a leisurely stroll in the woods is too tame to suit you.
With two separate campgrounds offering a full range of site options from back-in and pull-thru sites with electric and water hookups to their more primitive, walk-up tent sites, there's not much the folks at Lake McBride State Park can't provide.
Cherry Glen Campgrounds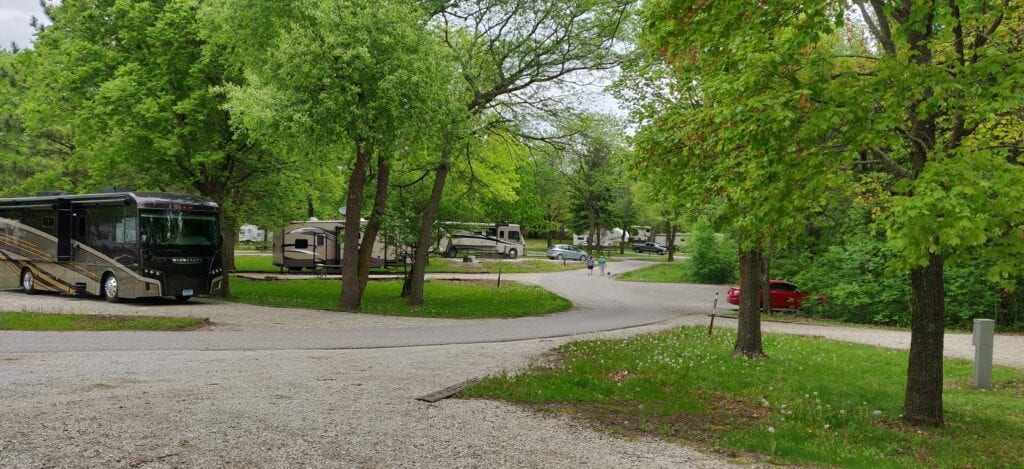 Phone: (515)964-8792
Address: 4338 Northwest 94th Place, Ankeny, Iowa 50221
Activities:
Boating\Boat Rentals

Swimming

Fishing

Multi-Use Trails

Hunting
One of several campgrounds set alongside the over twenty-six thousand acres that make up the Saylorville Lake Project, Cherry Glen Campgrounds near Ankeny, IA is the perfect spot to take the whole family whether for a quick weekend getaway or an extended stay in the great outdoors of Iowa.
Cherry Glen has over a hundred sites available that offer both rustic, walk-up-only tent sites as well as some with electric and water hookups. Additional amenities at Cherry Glen include showers, phone service, and Wi-Fi (limited).
Obviously, being located next to a 26,000-acre lake lends itself to the multitude of water-related activities that so many campers look forward to each Summer. Swimming, boating, fishing, and soaking up warm sunshine are just a few of the ways campers can choose from to spend their days at Cherry Glen Campgrounds.
However, if being on the water doesn't float your boat, Cherry Glen offers opportunities for hiking, mountain/off-road biking, as well as some limited access to areas where hunting is allowed.
Sugar Bottom Campground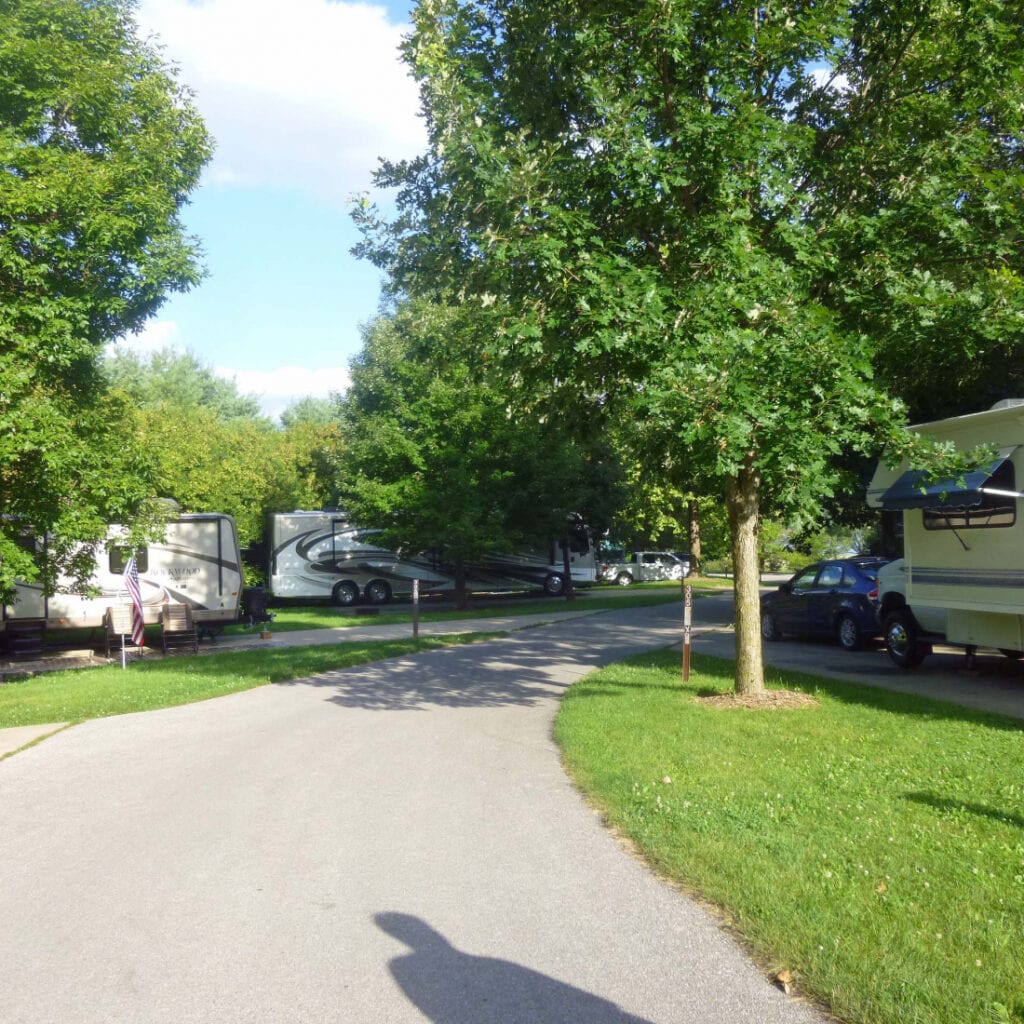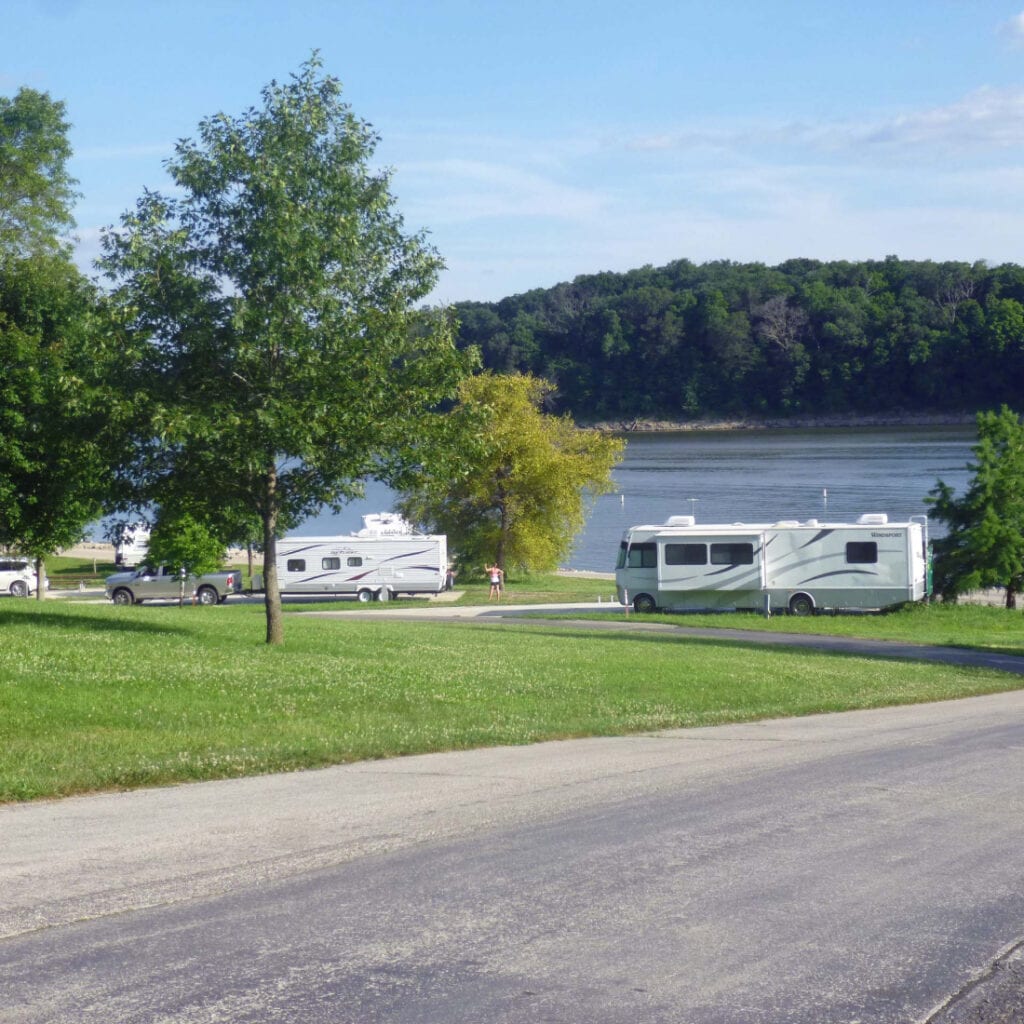 Image by campgroundreviews.com
Phone: (319) 338-3543
Address: 2192 Mehaffey Bridge Road, Solon, Iowa 52333
Activities:
Lakeside Beach

Swimming

Boating\Boat Rentals

Fishing

Hiking

Picnic Areas
Another of the many campgrounds that call the shores and surrounding area of the Saylorville Lake Project in Polk County, Iowa, makes our list of ten; Sugar Bottom Campground.
Offering campers all the awesome fun on the water a 26,000-acre lake can provide, Sugar Bottom is made up of over 200 total camping sites that range from tent-only, walk-up sites to pull-thru sites with full hook-ups available. A centrally located dump station, showers, and even a drinking water supply are a few of the other amenities you can expect to find at Sugar Bottom.
A beautiful lakeside beach for a day in the sun, boat rentals, and picnic areas provide campers with plenty of fun outdoor activities and of course, with all that water there's more than enough fishing spots to suit the anglers in your group.
Maquoketa Caves State Park
Phone: (563)652-5833
Address: 9688 Caves Road, Maquoketa, Iowa 52060
Activities:
Hiking

Multi-Use Trails

Caving/Spelunking
The next State Park to make our list of ten can lay claim to having more caves on-site than any other state park in Iowa. With 13 different caves on its grounds, Maquoketa Caves State Park is a spelunker's paradise. But, the outdoor fun isn't all underground at Maquoketa. There's plenty to do and see above ground at this Jackson County, Iowa jewel.
Opened in the early 1920s, the park also includes a bit of true American History, as well. Along with its 13 caves, Maquoketa State Park is home to some of the best, most intact examples of the Depression Era buildings done by the CCC's, the Civilian Conservation Corps, a group of volunteer workers established by U.S President Franklin Delano Roosevelt as part of the New Deal and the effort to provide job opportunities for out of work Americans.
Maquoketa Caves State Park is a down-to-earth, back-to-basics campground for those in search of a spot to get away from the hectic pace and technological anchors of modern life. It includes 29 back-in sites with just over half of those offering electrical hookups, a dump station, and a shower/restroom facility.
Just like the caves that gave the park it's name, the appeal of Maquoketa Caves State Park might not be easy to see looking at it from outside, but a quick peek inside will make its undeniable natural beauty obvious.
Griff's Valley View RV Park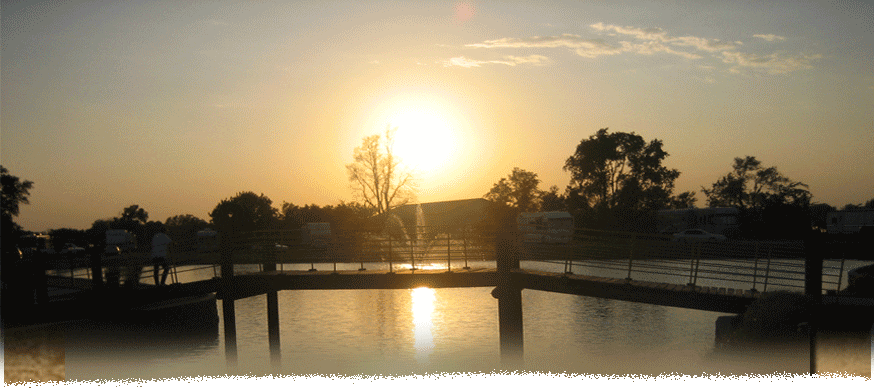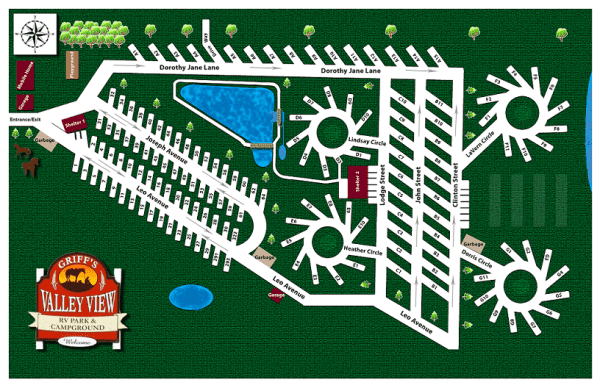 Phone: (515)967-1004
Address: 6249 NE 46th Street, Altoona, Iowa 50009
Activities:
Multi-Use Trails

Fishing

Coin Operated Games

Playground/Playground Equipment

Exercise/Exercise Equipment
From the rustic to the modern, our next camping spot, Griff's Valley View near Altoona, Iowa, gives campers all the creature comforts camping allows while still providing you and your group a multitude of outdoor options for ways to spend your vacation.
With nearly 150 sites offering full hookups, showers, multiple storm shelters on-site, laundry facilities, and WiFi available Griff's Valley is the perfect spot for full-time RV residents as well as those looking to simply get away from home for a day or two without leaving the everyday world behind.
For the kids and the young at heart, there are coin-operated games and a playground located on-site, a stocked fishing pond to keep your family's anglers happy, and even exercise equipment available for use if you don't want to skip a day at the gym while on vacation.
Pikes Peak State Park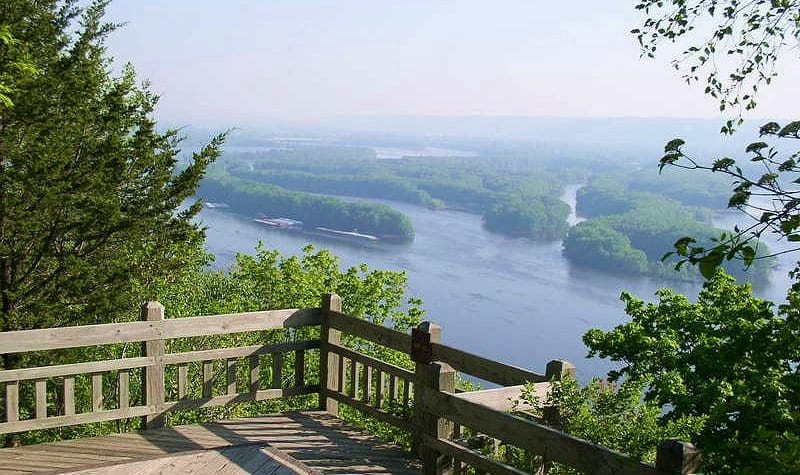 Phone: (563)873-2341
Address: 32264 Pikes Peak Road, McGregor, Iowa 32264
Activities:
Hiking

Multi-Use Trails

Bird Watching

Mountain Biking
Yes, there is a Pikes Peak in Iowa.
Yes, there's also one in Colorado and it's most likely the one folks from outside the Iowa area think of first when the name is mentioned. However, there's absolutely nothing second-rate about the third State Park to make our list, Iowa's own Pikes Peak State Park just outside the town of McGregor, IA.
With its amazing views overlooking the Mississippi River, this Clayton County park in Northeast Iowa is actually part of the larger Effigy Mounds National Monument, as well as several other public spaces that converge on the grounds of the park and comprise a major portion of its total acreage.
Pet friendly, with numerous trails around for walks, jogs, and a few that are likely better suited for a hike than a walk, Pikes Peak State Park provides several modern amenities to campers including electric hookups, showers, and phone service. However, at this time, there is no Wi-Fi service available.
---