Each state in the United States of America is special and has something to offer. Unfortunately, people tend to focus on the bigger or unique states like Florida, California, and New York when looking for a spot to visit during summer vacation or spring break.
Vacationers usually search for warm locations, historical places or busy cities. They often forget about smaller or more rural states, even though these have a lot to offer.
While Missouri isn't often talked about, it offers a lot of great vacation spots. From great views to beautiful landscapes, Missouri is filled with opportunities that are just as good for vacation as any of the more popular states or sites.
Are you still unconvinced that gorgeous Missouri could hold your next great family vacation?
Here are eleven beautiful spots in Missouri that will make you change your mind:
Campground at the Falls
Phone: 417-223-2267
Address: 384 Rt, State Hwy K, Pineville, MO 64856, United States
Activities:
Searching for a quiet family campground with water activities? Then, look no further! The Campground at the Falls is a perfect spot for a family vacation filled with peace and relaxation.
It is located just outside of Pineville and boasts stunning waterfalls and hiking activities. One of the main attractions is the inflatable floats. However, visitors can also engage in swimming, fishing, and volleyball.
The campground offers both primitive as well as full-hookup RV camping and it provides a shower house, restrooms, picnic areas, and fire pits. Those who prefer a bit more comfort can also rent one of their cozy cabins.
Huzzah Valley Resort
One of the best camping resorts at Ozark
Phone: 800-367-4516
Address: 970 E, MO-8, Steelville, MO 65565, United States
Activities:

Water activities

Horseback riding

Hiking
Spreading along with the crystal clear Huzzah River, Huzzah Valley Resort is a perfect spot for adventurous outdoor lovers who wish to engage in a number of different water activities. These include swimming, fishing, canoes, rafts, kayaks, and inner tubes. There is also a beach, kiddie playgrounds, a volleyball court, and a wide, grassy area suitable for any other sports.
You can explore the nearby forests through many hiking trails or set off to the beautiful Ozark mountain countryside on horseback.
Back in the campground, you can pitch your tent in a secluded wooded tent site. RV owners can choose from a variety of back-in and pull-through sites with a 30/50 amp service. Moreover, each campsite has its own picnic table and a fire ring with a multipurpose BBQ grill.
If you're looking for a bit more comfort, the campground offers a plethora of lodging facilities. From cozy cabins to charming A-frames, Huzzah Valley Resort is also a great spot to glamp.
Yogi Bear's Jellystone Park – Best Camping for Kids in Missouri
Phone: 636-938-5925
Address: 5300 Fox Creek Rd, Pacific, MO 63069, United States
Activities:

Swimming pool

Mini-golf

Popular with families
Nestled among 35 wooded acres, this award-winning camping resort is conveniently located just 1/2 mile from Six Flags St. Louis, one of Missouri's well-known amusement parks. Other attractions of St. Louis are easily accessible through the interstate route.
The campground itself offers a myriad of family-friendly amenities, such as a swimming pool, mini-golf, and train rides. Kids will have a blast meeting the Yogi Bear character. There are also theme events and planned activities that change weekly.
Campers can take advantage of new full hook-up pull-thru sites with 50 amp service, which accommodate even the largest RVs. For tents and pop-ups, there are shared campsites.
The more demanding guests will like the fully equipped cottages featuring picturesque dining porches, outdoor grills, and fire pits. Small cabins are available too.
America's Best Campground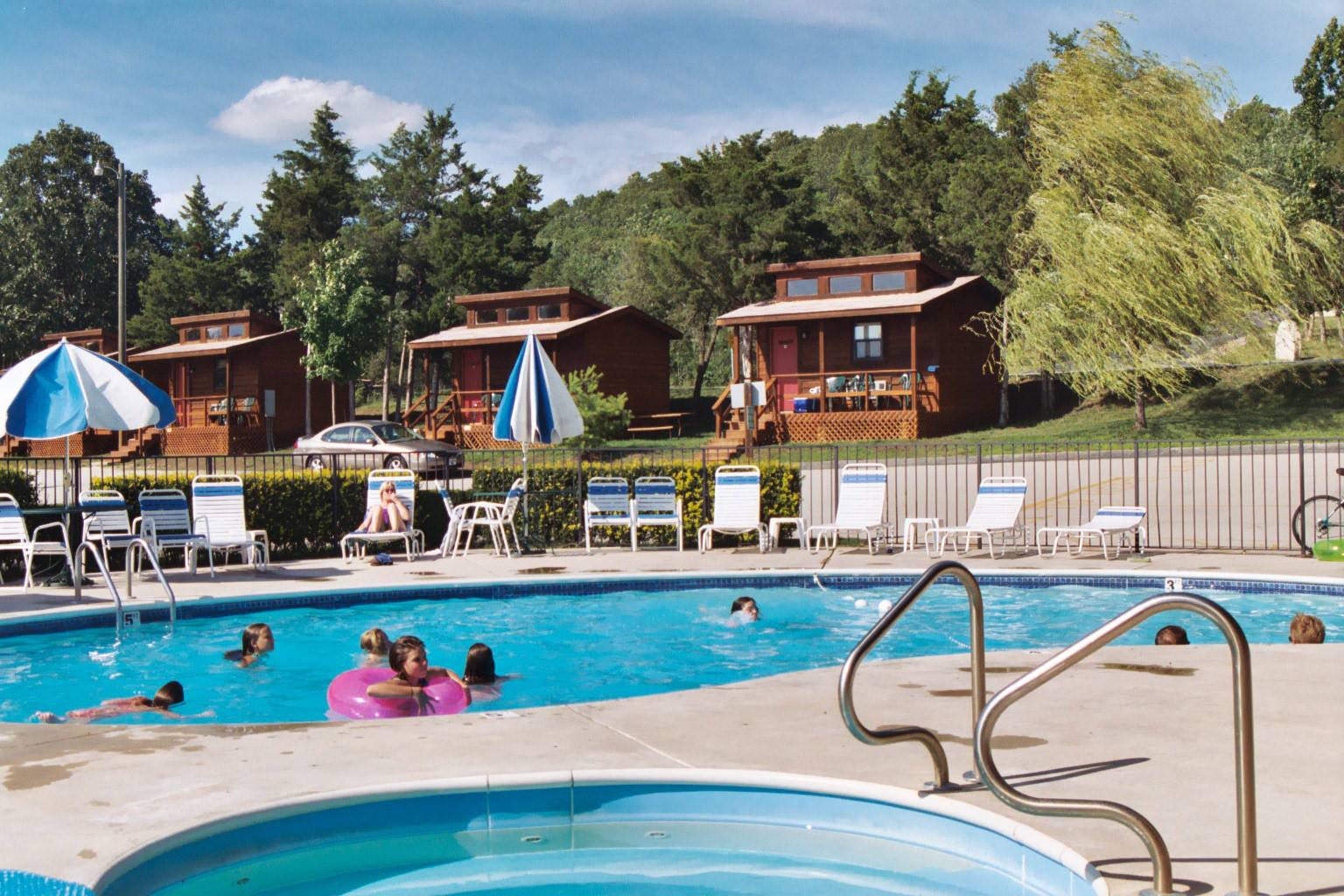 Phone: 800-671-4399
Address: 499 Buena Vista Road, Branson, MO 65616
Activities:

Pool and Spa

Concrete Patios, BBQ Grills and Picnic Tables at each site

Full Concierge Service
If you're looking for a rustic campground, this is not it. While America's Best Campground is all about spending time in nature, they are more about spending time with your family living it up. They offer free wifi, pool and spa, playgrounds, full concierge service, Gift Shop, RV Supplies and concrete patios, grills and picnic tables at each site.
If the last couple of campgrounds were all about camping, this one is all about glamping. This campground offers a wide variety of cabins with all the extras and sites for RVs with all of the plugins. If you're looking for a rustic site, this is not the campground for you.
Reviews praise the welcoming atmosphere, as well as the over-the-top amenities. Some people even complain that this campground is loved too much. Many, if not all, of the RV spots are booked months in advance.
Lazy Day Campground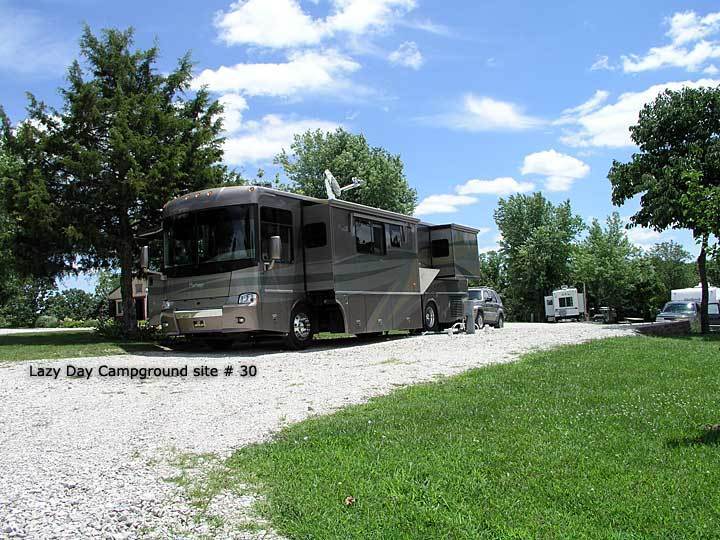 Phone: 573-564-2949
Address: 214 Highway J, Danville, MO 63361
Activities:

On Memorial Day, Fourth of July Celebration, Labor Day there are planned events for children

Saturday Night Outdoor Movies

Public Swim
The park is located in Danville, Missouri. It is surrounded by nature. They have a pool, a dog park, yard games, fishing spots and plenty of activities for the whole family.
There are four options for tent camping. There is the most basic tent site with no water or electricity. The second is a tent site that includes water and electricity.
The third is Electric & Water Only with 30amp Service and the last option is the Full hook up with up to 50amp Service. There are no cabins, but that's how the patrons of this campsite like it.
The park is staffed with friendly and helpful people that are very welcoming, which is often cited as a reason why the campground is so nice. Here, there is a lot of focus on community and family fun.
Lake of the Ozark's State Park
Phone: 8774226766
Address: 257 Public Beach Rd, Brumley, MO 65017
Activities:

Cave Exploration

Fishing

Public Swim
The Lake of the Ozark's State Park is located on a cove hidden along a Missouri shoreline. It takes up a relatively wide area across this shore, which leaves plenty of room for many recreational activities including fishing, hiking, biking, swimming and the exploration of the caves hidden along the coast.
The lodging options include both tent camping and lodge camping. There are four different sections of the campground, each with different amenities. While one just offers running water and vault toilets, another nearby section offers showers, washing machines, RV parking and hook up and a playground.
There are also both outpost cabins and yurt available to those who prefer glamping to camping. Shockingly lodging is very affordable, as well.
Most reviews cite the cleanliness and safety of the campground to be one of the main draws. There is a perfect balance between nature and amenities here for everyone. This campground is highly praised by the majority of campers.
Baxter Campground
Phone: 417-779-5370
Address: 4631 Missouri H, Lampe, MO 65681
Activities:

Boating

Fishing

Water Sports
Being situated on the lake has its perks. Baxter Campground is set right next to Table Rock Lake. The lake not only affords a great view, but it also allows visitors to go tubing, boating, scuba diving and water skiing in the crystal waters.
Although there are no cabins available for rent, there are just as many amenities here as there are anywhere else. RVs are welcome and can easily be hooked up to water and electricity.
Basic campsites are also available for the tent campers. There are several areas to camp, so the campground doesn't fill quickly. Every site is close to the water.
The many reviews of this campground praise the organization, cleanliness and the quiet. For many visitors, it is the perfect getaway from the struggles of everyday life. It boasts activities, but it also offers a solitary place to rest for families seeking relaxation.
Harry S. Truman State Park
Phone: 660-438-7711
Address: 28761 State Park Road West, Warsaw, MO 65355
Activities:

Hiking and metal detecting

Fishing

Scheduled interpretive programs for kids during the summer
The Harry S. Truman State Park is truly a unique place to visit. Sure, there are the normal attractions that most campgrounds boast such as swimming and fishing, but Truman State Park is also a great place to pick up metal detecting and participate in interactive programs.
There are several options for campers, although they all include tent camping. Visitors can opt into electricity. Campers should pick their section of the campground wisely, though, because not every section is created equal. While Bobcat Run has an amphitheater, Thorny Ridge has a boat dock. Even though there are no cabins, RVs are still welcomed and there are plenty of options for hardcore camping or glamping.
The reviews of this campground praise everything; the stunning views, the plentiful fishing, and the cleanliness of each campsite. It is a very versatile campground; there is something for everyone.
Roaring River State Park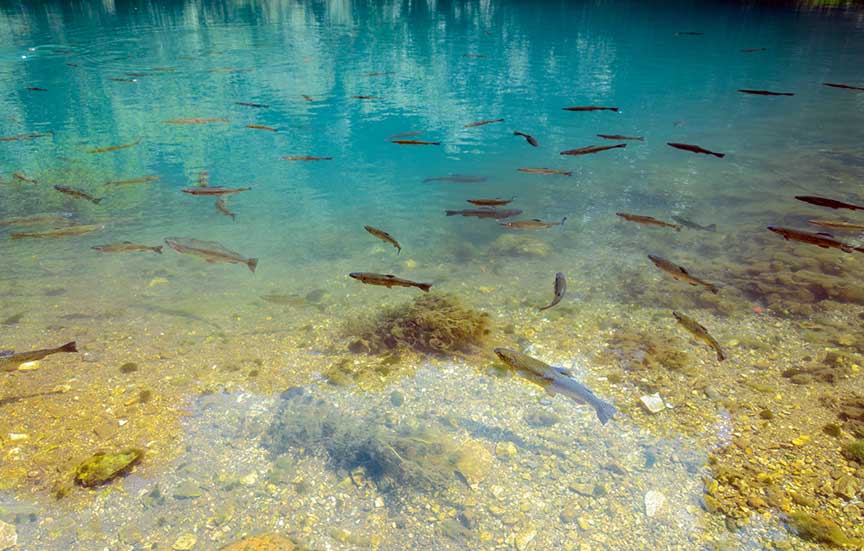 Phone: 417-847-2539
Address: 12716 Farm Rd 2239, Cassville, MO 65625
Activities:

Hiking

Fishing

Interactive Programs for kids
Roaring River State Park is a park for anyone. They offer a variety of services so that you can have the trip you want, whatever your preferences or goals may be.
There are interactive kid's programming, fishing, hiking and a dining hall experience. If a visitor wants a more rustic experience, they can steer clear, but these programs are there for anyone who wants them.
This campground offers a variety of camping experiences. If you want to bring your RV, there are sewage, water and electric hookups. If you want to tent camp, there are basic sites where you can focus on the simple pleasures of life. There are both rustic cabins and hotel rooms available at the park, depending on your preference.
The most praised thing about this campground is the fishing area, which is very nice and easy to access and the kind, welcoming atmosphere. Employees are helpful and kind to visitors day and night.
Alley Spring Campground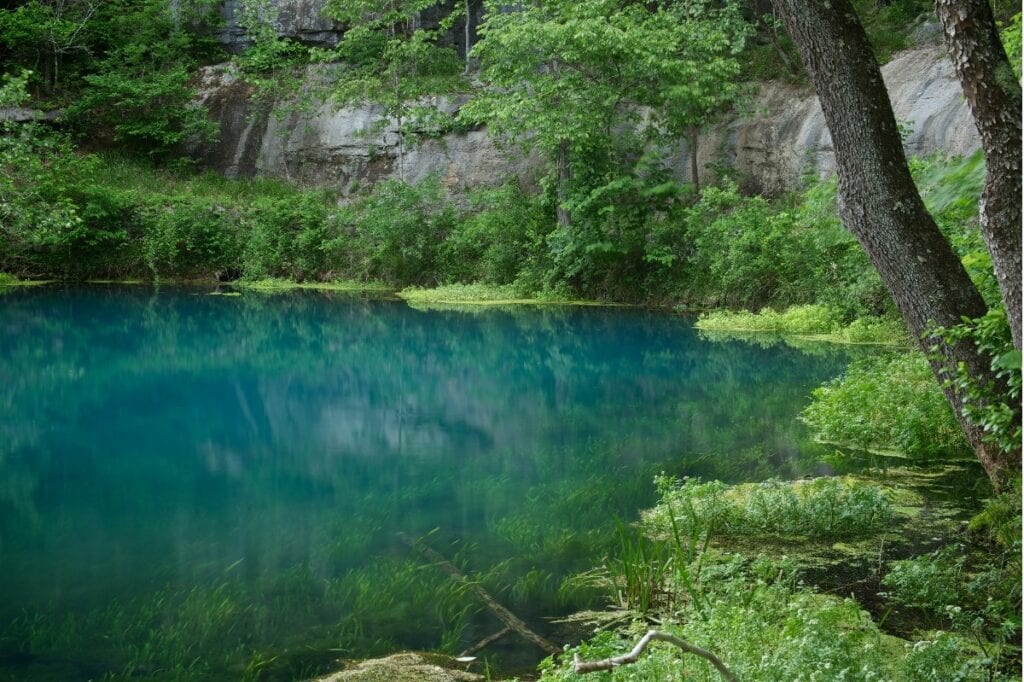 Phone: 573-323-4236
Address: MO-106, Eminence, MO 65466
Activities:

Cave and Nature Exploration

Water Sports

Kayaking
Alley Spring Campground is blessed by the surrounding area. Surrounded by waterways, caves, sinkholes and springs, a visitor is never at a loss for what to do. The nearby water allows for tubing, kayaking, water skiing and fishing. The beautiful natural landforms help visitors to explore nature at its finest.
Although there aren't any cabins, this just encourages the visitor to be more invested in the beauty of the landscape surrounding them. If you do want more of a glamping experience, though, there is a hookup for RVs. There are also rustic camping sites. What it lacks in site variety it certainly makes up for in beauty.
Many reviews give praise to the surrounding water. Crystal clear and perfect to cool off in, it is one of the best things about this campsite. Also nice are the helpful and welcoming employees and the general cleanliness of the sites. These are not praised nearly as much, though.
Mark Twain State Park – Best for Tent Camping in Missouri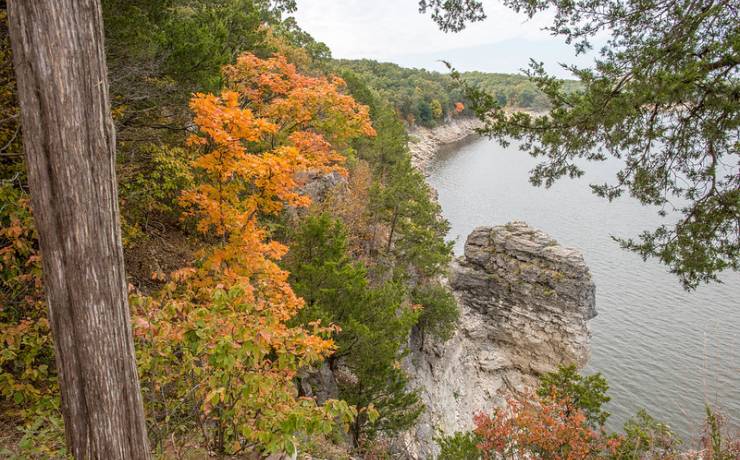 Phone: 573-565-3440
Address: 37352 Shrine Rd, Florida, MO 65283
Activities:

Boating and Fishing

Hiking

Interactive activities
Perched in a mountainous area in Missouri, the Mark Twain State Park offers bluffs, rivers and other natural beauties for visitors to appreciate. They offer hiking on the mountain trails, fishing and boating in the river and interactive activities for kids.
For tent campers, there are plenty of amenities. RVs are welcomed with hookups and there are showers for most of the basic sites and running water for all of the tent camping sites. If you're interested in a cabin, don't worry, there are plenty of cabins available for rent. These are rustic cabins, but they provide all of the amenities.
Most reviews praise the beautiful landscape, and while some people praise the kind and helpful staff, most of the love is directed straight to the scenery. Just from looking at pictures, you can tell why. The surrounding mountainous area affords amazing views at any time of the year.
---
As you can see, while Missouri may not be the hottest vacation spot in the minds of the majority, there are a lot of little known campgrounds and national parks that make this state a true national treasure.
For whatever kind of camping you're into, whether it be high-class glamping with small glimpses of the outdoors, to rugged survival-mode basic tent camping, there is a perfect site and a campground for you. Kids are more than welcome at any of these locations, of course, but more than that, the broad majority of these campgrounds cater to families specifically and afford many opportunities to spend time together.
If you were on the fence about where to spend a vacation or were planning to pass through without stopping, after that show, you're sure to reconsider. Although Missouri is widely ignored in the vacation industry, it is not a state to overlook.
From rivers to caves to springs to bluffs, there is an overabundance of natural beauty as well as kind and helpful employees. There is no reason not to spend some time in beautiful Missouri.
Are you interested? Contact one of these campgrounds today to learn updated information about their COVID-19 strategy.