Stunning desert landscapes, volcanic craters, alpine forests, and snow-capped mountains. From Pecos National Historical Park to White Sands National Monument, the state of New Mexico is blessed with some remarkable natural sights.
Whether you like hiking, skiing, rafting, or sandboarding, New Mexico, known as the Land of Enchantment, has something to offer for everyone. Mild winters and hot summers also make it a great year-round spot for camping. But be alert. Make sure to pack some rain gear and seasonal clothing as the weather tends to change in the twinkling of an eye.
Are you now wondering where to pitch your tent or leave your RV car? Here are the 11 best camping sites that a camper should not oversee.
Check also:
– Best Camping Sites in Texas
– Best Camping Sites in Arizona
Here we go, Best Camping in New Mexico
Grants KOA Journey
NORTHWESTERN NEW MEXICO
Located in Northwestern New Mexico, just off Highway 40, Grants KOA is a spot to stay when discovering the area.
Fuel up with free continental breakfast and set off to the nearby New Mexico Mining Museum, Wild Spirit Wolf Sanctuary, or the Bandera Crater & Ice Caves. Take a walk into the lava beds, enjoy a ride up Mt. Taylor, and play golf at the Coyote del Malpais Golf Course. Then, relax back at the KOA.
If you feel like not cooking dinner, you can order a campground-style cuisine supper straight to your tent, RV, or cabin. Otherwise, there is a camping kitchen.
Kids will appreciate the playground and tetherball. And for your four-legged friends, there is a dog playground. Grants KOA Journey is simply suitable for all solo campers, couples, groups of friends, as well as families.
Enchanted Trails RV Park & Trading Post
CENTRAL NEW MEXICO
Originally called the Hill Top Trading Post, Enchanted Trails sits on the famous Route 66 by the city of Albuquerque. It was built in the 1940s and can boast the then architecture of the region. Thanks to its charm, the property has been used as a backdrop for several movies.
It features various vintage curiosities, such as a ringer washer and a mangle iron. You can also observe some Native American crafts, as well as try regional southwestern foods and spices.
Enchanted Trails has both pull-thru and back-in sites for your RV. The price starts at USD$ 37 per night.
Aguirre Spring Campground
SOUTH NEW MEXICO
Nestled on the east side of Organ Mountains right in the backyard of Las Cruces, New Mexico's second-largest city, Aguirre Spring Campground is the perfect choice for those who don't want to travel far but wish to enjoy the feeling of remote camping.
This rather primitive campground consists of 55 smaller tent and trailer sites, restrooms, and covered picnic tables. Water is available at the gate, there are no hookups. However, you will be rewarded with excellent views.
Fancy some hiking? Baylor Pass Trail and Pine Tree Trail depart straight from the campground.
If you decide to give it a try, make sure you arrive early as Aguirre Spring is managed on a first-come, first-served basis.
Along the River RV Park, Campground and Cabins
SOUTH NEW MEXICO
Right in the Lincoln National Forest, the serene Along the River campgrounds feature breath-taking mountain views, rich wildlife, and star-studded nights, that you can watch straight from your campfire, drinking wine from local vineyards. As the name of the campground suggests, the campground is nestled along the Rio Bonito.
The campsite attracts visitors of all groups and ages. However, it is a perfect place for those searching for tranquility and connection to nature.
Along the River offers RV or tent sites and wooden cabins. The RV sites feature both full and partial hook-ups and start at USD$ 39 per night on a non-riverside site. Whereas the riverside spots begin at USD$ 42 per night. The primitive campsites are a walking distance of showers and restrooms, and the nightly rates start at USD$ 30. A small cabin begins at USD$ 64 per night.
Wild Rivers Recreational Area
NORTHERN NEW MEXICO
Set in the rugged plains of northern New Mexico, the Wild Rivers Recreational Area is a camping spot that provides visitors not only with dramatic views but also plenty of recreational opportunities.
The area is especially popular for hiking. One of the most walked pathways is the one to the La Junta Overlook which offers spectacular views of the confluence of the Rio Grande and Red River. The jaunt is pretty much easy and wheelchair accessible, too.
Anglers will be challenged by trout and Northern pike, while nature enthusiasts can look forward to mule deer, bighorn sheep, elk, red-tailed hawk, and mountain blue-bird.
The campground is rather quiet and designated for tent camping as there are no hookups or a dump station. However, there are really nice picnic facilities and a visitors center.
Santa Fe Skies RV Park
CENTRAL NEW MEXICO
This family-owned campground is definitely considered as best camping in New Mexico. Located on a ridge just outside of the city of Santa Fe, the oldest capital in North America, providing panoramic views of the entire area.
You can feast your eyes on the close-by Sangre de Cristo Mountains, the Jemez Mountains, Santa Fe National Forest, the Cerrillos Hills, the Ortiz Mountains, and even the Sandia Peak at the base of the city of Albuquerque.
There are two shopping malls, numerous restaurants, and a large supermarket within a short driving distance from the Santa Fe Skies RV Park. The scenic Turquoise Trail is just a jump away, where you can visit the historic village of Los Cerrillos or in the artist center of Madrid. There are also various local businesses in the area.
The campground offers pull-thru and back-in sites, all of which are equipped with 20/30/50 amp electrical service. There are water and sewers available at each pull-thru site and at nearly all back-in sites. For special events, there are two conference rooms available.
From April 1, 2022, the rates start at USD$ 63 per night. And if you stay 6 nights, the seventh one is for free!
Check out: Best Barefoot Hiking Boots 2022
Bottomless Lakes Park Campground
SOUTHEASTERN NEW MEXICO
Set just 14 miles southeast of Roswell, Bottomless Lakes State Park is a great option for weekend outings, as well as a home base.
It features several lakes that are, in fact, sinkholes. Their aquatic plants give them the unique greenish-blue color, which makes an illusion of great depth. While in reality, the lakes are only 17 to 90 feet deep.
They provide a myriad of activities to engage in. From kayaking, paddling, and fishing to swimming, or even scuba diving, Bottomless Lakes is a true watersports lovers' paradise. Other activities include hiking, biking, and birding.
You can choose RV camping or pitch a tent. Most campsites have their own water access and feature picnic tables and grills. You won't get disappointed when staying at the quaint Bottomless Lakes Park Campground.
City of Rocks State Park
SOUTH NEW MEXICO
Formed 30 million years ago and carved by wind and water into monolithic blocks, City of Rocks got its name from these magnificent volcanic formations.
Nestled halfway between Silver City and Deming, City of Rocks offers some of the best campings in New Mexico, hiking, mountain biking trails, wildlife viewing, and picnic areas. There is also a desert botanical garden, home to cow's tongue, bunny ear cacti, and other plants, and a new star observatory in the park.
The campground has water and 30/50 amp electricity sites, as well as primitive camping sites. There are restrooms with water, showers, and vault toilets.
The price for a developed site with a hook-up starts at USD$ 14 per night, while a primitive tent site begins at USD$ 8 per night. Reservations made through the online reservation system will result in a discounted price.
Aguirre Spring Campground
SOUTH NEW MEXICO
Aguirre Spring Campground, surrounded by the Organ Mountains and the Chihuahuan Desert, brings a unique opportunity to spend a night in a secluded site. Overlooking the Tularosa Basin and White Sands National Monument, it presents spectacular views of the desert, as well as of the starlit sky at night.
Aguirre Spring Campground includes pit toilets, picnic tables, and fire rings. Be aware there are no hook-ups at the campsite, but you can stock up on water at the entrance to the park.
The rate is USD$ 7 per night per spot. There are also two group sites available, perfect for a large family reunion, team-building camping, or a workshop, for just USD$ 50 each per night. But be quick. The sites work on the first come, first reserved basis!
Bonito Hollow RV Park & Campground
SOUTH NEW MEXICO
Bonito Hollow RV Park and Campground lies in the heart of the Lincoln National Forest, which offers numerous hiking trails, waterfalls, as well as summer horse races. Spreading 12 acres along the Rio Bonito and not far from Bonito Lake, you can enjoy fishing, as well as wildlife viewing. If you happen to come in winter, you can visit the southernmost skiing resort of the United States — the Ski Apache — making your stay a truly adventurous experience.
The campground has pull-thru and back-up sites, of which many are connected to water, electricity, and sewer. All spots are equipped with a picnic table and a fire ring. You can camp either by the Rio Bonito or in the forest according to your personal preference. Unluckily, there are no tent sites available this season.
The rates begin at USD$ 40 per night, and they include 2 people and 1 car. Each additional person is USD$ 5 per night, apart from children under the age of 10. Those camp for free.
Turquoise Trail Campgrounds
CENTRAL NEW MEXICO
The Turquoise Trail Campgrounds are located in the forests of the Sandia Mountains right on the historic Turquoise Trail and just a couple of miles away from the colorful city of Albuquerque.
Therefore, visitors can easily access some of the city's fabulous restaurants, theaters, shopping centers, and museums. There are also plenty of attractions in the area, like the International Balloon Museum or Albuquerque Biopark presenting a small zoo, botanic gardens, and aquarium.
They offer all RV camping, cabin, and tent camping in a mountain meadow surrounded by Sandia's wilderness. There are full-hookup pull-thru sites with 50/30/20 amp service, as well as back-in water and electric sites. The tent sites are isolated from the RV resort so that tenters can gather from a relaxing and safe environment. If you prefer to spend a night in a cabin, there are both budget and deluxe ones available.
Santa Rosa Campground & RV Park
EAST NEW MEXICO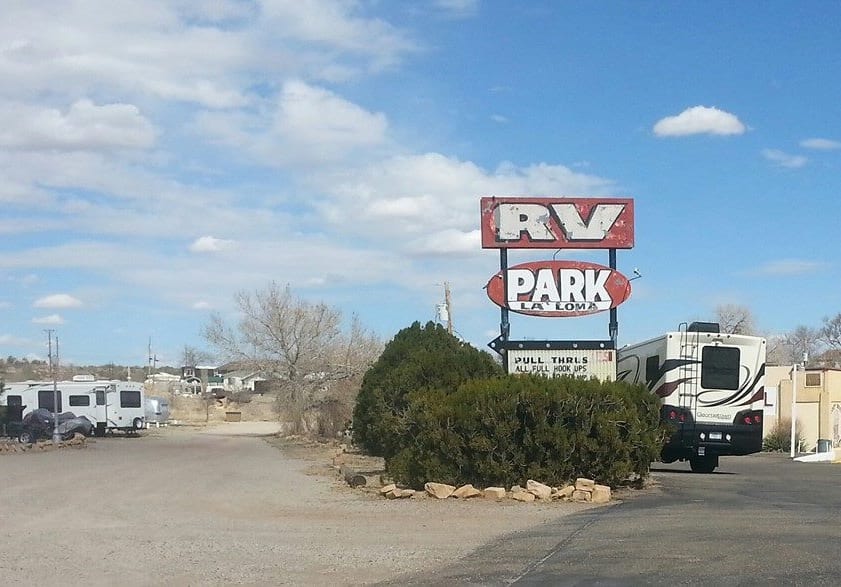 Settled on the historic Route 66 in Santa Rosa, the Santa Rosa Campground boasts 100 different sites, from RV hook-ups and tent sites to a comfortable cabin for the ultimate rustic experience.
Santa Rosa has loads to offer, even for the most demanding campers. Some of the area's attractions include the Billy the Kid Museum, the Pecos River Bridge, or the Blue Hole, one of the most popular scuba diving destinations.
There is a BBQ restaurant on-site, featuring some of the best Baby Back Ribs in New Mexico. Those can also be delivered straight to your tent or camper after a busy day on the road.
Call the campsite for the rates, as they vary according to the type of your rig, desired services, length of your stay, and season.
Have you chosen your next camping destination in New Mexico? I hear yes. So pack your bags and see you around!
FAQs about camping in New Mexico
What's the biggest state park in New Mexico?
Elephant Butte Lake State Park is the largest state park in New Mexico. The Rio Grande provides plenty of water-based activities, such as boating, swimming, and fishing. There are also numerous sandy beaches and marinas that can accommodate watercraft of many styles and sizes.
How much does RV camping cost in New Mexico?
RV camping is a bit more pricey than primitive camping. Yet, it's still very affordable. The rates vary depending on the season, amenities, and location of the campground. But they are usually between USD$ 30 and USD$ 50 per night in New Mexico.
When does the camping season start in New Mexico?
The camping season in New Mexico is from April through September/mid-October. However, note that the weather of New Mexico is as varied as its landscape, mainly because of elevation changes. Therefore, it's important to check the weather in the area you're planning to go to before your trip.
Which are the less crowded State Parks in New Mexico?
Navajo Lake State Park and Heron Lake State Park are considered less popular and therefore less crowded State Parks in New Mexico State.
Which are the most beautiful National Parks in New Mexico?
White Sands National Park and Carlsbad Caverns National Park are popular choices for visitors to New Mexico. Also consider, Carson National Forest or Petroglyph National Monument