The Keystone State, Pennsylvania's historic nickname dating back to 1802, offers some of the most compelling nature and outdoor activities to keep any camper enthralled.
One of the original 13 colonies, the state is rich in history and natural beauty, with the Appalachian Mountains running through the state's middle, and Lake Erie at its northwestern border.
The state also offers up several pristine state parks for camping, as well as exceptional private campgrounds to explore. Each of the camping sites lay near rivers, lakes, mountains, and amazing waterfalls.
Get ready to set up your tent, park your RV, or settle into a cabin or yurt for a stay in one of the most beautiful states in the country.
Enjoy and explore the following eight best camping sites in the State of Pennsylvania in 2020:
Lake Raystown Resort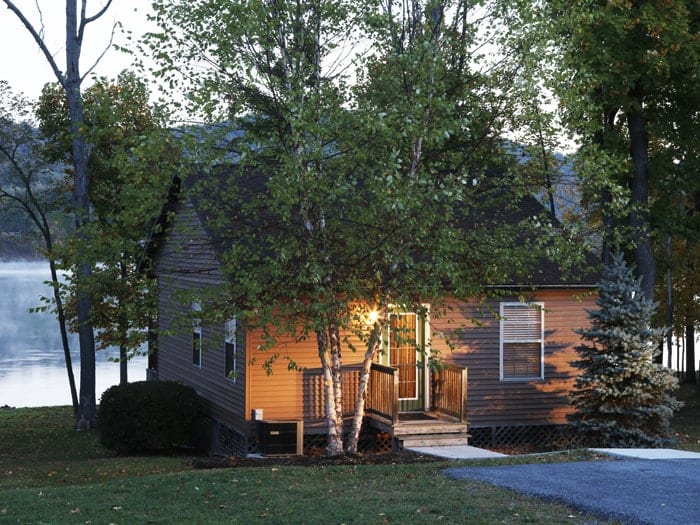 Lake Raystown Resort is a nature lovers paradise disguised as a resort.
Situated on the largest lake in Pennsylvania, camping options abound, including tent and trailer sites, yurts, and cabins.
Expect to be waterlogged as there are numerous water activities to enjoy here. Take a swim at the beach, go boating out on the lake, play in the water park, or take-up paddle boarding.
On land, try your hand at geocaching. Within the resort grounds are six caches to find, with more around the region.
Sitting on three peninsulas, this private campground offers many modern amenities as well. If you don't feel like cooking out one day, head to the Marina Café for a bite. Visit the WildRiver Waterpark for a thrilling afternoon.
Lake Raystown Resort is also an ideal spot for a wedding, family reunion, or retreat.
Allegheny River Campground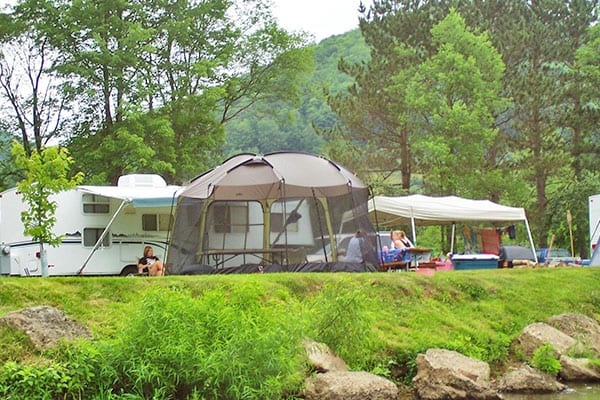 The Alleghany River Campground abounds with river activities, from fly fishing to river tubing. This historic waterway has served many purposes in the past. Today, however, it is protected, with parts of it now under the National Wild & Scenic River System, specifically classified for recreational uses.
While the campground sports modern features as well as natural ones, including a heated swimming pool, you can still immerse yourself in the surrounding nature.
The grounds contain primitive tent campsites as well as RV hook-ups. As a bonus, you can reserve a vintage RV for your stay, in addition to cabins and cottages.
Otter Lake Camp Resort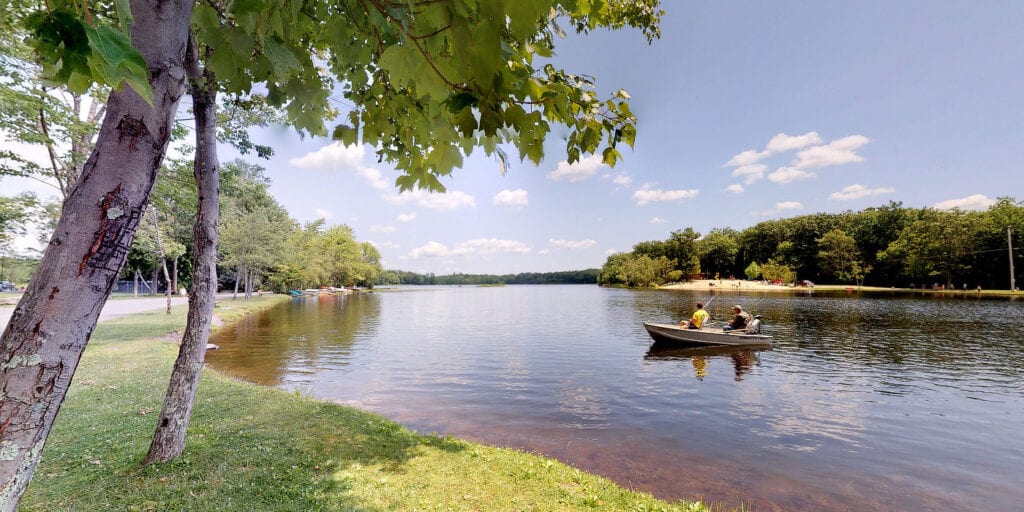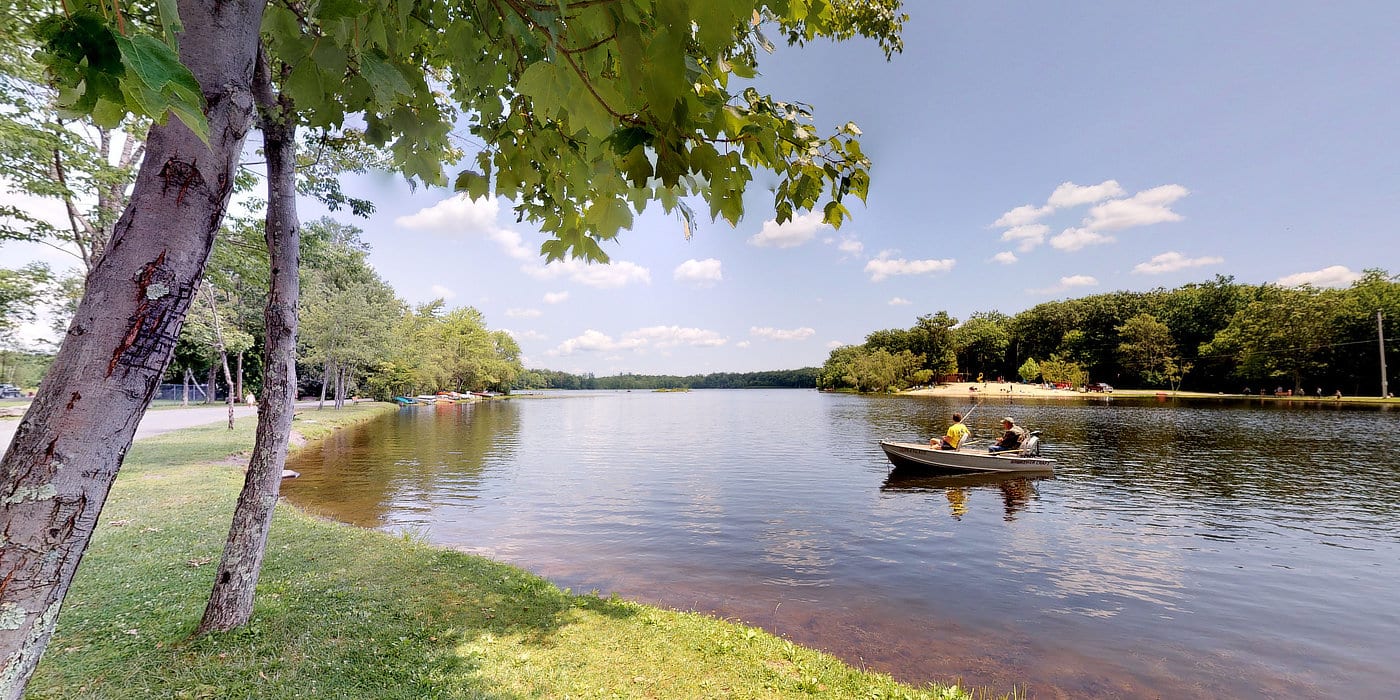 Get up close and personal with the Poconos mountains while staying at the Otter Lake Camp Resort. With 300 wooded acres to explore, this private campground is a delight for any level of camper.
Enjoy canoeing or kayaking on the sparkling 60-acre lake. Or, if you prefer, spend your time fishing for bass, perch, catfish, and the like.
Modern activities abound as well for those who are not as nature-oriented or like a variety of options during their camp stays. These include organized activities such as archery and crafts. There's also tennis, racquetball, and basketball courts. For the little ones, check out any of the four playgrounds, splash park, and game room.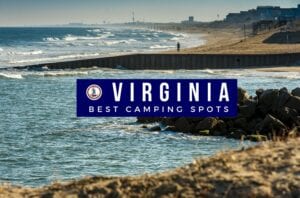 Ricketts Glen State Park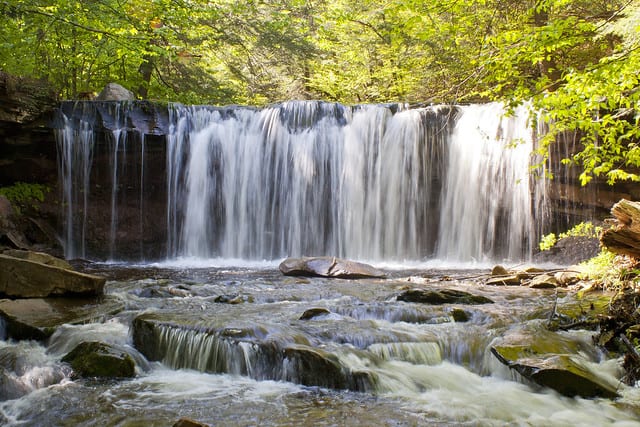 Ricketts Glen State Park is the ideal camping destination for those who enjoy a multitude of outdoor activities year-round.
Situated on the eastern side of the state, the park offers a fishing and boating lake, a swimming beach, rental cabins, and several campsites. A nature lovers paradise, you can explore old-growth forests, natural wetlands, and grand geological formations during your stay.
Just a two-and-a-half-hour drive from Philadelphia, the park offers five deluxe cottages, ten modern cabins (two are ADA compatible), and 120 tent and trailer campsites.
Be sure to bring along good hiking shoes as this park entices with its popular Falls Trail. This trail leads you past 21 of the park's incredible waterfalls, ranging from 11 to 94 feet high.
In addition, inside the park you will find Lake Jean, a great place for swimming, fishing, and boating. The lake is stocked annually with trout as well.
If you are into winter outdoor activities such as cross-country skiing, snowshoeing, snowmobiling, and ice fishing, this is the place for you also. If you are into hunting, the park offers over 10,000 designated acres, as well as state game lands which surround the park.
It is highly unlikely you'll run out of things to do within the parameters of this 13,193-acre park.
Hickory Run State Park
Hickory Run State Park is an exceptional location to explore, especially by compass or GPS.
A unique feature found in this park is its 20,000-year-old boulder field, which is designated as a National Natural Landmark. Take your own GPS tour to this natural history site leftover from the last ice age. The park provides coordinates to follow and learn about the ancient landscape along the way.
The park also contains over 40 miles of hiking trails, once old roads leading to nearby towns back in the 1800s. These trails range anywhere from easy to highly difficult for hikers, so be prepared.
There is also Sand Spring Lake to enjoy. Sit on its sandy beach before and after a cooling swim. Float on a raft for a relaxing afternoon. You'll find shaded picnic tables here as well.
For campers, Hickory Run has over 300 tent and trailer campsites. Beware, however, of the active bear population in the area and be sure to hang your food up. If you are feeling somewhat less adventurous, try staying in one of the park's five cottages.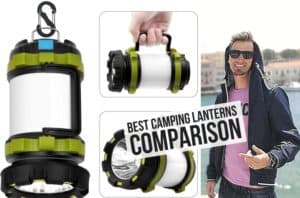 French Creek State Park
Southeast Pennsylvania
Phone: (610) 582-9680
Address: 843 Park Road, Elverson, PA 19520 (click to open in google maps)
Available activities and highlights:

hiking

birdwatching

swimming

boating

fishing

mountain biking

disc golf

horse riding

winter activities – cross country skiing, sledding, ice skating, ice fishing
Situated in the Schuylkill Highlands, French Creek State Park sports two lakes, 35 miles of hiking trails, 20 miles of mountain biking trails, and a disc golf course.
Bring your binoculars as this 7,730-acre park is designated as an Important Bird Area by the National Audubon Society. Or, if you prefer a more rigorous activity, check out the 20 miles of difficult, rocky mountain biking rails. Along these trails, you will climb hills, cruise through forests, and cross streams.
You will find two lakes within the park, the Hopewell Lake and the smaller Scotts Run Lake. Bring your own boat, or rent kayaks, canoes, and row boats for either lake.
Bring along your fishing gear as well. Hopewell Lake swarms with fish, including Bass, Walleye, Northern Pike, and many others. The Scotts Run Lake is stocked with trout throughout the year.
In the way of camping, the park offers several options, including ten modern cabins, three cottages, two yurts, and up to 200 tent and trailer sites.
Cherry Springs State Park
For the best skies in the state for star gazing and a glimpse of the Milky way, head to Cherry Springs State Park northwest of Philadelphia.
From a field high up on top of a 2,300-foot mountain, with a 360-degree view of the night skies, this famous spot is sure not to disappoint. With minimal if any light nearby, this park offers one of the most famous locales for astronomers, amateur and professional alike.
Surrounded by the Susquehannock State Forest, this remote 82-acre park also provides access to pristine hiking and backpacking trails. Named for the black cherry trees found in the area, the park only has 30 rustic campsites available, so you'll need to reserve your spot early.
Ohiopyle State Park
If you're looking for adventure along with a pristine campsite, venture into Ohiopyle State Park. Here you are able to run the rapids of the Youghiogheny River Gorge, cascade down natural waterslides, or try your hand at rock climbing.
Tackle the class III and IV rapids if experienced, or join a guided raft trip if not. Climb into the creek bed and be whisked through the water and down two waterslides.
If rock climbing is your sport, the park has several areas to test your skills, including the Meadow Run and Bruner Run climbing areas.
For backpackers and long hikers, the park includes the southern terminus of the 70-mile Laurel Highlands Hiking Trail. If you're up for a strenuous hike over rocky terrain, but with incredible natural scenery, try taking on the 6.3 miles of the Trail located inside the park.
Ohiopyle State Park contains around 200 tent and trailer campsites, including 27 hike-in sites. Cottages and yurts are also available for rental.
While historic in its own right, Pennsylvania is also full of pristine natural beauty every camper can experience. From primitive tent camping to top-notch RV sites to cabins and yurts, the Keystone State offers an abundance of nature-oriented outdoor activities to rival any other state.
Besides, where else can you go whitewater rafting, see 21 waterfalls in a single hike, see an unobstructed view of the Milky Way, or visit via GPS a historic boulder field? Combine these with incredible hiking, biking, fishing, swimming, and boating, and you may just have the perfect state for camping.