Hiking in the Blue Ridge Mountains, fishing in Lake Murray, or sunbathing on the 200 miles of Atlantic coastline.
South Carolina has plenty to offer to everyone. Southern hospitality and rich history only add to the state's charm. No wonder it has become a popular camping destination. Ocean Lakes even ranks in the top 1% of U.S. campgrounds!
Check out also: Best Camping Sites in North Carolina
Here are the 11 best camping sites in South Carolina:
Lakewood Camping Resort
EAST SOUTH CAROLINA
Phone: (843) 238-5161
Address: 5901 S Kings Hwy, Myrtle Beach, SC 29575, United States
Activities and Amenities Highlights:
Fitness center

Water park

Spa

Fishing

On-site café
This oceanfront camping resort offers stunning views of the seaside, lakes, and the surrounding nature areas. With around 1,300 sites, Lakewood Camping Resort belongs to one of the largest campsites in the region.
With its family atmosphere and rich amenities, it is a great spot for families. The campground features a heated swimming pool and spa, fitness room, golf cart and bike rentals, and much more.
Lakewood Camping Resort can accommodate anything from a basic tent to a modern luxurious RV. You can choose from Oceanfront sites, Lakefront sites, open Sunny sites, or Shady sites. All of them are full hook-ups, and each has its own picnic table. There are also lovely vacation rentals on the campground that have 1, 2, 3, 4, or 5 bedrooms.
We recommend reaching out directly to the campsite to gather the prices, either by phone or online.
Ocean Lakes Family Campground – No.1 Family Camping in SC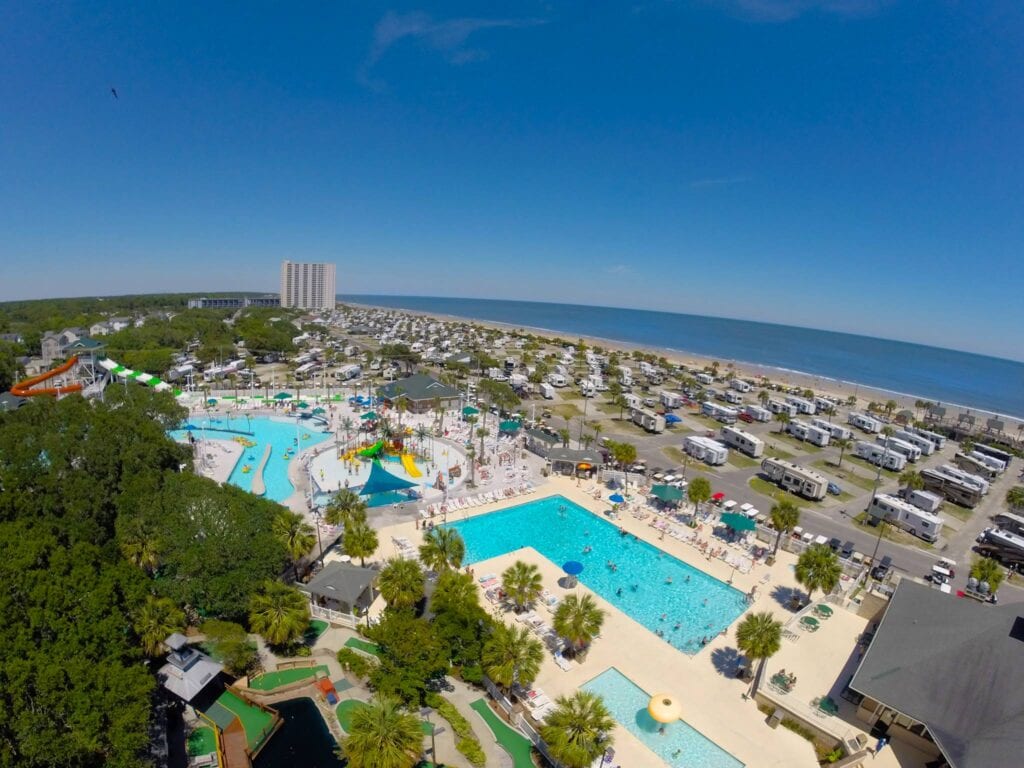 Phone: (843) 238-5636
Address: 6001 S Kings Hwy, Myrtle Beach, SC 29575, United States
Activities and Amenities Highlights:
Water Park

Mini-golf

Sand volleyball

Basketball
Founded in 1971, Ocean Lakes Family Campground was opened with only 30 campsites and one bathhouse. Featuring 859 campsites today, it has become the largest campground on the East Coast and is one of the largest ones in the whole of the United States.
It is located on the sunny Myrtle Beach. The oceanfront offers 19 beach accesses, playgrounds, workout stations, a sand volleyball court, shuffleboard, and basketball courts.
In 2016, the newly added Sandy Harbor Family Fun Center opened its facilities. Guests can now enjoy various water park-like amenities, such as a mat racer, tube slide, lazy river, several pools, a sun deck, and two kiddie pools. There are also mini-golf, games center, café, and a snack bar in the park.
All the campsites are pull-thru with water, sewer, and electricity hook-ups, and the rates start at USD$ 58 per night. However, the prices vary depending on the season. Summers can get especially busy, so be prepared to make your reservation a couple of months ahead of your stay.
Carolina Pines RV Resort
EAST SOUTH CAROLINA
Phone: (843) 896-0700
Address: 5800 SC-90, Conway, SC 29526, United States
Activities and Amenities Highlights:
Pool

Mini-golf

Yoga studio

On-site bistro

Beach Club
Campers looking for world-class accommodations and amenities, watch out! Just a couple of miles from Myrtle Beach, there is Carolina Pines RV Resort, a unique place to set your RV and spend some quality time with your friends and family.
Is your house on wheels too small, and you need to take some time off it? Fully-furnished cottages with spacious outdoor living areas are an option too.
Relax in the jacuzzi spas, putt a round of mini-golf, take a lesson of yoga, or have a bite in the pool-side bistro. Kids will appreciate the water park, playgrounds, and jumping pillow. There is also a dog park for your four-legged friends.
Would you like to spend the afternoon sunbathing by the beach? Take a shuffle ride to the resort's private beach club. This RV resort will fit the needs of even the most demanding campers, as well as glampers, both adults and kids.
Hilton Head Harbor RV Resort & Marina
SOUTHERN SOUTH CAROLINA
Phone: (843) 681-3256
Address: 43 Jenkins Rd, Hilton Head Island, SC 29926, United States
Activities and Amenities Highlights:
Pool
Sauna
Hot tub
Exercise room
Tennis
Looking for a high-end RV camping on the water? Look no further! Hilton Head Harbor Resort is a combination of both an RV park and a marina.
It boasts more than 200 hookup sites with cable TV and Wi-Fi, 2 bathhouses, swimming pools with sun decks, a hot tub, a sauna, as well as an on-site 5-star restaurant. There is also an exercise room, laundry room, and a store.
But the amenities aren't the only thing this RV park is famous for. It also offers a number of watersports. From jet skiing and kayaking to paddle boarding, water enthusiasts will love Hilton Head Harbor. Visitors can also engage in fishing.
Traveling with a furry friend? Don't worry, pets are welcome at all sites!
Mount Pleasant / Charleston KOA Holiday
EAST SOUTH CAROLINA
Phone: (843) 849-5177
Address: 3157 N Hwy 17 North, Mt Pleasant, SC 29466, United States
Activities and Amenities Highlights:
Set in Carolina Lowcountry, Mount Pleasant / Charleston KOA boasts a private lake with great amenities, as well as plenty of area attractions.
Take a walk along the 1.5 mile-long natural trail, rent a bike, boat, or fish in the catch and release lake. Visit the historic Charleston, Fort Sumter National Monument, or Middleton Place. Medal of Honor Museum and the Vietnam Experience Exhibit are also just a short drive away.
Back at the campground, you can swim in the pool, roast marshmallows, or just relax on a deck chair and watch the sunset. All of that while you stay in your RV, pitch a tent, or rent a cabin. Mount Pleasant / Charleston KOA Holiday will become a place you will simply want to visit once again.
Camp Lake Jasper RV Resort
SOUTHERN SOUTH CAROLINA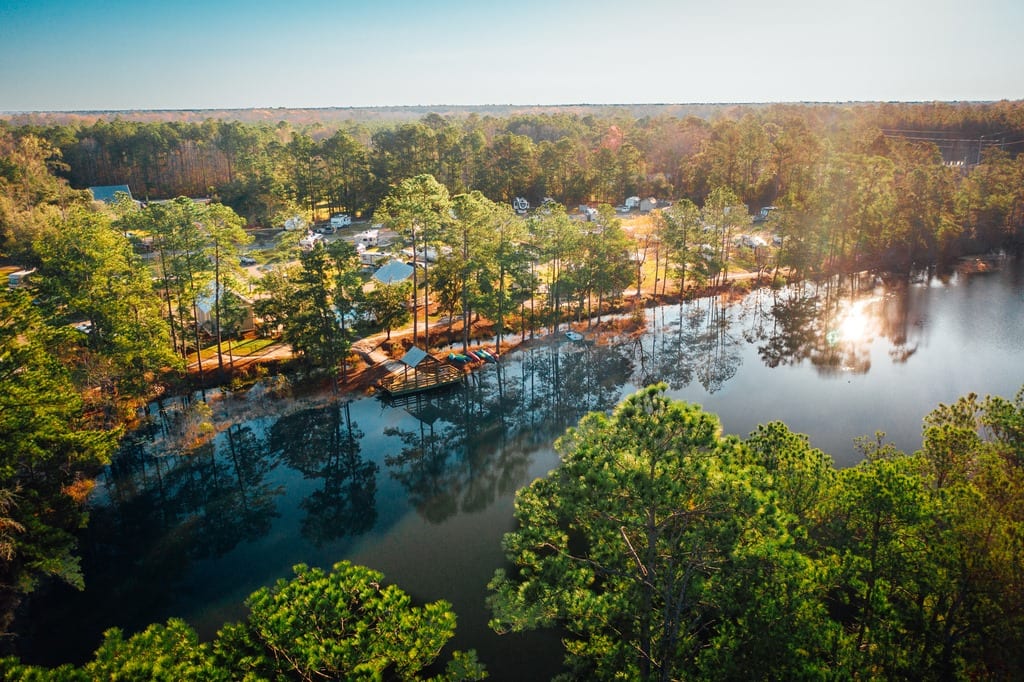 Phone: (843) 784-5200
Address: 44 Camp Lake Dr, Hardeeville, SC 29927, United States
Activities and Amenities Highlights:
Pool

Hiking

Fishing

Dog park
Based just minutes off of Interstate 95 at Exit 8, Camp Lake Jasper RV Resort is a perfect spot to spend overnight when heading to Hilton Head Island or discovering the historic cities of Beaufort and Savannah.
Explore the beauties of the adjacent Sergeant Jasper Park through hiking trails, paddle the pristine waters, play the Sarge Disc Golf Course, or relax in the lakeside pool. Whether you are looking for an adventure or an escape from the hustle and bustle of everyday life, Camp Lake Jasper RV Resort has something for everyone.
Nightly prices start at USD$ 45, but the campsite also offers discounted monthly rates.
Myrtle Beach KOA Resort
EAST SOUTH CAROLINA
Phone: (843) 448-3421
Address: 613 5th Ave S, Myrtle Beach, SC 29577, United States
Activities and Amenities Highlights:
Located on the sunlit Myrtle Beach, this KOA resort is a perfect place for those wanting to chill and relax on a budget on the beloved East Coast. The area offers remarkable dining opportunities, shopping, as well as ocean-based activities, such as jet ski or fishing.
The Myrtle Beach KOA Resort itself features RV and tent sites and cabin lodging too. Surrounded by some of the largest old-growth pines of the region, this campground is suitable for both adventurers and those looking for indulgence.
Long family vacation or an idyllic beach getaway? This campground can also provide you with some exciting extended stay rates.
Check out: Best Camping Folding Tables
Campground at James Island County Park
EAST SOUTH CAROLINA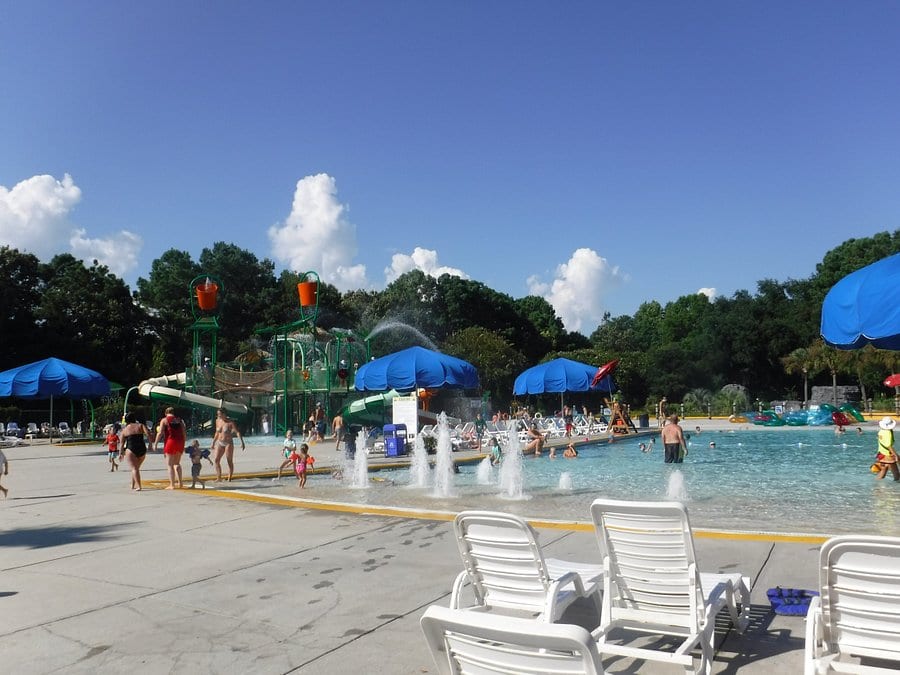 Phone: (843) 795-4386
Address: 871 Riverland Dr, Charleston, SC 29412, United States
Activities and Amenities Highlights:
Splash Zone Waterpark

Climbing wall

Fishing

Pet-friendly
This family-friendly campground is based in the historic city of Charleston, and both the area and the campsite have loads to offer. Enjoy shopping on Kings Street and have a bite in one of the city's numerous restaurants. Join a walking tour or spend an afternoon on the sandy Folly Beach. The local night scene is also famous for bars with live music.
The Campground at James Island County Park has generous amenities too. Rent a bike, pedal boat, or kayak. Stretch on the climbing hall, or ride a tube slide in the seasonal waterpark. There is also an off-leash dog park for your four-legged friends.
There are both back-in and pull-thru RV sites, starting at USD$ 59 per night. A primitive tent site is USD$ 35, whereas a water and electricity one comes at USD$ 55 per night. For demanding campers or families, there are three-bedroom cottages available for USD$ 169 daily.
Magnolia RV Park & Campground
CENTRAL SOUTH CAROLINA
Phone: (864) 697-1214
Address: 567 Fairview Church Rd, Kinards, SC 29355, United States
Activities and Amenities Highlights:
Nestled in Laurens County, Magnolia RV Park & Campground invites you to enjoy the welcoming southern atmosphere. You can visit the Rose Hill Plantation Park, spend an afternoon in the campground's swimming pool, or play basketball, volleyball, and horseshoes. Golfers can drop by the nearby Musgrove Mill Golf Club.
You can choose from 44 sites, which can accommodate rigs of almost every size. There are both 20/30/50 amp water and electricity sites and full hook-up sites. Tent camping is also available.
Should you be looking for more comfort and style, you can spend a night in one of Magnolia's rustic cabins. They include twin bunks and double beds, TVs, and fire pits.
We recommend calling to gather the pricing, as the rates vary according to the type of your rig, desired services, length of your stay, and season.
Point South / I-95 / Yemassee KOA Holiday
SOUTHERN SOUTH CAROLINA
Phone: (843) 726-5733
Address: 14 Campground Rd, Yemassee, SC 29945, United States
Activities and Amenities Highlights:
Pool

Gem mining

Life-size chess

Wine flights
This five-star retreat lies between Savannah, Charleston, Hilton Head, and the charming Beaufort. Beaches and numerous fine dining spots are just a couple of miles away. However, in this case, you might want to stay at the campsite and enjoy its plentiful amenities.
Those include gem mining, a large pool, tetherball, corn hole, horseshoes, a life-size chess set, and the popular Jenga game. Unwind in a wine flight from local wineries. Whereas beer lovers will appreciate Point South's own craft beer, which they serve in the campground's Swimming Mermaid Coffee House.
There are various RV and tent sites as well as cabins to choose from at Point South. The fully stocked Deluxe Lodge, designed in the style of Frank Lloyd Wright, is a unique option for those wishing for outdoor relaxation in luxury.
The prices per night vary, so better visit their website or contact the campground itself to gather the rates for your desired services.
Barnyard RV Park
CENTRAL SOUTH CAROLINA
Phone: (803) 957-1238
Address: 201 Oak Dr, Lexington, SC 29073, United States
Activities and Amenities Highlights:
Meeting room

Barnyard Flea Markets

Fishing
This convenient campsite boasts warm southern hospitality, mild weather, and pretty grounds. Located just off the highway, you can easily reach many of the area's attractions, such as Lake Murray, Columbia's Riverbanks Zoo and Gardens, or South Carolina State Museum. And on the weekends, you can visit the Barnyard Flea Markets.
All the campsites are full hook-up, with both 30 and 50 amp service. Most of the sites are long and can accommodate large vehicles, including tow cars. The Barnyard RV Park also has a meeting room available to host club meetings, dining and birthday parties, anniversary celebrations, or business meetings.
Prices begin at USD$ 42.49 per night per campsite. Weekly and monthly bargain rates are applicable too, and there is no extra cost for the meeting room if the guests are staying in the RV park.
FAQs about camping in South Carolina
When does camping season start in South Carolina?
If you wish to explore nature and go sightseeing, spring is the best time to visit South Carolina. However, the peak camping season is between June and August, when many campers come for the hot weather and beaches. September gets less crowded, yet, the weather remains pleasant, and you can still enjoy the beaches.
What is the biggest state park in South Carolina?
With more than 7,000 acres of preserved land, Caesars Head State Park is the largest state park in South Carolina. It boasts miles of challenging hiking trails, cascading waterfalls, and views of Greenville on clear days.
Where is the best beach camping in South Carolina?
Edisto Beach State Park is a fantastic spot for beach camping. It offers RV and tent camping, picnic areas, showers, restrooms, and, of course, great ocean views. Campers particularly like its secluded location.
How much does RV camping cost in South Carolina?
Rates for RV camping differ from campground to campground. However, on average, they are around USD$ 50 per night.
Conclusion
Lush nature, serene lakes, and seaside. Whether you are a family or a solo traveler, camping in South Carolina simply can't be missed. So pack your bags and reserve your spot. But quick! Spending the summer in South Carolina is in high demand.