When you pack up your car and head to Louisiana, you're probably thinking of gumbo, jazz music, swamps, gators, street artists, and all the other things that make visiting Louisiana so much fun.
What you might not have known is that Louisiana is full of great places for camping, too.
All over the state, there are amazing state parks and campgrounds for you to take advantage of the next time you feel like having a great outdoor adventure.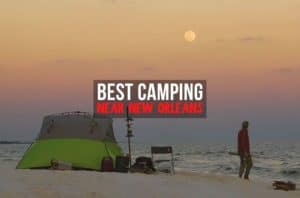 Here are 20 of the best campgrounds options available in the gorgeous state of Louisiana, so get RV ready, pimp it with some cool RV hacks, and hit the road.
Xtreme Beachside RV Resort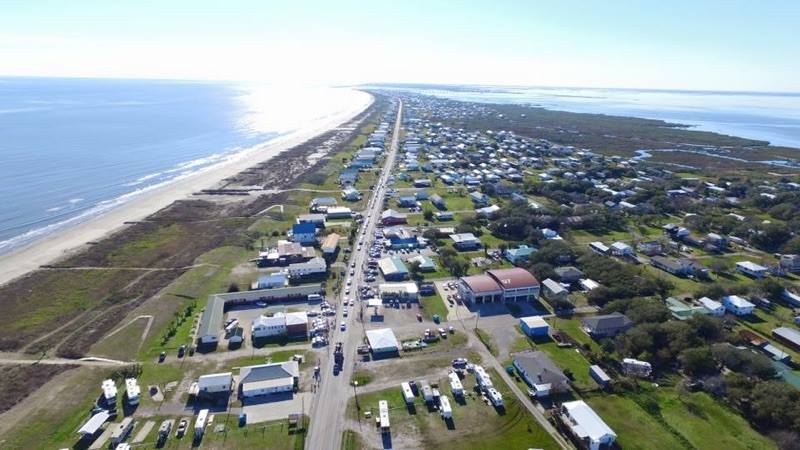 Phone: (985) 787-2378
Address: 3064 LA-1, Grand Isle, LA 70358
Just steps from the Gulf of Mexico, Xtreme Beachside RV Resort is one of the last remaining RV parks on the beachside of Grand Isle.
It features full hook-up sites with ocean views, a covered pavilion for family gatherings or cookouts, and a friendly atmosphere. Even though the facilities are basic, the RV resort is well-kept and provides various activities to engage in.
It is particularly renowned for fishing opportunities. You can find speckled trout, redfish, and flounder or crab in local waters. Adventure lovers will like kayaking on the other side of the Grand Isle. There are also plenty of restaurants to eat out or have a drink.
Xtreme Beachside RV Resort is a perfect choice for fishing enthusiasts, families, as well as those wishing to escape the hustle and bustle of everyday life.
Frog City RV Park
Phone: (337) 873-9085
Address: 3003 Daulaut Dr, Duson, LA 70529
Conveniently located in the Lafayette area right off the highway, Frog City RV Park is a great place to stop by when visiting the city or just passing by on your way to Texas or Florida.
It has 62 spacious RV sites suitable for both small campers and big rigs, a small swimming pool, a play area, free cable TV, Wi-Fi, as well as laundry facilities, and hot showers. All of that is well-maintained, and the staff is known to be very friendly, accommodating, and helpful.
You definitely can't find a better place to hit the hay when traveling through the South. Note that pets are welcome as well.
Cajun Palms RV Resort – Best Camping Louisiana
Phone: 337-667-7772
Address: 1055 N Barn Rd, Breaux Bridge, LA 70517, United States
Feeling like enjoying a sunset while swimming, or getting a drink at a hot tub or at the swim up bar where everything is conveniently charged to your wristband?
Just 1/4 mile north of I-10 in Henderson, Louisiana (St. Martin Parish) is Cajun Palms RV Resort, a property perfect for spotting sunsets. The park is big enough to shelter over 400 Deluxe RV spots and 65 cabins equipped with private tubs and showers, kitchen, sink, stove, microwave, and refrigerators.
The grounds are well maintained and the staff is known for being friendly and helpful. Also the park has uncountable activities for kids such as a dinosaur park, arcade, and go cart track. All within walking distance.
Pro-tip: Cajun Palms RV Resort does not accept walk-ins especially from Friday 12:00 p.m. to Sunday 2:00 p.m., as well as on Thursdays of holiday weekends. Make sure you make a reservation before showing up particularly during the high season.
Reunion Lake RV Resort – Best for Kids
Phone: (844) 336-4214
Address: 43234 LA-445, Ponchatoula, LA 70454
This is a luxury RV camping resort located I-12 corridor at Exit 47 Robert, Louisiana. This prime location makes it the most conveniently located RV resort from Texas to Florida.
They have specialized in offering relaxation and connection with nature making it the best getaway
This is a premier RV park that combines outdoor fun of a lakeside park with high-end amenities of a luxury resort. This resort offers the perfect getaway to you as it is family-friendly, quiet, and safe.
Visitors enjoy amenities like:
Lazy river
Poolside bar
Poolside grill
Lake attractions
Mini-golf
Swim-up tiki bar, and many other attractions
The resort has a clean campground which is built around a scenic lake. The campground has spotless bathrooms and crystal clear swimming pools.
Reunion Lake RV Resort has full hookup campgrounds that enable campers to connect their RVs directly to water, electricity, and sewer.
French Quarter RV Resort
Phone: 5045863000
Address: 500 N Claiborne Ave, New Orleans, LA 70112, United States
Conveniently located in the heart of New Orleans' historic French Quarter, just off the Interstate 10, you can find this RV Resort/luxury hotel featuring all types of RVs.
The premium site of the resort, which is right behind the main clubhouse and pool, has real grass for you and your kids to enjoy.
The French Quarter RV Resorts features a hot tub, fitness room, water and electric hookups and the fastest Wi-Fi you can find in a RV resort, in case you need to do some work.
Visitors normally stay for up to 4 nights. The standard rate is $105 per night, the weekly rate is $680, and monthly is $2400 (plus taxes). The Premium places will charge $15 extra per night.
The only "common" complaint we have had from travelers is that since the park is close to the highway it might get a bit noisy. Just bring your ear plugs and you'll be more than happy.
Lakeside RV Park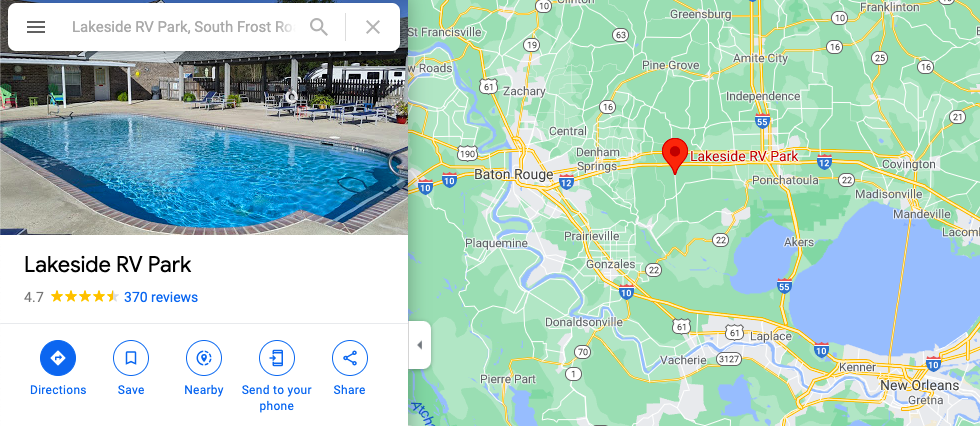 Phone: (225) 686-7676
Address: 28370 S Frost Rd, Livingston, LA 70754
Are you searching for a place to camp near New Orleans and Baton Rouge? Then, look no further. Lakeside RV Park is one of the most popular campgrounds in South Louisiana that boasts a relaxed vibe, family-friendly atmosphere, and plenty of amenities.
Apart from the usual RV park facilities, there is a swimming pool, an on-site grocery store, a games room, and a dog park. You can also cast a line in the 17-acre lake or explore its waters on a canoe, boat, or kayak.
Bring your RV or stay in one of their fully-furnished cabins. Are you coming with a dog? No problem! Some of them are pet-friendly. For family celebrations and group gatherings, there are two large open-air pavilions with lake views available.
Bogue Chitto State Park
Phone: (985) 839-5707
Address: 17049 State Park Blvd, Franklinton, LA 70438
Nestled near Franklinton in eastern Louisiana, Bogue Chitto State Park is a popular camping spot with scenic river views that attract visitors of all ages.
The river is perfect for canoeing and kayaking, while fishers will appreciate the 11 lakes stocked with freshwater fish. There is also a mountain bike track and an equestrian trail that begins near Fricke's Cave, another attraction worth visiting.
Back at the campground, there is a water playground, numerous picnic pavilions, and an outdoor classroom. Regarding the accommodation, campers can choose from different tent sites, RV sites, as well as cabins. The campground also boasts 11 glamping tents.
Bogue Chitto State Park is simply a great choice for a relaxed family vacation or a chilled weekend getaway.
Baton Rouge KOA Holiday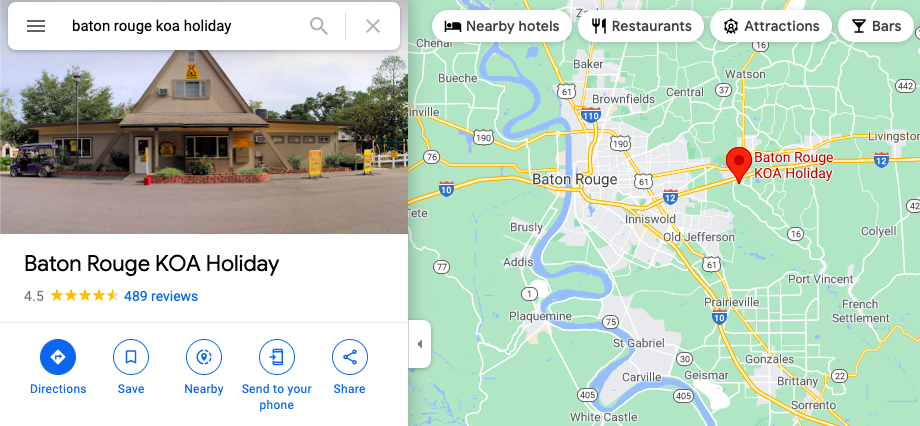 Phone: (225) 664-7281
Address: 7628 Vincent Rd, Denham Springs, LA 70726
Set just outside Baton Rouge and easily accessible through the interstate, this KOA is a fantastic option for those who want to stay near the city yet prefer the camping experience.
Park your RV, pitch a tent or rent a cabin. Baton Rouge KOA offers various types of sites to fit everybody's needs. Amenities include a swimming pool, hot tub, mini-golf, playground, and a picnic pavilion.
If you don't feel like staying at the campground all the time, there's definitely a lot to see around, too. Visit some of the area's grand plantation homes and their gardens, try authentic Cajun food, or explore the city of Baton Rouge. This KOA will simply enchant you with both its tranquility and plenty of things to do.
Grand Isle State Park – Best tent camping in Louisiana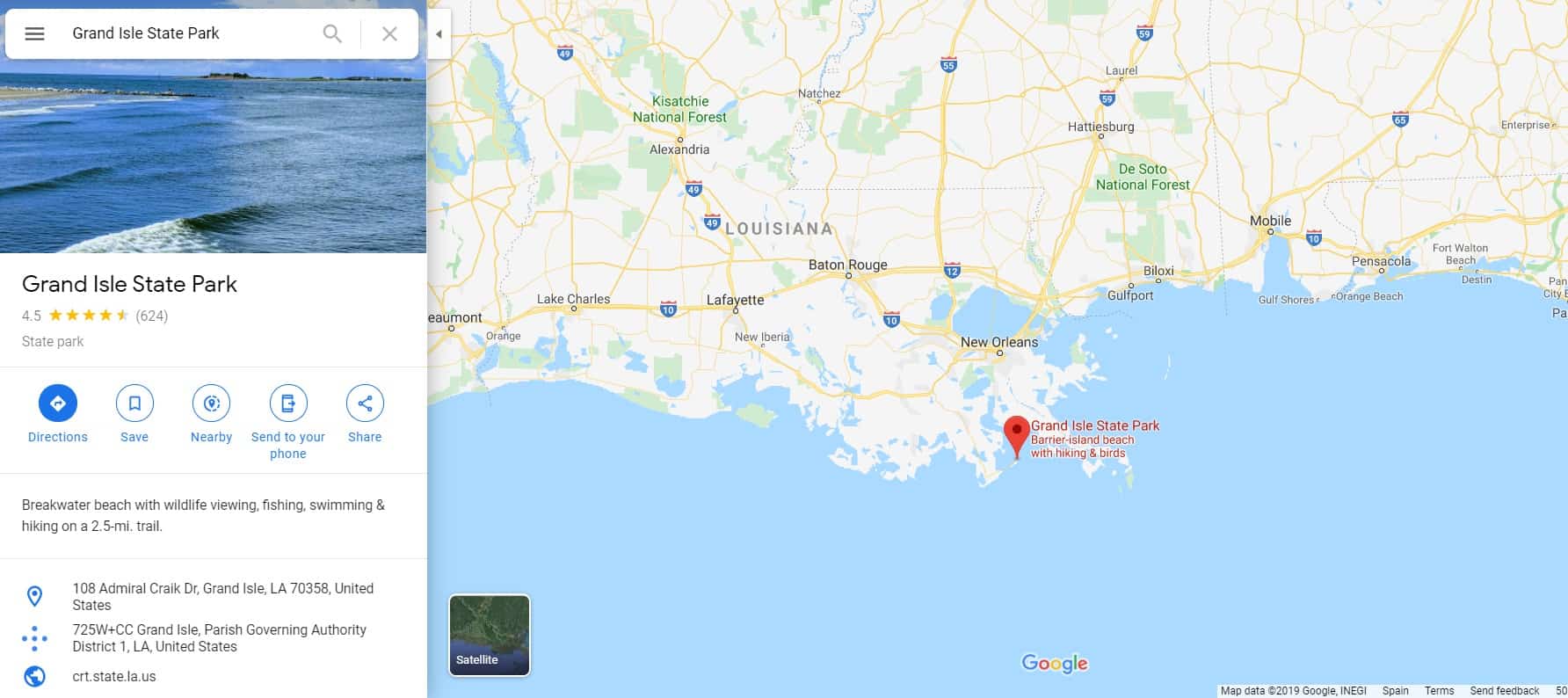 Phone: (985) 787-2559
Address: 108 Admiral Craik Dr. Grand Isle, LA 70358
Located off the coast in Grand Isle, Louisiana, Grand Isle State Park is a great place for salt-water fishing and eating fresh, delicious seafood you've caught and grilled yourself. The park's lagoons are gorgeous and enjoyed by all, and the beach areas are great for swimming, crabbing, fishing or simply relaxing.
This campground is particularly great for birdwatchers because the unique ecosystem attracts many rare and unusual species into the area.
There is a two and a half-mile nature trail for hikers, and if you don't want to stay in your RV, you can actually camp right there on the beach in your tent. Just imagine waking up to that gorgeous sunrise over the water.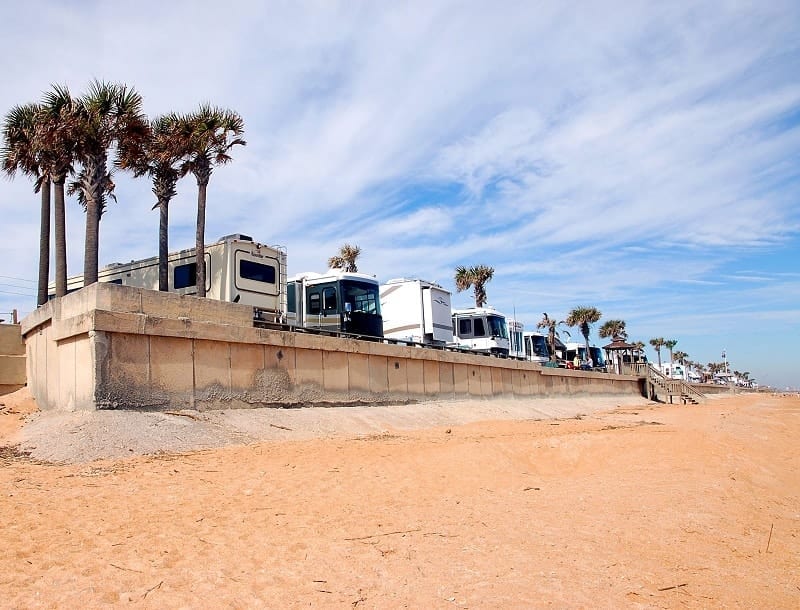 New Orleans West KOA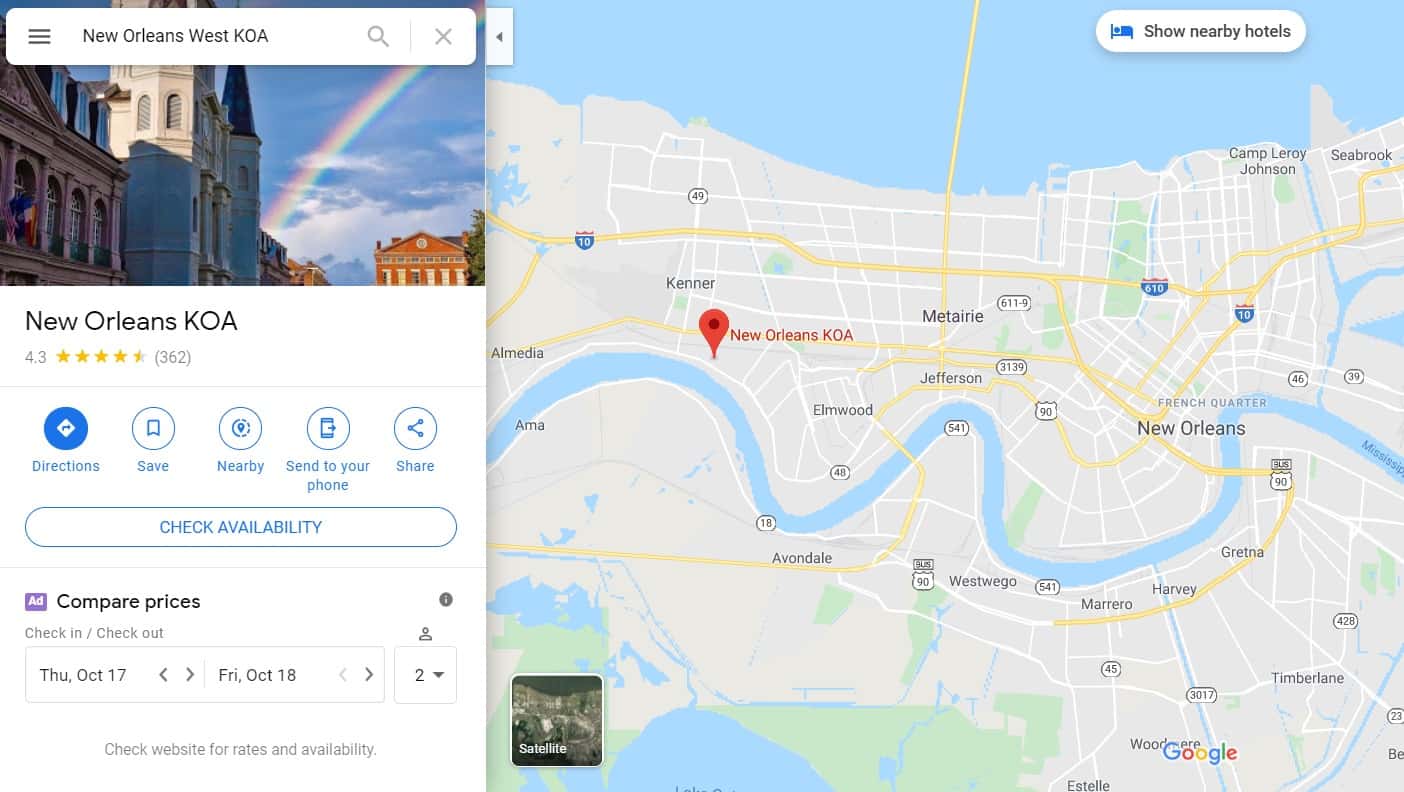 Phone: (504) 467-1792
Address: 11129 Jefferson Hwy, River Ridge, LA 70123
If you are headed to Louisiana for the New Orleans experience, never fear; you can still find a great camping experience at West KOA, located right outside the French Quarter in River Ridge.
This campground offers all the pleasures of New Orleans – the food, the jazz, Bourbon Street – mixed with the freedom of camping. The campground has space for both regular camping and RV camping.
There is a pool, laundry service, and even a business center if you can't entirely get away from work while on vacation. There are also shuttles that will take you to all the popular spots in New Orleans, including the French Quarter and the nearby casinos.
Boost your gear with a camping generator!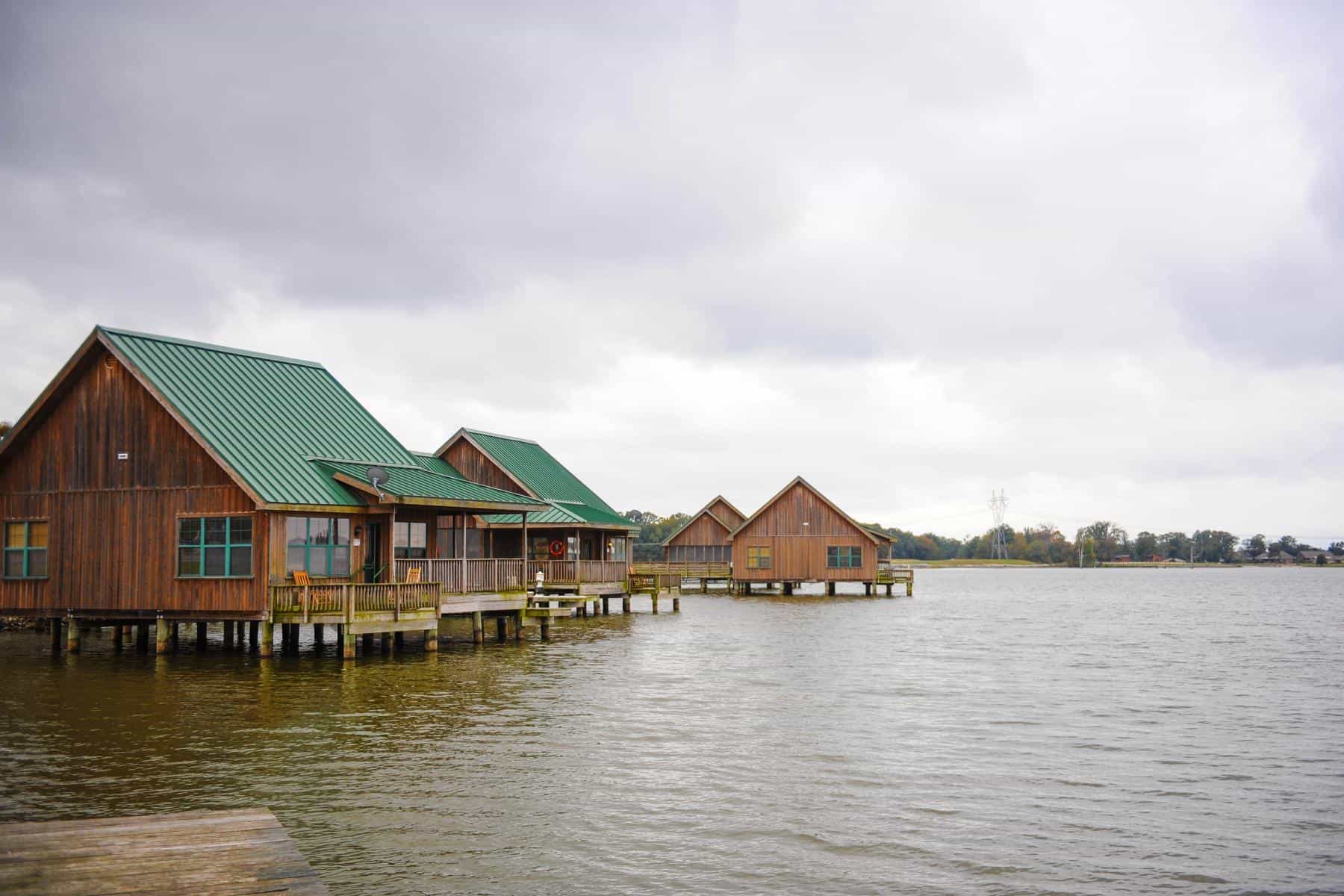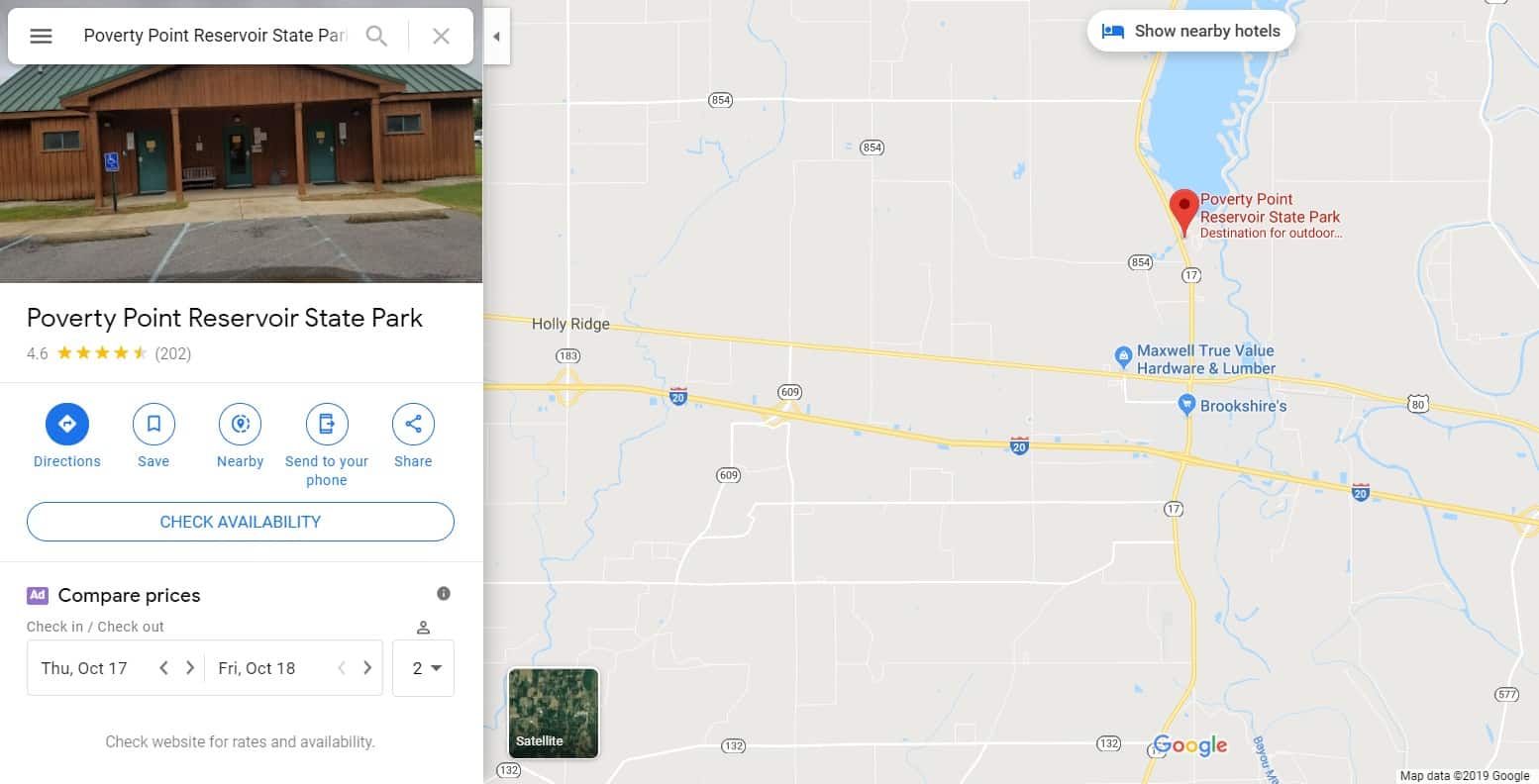 Phone: (318) 878-7536
Address: 1500 Poverty Point Pkwy, Delhi, LA 71232
Despite the questionable name of this park, Poverty Point actually has 4.5 out of 5 stars on TripAdvisor. Located in Delhi, Louisiana, the centerpiece of this campground is the 2,700 acre lake at the center of it. The lake allows opportunities for fishing, swimming or taking your boat or jet ski out for a day of fun.
There are also on-site rentals for flat-bottom boats and canoes. There is a half-mile walking trail and over 50 sites for camping, which include electrical and water hook-ups.
The premium sites include sewage, as well. For those of you who want the camping experience without the RV or tents, there are also lodges and deluxe cabins available for rent.
Lake Claiborne State Park – Best Lake Camping in Louisiana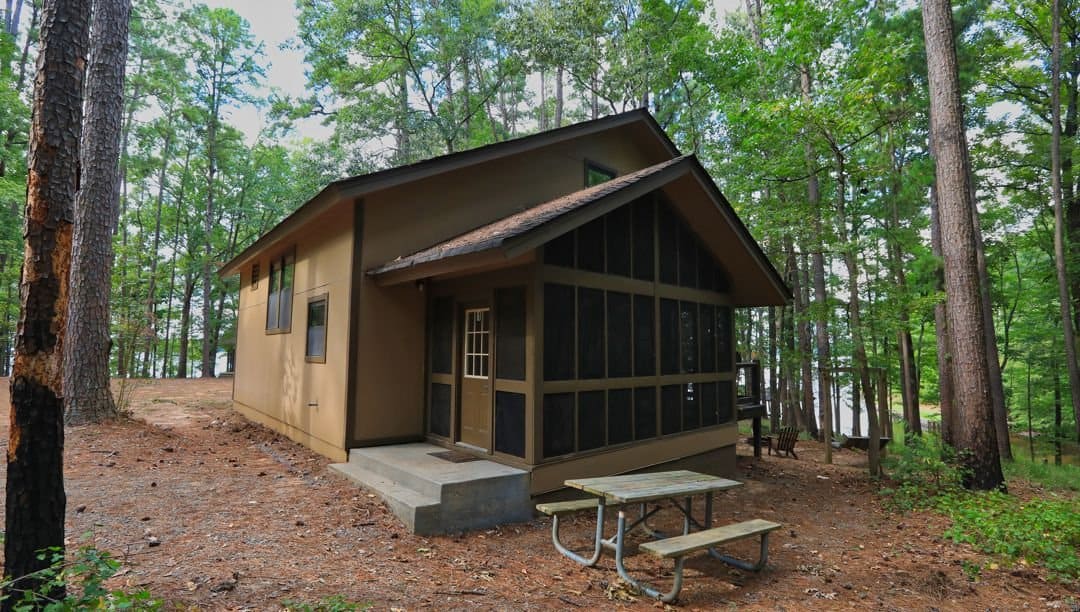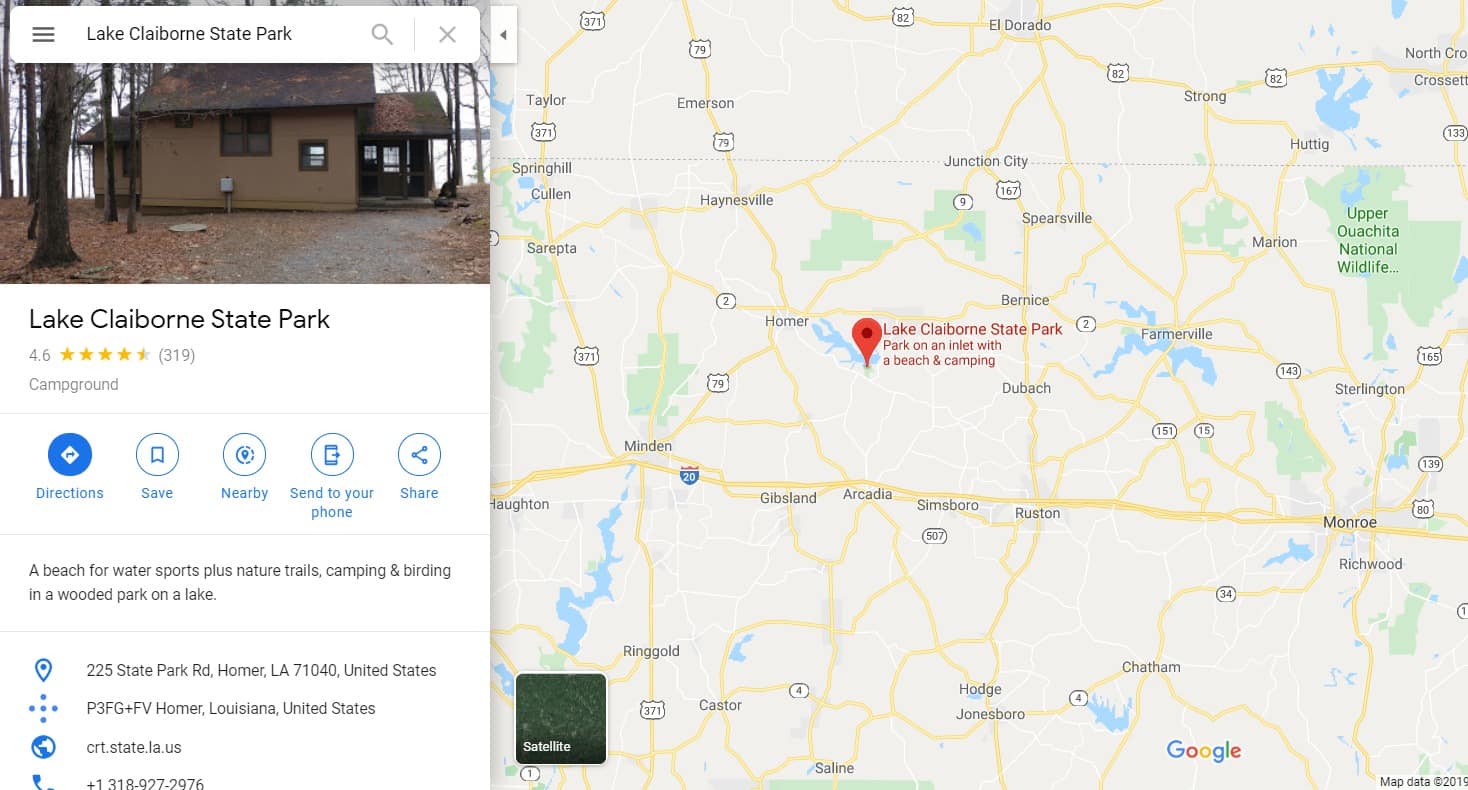 Phone: (318) 927-2976
Address: 225 State Park Rd, Homer, LA 71040
Want to visit the park one TripAdvisor reviewer called the "Hidden Paradise" in Louisiana? Look no further than Lake Claiborne in Homer, Louisiana.
For the fisherman, this 6,400-acre lake comes well-stocked with a variety of fish, including bass, perch, sunfish, bluegill and more. The lake also provides kayaking and canoeing opportunities with on-site rentals.
Don't forget your hiking boots, there are six hiking/walking trails, a few of which provide guided hikes. There are numerous spots for bird-watching, as well. In addition to a large primitive campground, there are also 87 RV sites that include electricity and water. Lodges and cabins are available for rent, as well.
Finally, if you are a golfer, Lake Claiborne has the first and second-ranked disc golf courses in the entire state.
Chicot State Park
Phone: (337) 363-2403
Address: 3469 Chicot Park Rd, Ville Platte, LA 70586
Located in Ville Platte in South Central Louisiana, Chicot State Park is 6,400 acres of beautiful, crystal clear water and luxurious rolling hills. Fishing is the main attraction; you can rent a boat or bring your own.
If cardio is more your thing, Chicot also boasts a 20-mile long hiking trail, as well as an eight-mile canoe trail. Campers have the option of the primitive campground, group camping, lodges or cabins, and if you have kids, they will love the on-site water playground.
Probably the biggest draw to Chicot, however, is that it's home to the Louisiana State Arboretum, which features a gorgeous beech-magnolia forest and nature trails showcasing native Louisiana plant life.
Lafayette KOA Holiday
Phone: (337) 235-2739
Address: 537 Apollo Rd, Scott, LA 70583
Lafayette KOA Holiday is located in Scott, Louisiana, and offers great camping sites. The campground provides a taste of camping in Cajun County at its best and remains open all year round.
The campsite has leveled concrete pull-through accommodation, which accommodates RVs up to seventy feet. Pull through camping sites provide a 60-degree slant and a wide clearance, which allows visitors to drive straight through the site and park in perfect position.
This holiday campsite also offers comfortable cottages and cabins to visitors with no RVs, which are located along the lakefront.
The campground has a ten-acre lake. Visitors can take a stroll along the waterfront or go fishing without a license. Visitors can also relax on the shade of huge oak trees or cool off in one of the two swimming pools at the campsite.
The campground offers clean bathrooms with hot showers and fresh water.
Tickfaw State Park
Phone: (225) 294-5020
Address: 27225 Patterson Rd, Springfield, LA 70462
With only 30 spots for camping set-up, Tickfaw State Park in Springfield is one of the smallest parks on this list; however, it is also one of the best camping spots in Louisiana. What makes Tickfaw so interesting is that, despite its size, it is home to four unique ecosystems.
While visiting Tickfaw, you can get a little taste of not only the Tickfaw River but also a cypress/tupelo swamp, a hardwood/pine mixed forest and bottomland hardwood forests.
A gift shop full of goodies and a water playground will keep the kiddos entertained, while you fish, hike, or canoe. This site also features an 800-gallon aquarium stocked with all the fish native to the Tickfaw River.
Lincoln Parish Park
Phone: (318) 251-5156
Address: 211 Parish Park Rd, Ruston, LA 71270
Home to a 10-mile trail rated "one of the best mountain bike trails in America," Lincoln Parish Park in Ruston is a great place to enjoy the great outdoors if you are a cyclist. If not, it's still an amazing camping experience.
The lake offers many opportunities for fishing and kayaking, and a sandy beach area makes for a great place to swim or layout and catch some sun. The park hosts both primitive and RV camping, and it has a playground suitable for kids of all ages.
Pets are welcome, and the park even boasts free wi-fi. It is an excellent park with a 5-star rating on TripAdvisor, where people call it "tranquil" and "lovely."
Lake Bruin State Park (NORTH)
Phone: (318) 766-3530
Address: 201 State Park Rd, St Joseph, LA 71366
Lake Bruin in scenic St. Joseph, Louisiana is home to over 3,000 acres of water, so it's an amazing place for water sports, fishing, swimming and more.
If you are a bass fisherman, you can catch them best April through June, September and October. If you don't have your own boat, don't worry; you can rent one on-site.
There are numerous picnic tables and barbeque grills set up throughout the park and a pavilion for when the weather is too hot or rainy. Like many Louisiana parks, Lake Bruin has a water playground for the kids and cabins and deluxe camping accommodations for those who prefer "glamping" to "camping."
Indian Creek Campground (SOUTH)
Phone: (985) 878-6567
Address: 4501, 53013 W Fontana Rd, Independence, LA 70443
Housed within the Alexander State Forest in Woodworth, Louisiana, the Indian Creek Campground includes 250 acres for primitive camping, 100 acres of developed recreational activities, and 2,250 acres of water in the form of Indian Creek Lake.
The RV campsite has water and electricity hookups and Wi-Fi, and you have access to three beaches, five bathrooms, a playground, and numerous walking/hiking trails. Indian Creek is also one of the few places left where you can catch a glimpse of the endangered red-cockaded woodpecker, and trees, where the birds make their nests, are clearly marked for guests to see.
TripAdvisor users call this campground a "diamond amongst stones" and "a true family campground." This is a great campground for pet-owners, too, because pets are wholly welcome at Indian Creek.
Hodges Gardens State Park (CLOSED FOR NOW)
Hodges Gardens features over 700 acres of gorgeous plant life, some wild and some cultivated. This park is a must-see for lovers of horticulture and botanical gardens. An ideal weekend camping in Louisiana with family.
Located in Florien, Louisiana, this park features group camping spots, as well as standard and deluxe cabins. In addition to the commonly available activities such as boating, kayaking, canoeing and hiking, Hodges Gardens is also directly across the street from Emerald Hills Golf Resort and is less than 15 miles away from 10 different historical and local sites and attractions in the area.
With its unequaled variety of plants and flowers, its many gently trickling streams, and its small waterfall pouring into the lake, Hodges Gardens is, hands-down, the most beautiful camping site on this list.
FAQs about camping in Louisiana
So Remember, When It Comes to Camping, Don't Rule Out Louisiana
These are only 15 of the many, many camping possibilities you can find all over Louisiana. Although most people don't think of the state readily when asked for great camping destinations, it really does have amazing facilities that cater to all wants and needs.
It doesn't matter if you are an RV camper, a cabin glamper, or a true-blue, primitive outdoorsman, Louisiana has a campground that is right for you. There are beaches and lakes, saltwater and freshwater, swamps and pines, and all manner of native plant and animal species to seek out and admire.
Whether you are a young thrill-seeker, a middle-aged couple with kids, a retiree looking for a peaceful getaway or something in between, there is a campground for you. There are pet-friendly campgrounds for the animal lovers, campgrounds with wi-fi and business centers for those who need to keep in touch with work, and campgrounds with laundry services, kitchens, and bathrooms.
Louisiana truly is a one-stop-shop for all your camping and outdoor needs. So remember, the next time you're planning a weekend camping getaway, don't overlook Louisiana.