When you pack up your car and head to Louisiana, you're probably thinking of gumbo, jazz music, swamps, gators, street artists and all the other things that make visiting Louisiana so much fun.
What you might not have known is that Louisiana is full of great places to camp, too. All over the state, there are amazing state parks and campgrounds for you to take advantage of the next time you feel like having a great outdoor adventure.
Check out also: Campgrounds in Florida
Here are ten of the best camping options available in the gorgeous state of Louisiana.
Grand Isle State Park (beach camping)
Located off the coast in Grand Isle, Louisiana, Grand Isle State Park is a great place for salt-water fishing and eating fresh, delicious seafood you've caught and grilled yourself. The park's lagoons are gorgeous and enjoyed by all, and the beach areas are great for swimming, crabbing, fishing or simply relaxing.
This campground is particularly great for birdwatchers because the unique ecosystem attracts many rare and unusual species into the area.
There is a two and a half-mile nature trail for hikers, and if you don't want to stay in your RV, you can actually camp right there on the beach in your tent. Just imagine waking up to that gorgeous sunrise over the water.
New Orleans West KOA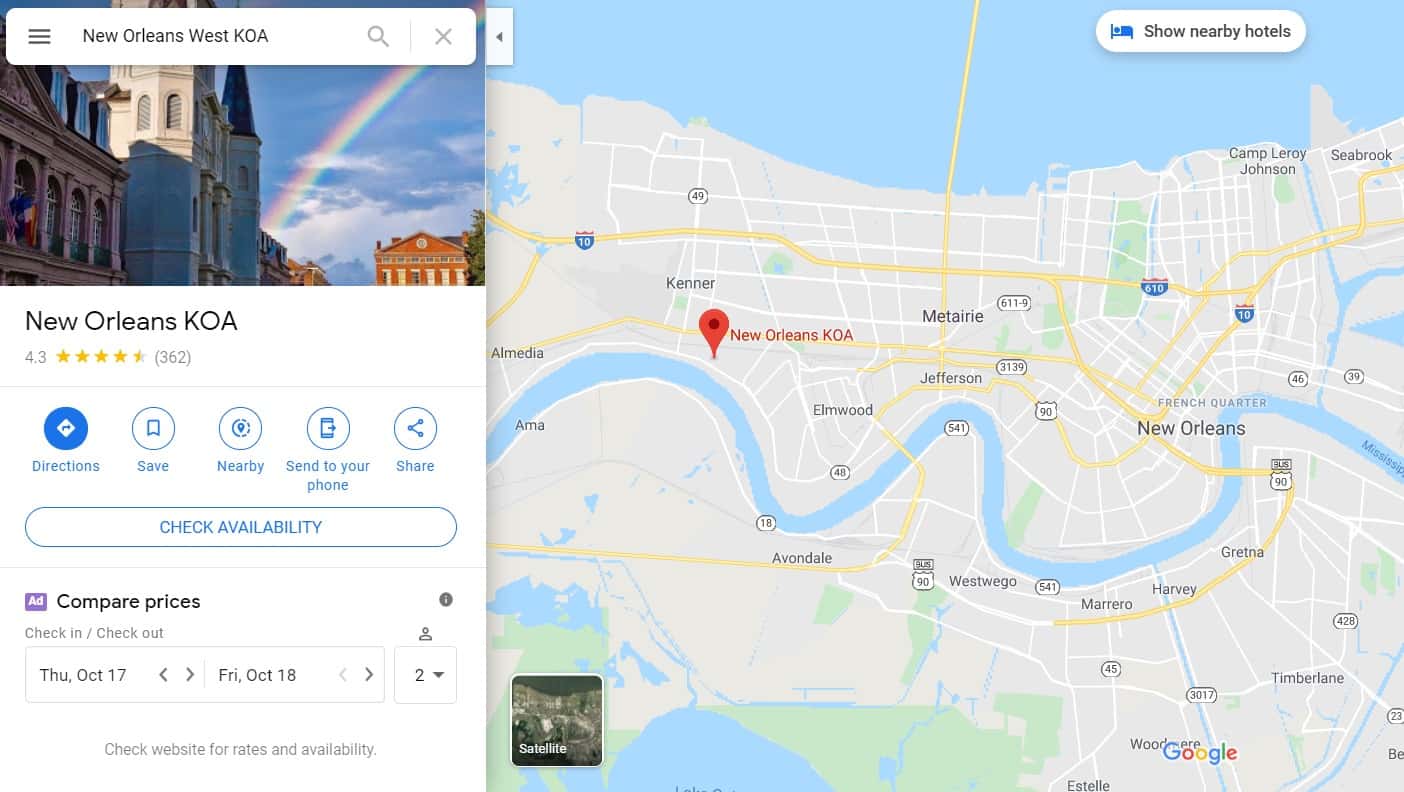 If you are headed to Louisiana for the New Orleans experience, never fear; you can still find a great camping experience at West KOA, located right outside the French Quarter in River Ridge.
This campground offers all the pleasures of New Orleans – the food, the jazz, Bourbon Street – mixed with the freedom of camping. The campground has space for both regular camping and RV camping.
There is a pool, a laundry service, and even a business center if you can't entirely get away from work while on vacation. There are also shuttles that will take you to all the popular spots in New Orleans, including the French Quarter and the nearby casinos.
Boost your gear with a camping generator!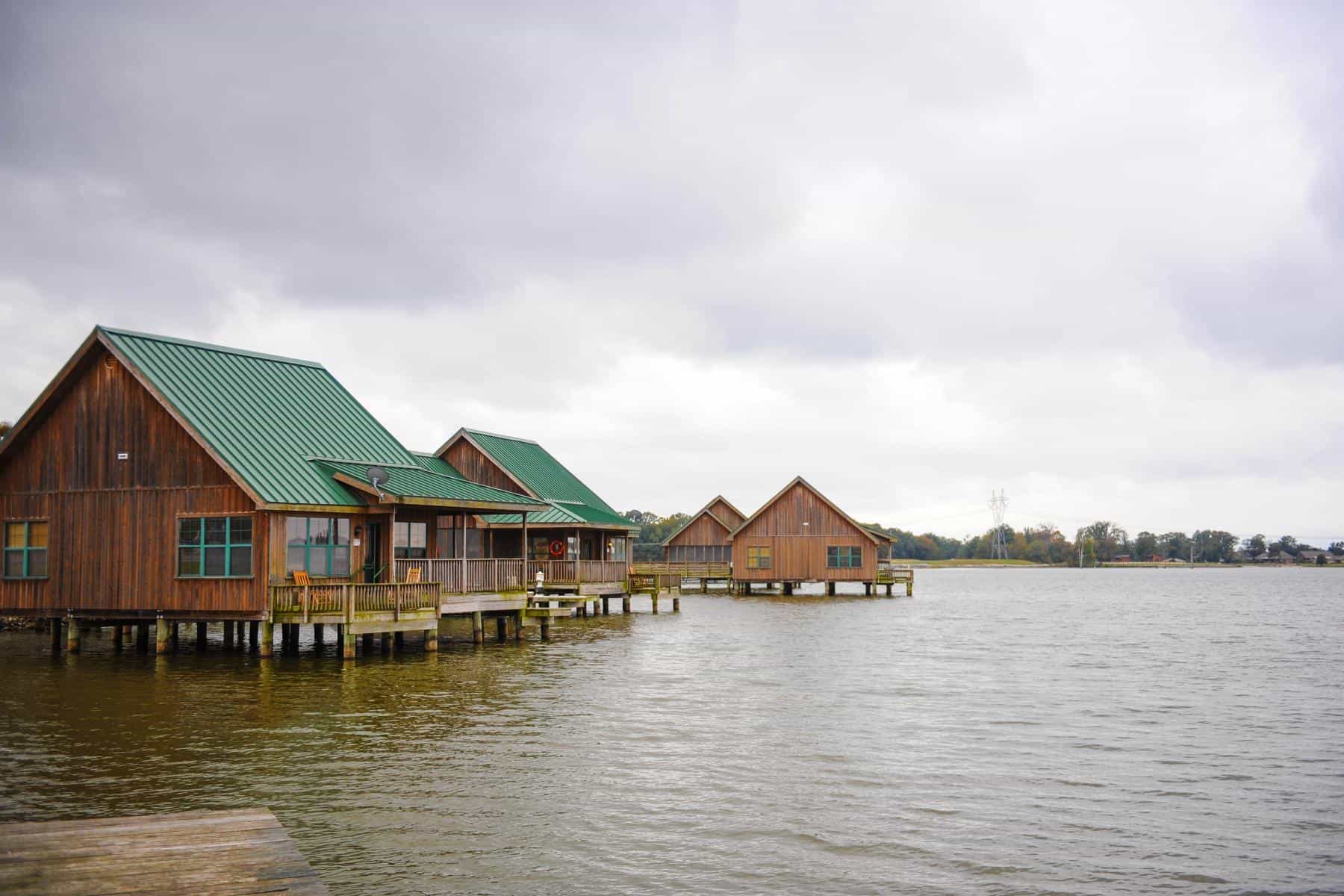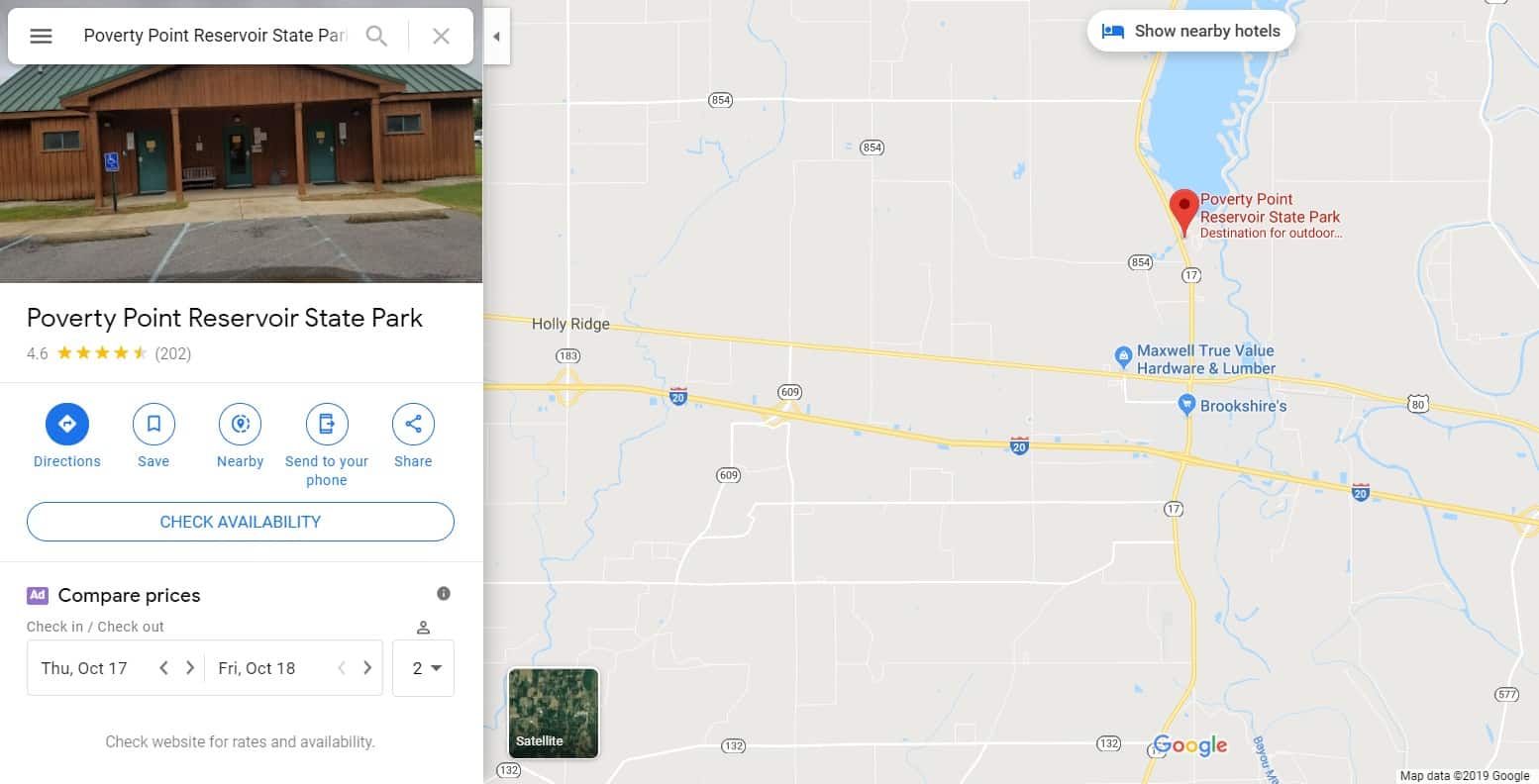 Despite the questionable name of this park, Poverty Point actually has 4.5 out of 5 stars on TripAdvisor. Located in Delhi, Louisiana, the centerpiece of this campground is the 2,700 acre lake at the center of it. The lake allows opportunities for fishing, swimming or taking your boat or jet ski out for a day of fun.
There are also on-site rentals for flat-bottom boats and canoes. There is a half-mile walking trail and over 50 sites for camping, which include electrical and water hook-ups.
The premium sites include sewage, as well. For those of you who want the camping experience without the RV or tents, there are also lodges and deluxe cabins available for rent.
Lake Claiborne State Park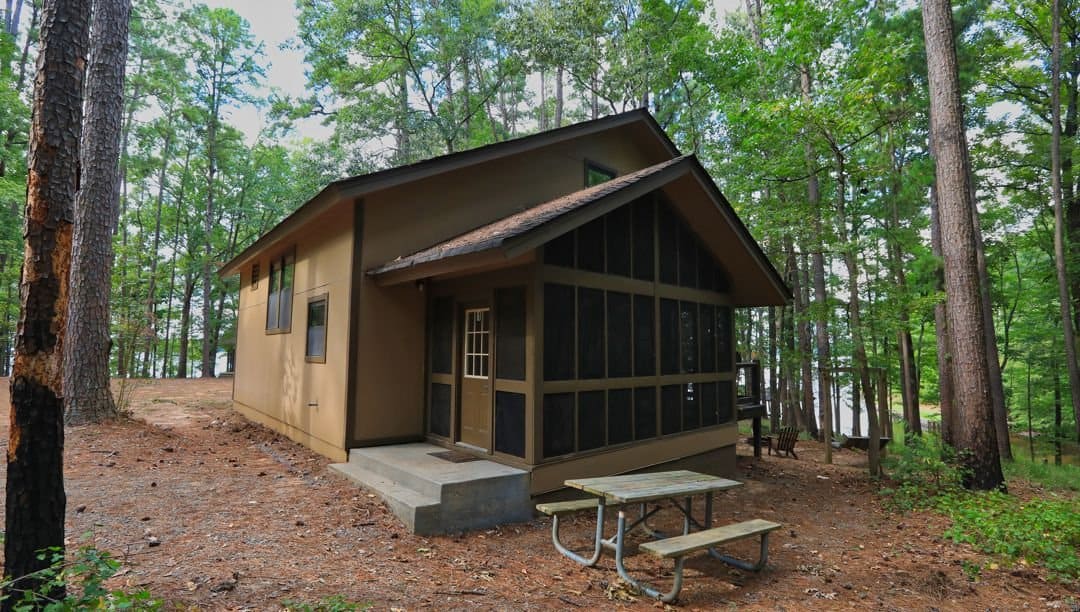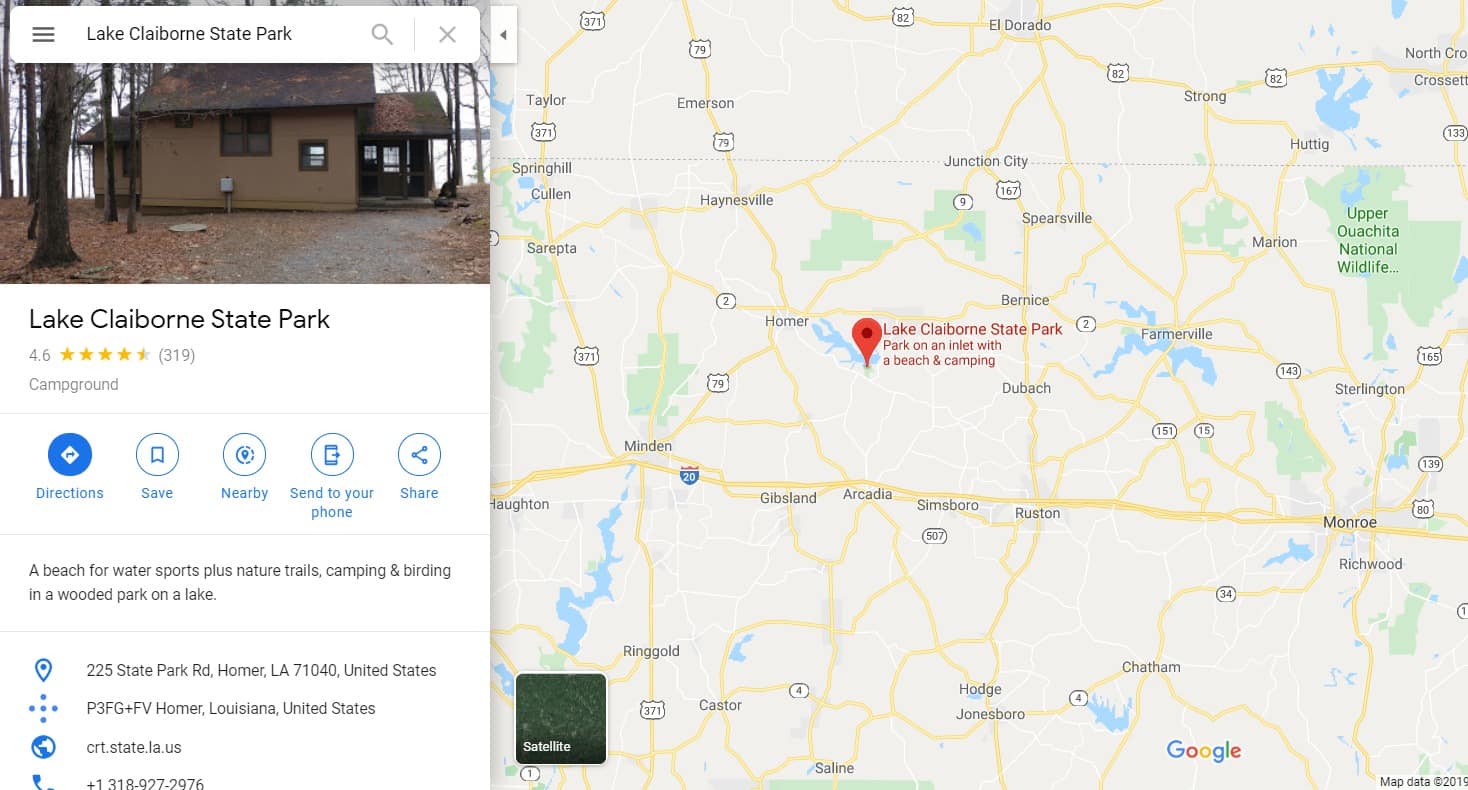 Want to visit the park one TripAdvisor reviewer called the "Hidden Paradise" in Louisiana? Look no further than Lake Claiborne in Homer, Louisiana.
For the fisherman, this 6,400-acre lake comes well-stocked with a variety of fish, including bass, perch, sunfish, bluegill and more. The lake also provides kayaking and canoeing opportunities with on-site rentals.
There are six hiking/walking trails, a few of which provide guided hikes. There are numerous spots for bird-watching, as well. In addition to a large primitive campground, there are also 87 RV sites that include electricity and water. Lodges and cabins are available for rent, as well.
Finally, if you are a golfer, Lake Claiborne has the first and second-ranked disc golf courses in the entire state.
Chicot State Park
Located in Ville Platte in South Central Louisiana, Chicot State Park is 6,400 acres of beautiful, crystal clear water and luxurious rolling hills. Fishing is the main attraction; you can rent a boat or bring your own.
If cardio is more your thing, Chicot also boasts a 20-mile long hiking trail, as well as an eight-mile canoe trail. Campers have the option of the primitive campground, group camping, lodges or cabins, and if you have kids, they will love the on-site water playground.
Probably the biggest draw to Chicot, however, is that it's home to the Louisiana State Arboretum, which features a gorgeous beech-magnolia forest and nature trails showcasing native Louisiana plant life.
Tickfaw State Park
With only 30 spots for camping set-up, Tickfaw State Park in Springfield is one of the smallest parks on this list; however, it is also one of the best. What makes Tickfaw so interesting is that, despite its size, it is home to four unique ecosystems.
While visiting Tickfaw, you can get a little taste of not only the Tickfaw River but also a cypress/tupelo swamp, a hardwood/pine mixed forest and bottomland hardwood forests.
A gift shop full of goodies and a water playground will keep the kiddos entertained, while you fish, hike, or canoe. This site also features an 800-gallon aquarium stocked with all the fish native to the Tickfaw River.
Lincoln Parish Park

Home to a 10-mile trail rated "one of the best mountain bike trails in America," Lincoln Parish Park in Ruston is a great place to enjoy the great outdoors if you are a cyclist. If not, it's still an amazing camping experience.
The lake offers many opportunities for fishing and kayaking, and a sandy beach area makes for a great place to swim or layout and catch some sun. The park hosts both primitive and RV camping, and it has a playground suitable for kids of all ages.
Pets are welcome, and the park even boasts free wi-fi. It is an excellent park with a 5-star rating on TripAdvisor, where people call it "tranquil" and "lovely."
Lake Bruin State Park (NORTH)
Lake Bruin in scenic St. Joseph, Louisiana is home to over 3,000 acres of water, so it's an amazing place for water sports, fishing, swimming and more.
If you are a bass fisherman, you can catch them best April through June, September and October. If you don't have your own boat, don't worry; you can rent one on-site.
There are numerous picnic tables and barbeque grills set up throughout the park and a pavilion for when the weather is too hot or rainy. Like many Louisiana parks, Lake Bruin has a water playground for the kids and cabins and deluxe camping accommodations for those who prefer "glamping" to "camping."
Indian Creek Campground (SOUTH)
Housed within the Alexander State Forest in Woodworth, Louisiana, the Indian Creek Campground includes 250 acres for primitive camping, 100 acres of developed recreational activities, and 2,250 acres of water in the form of Indian Creek Lake.
The RV campsite has water and electricity hook-ups and wi-fi, and you have access to three beaches, five bathrooms, a playground, and numerous walking/hiking trails. Indian Creek is also one of the few places left where you can catch a glimpse of the endangered red-cockaded woodpecker, and trees, where the birds make their nests, are clearly marked for guests to see.
TripAdvisor users call this campground a "diamond amongst stones" and "a true family campground." This is a great campground for pet-owners, too, because pets are wholly welcome at Indian Creek.
Hodges Gardens State Park (CLOSED)
Hodges Gardens features over 700 acres of gorgeous plant life, some wild and some cultivated. This park is a must-see for lovers of horticulture and botanical gardens.
Located in Florien, Louisiana, this park features group camping spots, as well as standard and deluxe cabins. In addition to the commonly available activities such as boating, kayaking, canoeing and hiking, Hodges Gardens is also directly across the street from Emerald Hills Golf Resort and is less than 15 miles away from 10 different historical and local sites and attractions in the area.
With its unequaled variety of plants and flowers, its many gently trickling streams, and its small waterfall pouring into the lake, Hodges Gardens is, hands-down, the most beautiful camping site on this list.
So Remember, When It Comes to Camping, Don't Rule Out Louisiana
These are only ten of the many, many camping possibilities you can find all over Louisiana. Although most people don't think of the state readily when asked for great camping destinations, it really does have amazing facilities that cater to all wants and needs.
It doesn't matter if you are an RV camper, a cabin glamper, or a true-blue, primitive outdoorsman, Louisiana has a campground that is right for you. There are beaches and lakes, saltwater and fresh, swamps and pines, and all manner of native plant and animal species to seek out and admire.
Whether you are a young thrill-seeker, a middle-aged couple with kids, a retiree looking for a peaceful getaway or something in between, there is a campground for you. There are pet-friendly campgrounds for the animal lovers, campgrounds with wi-fi and business centers for those who need to keep in touch with work, and campgrounds with laundry services, kitchens, and bathrooms.
Louisiana truly is a one-stop-shop for all your camping and outdoor needs. So remember, the next time you're planning a weekend camping getaway, don't overlook Louisiana.