Oregon is a state of remarkable natural beauty. There's a landscape for every mood — wander through the mists on the wild and rocky Pacific Ocean coast, paddle the sparkling waters of the spectacular Columbia River Gorge, and bike along the rolling hills of the Rogue Valley wine country.
Whether you want to hike through meadows of wildflowers on the slopes of a volcano or stand in the spray of a majestic waterfall, Oregon has you covered.
Camping is the perfect way to experience Oregon's unparalleled wilderness areas. Everywhere you turn, you'll find a fantastic campsite; enjoy the luxury of an RV park or private campground, or sleep among the trees at a state park.
From glamorous yurts to remote backcountry sites, the state has a campsite for every type of traveler. With so many options to choose from, you'll never run out of new places to explore.
Sea & Sand RV Park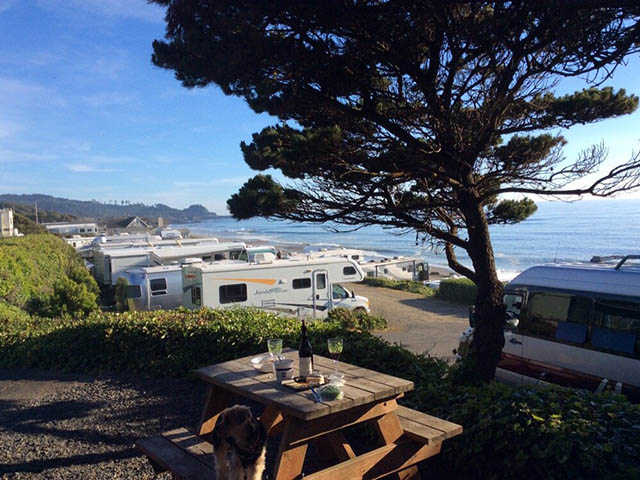 Phone: (877) 821-2231
Address: 4985 N. Highway 101, Depoe Bay, OR 97341
Amenities:
Oceanfront views
Easy access to 7-mile beach
Picnic tables and fire rings
Electric, cable, water and sewer
Dump station
Wi-Fi
Those looking for ocean views from their campsite cannot go wrong with Sea & Sand RV Park. It offers those as well as ocean waves touching down less than 1,500 feet away. It is also conveniently situated just 65 miles west of Salem and 95 miles southwest of Portland.
The ocean views sometimes include grey whales while the storms that go through the area can be impressive at times and a draw for those who enjoy a good storm. Meanwhile, if you are looking for forests instead or as well as a beach, simply head inland to enjoy those aesthetics.
Concerns that some users have voiced have included it having a relatively high cost and tight spaces. However, many have also commended its quietness, cleanliness and, of course, views.
Tillicum Beach campground
Phone: (541) 547-3679
Address: 8199 Highway 101 N., Yachats, OR 97498
Amenities:
Beachfront views from most campsites
Water and electric hookups for some campsites
Picnic tables and fire rings
Toilets
The Oregon coast is one of the most beautiful places in the world, and the Tillicum Beach campground allows to you to experience that up close. In fact, most of its spaces provide beachfront views, and all offer easy access to that beach. The campground is situated amongst shade-providing trees as well.
This facility has also been reported as having clean facilities, spaces that offer a good amount of privacy and personal picnic tables and fire rings. Do note, however, that the campsites that are closer to the water are the ones without water and electric hookups and that shower facilities are not available.
Regardless, the pros outweigh the cons for most, and this place is popular enough that you may need to make your reservation months in advance although walk-up spots are available if you time your visit right.
Phone: (503) 663-4708
Address: 3010 SE Oxbow Pkwy, Gresham, OR 97080
Activities:
Floating and paddling

Hiking

Wildlife spotting

Swimming
Explore the Sandy River Gorge and the Columbia River Gorge during your stay at Oxbow Regional Park. Tucked into the lush forests along the Sandy River, this park offers shaded sites and easy water access.
It's a remarkably photogenic site — brilliant green hills run right to the banks of the river, and miles of hiking trails wind up to scenic viewpoints. Oregon's legendary Multnomah Falls is less than an hour away, and the waters of the Columbia River make a fun day trip.
Inside the park, you'll find 74 standard campsites and 12 RV sites; there are no hookups, but the sites are pull-through for easier parking.
The campground offers heated bathrooms and hot showers, as well as fire pits and picnic tables at each site. Within a quick walk of camp, you have access to sandy beaches and a handy boat ramp. Keep in mind that pets aren't allowed, and you can bring up to two vehicles per campsite.
Phone: (503) 436-2231
Address: 340 Elk Creek Rd, Cannon Beach, OR 97110
Activities:
Swimming

Tidepooling

Surfing

Picnicking

Photography

Whale-watching
Located near one of Oregon's most spectacular stretches of coastline, RV Resort at Cannon Beach is ideally positioned for hiking, swimming, and surfing.
A short walk away, you'll find yourself on the stunning Cannon Beach — here, a wide sandy beach provides plenty of room for swimming, sunbathing, and bonfires. Just offshore, tufted puffins wander around Haystack Rock; when the tide goes out, walk out and check out the sea creatures in the tide pools.
At the end of the beach, the shoreline is wild and rocky, with cliffs that rise dramatically from the roaring waves. Ecola State Park is close by, offering exceptional hiking and surfing options.
The resort itself is a luxurious camping option; enjoy full hookups, a convenience store, and game room. There's even an indoor pool and hot tub, so you can relax in the water year-round.
The park is pet-friendly, and you'll even find 11 pull-through RV sites for big rigs.
Phone: (541) 594-3000
Address: Crater Lake, OR 97604
Activities:
Hiking

Snowshoeing and cross-country skiing

Scenic drives

Birdwatching

Fishing

Biking
Crater Lake was created when an ancient volcano collapsed in on itself thousands of years ago; today, it's a strikingly blue lake ringed by dramatic cliffs and accented by rocky islands.
In the center, the remaining cinder cone rises from the water to form the rounded Wizard Island. When you camp at Crater Lake National Park, all of this wilderness is just steps from your campsite — hike around the rim, enjoy the spectacular photo opportunities, or enjoy a relaxing drive with panoramic views.
There are two campgrounds inside the national park: Mazama Campground and Lost Creek Campground. Both are closed after the summer season because of the heavy winter snows.
RVs and tents are welcome in Mazama, while Lost Creek is tents-only. If you want to get off the beaten path, you can also backpack to one of the backcountry sites.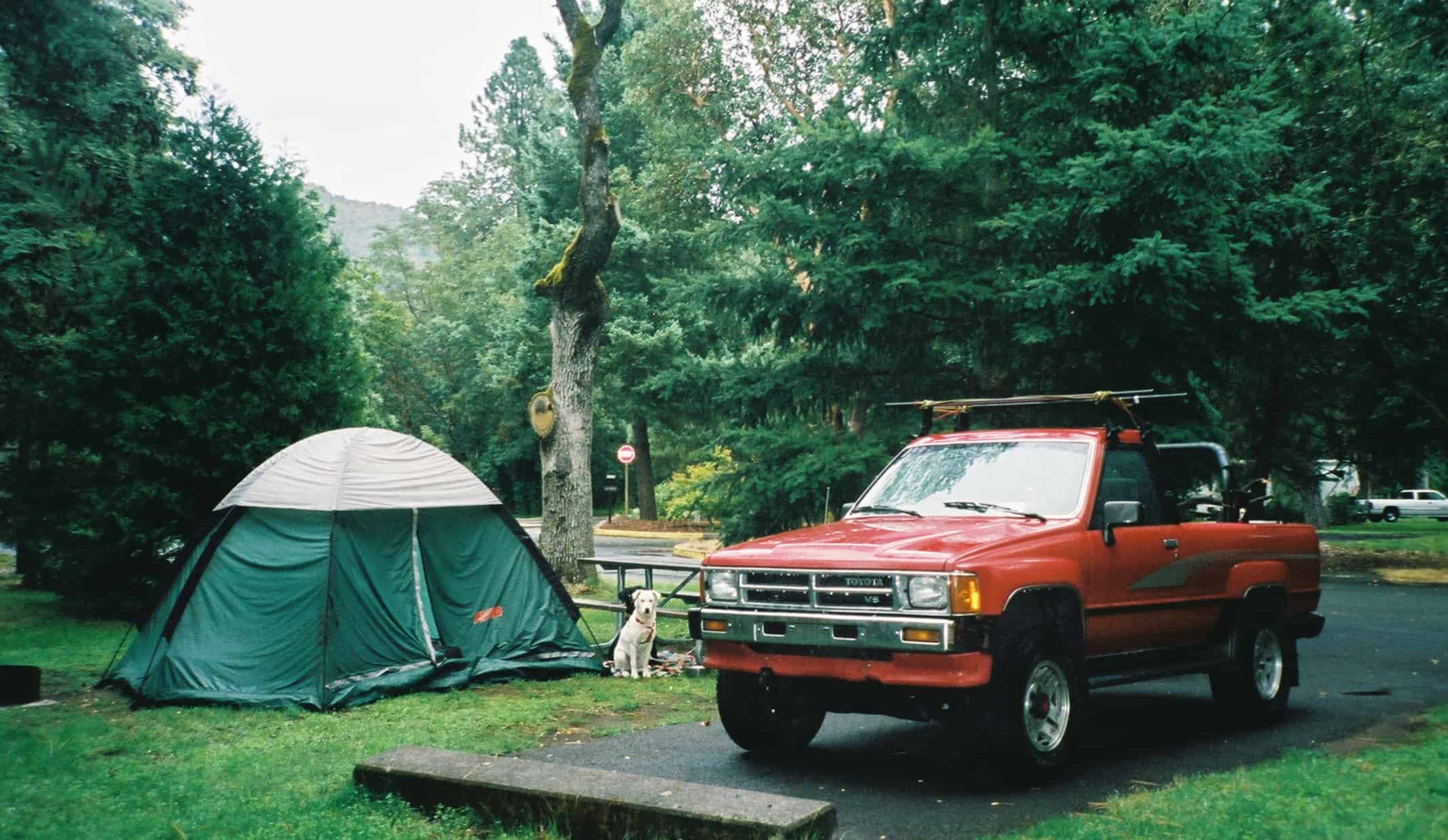 Phone: (800) 551-6949
Address: Gold Hill, OR 97525
Activities:
River rafting

Fishing

Kayaking

Hiking

Biking
Sleep within a stone's throw of Oregon's best wineries at Valley of the Rogue State Park. This beautiful spot is tucked into the Rogue River Valley, surrounded by rolling hills covered in lush greenery.
The river itself rushes through the park, creating plenty of opportunities for fishing, boating, swimming. Or, stay on dry land and hike the interpretive trail that runs along the shoreline.
This park is open year-round; the hot summers and mild winters make it easy to enjoy the great outdoors at any time.
You'll find a camping option for virtually any type of traveler — book a tent site or a full-hookup RV site, or reserve a yurt for a unique vacation experience. The park is pet friendly, and you'll find hot showers, flush toilets, and a handy RV dump station on site.
Phone: (541) 386-6366
Address: PO Box 90, Hood River, OR 97031
Activities:
Hiking

Swimming

Fishing

Boating

Horseback riding

Photography
Located on the shores of Lost Lake, this spot offers some of the best views of Mt. Hood. The snowy peak rises above dense forests, creating the perfect complement to the shimmering water in the foreground.
Here, you have access to all of the wonders of the Mt. Hood National Forest — just a quick drive from your campsite, you can be fishing on remote rivers or hiking high on the slopes of Oregon's most distinctive peak.
Lost Lake Campground is located adjacent to Lost Lake Resort, which means that campers have access to plenty of amenities. Rent boats in the onsite lake, enjoy dinner in the restaurant, or pick up a snack in the camp store.
The 148 campsites are nestled among the trees, creating plenty of shade and a relaxing, peaceful environment. Choose from large RV sites, tent sites, cabins, yurts, and lodge rooms.
Phone: (971) 333-4100
Address: NF-70 Road, Mt. Hood National Forest, Oregon
Activities:
Hiking

Hot springs

Scenic drives
Also located in the Mt. Hood National Forest, Bagby Campground is ideally located for one of the area's most exciting attractions: the Bagby Hot Springs.
These natural springs bubble up from deep beneath the earth — relax among the trees in a hand-hewn log tub. Since your campsite is close by, you can be the first one there when the hot springs open.
The campground itself is beautiful; each site is located in a stand of tall cedar and fir trees. This is a tents-only campground that sees medium to heavy traffic on the weekends and summer days. Sites are primitive but affordable; there are toilets and picnic tables onsite.
Bagby Campground makes a great home base for day hikes into the Bull of the Woods Wilderness, which is a great place to experience the majesty of the area without the crowds.
Phone: (541) 496-3532
Address: OR-138, Roseburg, OR 97470
Activities:
Fishing

Hiking

Rock climbing

Whitewater rafting

Photography
Experience a whole new side of Oregon at Eagle Rock Campground, which is located in the southwest part of the state.. Set in a dense conifer forest next to the North Umpqua River, this is a popular base camp for expeditions into the surrounding wilderness.
Nearby, the massive Eagle Rock towers high above the surrounding landscape — look closely, and you'll see climbers scaling the sheer face. From your site, it's a quick trip to the fascinating fish ladder at Soda Springs Dam, the North Umpqua Trail, and the waterfalls of the Boulder Creek Wilderness area.
Campsites at Eagle Rock Campground offer plenty of shade, as well as private picnic tables. It's primarily a tent-camping destination, but there's space for RVs up to 30 feet long. The access road is easy to navigate, so you can get in and out with ease. Of the 17 campsites, 10 are reservable; the others are first-come, first-served.
This is a great place to camp if you're looking for a relaxing trip, thanks to the enforced quiet hours.
Phone: (541) 418-1460
Address: 6880 N Hwy 101, Tillamook, OR 97141
Activities:
Nature trails

Hiking

Stargazing

Campfires
Twins Ranch LLC offers one of the most unique camping experiences in Oregon: sleeping inside a covered wagon.
This fun, family-friendly experience is a great way to find out how historic pioneers lived as they traveled to Oregon from the East Coast.
If you prefer, the campground also offers primitive tent sites. Every site comes with a fire pit and a picnic table, as well as lovely views of the ranch itself.
Near the campground, you'll find some of Oregon's loveliest and most historic areas. Tree-lined bluffs border the wild Pacific Ocean, and beautiful sandy beaches offer opportunities for swimming, surfing, and fishing.
The legendary Tilamook Cheese Factory is nearby, and the Oregon Coast Scenic Railway makes trips along the water. From the shore, keep an eye out for the mysterious Tilamook Rock Lighthouse, which sits more than a mile off of the coast.
Sun Outdoors Coos Bay
Phone: +1 541-888-2598
Address: 90281 Cape Arago Hwy, Coos Bay, OR 97420, USA
Activities:
Nature trails

Hiking

Word-class golf courses

Wine tasting
Sun Outdoors Coos Bay RV Resort is undoubtedly one of the best RV parks in Oregon for touring the Oregon Coast.
This Oregon RV park is located just outside of Coos Bay, a small town on the southern coast of Oregon. It is in close proximity to Yoakam Point State Park and is just a short drive from three other state parks. Charleston, a charming maritime community, is just minutes away. The area is also home to world-class golf courses, wine tasting and seafood restaurants.
That's not even the best part! Oceanside Beachfront RV Resort is, as the name suggests, just steps from the beach. Guests have easy access to the secluded, pet-friendly beach with its numerous tide pools. In fact, this RV park is so close to the coast that many of the sites offer spectacular views of the Pacific Ocean!
---
With so many amazing Oregon campsites to choose from, your only challenge is picking the one that suits your mood.
Wake up to the sound of the ocean near Cannon Beach, or enjoy the peace of the mountains at Mt. Hood. Thanks to Oregon's mild climate, camping is possible year-round — in fact, if you're interested in escaping the crowds, winter camping is a great option. Just pack a rain jacket, and you're all set.
No matter the time of year you go, camping is the perfect way to get up close and personal with the state's world-renowned natural areas.