Texas is a vast state that will take you more than 24 hours to travel east to west, and almost as many north to south.
The good news for campers is that there are many beautiful places to stop and camp for a day or two.
If you are lucky enough to live in the Lone Star state, there are also many weekend camping adventures that you can enjoy.
With so many possibilities, choosing the right campground can be quite challenging.
Therefore, this list of 15 can't-miss campgrounds has been assembled to help you select the best camping in Texas for family or friends gathering.
---
You might also want to check:
---
FAQ
Can you camp anywhere in Texas?
You cannot camp anywhere in Texas. Camping on public land is illegal in Texas. You can only camp on designated camping areas in Texas.
Where can you camp for free in Texas?
The most popular FREE campgrounds in Texas are Brazos Island, Camp Creek Recreation Area, and Lake Limestone Public Use Area. No reservations are required but you need to register on arrival.
Where can I go primitive camping in Texas?
The most popular places for primitive camping in Texas are Colorado Bend, McKinney Falls or Pedernales Falls state parks.
No RV, no problem! 🙂 RENT ONE!
Here we go: 15 Best Camping Spots in Texas
This 178-site campground offers 147 paved pull-through sites. Each site comes with electricity and a private picnic area.
Cool off with a dip in the heated outdoor pool from Memorial Day to Labor Day or relax in the adult-only spa.
This RV resort, located only one mile from the iconic Cadillac Ranch, offers complimentary limousine service to The Texan Steakhouse.
Your dog is likely to love the large dog run while your children can let out pent-up energy on the well-maintained playground. An exercise room, horseshoe pit, and game room provide plenty of places to relax.
Watch your favorite shows with the complimentary cable television service or brag to your friends about the great time you are having using the high-speed internet.
Stella Mare RV Resort in Galveston – Beast Beach Camping in Texas
Choose between 70-or-90-foot concrete pads at Stella Mare Resort in Galveston. Full hookups come with each site, and there is room at each site to park two vehicles.
Sit back and relax on the in-pool lounge chairs in the swimming pool or play at the large splash pad. Your children will love the multi-level playground located on its own sand island.
Two spacious dog parks help your dogs to love going on vacation with you. The guest center offers a complimentary indoor kitchen and a television lounge.
You get free parking just across from Galveston Beach. This campground provides unobstructed views of Galveston Bay and the Gulf of Mexico.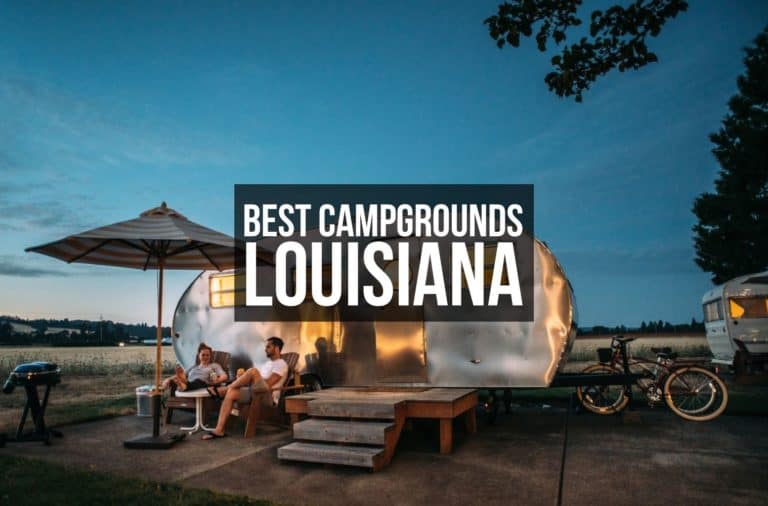 Located within Austin's city limits, McKinney Falls State Park on the shores of Onion Creek will leave you feeling like you have left big-city life far behind. The 81 campsites each have water and electricity.
TIP: in case it's booked out, we suggest to stay in some of the awesome Austin hostels! 🙂
Escape from the heat with a dip in Onion Creek or sit along its banks and listen to the water gush off the rocks.
A 2.8-mile paved hiking trail offers many scenic views or explore the more primitive hiking trails. Park rangers lead exciting programs almost every weekend, including Dutch oven cooking, historic crafts, night hikes, and fishing events.
You can also go bouldering at this state park located just 13 miles from the state capitol building.
Palo Duro Canyon State Park
Before you go, get some minimalist hiking shoes for perfect comfort & performance!
Palo Duro Canyon is one of the largest canyon habitats in the continental United States. You can find interesting wildlife to study all through this canyon system, and the bird-watching is excellent.
The upper rim of the canyon is part of the local shortgrass prairie, but below the lip of the canyon you'll find a wide variety of plants thanks to the easy access to water.
The canyon is a floodplain, so if you plan a hike down the 800 feet to the bottom, make sure to check the weather.
Depending on your sleeping preferences, there are multiple campsite options. There are several RV friendly spots with electricity and water. Additionally, those with big rigs can find room on the Hackberry campsite.
If you just need water or are looking for primitive sites, Palo Duro offers the chance to rough it.
There are multiple hike-in sights. Make sure to bring water to these sites and be ready to pack out all your trash.
Padre Island – Loved by Surfers – Free Camping Texas
If you're in the mood to rough it, Padre Island camping will be ideal. Please note that there are no reservations taken for these campgrounds; first come, first served is the rule.
Additionally, there are no water or electrical hookups at these sites, though RVs are welcome and there is a water filling station and a dump station.
Make sure to prepare for your camping trip to Padre Island. It's about 12 miles from the entrance to the nearest amenities, so make sure to stop, shop and stock up before getting to your campsite.
Once you get to Padre Island, be ready to relax and enjoy the best camping in Texas.
Make sure you check out Bird Island Basin for beautiful views and a quiet night.
No generators are allowed from 10 pm to 6 am. It's just you, the wind and the waves.

Located within walking distance of McDonald's Observatory and across from Big Bend National Park, Prude Ranch offers 30 spaces for RV campers along with many other housing choices.
You can find many activities on this ranch, including horseback riding, a climbing wall, paintball, and orienteering.
Join other campers on a hayride and listen to local entertainers while eating gourmet s'mores. Take a dip in the pool located inside one of the oldest buildings on this ranch.
This ranch offers horse corrals, and there are plenty of open spaces to explore.
Your children can also be involved in a summer camp program while you enjoy camping at this ranch.
This state park offers water-only tent sites, or you can reserve one of their full-hook-up sites with many pull-through options available.
Rent a boat at this state park's headquarters to enjoy fishing on 80-acre Little Pine Lake, where the state regularly stocks rainbow trout.
This lake is also a great place to go kayaking or canoeing.
From March to November, you can join other campers as they dance the night away to tunes played on the jukebox every Saturday night while karaoke happens some Saturday nights.
Take a stroll under the pines, oaks, dogwood trees that surround this beautiful campground.
Located very near the Texas Historical Railroad in East Texas, Rusk State Park is a beautiful place under tall trees to go camping. There are over 50 sites, with many offering full hookups.
Prepare a meal on the grills or in the fire rings located near this campground's pavilion.
If the weather does not cooperate, prepare a meal in the clubhouse while playing board games. Stroll on the 0.25-mile nature hike that runs under the pine trees.
Enjoy the view of Caddo Lake or try your hand at fly-fishing or cast fishing for crappie, smallmouth bass, and catfish.
Located on the shores of Lake Texhoma, near Dennison, Texas, there are many ways to enjoy a visit to this state park.
You can shore fish without a license, and rangers will be glad to loan you all the needed equipment to fish at this lake that is one of the best bass fishing lakes in the United States.
Bring along your all-terrain vehicle or your dirt bikes to enjoy the backcountry wilderness. You will also want to bring along your camera to capture amazing landscape images along the dedicated hiking trails.
Each site has a picnic table making it easy to enjoy meals prepared in the fire rings or on the waist-high grills that you find at many sites.
Portable hammock is a must for great camping!
Garner State Park Near Concan
The 1,774-acre Garner State Pak has over 50 campsites. You can join the fun of summer dances under the stars at this campground, just like people have been doing since 1940.
Paddleboats, kayaks, and inner tubes are all available to rent so that you can play on the Frio River. This campground even offers a seasonal miniature golf course.
There are many miles of hiking trails, so be sure to bring along your boots. Join park rangers for many exciting programs, including learning how to geocache.
You may also want to bring along lunch and a blanket and escape the Texas sun under the tall shade trees while enjoying a picnic.
NW Austin KOA Near Leander
Located just 26 miles northwest of the state capital, NW Austin KOA in Leander, Texas, is a great place to stay.
From March to November, you can cool off in the saltwater swimming pool that features a waterfall or relax in the hot tub and spa.
If you go camping with your four-legged friend, they will love the large dog park while your children will love the spacious playground.
This campground offers many outstanding places to cuddle up with a good book, so bring some old ones along to participate in their book exchange program.
The staff at this campground works hard to maintain its five-star KOA rating.
South Llano River State Park Near Junction
This small campground offers eight sites with electricity and six backcountry tent camping sites.
The main reason that people come to South Llano River State Park is the tubing, and this park offers tubes for rent along with many put-in and get-out spots.
You can also enjoy hiking along over 21 miles of trails where people have spotted more than 250 species of birds.
Traditionally, from October 1 through March 31, this park is home to one of the largest turkey roosts in Central Texas.
When you stay at this park, check out the many astronomy events as this park is part of the International Dark Sky program.
Lost Maples State Park Near Vanderpool
Thirty back-in campsites with electricity are available at Lost Maples State Park along with 50 hike-in primitive sites.
Hike the 10-mile path under the Uvalde lost maple trees, which are especially colorful in the fall. Go fishing in the Sabinal River or Can Creek without leaving the boundaries of this campground.
Climb to the top of the 2,200-foot cliff to take part in stargazing events held on many nights.
While enjoying communing with nature at this park that is located only 30 miles from San Antonio, Texas, watch for the en­dan­gered golden-cheeked warbler and the recently de-listed black vireo.
Rio Grande Village RV Park near Big Bend
Situated on the edge of the Rio Grande River within Big Bend National Park, this concession-operated campground offers 100 camping sites.
Consider going on the Ross Maxwell Scenic Drive for amazing views of the Chihuahuan Desert landscape or get an up-close look by hiking the Window Trail or Lost Mine Trail.
Learn about the first settlers in this region by joining an informative talk led by one of the park rangers.
River Road, Glenn Springs Road, Old Ore Road, and Old Maverick Road offer great back-country driving experiences for those with high-rise vehicles.
Hike through the mountain forest located along the South Rim.
Caprock Canyons
Everyone from RVers to primitive tent campers will love a stay at Caprock Canyons. Please be aware that Caprock Canyons State Park is home to several large animals, including horses and bison.
While the horses are corralled and there for your enjoyment, the buffalo are actually the residents of the area.
Do NOT feed, crowd, follow or approach a bison. If your neighbor is doing so, contact a ranger.
In addition to many campsites with a variety of amenities, there are several spots to fish, hike and climb.
There is some shopping at the park headquarters building, but it's a good idea to stock up before you head into the park.
Hikers and cyclists are strongly encouraged to travel with a gallon of water wherever they go.
Take care to pack out any trash you generate, whether on the trails or on your campsite.
---
There are so many great choices of campgrounds with amazing amenities and natural surroundings for best camping in Texas experience.
We are proud to introduce you to these 15 favorites. With such a wide variety of outstanding options, it is easy to reconnect with nature in the Lone Star State on a camping trip.
You just have to choose which type of camper you want to be for the weekend. You can choose to live in luxurious RV campsites with all kinds of built-in luxuries or in a travel trailer that is just big enough for one. At many of these campgrounds, you can also choose to go primitive camping by staying in a tent.
While the 24 hours that it takes to drive across the state may seem long to many, you can find so many beautiful campgrounds to explore that you will never be in a hurry.
You can spend time exploring the Piney Woods of East Texas, the coastline of South Texas, the high plains of northwest Texas, the Hill Country, or the desert of West Texas. Start planning your adventure now by getting reservations at these campgrounds as many fill up very quickly.
If you get tired of exploring the campground, then most are located near small or large cities with many activities, just begging you to come to do them. Get your rig ready for your next Texas camping adventure.
---