Water bottles are a thing we have all become accustomed to in the previous decades. We know that they come in different sizes and molds but are generally quite solid in form. Whilst some people prefer buying and stocking up on plastic water bottles, others choose to invest their money into quality products they know will last them a lifetime.
These days there is a wide variety of different types of water bottles to choose from. Traditionally water bottles are made out of plastic or metal. Now with the advent of technology, a lot has changed and improved with time and experience.
Be environmentally friendly and try out these collapsible water bottles made out of silicone! More often than not, this means that they are foldable, lightweight, and durable. They also happen to be biodegradable.
Check out also: Best Travel Hammocks for Backpackers
See if you can find one compatible with your very own specific needs when on the road or just chilling by the poolside!!
The following are what we consider to be the best 10 collapsible travel water bottles available on the market, along with question-and-answer reviews from Amazon.
Best Collapsible Water Bottles 2023
Leak-proof twist cap
Wide mouth
Durable

$25
Founded by Brian, after all his travels throughout the world and frustrations at the standards of travel water bottles, he decided to take on the challenge and create a collapsible bottle that is durable comfortable, and hygienic to carry. The Nomader came onto the market in December 2015 and has been performing well ever since. Not only is it fit for travel, but it can also be used for everyday activities such as exercise, commuting, outdoor events, and school.
One of the key things that make the Nomader most comfortable is the fact that it is easy to carry as it only weighs 22 oz. This is also owing to the fact that it is made out of thick and flexible BPA-free silicone. It helps that it also rolls up or squashes down when the space around it is tight.
The multifunction strap attached to it ensures that the flask is in its folded position, making it easier to carry while on the go. The patented leak-proof design prevents unnecessary spillages and the wide mouth lid makes it even easier to put ice in it as well as clean it. In as much as you can add ice to cool off your beverage, it can also withstand high levels of heat.
Made from 100% food-grade materials, it is also considered healthy. So for the sake of versatility, do yourself a favor and get a Nomader for a freezable, collapsible, and easy-to-refill water bottle.
Q: "Is this water bottle sturdy enough to stand on its own without water in it?"
A: "Yes, and works better if you leave the sleeve in the middle…"
Do you always have problems storing your reusable cup after finishing your coffee? Well, you don't have to worry anymore – Semetor collapsible water bottle can hold both ice-cold and pipping hot drinks.
It's made of food-grade silicone which is odor and BPA-free and can withstand temperatures from -40 degrees F to outstanding 480 degrees! It has a polypropylene lid and a heat sleeve.
Its easy-to-grip hourglass shape makes the bottle perfect for long walks or running, too. On the other hand, because of its shape, it is not as easy to clean and you might need a twisted brush to do it.
When compressed, it can fit in your jeans pocket. It also features a carabiner – to save some space, you can just clip it to your backpack.
Q: "Can I wash the bottle in the dishwasher with the carabiner?"
A: "I did several times without issue."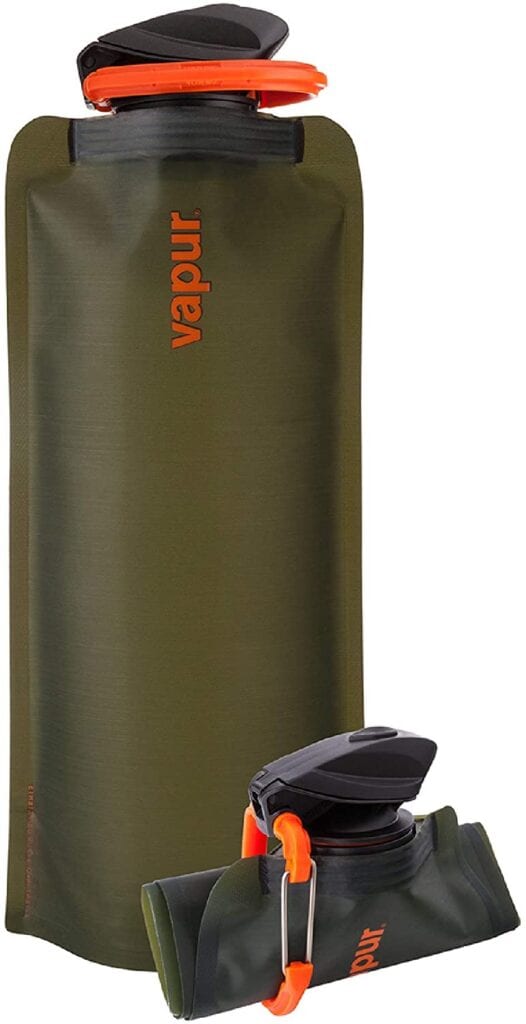 The Vapur solid flexible water bottle, which comes with a carabiner, has a lot to offer travelers. For example, it holds up to 16 ounces of liquid, expands to 10 by 8-1/2 by 1/2 inches, and naturally and with no effort on your part collapses to an easily transportable size once empty. In addition, many appreciate that it remains to stand, a feature that not all collapsible water bottles offer.
A significant benefit that many have reported is that the container itself does not put off any sort of smell. However, do keep in mind that this is not a bottle that can be easily used with one hand as you will generally need to use two to fill, drink from and close it.
This lightweight product also features a wide opening, resulting in it being easy to fill and wash. But do note that using it to drink thicker fluids, such as smoothies, will result in the cleaning process being much more difficult versus if you solely use it for water or a type of sports drink.
One feature that some have communicated appreciation for is the ability to quickly see how much liquid is in it.
Easy to clean
Easy storage
Comes in twos
$16
Made of silicone, this bottle is strong, making it resistant to stains, odors, and taste. The bottles are packed separately in case you go hiking and your mate forgets theirs at home. It also helps that the Baiji water bottle is foldable and can be rolled up as they are designed to stand upright when full.
When on the move, it's always good to know that you won't be bogged down by items you're carrying, so included with this package is a carabiner meaning that you can attach your bottle to your gear or just use the carabiner to hold the bottle for storage. Another thing included is the retainer strap which can be used to hold the bottle in a rolled-up position and is also made up of silicone.
A percentage of all the profits made from sales are donated to dolphin rescue and protection organizations. The colors come in blue and pink.
Q: "No matter how many times I clean it with a water brush, gets mold on the inside that keeps coming back. Is it safe to let bleach inside? Help!!!!"
A: "I would not recommend bleach as it might leave behind harmful toxins. Try filling halfway with very soapy water then squeeze and shake until all mold is gone. Finally after washing dry the bottle completely by standing upside down like a baby bottle."
Easy to hold, drink and pour from
carry handle
Tasteless
The DuoLock SoftBottle flexible water bottle boasts a double-locking closure and a convenient clip handle for double spill protection.
This versatile bottle is simple to fill, carry, and store, making it perfect for day hikes, backpacking, or regular travel.
Some of the features we like best about this water bottle are that it rolls up easily when empty. Also the wide opening for fast and easy filling or cleaning. Speaking of which…
Q: – "How do I clean my Platypus DuoLock water bottle?"
A: – "Platypus bottles can be washed in the dishwasher. If you're going to put Platypus bottles in the dishwasher, make sure they're fully expanded for the best cleaning results."
These bottles can also be washed by hand in warm or hot soapy water. You can get into hard-to-reach spots using the brand's reservoir cleaning kit.
Zooron

– Eco-Friendly Travel Bottle
BPA free silicone

Foldable

Lightweight

$23
This easy-to-carry and store water bottle comes in two's. It is dishwasher-safe, freezable, and comfortable to use. The BPA-free and FDA-approved silicone material are also resistant to heat. Normal water bottles have small openings, making it hard to add different-sized objects such as fruit and ice. Now with the Zooron, you can fit all of that in.
Its foldable feature makes it easy to store, making it easy to carry whether camping, running, or traveling. The leak-proof valve makes it durable, as it prevents liquids from escaping. You can change the size of the Zooron water bottle to resemble a soft drink can.
Please note: using the bottle for liquid temperatures higher than 60 degrees Celsius (140 degrees F) is not recommended to avoid burning your hand while holding it.
Q: "Can it be put in the dishwasher?
A: "Yes, this silicone water bottle is dishwasher-safe."
Lightweight
BPA free silicone
Durable

$19
Particularly designed for adventure-seeking souls, the ACHELOUS collapsible travel bottle is a perfect companion on the road. Be it hiking, camping, or cross-fitting, this bottle fits all minimalistic travels. It is environmentally friendly in that it is reusable, so keep fresh water for the longest and collapse it down when you're done.
Made out of thick platinum silicone, it is rough enough to maintain its shape while standing but foldable enough to collapse to nearly a quarter of its original size. The material is 100% dishwasher safe so you can keep your bottle clean and the water tasting fresh.
Its wide mouth top allows for fast water flow and with that, it helps to know that it's also leakproof. So for a hot water-safe water bottle that is also freezer safe, get yourself the ACHELOUS collapsible bottle.
Q: "Does anyone know where this company is based, and where this product is made?"
A: "… We design the bottle ..in Georgia, and then have a great relationship with the manufacturer out of Shenzhen, China…"
Topnaca – Travel Collapsible Water Bottle
BPA free
Flexible
Reusable
$14
The Topnaca collapsible water travel bottle is deemed compatible for camping, backpacking, and hiking as it is compact and portable. It also has a large carrying capacity, at 750 ml, with a large mouth screw-cap, making it easy to refill.
It is easy for the water bottle to stand upright when it is filled up because of its hardened top and bottom. It is eco-friendly and decomposes quite rapidly in the soil. The Topnaca, when folded, can go down to six centimeters in size.
Included in the packaging is the Topnaca collapsible travel bottle itself as well as one carabiner. T
There is an unconditional 30-day money-back guarantee and a lifetime warranty on this water bottle, making it a risk-free purchase.
"Bought 10 of these for my "children" and nieces and nephews, all in their 20s. They go on hikes, beach, and to college. This is great and compact. When they are done they can collapse it and store it easily."
Hydaway Collapsible Water Bottle
Hydaway products tend to live up to their company's name and be easily hidden away. This collapsible water bottle does fit that moniker as it can be shrunk to 1-1/2 inches and tucked into your backpack or luggage. You could also partially collapse it if you still have some liquid in it that you want to save.
It is also watertight, ensuring that it does not leak and that no other liquids, such as rain, get into it. The cleaning process is relatively easy as well as its wide opening allows you to thoroughly hand wash it while it is dishwasher-safe too. However, do take into account that some care will need to be taken to clean its spout.
Another concern to keep in mind is that when it is full of liquid, it may be larger and bulkier than you would prefer; it extends to 4-1/3 by 4-1/4 by 1-1/2 inches. However, this 6-ounce bottle does hold 25 ounces of liquid, which places it amongst the industry leaders in that category.
Do note that this collapsible water bottle can put off a distinct smell.
Platypus – Minimalist Travel Bottle
Push/Pull Cap
Reusable
Refillable
$14
This bottle is much lighter in weight compared to your standard hard water bottle when empty. It is refillable and collapses, taking up a small fraction of the original space that it takes up. While it may be designed for outdoor adventures like hiking and traveling, it is also great for traveling, the beach, or just sitting by the poolside.
Its food-grade line tastes nothing like plastic and does not keep odors, making it ideal for use for different things on different days while maintaining its fresh smell.
Q: "Can you replace the "closure cap" with a normal-size push-pull cap?"
A: "Yes, the caps are all the same standard size."
Conclusion:
In recent times the environment has seen a huge increase in global warming. Plastic is now being washed offshore and that is becoming a norm in a world where such results spell out disaster for our natural world. When purchasing a collapsible water bottle made from biodegradable materials, you are doing the world around you a great favor!
Otherwise, you can also take the minimalistic route and enjoy hassle-free adventures where space can now be used to its optimal capacity. As already mentioned, there is more to these inventions than saving space and saving the planet. Other qualities such as wide-mouth tops and durability make it all worth the while because now you can add ice and fruit to your water and be sure that the bottle will stand the test of time!!
So if you needed help finding these fantastic things, we have done half the job for you.
— pin it —