The following are what we consider to be the best packing cubes to help you keep organized when backpacking.
Planning to go on an extended trip through Europe? Packing can prove to be a very stressful part of preparing for that epic trip you have been planning.
The first step is always finding the perfect backpack that will carry you through the journey. And then comes trying to figure out what you need to pack; do we just stick to the essentials or do we make space for desirables and just wing it ahead? Because then all those extra things keep popping up that we did not think about at first.
Are you that guy trying to keep things organized and still fit everything you require into a 50-liter backpack? Best solution: compression packing cubes!!
There are so many variations of packing cubes out there in the market that it can be difficult to know what product to buy. Thankfully, we are here to help guide you.
Seeing as though you will be journeying, the best qualities to look for in packing cubes, of course, are durability and water resistance. Those are the obvious things to look out for. There are also the not so obvious things.
In the following list of some of the best packing cubes, we delve into all sorts of other features. Such as specialized fabrics just to suit your comfort; to reinforced interiors to keep your luggage extra secure. Some of these products come with guarantees whilst others are packaged according to quantities and styles. Whilst others can be washed too!!
So, forget about all your past, and most probably present problems, when it comes to packing and look forward to almost hassle-free stowing!!
AVAILABLE – US, CA, MX, AUS, GE, UK

Water-resistant

Double zipper compression

Various sizes for all your packing needs

Zippers can be faulty

Seams are less durable

Hard to compress bags
Tripped Travel Gear is a unique company – started by ardent travelers they know what they wanted from their products and designed items that would give like-minded travelers exactly what they needed.
Their travel packing cubes are geared to help you pack smarter. Whether this is for a rough few months backpacking or just a long business trip, they have the right packing cubes for your specific packing needs.
Choose between a 2 piece, 3 pieces and 6 pieces set in various colors such as white/green, grey/orange or graphic print. No matter which pack you choose they all come with reinforced zippers and are made with lightweight ripstop nylon. The 6 piece set comes with an additional laundry bag and tube cube.
Pack smarter with these packing cubes and rest easy knowing they come with a satisfaction guarantee by Tripped Travel Gear.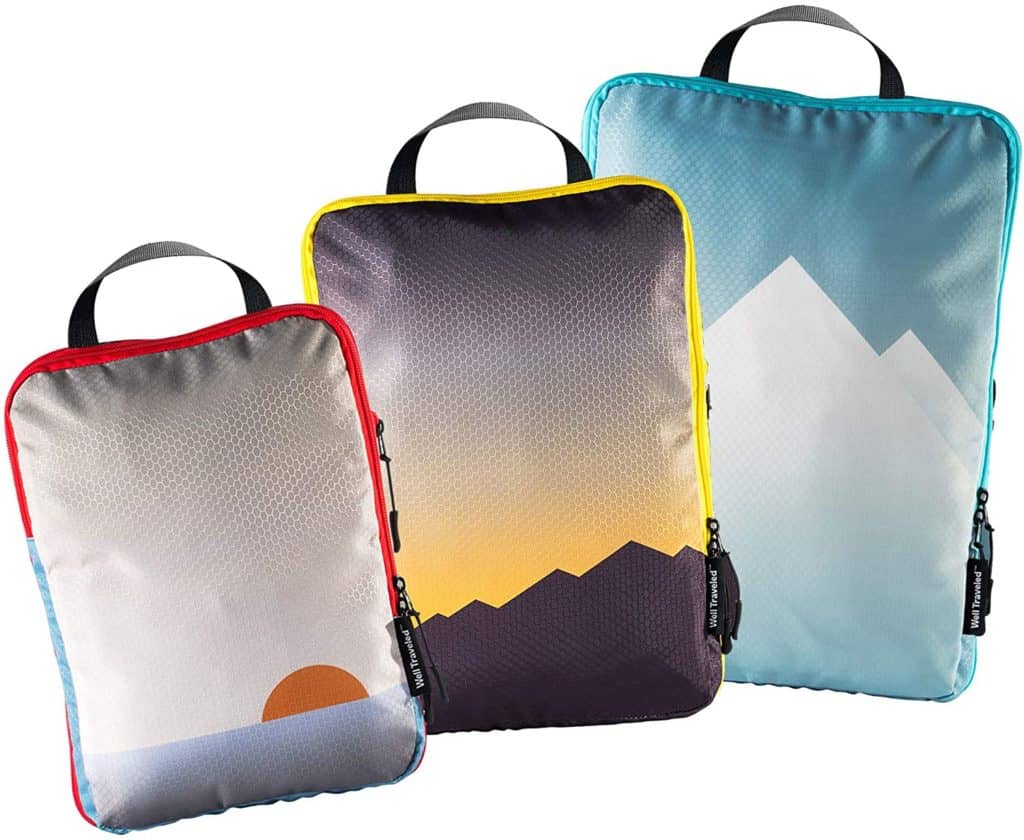 Lightweight

Different designs

Strong zippers

Only 3 sizes

Not available in many countries
Do you care about design? Well Traveled has you covered! They got for sure, the most trendy looking packing cubes on Amazon.
What you will definitely find useful, especially in the beginning is that you won't have trouble recognizing them, since they do not only different in size but design as well.
Therefore, they made it on top of our list for a simple reason! This is already version 2. Well Traveled took some feedback from customers about version 1 and came back with a really amazing product. The zippers are stronger, double stitching and they change for more durable quality fabric.
Waterproof fabric

Thicker than most packing cubes

Contains four cubes and two bags

Larger ones may be too large for your purposes

Some critical of material quality
These lightweight packing cubes have been created with a breathable design, which allows you to readily see what is inside of them, and strong zippers to help protect your belongings. They also come with instructions that provide recommendations on the best ways to pack your items into these cubes.
The largest cube is 17.5 inches by 12.2 inches by 4 inches while the smallest is 11 inches by 6.8 inches by 4 inches. Its bags are 17 inches by 9.1 inches by 4.5 inches and 20 inches by 14 inches. The bags are generally used for shoes and dirty clothes so that they do not contaminate the rest of your belongings.
Do note that some may find these being labeled with what should be inside as off-putting if they are placing different items in there. Conversely, others may find this feature incredibly useful.
Make sure to not place these cubes in your washing or drying machine. They should be hand-washed with cold water and hung to dry.
AVAILABLE in US, CA, FR, AUS, GE, IT, SP, MX, JP

Exceptional versatility

Machine washable

Various sizes for all your packing needs

Avoid buying in color as the dye can stain if the cubes get wet

Lose their shape

Zips can be problematic
The AmazonBasics is a really versatile set of packing cubes; ideal for your backpacking needs, organizing your hand luggage or even for use at home. With 4 different sized cubes, you can be sure that this set will cover any packing dilemma.
The set comprises of a slim cube (2.8 by 14 by 5 inches), a small cube (11 by 6.75 by 3 inches), a medium cube (13.75 by 9.75 by 3 inches), and a large cube (17.5 by 12.75 by 3.25 inches) packing cube.
This 4 cube pack will ensure that everything from your socks and underwear to your jumpers and jeans will be packed and kept wrinkle-free on your trip. The cubes are made of lightweight and durable nylon fabric, with convenient webbing, handles for easy handling and mesh tops for better airflow and visibility.
AVAILABLE in US, CAD, AUS, FR

Lightweight

Lifetime warranty

Quick grab handles

Cubes on the smaller side

Do not unzip all the way

Best suited for larger suitcases
Eagle Creek's Pack-It Specter packing cube set are great for organizing all your travel gear whilst still reducing any unwanted clutter. This lightweight set of 3 packing cubes weigh under 2.2 in total. Meaning you can pack what you need without worrying that they will compromise your weight.
The cubes come in 3 dimensions. Small: 9″H*7″W; Medium: 11″H*9″W; Large: 14″H*12W. The almost see-through fabric is reminiscent of the same fabric used for most tents and backpacks. They are quite durable and more importantly for some, water and stain-resistant.
Eagle Creek is so sure that they have designed strong and functional packing cubes that they give a lifetime warranty – and boast a less than 1% return rate.
AVAILABLE in US, CAD, MX, AUS

TSA approved for carry-on luggage

Waterproof

100% transparent

Flimsy zips

Not the best quality

Does not compress
For anyone that travels regularly getting through airport security can be a major headache. This is where the Lermende Bags/compression packing cubes come in handy. They are TSA approved, made of durable, clear, waterproof material and can be used in your hand luggage as well as on trips to the beach!
Use them to pack in all your travel-sized toiletries, or even just to keep all the essentials that you need to find in one easy place. They are completely transparent so it makes it easier for you to find your items without scrounging through aimlessly.
You can wipe them down easily and come in a variety of great colors.
Easy to pack

Large packing capacity

Lightweight

Not very big – may need 2

Can only pack travel-size toiletries

Can't fit an electric toothbrush in this!
So we deviate from the topic slightly, this product is not a traditional packing cube but we feel that it deserves a mention. This neat and nifty little organizer is a must-have staple on your travels.
Keep your toiletries, first aid kit or possibly your kitchen essentials in this compact and lightweight zip organizer. It is so compact coming in at 6H X 9W X 3D IN and weighing only 0.26 lbs. Comes in poppy orange or black.
The organizer is made from nylon ripstop and features: large stretch meshes pockets, with a removable see-through pouch and very handy organizational pockets. There is also a clever hanging clip loop for the extra pouch.
Osprey guarantees to repair any defect or damage to the product free of charge. Now that is the kind of guarantee that you want to have on your travel accessories.
Compact

Washable

Lightweight

Compartments are awkward sizes

If pack too much it won't roll

Don't pack sharp objects, the material will tear
Sticking slightly off-topic we wanted to highlight this amazing packing accessory from the guys at Osprey. It would make a great addition to your Osprey UltraLight Zip Organizer. With this piece, you can comfortably travel with all the bare essentials.
It comes with a small mirror so that you are able to make sure that you are looking good and with the hanging clip you are able to hang this organizer in a bathroom or from a handy branch whilst camping.
This neat travel accessory is available in Electric Lime or Poppy Orange – ensuring that it is easily found, even at the very bottom of a full backpack. Rest assured that it too comes with Osprey's All Mighty Guarantee – repair or replace no matter what.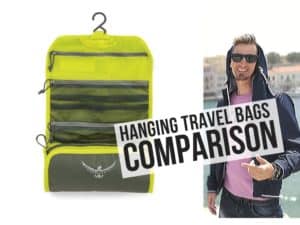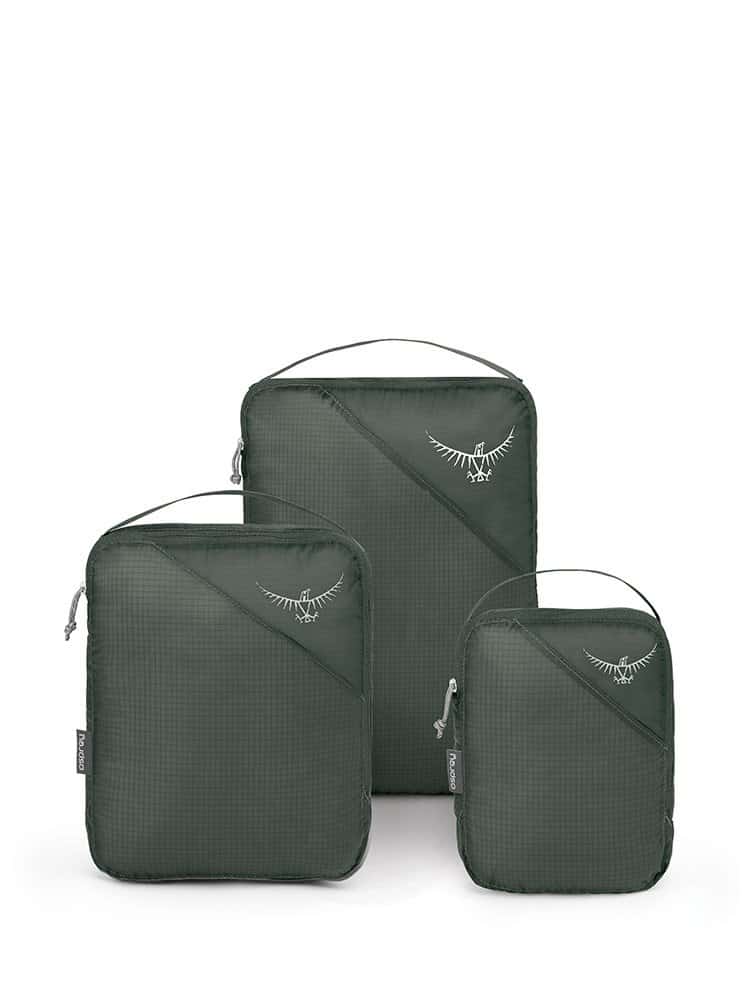 Imported

Grab handles

Washable fabric

A bit pricey

Still need a toiletries pack
We love the guys at Osprey so we had to include the Osprey Packs Ultralight Packing Cube Set as an added tip. Their intention here is simply – provide you with the ultimate set of packing cubes so that your gear is packed well and kept organized.
They are available in Shadow Grey or an Electric Lime and are made out of durable and lightweight nylon ripstop fabric. Each cube has a grab handle for convenience and their sturdy zippers will secure all your items.
Like with the two Osprey items above, this UL Packing Cube Set comes with the Osprey All Mighty Guarantee.
Conclusion
These are the single greatest products on the market. Created to help backpackers, as well as any other traveler to keep their gear organized and contained whilst maintaining a clean and compact bag. They are so great that once you start using them, it becomes hard to imagine life without them.
Compression packing cubes are a must-have – these handy packs will make it easier for you to stay organized and to maximize space. Two very vital components when backpacking for an extended period of time. We hope we have helped you decide on just which set would best suit your travel needs.
Lightweight
Different designs
Strong zippers
4 sets
Water-Repellent
When not in use, these packing cubes nest perfectly inside one another. They don't take up much room. However, they have a ton of space when you open them up and extend them. The biggest one easily accommodated multiple shirts, several pairs of pants, one pair of shorts, and three pairs of pants. In the biggest bag, you could easily fit enough clothes for an adult to last a week. Children's clothing fits perfectly in the smaller totes. The zippers are strong and well-made. We wholeheartedly advise using these to simplify and manage the packing process.
This Set Of Packing Cubes Includes One Xl(17.5 Inx12.75x4in),One L Size(13.75″ X 12.75″ X 4″),One M Size(13.75×9.75×4), One S Size(11″ X 6.75″ X 4″)
By compressing the packing cubes using the exterior compression zippers, you can save up to 60% of space. All you have to do is 1) Flatten your clothes and neatly pile each one on top of the other. 2) Place the tidy clothing in the packing cubes, then zip the regular zipper. When compressing the packing cubes, place a finger on the back of the zipper in case it becomes stuck in the fabric.
---
Thanks for stopping by 🙂 We hope you enjoyed this article about best compression packing cubed for backpacking and you're ready to minimalize your space and enjoy your backpacking trip in a more organized way.
We would love to hear your feedback! Please feel FREE to submit a comment below with any sort of personal review about the pros or cons. If you have some product in mind that you had a great experience with, feel free to suggest it and we will review and publish it.