As summer continues to heat up, a lot of us are heading outside to get a little bit of quality time in the great outdoors.
If you're looking for a way to soak up some late summer sun on the go, a portable chair can help you enjoy a little bit of extra light without having to worry about taking up too much space.
Whether you're a first-time camper or an old pro, you'll need a chair that is lightweight, easy to pack and carry, and won't use up precious cargo space either in your backpack or in the car on your way to hit the trails!
You'll also want to look for a chair that's sturdy enough to hold up to the elements and can adapt to whatever terrain you tackle next!
7 Best Folding Camping Chairs
Best Folding Camping Chairs for Outdoor Trips in 2023
Pros:
The 24-inch seat gives plenty of room, so you won't have to worry about feeling cramped or crowded.

The extra padding allows for a comfortable, supportive seat that takes the strain off tired muscles.

Built-in drink cooler lets you keep some basic supplies close at hand throughout the night.
Cons:
The pockets and coolers may make this chair a bulky fit in its storage bag.
This chair is meant for more laid-back campers and may show wear after extended periods of use on damaging terrain.
The Coleman Cooler Portable Camping Chair is a good choice for campers who want a little bit of extra comfort while they're out in the wild. The chair is a polyester blend with padding around the back and seat to provide excellent lumbar support after a long day of hiking.
If you're looking for a way to kick back and relax out on the trails, the Coleman chair offers a built-in cooler that can hold four cans for some quick and easy refreshment!
Pros:
Despite its relaxing appearance, the sturdy construction of this chair lets it hold up to 250 pounds of weight on virtually any terrain.

The patented spring-loaded rocking technology guarantees a smooth, steady rocking motion that can help you unwind after a long day's trek.

The chair folds flat in seconds, which means that it's as easy to pack as it is easy to carry.
Cons:
You may have to clear the area a little bit before you use this chair, as it won't be able to rock past rocks or other major obstacles.
For campers who want a chance to sit back, relax, and enjoy all of the beautiful sights and sounds that nature has to offer, the GCI Outdoor Freestyle Portable Rocking Chair delivers exactly what its name promises.
A portable rocking chair that's still lightweight enough to carry with you, the GCI rocker lets you enjoy all the comforts of home, no matter where you are!
The chair's frame is made of powder-coated steel and boasts padded arms and a smooth spring-loaded rocking system for dependable rocking on the go!
Pros:
As easy as it is to carry and set up, the MOON LENCE chair is even easier to clean since the mesh netting and aluminum frame allow for a quick "wipedown" approach to cleaning.

The "egg" shape of the chair provides plenty of comfort without sacrificing the lightweight build.

Despite weighing only two pounds, the MOON LENCE camping chair can support nearly 250 pounds of weight.
Cons:
Make sure you stretch the netting, as some customers have complained that the fit of the netting over the frame is difficult at first use.
The chair does sit low to the ground, which may strain the back.
As its name would imply, the MOON LENCE Ultralight Portable Chair earns its spot on this list by being extremely lightweight. This makes it a perfect fit for campers who have miles to go before they sleep and need to pack light in order to get the most mileage out of their day.
The aluminum frame reduces this chair's weight even further, and the net seat allows for a light, breathable fit that's still super comfortable!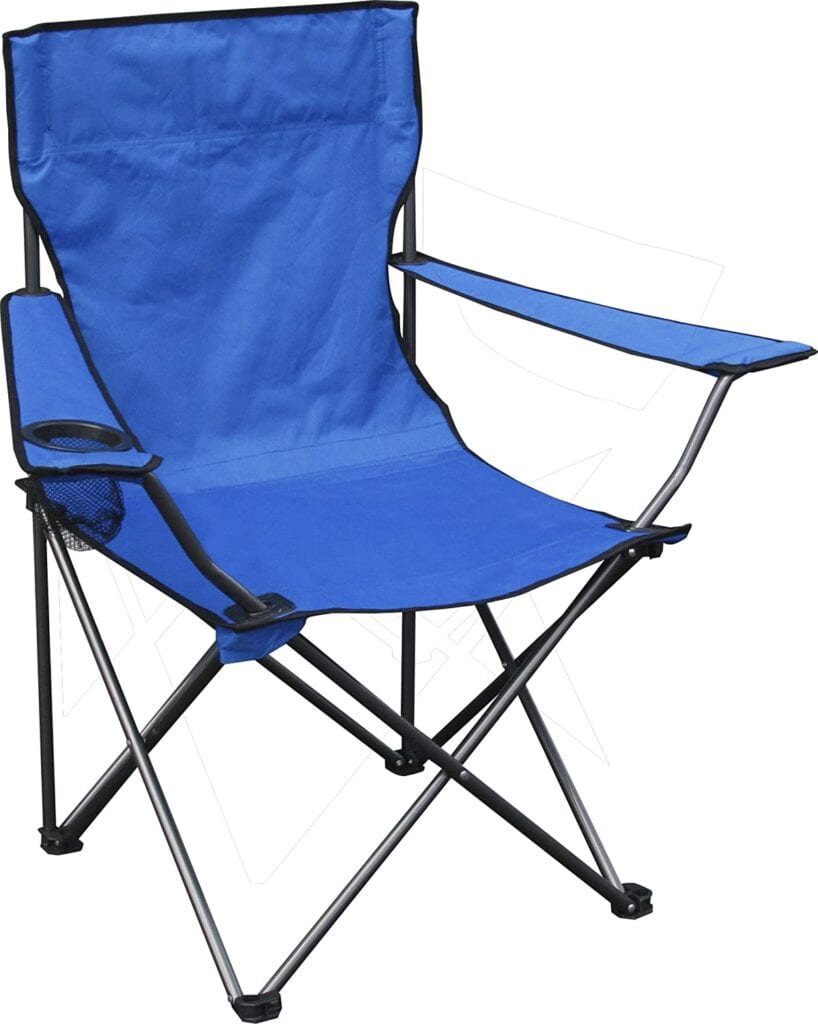 Pros:
The simple, no-frills construction still provides plenty of support and seat room around the campfire.
The mesh cup holder lets you keep a nice, refreshing drink close by, for when the cooler's just too far away.

The chair's storage bag comes with a carrying strap for ease of transportation after the chair has been broken down.
Cons:
Some previous customers have noted that the back of the seat tends to be slightly elevated, which can leave you feeling like you're leaning forward or in danger of tipping out!

The seam along the back of the chair may wear out after periods of extended use.
If you want a solid, dependable chair that gets the job done without any unnecessary frills or attachments, the Quik Chair Blue Folding Chair is pretty much the classic folding or portable camping chair.
With its tough polyester seat that's been treated to hold up to water, rust, and other outdoorsy damage, the Quik Chair seat is hardy enough to handle the elements and still gives you a way to relax after even the toughest trails.
Pros:
Like the previous ultralight entry, this chair only weighs two pounds even after it's been fully broken down and packed away!
If you're camping out in a particularly warm site, the mesh construction of this chair's seat allows for a good flow of air across your back and legs to help you keep cool!

The aluminum frame features a shock-cord assembly that lets you "snap" the chair into place in less than a minute!
Cons:
Like some of the other chairs mentioned, the MARCHWAY portable chair sits a little bit low, which some may find uncomfortable.

Overall, this chair is on the smaller side, which doesn't provide a lot of room.
Like the MOON LENCE ultralight chair, the MARCHWAY Ultralight Portable Chair uses an egg-shaped seat to reduce the amount of frame necessary while still providing a comfortable seat and high-quality construction.
The frame is made of an aluminum alloy that further reduces weight, and the seat itself is made of a nylon mesh that supports up to 250 pounds of weight while still saving precious space in your pack.
Pros:
Extremely lightweight – it has only 1.1 pounds – and compact.
Easy and quick setup.
Both the chair and the sack are machine washable.
Cons:
As this chair is super lightweight, it's not as sturdy.
No armrests, no cup holders, again for the sake of the weight.
Expensive.
If long hiking or biking trips are your thing, your priority is packing light and you probably often sacrifice things that you don't seem to need. We have a good piece of news for you – the Helinox Chair Zero weighs only about 1.1 pounds and can be packed into a size of a water bottle. Therefore, it fits in a backpack of any size or a bottle holder on your bike so you can be comfortable on any trip.
Unfortunately, it's a bit on the pricier side. But thanks to the quality aluminum frame and UV-resistant polyester seat, it should last for years. The manufacturer also gives a five-year warranty.
Pros:
The folding construction means that this loveseat requires no extra assembly, which makes it a great choice for campers who don't want to waste time on screws and snaps.

The oversized, fully-padded frame lets you feel like you're sitting on your couch at home while still enjoying the great outdoors!

The reinforced corners and seams help this loveseat avoid some of the tearing or splitting issues that other chairs may suffer from.
Cons:
The wide design means that weight distribution is a little bit more tricky on this seat than on comparable products, so be careful if you're loading additional weight onto the seats.
The last entry on this list isn't so much a portable chair as it is a portable couch for two! The Timber Ridge Spruce Loveseat allows you to stretch out on your own or cuddle up to a loved one, depending on what your style may be!
The steel alloy frame makes for a slightly heavier end product, but the sturdy, reliable loveseat makes up for its additional weight with its high-quality construction and durable build.
Ultimately, the kind of chair that you prefer depends on what kind of camping you plan on doing. If you like rougher trails and sleeping out in the open, come hail, rain, or sunshine, then you'll want a sturdy chair that won't weigh you down.
On the other hand, if you prefer a more laid-back, relaxed approach to hitting the open trails, you may prefer a chair that's a little bit more comfortable while still being tough enough to handle the great outdoors.
Either way, you'll want a chair that's lightweight while still being sturdy and dependable. The perfect camping chair is one that's easy to store when it's not in use and just as easy to carry from one adventure to the next as you explore the world around you.
No matter your style, the right chair lets you kick back and relax wherever you are! Whether you're soaking up some sun on a beach or lounging in the shade of some wooded trail, the perfect chair is one that fits your style and your summer plans.
Let us know which of the chairs listed above you like best! If you have any suggestions as to portable camping chairs that you think we may have missed, feel free to give us a heads-up in the comments below!