Orange County is located on the West coast of the United States, with a population of about 3 million people as of 2010.
The sixth most populous County in the US and third in the State of California, Orange County has beautiful beaches and hosts several cities.
As part of the Los Angeles-Long Beach-Anaheim Metropolitan Statistical Area, the County hosts 34 cities, including Santa Ana, Anaheim. Laguna Beach, Irvine, Huntington Beach among others. Some towns like Fullerton have structures dating back to the 19th century.
The County has developed in the past few years with newer commercial structures known as Edge cities being developed. It has been a local and international destination for tourists, with the main attraction being the long beautiful beaches stretching for more than 40 miles.

Orange County is a fantastic destination for everyone willing to have the time of their life. Hosting some of the most popular attractions in the US like Disneyland, touring OC can be quite expensive. That's where we come in.
Here are a few things to do in this beautiful County without costing you a dime:
Visit Bolsa Chica Ecological Reserve
The nature reserve, also known as the wetlands, is located in Huntington Beach along the Pacific Coast Highway. The United States Department of Fish and Game protects the coastal wetland, a bird lover's paradise. With easy access from the highway, it's a free destination if you want to explore a bit of wilderness.
The reserve hosts the Interpretive Center that has several display rooms. One room exhibits a range of marine life species such as Kellet Whelks, lobsters among others. Other rooms display different species of reptiles. The center also displays taxidermy of different species of snakes, birds, and opossums.
There's a bridge to view the wetlands if you don't want to get yourself dirty. It offers free tours every first Saturday of the month from 9 am to 10:30 am. At noon, it facilitates an animal feeding program.
Go Hiking
Enjoy the rich and magnificent nature of California by going hiking on the several trails Orange County offers. There are easily accessible trails like the El Moro Canyon trail located in Crystal Cove State Park. The 5-mile trail offers spectacular views of Laguna& Newport beaches and also other breathtaking views of OC.
Some other beautiful places for hiking are Whiting Ranch Wilderness Park, Alta Laguna Park, Holy Jim Trail, Caspers Wilderness Park, Black star, The Trans-Catalina Trail, Bolsa Chica Ecological Reserve among others. If you are visiting, make sure you do some free healthy hiking before you leave.
Visit Laguna Beach to enjoy the art scene and amazing marine life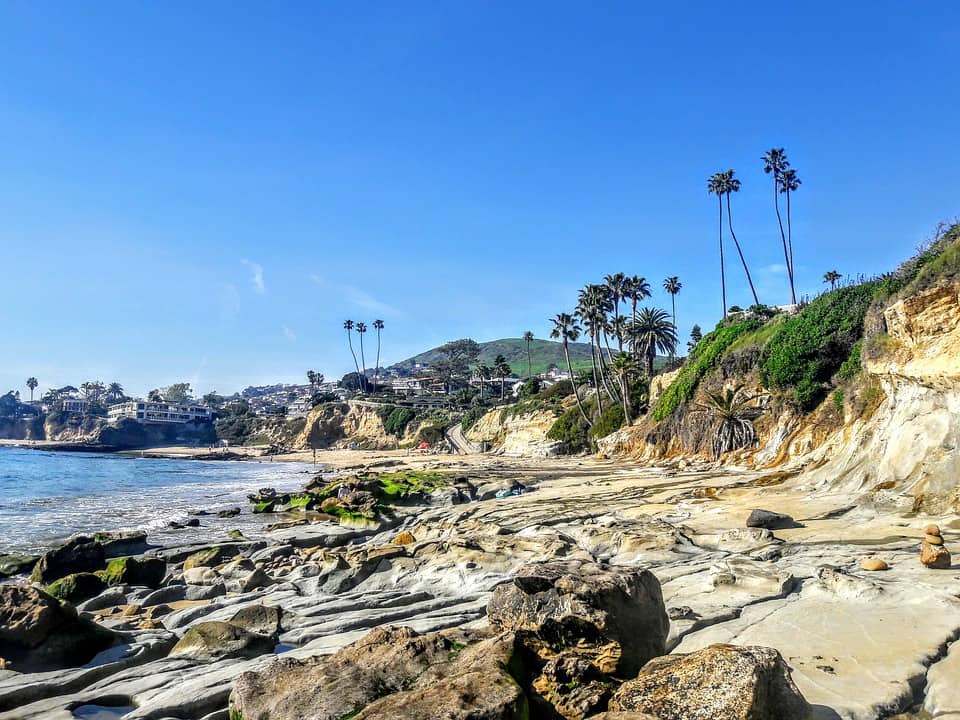 The down to earth culture in this lovely town is favorable for free fun and comfort. Laguna Beach is known for being an ideal spot for excellent coastal experience with its mild, pleasant year-round weather.
It hosts more than 30 scenic coves and is also known for its dedication to environmental preservation. It takes ecological conservation seriously along its coast, facilitating a conducive environment for relaxation.
Though state beaches charge parking fees, you may find other beaches like San Clemente, Seal Beach, Sunset Beach, etc. that offer free parking. OCs beaches are generally beautiful; therefore, be sure to have a good time. Apart from being known for its marine life, Laguna Beach also hosts a three summer-long art event annually.
Though the festivals might not be free, it has open artist studios and art galleries that are free to explore.
Old Towne Orange
If you like window shopping, Old Towne Orange has beautiful antique and vintage stores to satisfy your thirst. The streets are also lined with galleries, restaurants, collectible dealers, specialty shops, and many other stores. The second-largest host of historic buildings in the state, it is a free place to explore the marvelous history of Orange County.
The city of Orange hosts the Orange Plaza Circle that has historic buildings surrounding it. Old Towne is recognized as the favorite downtown in OC and has been a gathering place for tourists and residents for over 100 years in the Central Plaza Park. It has a distinctly unique look that makes it an ideal location for television and film production. There are endless things to explore in this amazing town.
Visit Orange County Museums on free days
There are many spectacular things you can see in OC's museums. Here is a list of museums and free days. Always free Museums are Fullerton Arboretum, a large botanical garden stretching 26 acres with many other amazing sceneries. Other free museums include The Old Orange County Courthouse, The Irvine Museum, and Muckenthaler Cultural Center 'the Muck,' where only the exhibits are free.
The Beall Center for Art and Technology is always open except during the summer holidays, The Children's Museum at La Habra is free to visit during every first Sunday of the month, and The Orange County Museum is free every Friday. For Merrill Lynch/Bank of America Cardholders, The Discovery Science Center is free on the 1st Sunday of every month. The Bowers Museum in Santa Ana is free for Santa Ana residents and also hosts a free family festival every first Sunday of every month.
Explore Orange County Art Walks
This is an exciting and free way to explore the County's delightful dance, culture, and art. Each art walk facilitated every month presents new ideas, artists, and a variety of exhibits to enjoy. There's always something new displayed in several cities
While many cities display these events monthly and some annually, these are the most popular; Huntington Beach does its art walks every third Thursday of the month from March to November, 6 pm to 9 pm. Laguna Beach – every first Thursday of the month from 6 pm to 9 pm, Fullerton – every Friday from 6 pm and Santa Ana – every first Saturday of the month.
Downtown Anaheim also hosts the Art Crawl experience four times a year from 6 pm to 10 pm. These events display the diversity of OC. You can't miss out!
Visit Tucker Wildlife Sanctuary
If you love learning, this wildlife sanctuary is an eye-catching place to explore. Along the Santiago Canyon Road, you will find the Modjeska peak where the wildlife sanctuary is located. Serving as a research center for students from the College of Natural Sciences and Mathematics (CSUF), it is always open to the public to learn and enjoy.
Tucker Wildlife Sanctuary is a suitable place to learn about California's animals and explore their natural habitats. Along the nature trails, you can learn more about southern Californian flora and fauna. The sanctuary is also conducive for children to get involved in hands-on activities, interactive features, and exhibits. It also has one of the most breathtaking bird watching sites in the County. Don't forget your camera!
Explore the Orange County Fair
Orange County hosts an amazing 23-day fair held every summer of every year. It is one of Southern California's most anticipated events where you will enjoy a variety of delicious foods and participate in fantastic games and rides. The fair, which is the ultimate place to explore and have fun, is hosted in the city of Costa Mesa.
The festival hosts more than a million visitors. Here are a few things you can do. Watch ceramic artists create amazing art at the crafters' village, see amazing art exhibitions, visit the heroes hall, witness an array of entertainment including live bands, displays of athleticism, ostrich races, Alaskan pig races, demolition derbies, among others. Kids also have a lot to explore.
Oak Canyon Nature Center
This nature center located within the hills of Anaheim city is the home to a variety of spectacular wildlife. It is a place to give yourself a break from the hustle and bustle of the city. There are many free programs for you to enjoy though donations are encouraged to support the initiative. These programs range from Night nature walks to a family nature discovery program. They are held every Wednesday in the summer.
Additionally, it hosts the John J. Collier Center that exhibits the natural history of the region. It also has live animal exhibits. There are many relaxation grounds that you can use without paying a single cent. The 58-acre park also has three canyons and hiking trails.
Enjoy free surfing and attend the Annual Van's US Open of Surfing
If you want to have a good time surfing in beautiful beaches, then you must visit Orange County. Don't worry if you don't have a surfing board. Many OC hotels offer complimentary boards during your stay. Surfing is free for all in all beaches, namely Newport Beach, Trestle Beach, Huntington Beach, T-Street in San Clemente, Salt Creek Beach, Laguna Beach, and Doheny Beach.
The Vans US Open in Huntington Beach is hosted every last week of July to the first week of August. The seven-day event sponsored by Swatch is one of the largest sports festivals in the United States. It presents a variety of sports talent including surfing, BMX competitions, and skateboarding. You could also visit 410-498 Olive Avenue in Huntington Beach to see the world's largest surfboard enough for 66 people!
---
In conclusion, there are countless free things to do in Orange County. With the 21st-century modern lifestyle getting expensive every day, you don't have to sit all day at home watching your favorite show over and over. There are many things that life offers. Orange County stands out as one of the country's archetypical Californian destinations.
Whether it's celebrated theme parks or manicured beach towns backdropped by iconic sceneries, this southern Californian county is simply amazing. You don't have to spend money to have fun. You just need to have the zeal to get up and explore the world. To give your wallet a break, it's vital to have a stash of free activities planned for the year.