Arequipa, the second largest city in Peru, is nothing short of a backpackers' haven. While you won't see it on many bucket lists, the city is brimming with backpackers. It is one spot where they stop to breathe between their adventures in Peru – but that doesn't mean the city itself lacks adventure.
This seemingly tranquil city residing in the arms of nature has many surprises hidden within. There is a lot to absorb for history buffs. A walk around the Plaza de Armas will give you a taste of Peru's colorful culture. A number of adventurous trips await the adrenaline junkies, including a hike down the world's second-largest canyon in Arequipa. If you don't find yourself in the mood for a walk or a hike, you can just relax in your hostel and enjoy the beautiful sight of the three volcanoes. El Misti, Pichu Pichu, and Chachani stand tall as the guardian angels of Peru's white city.
Check out also selection of Hostels in Cusco for Backpackers!
Now that you know Arequipa is a pit stop you can't afford to miss in Peru, let's talk about accommodation options in the city.
Selection of Best Backpacker-Friendly Hostels in Arequipa
Backpackers love Arequipa and Arequipa loves em' back. It is one city where you can make a stay without a worry on your mind. There are hostels that are extremely affordable, yet just as comfortable as any hotel.
Here is our list of the eleven best Arequipa hostels you can choose as your home away from home.
Selina Arequipa
**SPECIAL 10% SELINA DISCOUNT* Use Our Coupon: "TRAVELING-SELINA" while Booking on Selina's Website to Get Exclusive Discount.
Book on Hostelworld Book on Booking.com from $20 / 12-dorm 4.5/5 Map
Selina Arequipa offers speedy internet, a friendly cowork community, and beautiful workspaces. You'll be treated to stunning art installations and murals as you walk around the vicinity.
There's much to do here; lounge in the pool, grab a drink at the bar, make use of the free wifi, and even enjoy your stay with your pets! As long as you book a private room, pets are more than welcome at Selina Arequipa, so you don't have to leave any of your four-legged friends behind on your adventures.
This is a non-smoking hostel, so there's no worry of any issues with second-hand smoke for any guests.
If you are in need of things to do around the city, Selina offers several tours such as a full-day Colca Canyon guided tour and a tour of Salinas National Park so you can experience the wonder that is Arequipa.
If you want to relax at the hostel instead, you are more than welcome to visit the movie room which features a screen projector, and also the yoga deck to help you find inner balance.
Wild Rover Backpackers (BEST PARTY HOSTEL)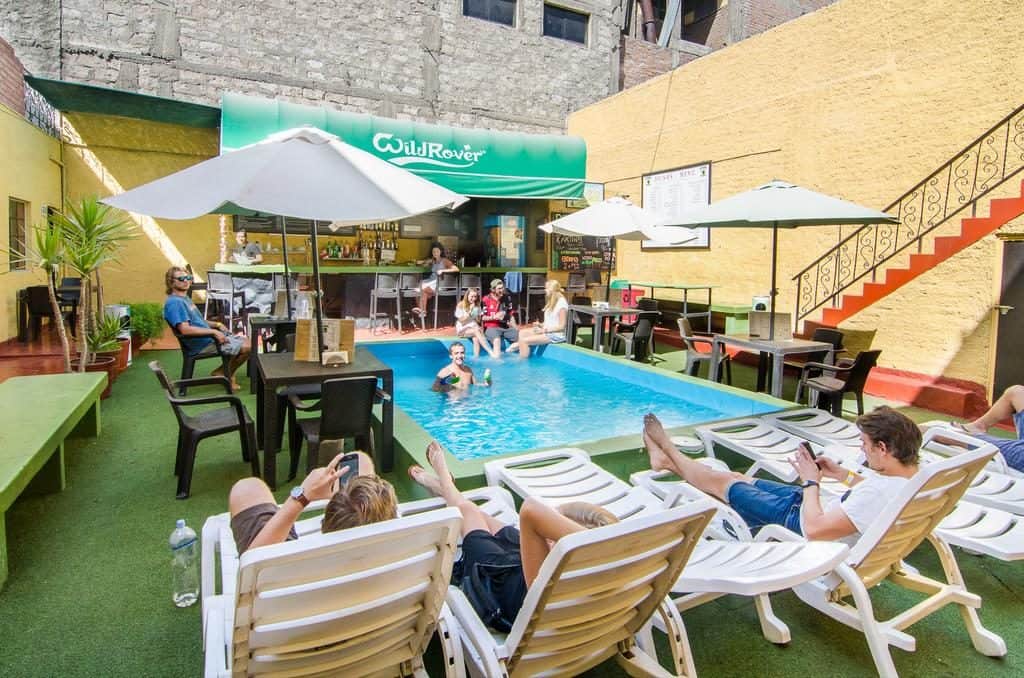 Book on Hostelworld Book on Booking.com from $6 / 20-dorm 4.5/5 Map
For anyone who is looking for a textbook backpacker's place to stay, Wild Rover Backpackers is a great option. It is one of the few "full-service" hostels in Arequipa that has an in-house bar, a restaurant, and a huge swimming pool.
The highly friendly and enthusiastic staff ensures a pleasant stay for every guest. The fun never ends at Wild Rover. Every day, there is a new event to entertain the guests. If you don't want to socialize much, you can book a private room or you go to the rooftop to read a book in peace. Wild Rover Backpackers is located close to popular bars, restaurants, and shops.
Arequipay Backpackers Downtown
Book on Hostelworld Book on Booking.com from $6 / 10-dorm 4.2/5 Map
This one is hands down one of the most recommended hostels in Arequipa. It is located in a peaceful neighborhood so you can easily sleep away from all the noise. The place is fully equipped with all the amenities to ensure a comfortable and trouble-free stay.
Play Station, Netflix, pool table, foosball – these are just a few of the fine things you can enjoy with your fellow guests. If you feel like going out for a while, avail the free bike lending service.
Check out also selection of Hostels in Lima for Backpackers!
Le Foyer Hostel (BEST HOSTEL FOR COUPLES)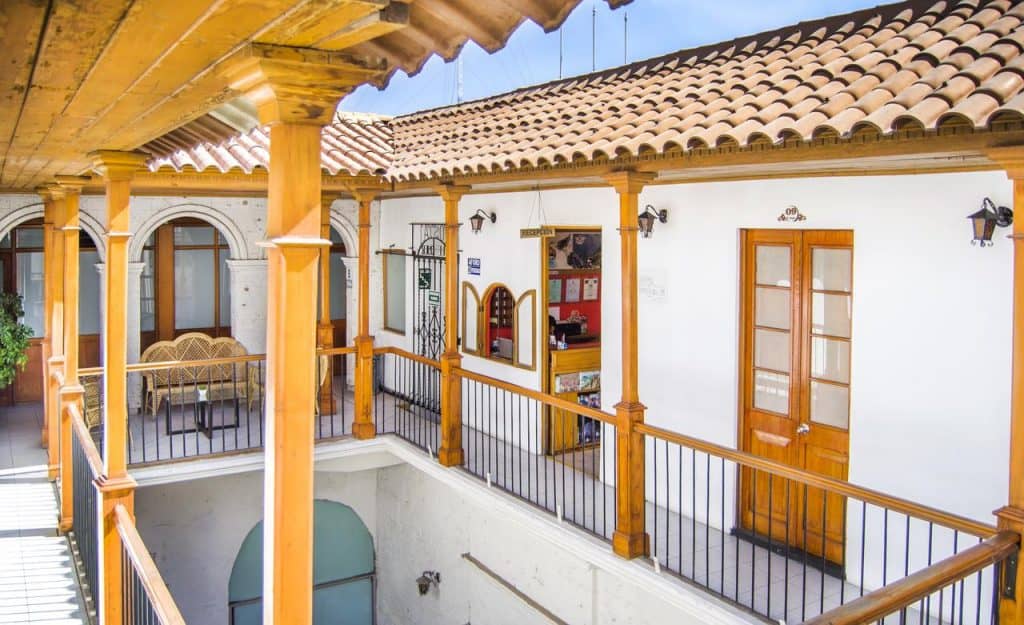 Book on Hostelworld Book on Booking.com from $11/ 4-dorm 4.4/5 Map
Lonely Planet ranked it as one of the best hostels in Arequipa. You will find it swarming with people who are revisiting the city and staying at Le Foyer for the second or third time.
The hostel has been around for two decades and boasts a number of loyal patrons from across the world. There are numerous amenities to enjoy including a terrace with a BBQ facility. It is conveniently located two blocks away from the main square which means you can just step out and access all the major landmarks, restaurants, shopping spots, and other places of entertainment.
MB Backpackers
Book on Hostelworld from $8 / 4-dorm 4.2/5 Map
MB Backpackers is another hostel located just steps away from the main square. It boasts a very nice rooftop terrace that provides gorgeous views of the city. There is also beer pong and a pool to dip in.
Another great feature of this hostel is that it has an on-site restaurant and a bar. The restaurant serves local as well as international food and is very affordable – you can get a full meal there for just under 3 dollars. At the bar, you can enjoy watching your favorite sport, happy hour, or a theme party.
If you wish to set off on a day trip, you can do so through the hostel's very own travel agency. They can take you to Colca Canyon, Mount Misti, or Chachani. It also provides free walking tours of the city.
Bothy Hostel
Book on Hostelworld Book on Booking.com from $8 / 6-dorm 4.3/5 Map
Bothy Hostel is highly recommended for backpackers who appreciate great customer service. The staff here is proficient in multiple languages. They will help you with your itinerary.
The location of this hostel makes it one of the busiest in town. You can sit on a hammock by the rooftop pool and enjoy the gorgeous view of Misti and Chachani. For the fun-loving backpackers, there is an in-hostel bar, but you can always go across the street to enjoy the real nightlife of Arequipa.
Econunay
Book on Hostelworld Book on Booking.com from $7 / 6-dorm 4.6/5 Map
Econunay is a tastefully decorated hostel located in the wonderful neighborhood of San Lazaro. It is a great option for couples backpacking across Peru. It's just a few minutes away from the main square, from where you can access all the main attractions of Arequipa.
The hostel has a beautiful rooftop where you can lie down with your partner and enjoy moments of peace and tranquility. Food and drinks are also one of the reasons people recommend Econunay as a perfect option for backpackers in Peru. There is an in-house bar where you can find a great selection of craft beer.
Friendly AQP
Book on Hostelworld Book on Booking.com from $7 / 8-dorm 4.4/5 Map
Rightly named, Friendly AQP is a perfect place to acquaint yourself with the friendly culture of Arequipa. The staff goes out of its way to make you feel at home. They are very particular about cleanliness and hygiene.
No matter how crowded the place gets, you will find nothing to complain about. Since it is a family run hostel, it is great for backpackers traveling with partners or with family. The safe and convenient location, in the heart of Vallecito, also makes it a great choice for people of all ages.
Cozy Hostel
Book on Hostelworld Book on Booking.com from $9 / 6-dorm 4.7/5 Map
This is another centrally located hostel that truly lives up to its name. While it is both backpack and pocket-friendly, it doesn't skimp on the amenities that ensure a cozy and comfortable experience.
Comfortable beds, free Wi-Fi access across the premises, locker, BBQ, storage, fully equipped kitchens, and Netflix- these are just some amenities. The staff is very friendly and endeavors to deliver the best Arequipa experience you can get. Did we mention they offer free tea all day? That pretty much sums up why you should stay here.
Marlon's Home
Book on Hostelworld Book on Booking.com from $7 / 5-dorm 4.3/5 Map
Marlon's Home is a family operated hostel. One of the main reasons to include it on the list is the exceptional customer service provided by its friendly staff. You will be surprised to know that the staff at the hostel is basically friends and family members of the owner.
If you are on a long trip and miss the homely warmth of your own place, Marlon's Home will make for a suitable choice. Marlon's home is located in old San Lazaro Barrio, a peaceful part of the city where you can truly relax and unwind.
El Monarca
Book on Hostelworld Book on Booking.com from $33 / 4-private 4.0/5 Map
El Monarca gives you a glimpse into the colonial past. True to its name, El Monarca has a royal feel to it. It is owned and operated by people who have been in the hospitality business for ages.
Their experience, knowledge, and expertise can be seen in every nook and corner, even in the way the place is managed. You can have a private room for your own group. The location provides access to all the major landmarks and worth-visiting places in Arequipa.
Las Torres de Ugarte (AFFORDABLE HOTEL ALTERNATIVE)
Book on Hostelworld Book on Booking.com from $50 / 1-private 4.5/5 Map
If you are someone who likes to live where life is, Las Torres de Ugarte will let you stay right in the heart of Arequipa. It sits right behind the Santa Catalina Monastery, one of the must-see landmark. The hostel has accommodated backpackers for over fifteen years.
It offers all the amenities one can wish for. You can book a private room with private bathrooms and exclusive in-room security boxes for your possessions. The staff is extremely helpful and friendly. They can help you make the most out of your visit to Arequipa.
The Bottom Line
So, here you have it – a complete list of the best backpacker-friendly hostels in Arequipa. Keep in mind that each hostel has a different aura and a different experience to offer. Find the one most suited to your taste and it will enhance your overall Arequipa experience.
If you enjoy camping and hiking and want to take it to the next level with backpacking, it is important that you plan your trip. Before you set out, keep your camping must-haves handy. Healthy feet are crucial for your backpacking experience. This simply means you need to invest in quality footwear.
Things can get exciting if you ask your experienced backpacking friend to tag along. And even if you don't one, we recommend that you bring a friend because a travel buddy can make any trip more fun.
Needless to say, you must do your research about the destination. If this is the first time you are out backpacking, choose shorter hikes. Remember, the key here is to take things easy. After all, you walking on a challenging trail with a heavy backpack is easier said than done.
So what are you waiting for? Explore the outdoors and create some wonderful memories.
---
Author Bio: Judy Robinson is a passionate health and lifestyle blogger. She loves to write on healthy lifestyle, fitness 101 and DIY related topics. Follow @judyrobinson for more updates.