The hostel is the second home for people who go away from their homes for long trips or for studies. It provides them with a wide range of options & learning facilities from fellow students as well as from the environment & staff because the environment demands them to adapt themselves to a bachelor lifestyle.
But, it's also a great option for all the backpackers who want to travel to a cheap yet comfy place or travelers looking to discover great European history.
Another very popular reason why Budapest is famous is the stag do and bachelor parties, loved by foreigners and hated by locals.
---
Here we are going to figure out the best hostels in Budapest for backpackers, which brings us to search for the most affordable ones that Budapest.
Maverick Urban Lodge
Book on Hostelworld Book on Booking.com from $42 / 4-bed dorm 4.6/5 Map
**Prices are shown for weekdays in High-season (August)
Budapest is becoming more and more popular with tourists every year and new hostels are emerging. Maverick Urban Lodge is one of the youngest ones in the city. And with its modern amenities, you surely won't be disappointed.
The dorm beds feature comfy pillows, dual outlets, reading lights, and privacy curtains. The shared bathrooms are huge and always very clean.
If you come to Budapest as a couple, you can also opt for a hotel-like private room. They have en-suite bathrooms and are very affordable.
On the ground floor, you will find a nice pub which is known for its delicious sandwiches. You can also get breakfast there for 10 euros. Alternatively, you can fuel up for your day in one of the many cafés around the neighborhood.
What's more, Maverick Urban Lodge has a rooftop terrace where you can enjoy the views of Budapest, chill, and meet other guests.
Das Nest Budapest – Best for couples
Book on Hostelworld Book on Booking.com from $17 / 6-bed dorm 4.5/5 Map
**Prices are shown for weekdays in High-season (August)
Looking for a peaceful hostel in the center of Budapest? Look no further! Das Nest Budapest is a homely hostel set in a renovated loft apartment that features just 20 beds, a fully equipped kitchen, and three lounge areas to relax.
It is especially popular for its friendly atmosphere and staff that is always happy to help. Not only will they meet all sorts of your requests, but they will also tell you where to find the best bars, restaurants, or even speakeasy festivals.
Thanks to the hostel's central location, everything is reachable by foot. However, if you're planning to explore more than just downtown Budapest, public transportation is also easily accessible.
Flow Hostel – Best for Solo Travelers (with relaxed vibes)
Book on Hostelworld Book on Booking.com from $9 / 8-bed dorm 4.4/5 Map
**Prices are shown for weekdays in High-season (August)
If you are looking to escape the summer heat of Budapest, you will love the air-conditioned comfort of the Flow Hostel. Located minutes from the Danube River, the hostel gives you a modern and open vibe when you are in the common spaces. Free WiFi helps you keep in touch with those you have met on your world travels.
The hostel has an outdoor terrace that is a great place to enjoy a meal or curl up to read your favorite work by Hungarian authors. The hostel can also hook you up with free city maps to go out and explore. They offer dorm rooms that are well equipped with comfortable beds and bedding.
They have a game room with a huge selection of activities to help you meet new people and take a break if you have done too much walking around the city.
Guests love the storage boxes that come standard during every stay since they are huge and make storing all your gear easy. Others rave about how new everything feels in this hostel.
Pal's Hostel
Book on Hostelworld Book on Booking.com from $25 / 4-bed dorm 4.4/5 Map
**Prices are shown for weekdays in High-season (August)
Pal's Hostel is an excellent pick for backpackers who want a place to stay, if not your home away from home, in the center of Budapest. This award-winning hostel offers cozy private & dorm rooms and roomy apartments with beautiful landscapes from the road to the nearby Szent Istvan's Basilica.
This self-catering accommodation is probably not like any other hostel you have been to. Depending on preference, guests can have shared rooms or apartments with shared kitchens and baths. The beds are comfortable, and the rooms are spacious. Backpackers and guests can also get access to laundry service, a microwave, and a refrigerator in the room. While there is no air conditioning, the rooms are comfortable and clean. In case it gets too hot in summer, you can use fans.
Pal's Hostel has a lounge area where guests get free access to computers and high-speed internet, print e-tickets, and boarding passes. The reception desk organizes many different tours, activities, and other things to do in Budapest, such as the baths, caving tour, and the Budapest card, etc. Because it is close to the Chain Bridge and the intersection of all three metro lines, traveling to and from anywhere in the city shouldn't be a problem. Don't worry, the staff here are multilingual to accommodate your concerns without the language barriers.
Pal's Hostel can also arrange airport transfers from the airport, approximately €24 for up to 4 people, so guests only pay €6 each. Public transport is cheaper at about €2.50 per head.
Avenue Hostel
Book on Hostelworld Book on Booking.com from $11 / 12-bed dorm 4.2/5 Map
**Prices are shown for weekdays in High-season (August)
This hostel is fully equipped with all the things that you need during your travel stay such as private bathrooms, unique designer interiors, dormitory-style rooms, a kitchen, communal space, lockers, individual curtains, near bed power points, and reading lamps.
With a cozy and friendly atmosphere, you can get full access to free Wi-Fi, 24-hour reception, and assistance from their brilliant staff.
It doesn't matter whether you are planning to stay in Budapest for some days or for an entire week or more to explore its beauty and exotic destinations.
It's the hostel that can provide you with all the facilities including comfort, security, and relaxation.
Wombats City Hostel Budapest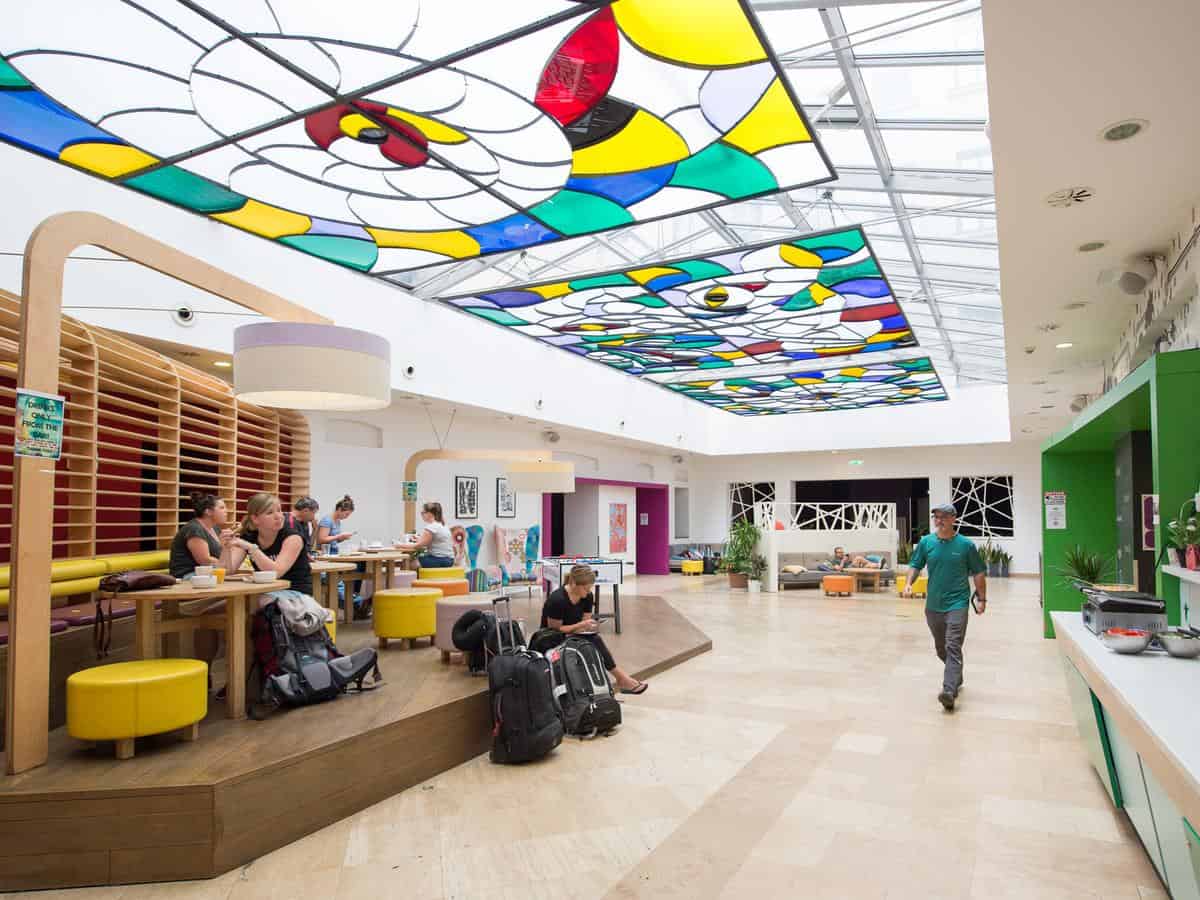 Book on Hostelworld Book on Booking.com from $19 / 8-bed dorm 4.2/5 Map
**Prices are shown for weekdays in High-season (August)
This hostel is located in the central location of the city at a 5-minute distance from the metro station and the airport.
It features shared rooms with air conditioning, breakfast, complimentary welcome drinks, and a lot more.
It's perfect where you can get all the amenities such as free Wi-Fi, bed sheets, towels, personal lockers in the room, a city map for your travel assistance, free spices and pasta in their kitchen, and a spacious room for your stay.
The best part of this hostel is that you can come whenever you like. There are no lockouts, no curfews, no useless rules, and no age limit in this hostel so you can wholeheartedly enjoy your visit to Budapest.
Adagio Hostel 2.0 Basilica
Book on Hostelworld Book on Booking.com from $20 / 10-bed dorm 4.1/5 Map
**Prices are shown for weekdays in High-season (August)
If you are looking for a clean, calm, and friendly place to stay in Budapest then Adagio Hostel 2.0 Basilica is the place for you!
It's located right in the heart of the city on the main boulevard. So, you can plan a full day of sightseeing and come back to a comfy and well-equipped hostel that has a perfect kitchen, TV lounge, sitting area, and free internet access.
You can get unlimited coffee and tea from their kitchen by cooking your food facility, security lockers, and free travel maps from the reception.
Full Moon Design Hostel
Book on Hostelworld Book on Booking.com from $61 / 8-bed dorm 3.8/5 Map
**Prices are shown for weekdays in High-season (August)
Apart from all the above types of hostels, you can also go for Full Moon Design Hostel which is a new and modern style inspire hostel in Budapest.
All its rooms are fully air-conditioned with free & fast Wi-Fi connection. Along with smart TVs, table soccer, kitchen, and a lot more.
This hostel is located in the heart of Budapest near to all the hot spots such as top restaurants, pubs, shops, and supermarkets.
Similarly, their kitchen is filled with yummy and healthy food like a variety of cheese, flakes, yogurt, muesli, salami, cornflakes, ham, jam, bakery products, and much more. So, select the best hostel according to your need and budget and make your trip easy and breezy.
Budapest Budget Hostel
TEMPORARILY CLOSED
The most important thing while traveling is to keep things within your travel budget and accommodation expenditures are huge if you plan to stay in a fancy hotel. So, save your money by choosing the right option which is the Budapest Budget Hostel where you will get a low price without compromising on the service.
They offer a cozy environment with all the essential facilities like lockers, a kitchen, a coffee machine, Wi-Fi, guest computers, 24/7 open reception, and comfortable rooms.
The rainy days in this hostel are like enjoying the things that one wished for years. The diversity of people with different mindsets and with different life experiences when they all come together and enjoy God's gift equally becomes a soul-soothing experience.
This hostel is just a few blocks away from all the prime locations such as the metro, supermarket, train stations, and the airport. They also provide laundry service, free Wi-Fi, bicycle hire, and a homely atmosphere.
Big Fish Hostel – Affordable and great for solo travelers
TEMPORARILY CLOSED
Big Fish Hostel is among the best hostels in Budapest and comes with very affordable pricing.
It's located in the center of the city and all the main attractions, sightseeing spots, and fun bars are within walking distance.
Big Fish is a brand new hostel and has very high rankings/reviews for its cleanliness and kind/helpful staff. The beds, rooms, and the common area are very comfortable. All of that makes this hostel 9.6 out of 10 / which is one of the TOP in Budapest.
Retox – Best Hostel for Solo Travelers in Budapest + Best Party
TEMPORARILY CLOSED
The Retox Party Hostel is one of a kind and is perfect for all those backpackers who want to meet new and interesting people during their travel and vacations.
Add new experiences to your adventurous life and meet many wonderful people. If you are looking for a lively place then this is the spot for you.
Get the best services there and see all the surrounding lively places of Budapest such as the bars, nightclubs, happening parties, etc.
---
Conclusion
Staying in a hostel is the best option during travel which allows you to save your travel money along with a great opportunity to meet new interesting people and explore Budapest together.
Every hostel on the list has a different atmosphere and vibe so that every kind of backpacker can find the best fit for himself or herself.
FAQs about hostels in Budapest
What's the best hostel in Budapest for solo travelers?
Flow Hostel is one of the best hostels in Budapest for solo travelers. It features a social vibe, an outdoor terrace, and a games room to meet and make friends with other guests. Also, as it's located in the historical area of the city, numerous sights, restaurants, and bars are within walking distance. 
What's the best party hostel in Budapest?
Set in Budapest's bustling nightlife scene, Wombats City Hostel is a great option if you like to party. Receive a free welcome drink and head to the on-site bar, a perfect spot to meet fellow guests, or set off for a bar crawl. Then, cure the hangover with a delicious breakfast for just a couple of dollars extra.
How much is a hostel in Budapest?
Budapest is an affordable travel destination, and so is the accommodation there. Prices of hostels in Budapest usually range from USD$ 10-20 during the high season, while private rooms are between USD$ 20-70.
Are hostels in Budapest safe?
In general, Budapest is a safe city, and its hostels are very secure alike. However, you should be aware of pickpocketing during the high season. Keep an eye on your belongings or leave them in a safety box in your hostel if you go out.