Cartagena has it all, palm-frilled plazas, beautiful 16th-century mansions, amazing cobbled streets, a bit of romance, and much more!
With all of Cartagena's beaches, endless salsa dancing, high-end Zumba classes, and a lot of fun, the city makes a perfect place to visit for a long electrifying yet soothing weekend. There are nearby beaches, art museums, colonial monuments, and many more historical things.
The old structures and buildings will make you feel like you have landed in the past. For a modern and tropical experience, you can have bike rides or can enjoy boat rides.
Cartagena is the ultimate spot attracting all sorts of tourists but especially backpackers and it's been one of the favorite digital nomad cities to visit as well.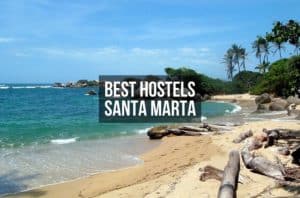 So, if you are heading to explore the place, you might be looking for places to stay. Unlike other countries where travelers hop for ob-budget hotels, Cartagena features many boutique hostels, which are quite popular.
If you have finally decided to be in the place, here's the list of the 12 best hostels in Cartagena where you can plan your stay:
Selina Cartagena (Best for Digital Nomads & Solo Travelers)
**SPECIAL 10% SELINA DISCOUNT* Use Our Coupon: "TRAVELING-SELINA" while Booking Directly on Selina's Website to Get Exclusive Discount.
Book on Hostelworld Book on Booking.com from $16 / 8-dorm 4.3/5 Map
**Prices are shown for weekdays in Mid-season (August)
Selina Cartagena is located in Cartagena, Colombia. You will enjoy vibrant buildings, amazing patios, cobbled streets, and authentic markets. This hostel is perfect for anyone trying to enjoy the beautiful beaches or lively city.
You will enjoy daily yoga classes, 2 rooftop pools, games and activities, and sitting and basking in the Colombian sun. While you are at the hostel, you can explore the city and enjoy the beautiful architecture as well as the old warm charm.
Reception is open 24 hours, check-in is at 3, and check-out time is 11 am. You can only stay at the hostel for 14 days, and taxes are not included in the pricing. The hostel is child and pet-friendly, there is no curfew, and you always have the chance to cancel 72 hours upon arrival.
All guests must be 18 or older if they are staying in a shared dormitory, and any guest under 18 years of age must be accompanied by an adult or legal guardian while in a private room. If you are visiting Colombia during peak season, then you may have to pay 50% to 100% of your accommodations in advance.
Casa Del Pozo Boutique Hostel (Amazing breakfasts!)
Book on Hostelworld Book on Booking.com from $17/ 6-dorm 4.5/5 Map
**Prices are shown for weekdays in Off-season (March)
Set in the cool, bohemian neighborhood of Getsemani, just a few blocks away from Selina, Casa del Pozo is an amazing choice for those who like to stay close to all the things happening in the city.
The quaint Plaza de la Trinidad is just a 2-minute walk away and within 15 minutes, you will reach the beach. The interiors are fun and cozy and the bar, TV room, and garden with a pool invite guests to interact.
If you wish to have a bit more privacy at night, you can book a private room. However, all beds in shared dorms feature a curtain, reading light, 2 USB plugins, and a locker, so you shouldn't have a problem there either.
Yummy breakfast is included in the price, both regular and vegetarian. You can also attend Spanish and salsa lessons for free.
Casa del Puerto Hostel & Suites (Best Vibe)
Book on Hostelworld Book on Booking.com from $11 / 4-dorm 4.7/5 Map
**Prices are shown for weekdays in Mid-season (August)
Casa del Puerto Hostel & Suites is a mansion that has been rebuilt. If you have ever wanted to live in lavish luxury, then this is your chance. You will enjoy free breakfast during your stay, and you will be near most of the tourist points of interest in Cartagena Colombia.
The large patio is ideal for relaxing poolside, sunning, or sipping a cocktail. There is a pool party every Saturday, and the fun goes on until 2 am. You will certainly enjoy the convenience of the restaurant on-site, and there are multiple rooms to choose from.
Reception is open 24 hours, there is no curfew, and smoking is only allowed in designated areas. Check-in is at 3, and check-out time is at noon. If you run into any snags, then you have the ability to cancel. However, you must do this at least 72 hours in advance.
Guests that are 18 and over can utilize shared dormitories, however, any guest under 18 years of age must be accompanied by an adult or guardian if staying in a private room.
Casa Venita Hostel Boutique
**Prices are shown for weekdays in Mid-season (August)
Quite and cozy the Casa Venita Hostel Boutique is a place in Cartagena with on-budget rooms and super comfortable dorms. Enjoy the balcony view or patio from your room and spend romantic nights with your bae. The place offers a fantastic view of the garden where you can spend your leisure time relaxing.
There's a sun terrace, bar, and restaurant in the hostel, which means you don't have to go out for a meal. The comfortable rooms, with a private bathroom, cable TV, and other splendid features will make your stay amazing. The airport is approximately 4 km from the place, which means you can either board public transport or a car to get to the place.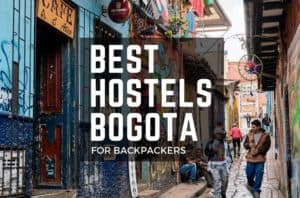 Stay safe! Check out: Best Mosquito Nets for Backpackers & Light Travelers
Hostel El Viajero (Best Party Hostel in Cartagena)
Book on Hostelworld Book on Booking.com from $10 / 4-dorm 4.3/5 Map
**Prices are shown for weekdays in Mid-season (August)
So you are traveling alone and want to make new friends? El Viajero is a place for you! It's one of the most amazing and popular hostels in Colombia and the whole of South America as well. With a reputable name in the country, the El Viajero offers travelers clean rooms, comfortable living, dorm rooms, free Wi-Fi access, and much more.
You will also get a free delicious breakfast and an air conditioner to have a pleasant stay. There's a bar that opens at sunset; you can make friends there and spend some fun time with them.
Republica Cartagena
Book on Hostelworld Book on Booking.com from $11 / 4-dorm 4.5/5 Map
**Prices are shown for weekdays in Mid-season (August)
It's one of the most popular places to have a stay in Cartagena. Looking for an attractive place to hang out with your friends, get to their outdoor swimming pool, and soak in the sun? From the bar to the private doubles to dorm rooms, the magical surrounding filled with old and classy architecture will make your standard stay the royal one.
The experienced staff and the best-in-class services will offer you an unforgettable experience of staying. You can enjoy your days and evenings at the bar area listening to great music and chatting with friends. However, the bar will open only in the evenings, during the day, it is used as a place to relax and watch TV.
El Arsenal Hostel Boutique
**Prices are shown for weekdays in Mid-season (August)
Located in Getsemani, the place offers a beautiful garden, outdoor swimming pool, terrace, and a myriad of fantastic features to make your stay comfortable. Coffee Lover? The room of the hostel is fitted with a personal coffee machine.
There's free Wi-Fi access, an individual microwave, and much more. Also, some rooms are equipped with a balcony offering you an amazing outdoor view. There's a Cartagena's Gold Museum just 600 meters from the place. Also, the international airport is just 5km away from the place, making it easy for you to board the flight with ease.
Hotel Casa Mara
Booking.com 4.5/5 Map Starts at ($30) for private room
**Prices are shown for weekdays in Mid-season (August)
Looking for a private and cozy stay? Hostel Casa Mara is for you!
With a pleasing ambiance and amazing view, the place is perfect for spending some leisure time with the family. It's a 3-star hostel, with features like an inner garden, free Wi-Fi, private bathroom with all comfort and convenience travelers look for.
The rooms are equipped with air conditioners, satellite/cable TV, shower, hairdryers, and much more. There will be free-laundry services/ dry cleaning and other room services to help enjoy your day. Travelers seeking soothing green lushes will find a garden in the hotel.
The dedicated staff and the high-end services will make you fall for this place. Just keep in mind their check-in and check-out times as well as cancellation policies to make your stay comfortable. It's a 10-minute drive from the airport and merely is two blocks away from Parque Centenario Square.
Hostel Caracoles
**Prices are shown for weekdays in Mid-season (August)
Want a charming and beautiful hostel in the heart of the city? Look no further but Hostel Caracoles. It's a perfect place to relax and enjoy everything with ease.
The on-site café serves mouthwatering breakfast and snacks, and the free city bike rides and plant-filled patios will make your stay comfortable and fabulous. The fully-equipped kitchen is a cooking hub for those who wish to cook their meals. The free Wi-Fi, and easy laundry services will make you feel at home.
Hotel Balcones de Venecia (Hostal Casa Venecia)
Book on Booking.com from $25 / private room 4.1/5 Map
**Prices are shown for weekdays in Mid-season (August)
Looking for an on-budget and value for money, then (formerly known as Hostal Casa Venecia) is a place for you! The fantastic vibe and private rooms are super-comfy and cute. The place offers everything you need, free Wi-Fi, free breakfast, kitchen facilities with a microwave and dining area, and much more.
Bonus! A breakfast of fresh fruits is served daily. If you want a relaxing massage or a haircut, say it at the front desk. Want to relax under the stars? Get a hammock and hop to the terrace or relax in the garden; the choice is yours. With a 10 min drive from the airport and a 30-minute drive from the bus, you can reach the place with ease.
Media Luna Hostel (Affordable)
Book on Hostelworld Book on Booking.com from $12 / 4-dorm 4.0/5 Map
**Prices are shown for weekdays in Mid-season (August)
The clean rooms, crisp linens, and extra-comfortable mattresses will make you're staying in Media Luna Hostel an amazing experience. It's a boutique hostel that will give you a grand colonial feel and will make you feel tempted. If you are a party animal, look no further, than the Getsemani.
There are a big country yard, pool table, and roof terrace with a picturesque panoramic view. The hostel also offers a shared kitchen and a BBQ, which means delicious cook meals at any time.
For kids, there's a seating area with a TV and a separate game area as well. Want to take a trip to the city? Ask the front desk to arrange rental bicycles. You can also enjoy boat rides at nearby beaches. Just have the best inflatable kayak and get ser surfing.
Just a 15-20 minute drive from the International Airport and you will be at this hostel.
Tree House Hostel
Book on Hostelworld from $60 / 4-bed private room 3.9/5 Map
**Prices are shown for weekdays in Mid-season (August)
If you are a coffee lover and want free coffee all day, get yourself to this place. They have a palatable breakfast for you as well. It's a simple place that offers everything a traveler would need.
It's budget-friendly with features like private rooms, an onsite café, private dorms, and a bonus: a late checkout too! The super-friendly vibes and comfort will make you feel at home.
---
Cartagena is a fantastic place to stay in. With the rich history, boasting colorful buildings, and a host of amazing things to see and do, the city will take you on a magical trip to Colombia.
We put together also post on the best time to visit Colombia! You definitely wanna check it out 😉
While you will get some options to explore the city, if you are looking for a comfortable stay, look no further than the hostels. Some of the hostels mentioned above will make the search for your stay easy; you can also look for other places as per your staying needs and location.
FAQs about hostels in Cartagena, Columbia
What's the best hostel for solo travelers in Cartagena?
If you're traveling on your own, Selina Cartagena is the right option for you. It offers two rooftop swimming pools, daily yoga classes, games, and other activities. You can also meet other guests at their on-site restaurant and bar. For digital nomads, there are multiple communal areas with comfy tables and a Wi-Fi connection.
What's the best party hostel in Cartagena?
El Viajero is a renowned hostel in Cartagena not only for its unique architecture and design, outstanding facilities, and friendly staff but also for its crazy parties. During the day, you can relax in the living or stroll the streets and beaches of Cartagena. In the evening, have a drink at the hostel's bar, engage in salsa lessons, or listen to live music. Then, set off to discover the city's nightlife. El Viajero is right around the corner.
How much are hostels in Cartagena?
Hostels in Cartagena are pretty affordable. A night in a dorm will usually not cost you more than USD$ 16, while private rooms in hostels range from USD$ 20 to USD$ 50 per night.
Are hostels in Cartagena safe?
Cartagena is, in fact, one of the safest areas in Colombia. Its hostels are very safe alike. Most of them are centrally located and feature a 24-hour front desk or security and safety boxes. If you take the usual precautions, you will most likely have a trouble-free time.
Check out some cheap hotel alternatives on Tripadvisor!
---
Author Bio: Dung has spent most of his life outdoors. He has worked as a backcountry backpacking guide for at-risk youth and a river guide. He enjoys reading, needlework, hiking, biking, skiing, snowshoeing, and almost anything in outdoors, except camping.