Traveling is like meditation for backpackers. Every destination is a journey to learn, share, and explore. Hostels are the temporary home to backpackers. An experienced traveler will always choose hostels over hotels. The hostel gives you a real insight of city culture and people, it gives amazing opportunity to meet strangers and turning them to friends. Besides its economic and easy to settle in.
Check out: Best Hostels in Arequipa!
Cusco is a historic capital of the Inca Empire. Also, it is listed in the world heritage site by USECO. It attracts millions of the visitors every year, therefore, it has more than 100 hostels in the city to host the visiting travelers. Making a right choice of the hostel is important to make your travel experience memorable.
Here are: the BEST 8 Hostels in Cusco for backpackers
Kokopelli Hostel Cusco
Kokopelli is for music and art lovers. They host amazing bands and DJ parties in the city. A perfect combination of modern-day amenities and 200 years old heritage. The energy and positive vibes at Kokopelli are virtuous. The unique characteristic of Kokopelli is its artistic painting on every wall of the hostel. The colorful surrounding refresh the environs and shares a cheerful aura with the guests.
Staff members are passionate about hospitality. Clean rooms and dorms with bathrooms, Indoor games, garden party, Free breakfast, and tea are the services for it guests. Kokopelli is definitely a wiser choice of Hostel for backpackers traveling to Cusco.
Hospedaje Turistico Recoleta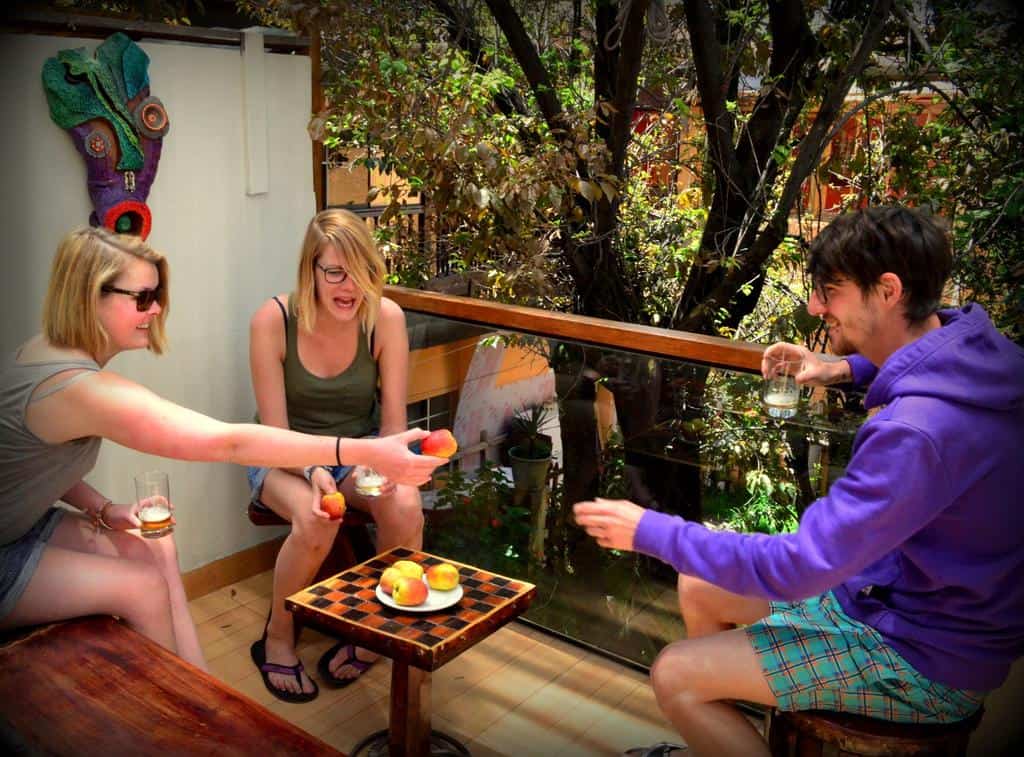 Hospedaje Turistico Recoleta is a nice warm hostel with a perfect location. This hostel is best for the backpackers who are solo and willing to make friends. It is a small and friendly place. Hence it guarantees you a home-like stay. The famous Cuzco's main square is at the walking distance from Recoleta.
It offers its guest a perfect indoor and outdoor venue to socialize. There are 36 beds in this hostels, Owner considers its every guest as a family member ensuring a great experience. Recoleta offers airport pick up, book exchange, games, motorcycle hire, Spanish classes, etc. Recoleta does everything in its power to give their guest a memorable and cherishing Cusco experience.
Wild Rover Backpackers Hostel (Best Party Hostel)
Wild Rover is the best place for the Nature protagonist Traveller. Backpacker often travels places just to enjoy nature's marvels. If you are visiting Cusco to witness it inheritance and nature, Wild Rover is the place to stay.
Wild Rover offers a private room for solo travelers and dorms for groups at an affordable price. All its rooms have a breathtaking view of the Andean landscape.
The wild rover is specially designed to give its guests the best possible stay. Award-winning Irish bar voted "Best Bar" and "Best Sky View Bar " in Cusco where you can enjoy open sky view & drinks at a great price, free tea & coffee all day. Bar is also soundproof to ensure that the sound of the bar music does not disturb other guests at the Hostel. A comfortable stay is assured with wild Rover Backpacker Hostel.
Pariwana Hostel Cusco
Pariwana Hostel Cusco is one of the best hostels to stay in Cusco. Pariwana has a great location which makes it easy for travelers to explore the Peru Culture. The positive vibes and clean hostel rooms add great comfort to guests. Staff at Pariwana is friendly and are very dedicated to their job. Pariwana has won many awards for its wonderful Hostel and Staff.
Choose any of the rooms at Pariwana, you will be satisfied with cleanliness and service. Breakfast is on the house at Pariwana along with the tea/coffee all day long. It has an amazing bar for booze lovers. It also has an open area to party and have BBQ nights. Book exchange, Happy hours and party every weekend are few initiatives to encourage friendliness among the guests. Pariwana is a highly recommended hostel in Cusco.
Intro Hostels Cusco
The intro is the best place to start your Cusco adventure trip. The intro is a 300 years old mansion turned into a hostel. The location is in the center of the city. Amazing pizza places and cafes in the neighborhood. The intro is truly an introduction of a historic city of Cusco, Peru. An amazing ambiance to socializing and chill out.
Rooms and dorms are hygienic and pour out fresh vibes all around. Breakfast and Hot Coco are served for free. Special attention is given to it's guest' sleep by closing the bar at 11. Staff at Intro are happy to assist its guest and take an extra mile to make them feel comfortable. Intro Hostel is a wonderful hostel, to begin with.
Pisko & Soul
Pisko & Soul is the most gracious Hostel in Cusco. Pisko has its own charm which pulls in backpacker to this hostel. It claims that it treats it guest as friends and not as a guest which creates a bond of trust and care between them. Pisko & Soul have Spacious dorms and private room to offer its traveler friends.
Located in the Bohemian area of the city gives a great insight into the city's culture and traditions. Breakfast is offered for free. The staff at Pisko & Soul take their job very seriously and believes in giving their best. If you are looking for a place to enjoy and relax, Pisko & Soul is a must-visit the hostel at an affordable price.
Ecopackers
CLOSED
Eco packer is the coolest among all the hostels in Cusco. It is an Eco-friendly hostel with beautiful gardenia and lobby. Eco packer hostel is built in a vintage big House from the era of Spanish rules. It is said to be the oldest house among all in the city of Cusco. It is certainly great for solo Backpackers, who might get an amazing company of frequent foreign travelers. The dorms and rooms are tidy and spacious.
It has got an outdoor terrace with an open sky view and accessible throughout the night. Eco packers have got a friendly and peaceful environment to amend it guests staying experience in Cusco city.
Milhouse Hostel Cusco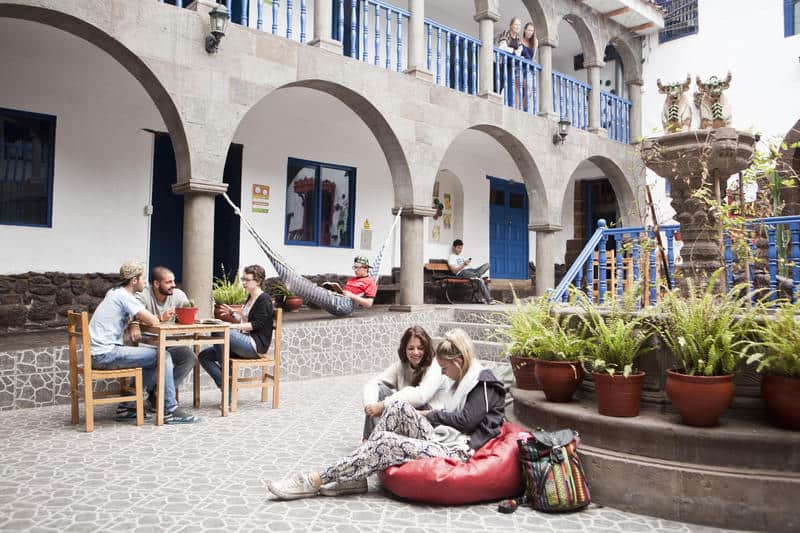 CLOSED
Milhouse is a beautiful Hostel located near the famous Plaza de Armas. This hostel is quiet and a great spot to stay after your Machu Pichu Hiking. It has a clean and well-maintained dorm and rooms which enhances the comfort at Milhouse. The staff members are friendly and helpful. Special events, BBQ and mud oven Pizzas gives you a warm and relaxing experience during stay at Milhouse Hostel.
Milhouse Hostel Cusco provides serenity to its guests. Also, an opportunity to know the fellow travelers and befriend them. It has well-furnished rooms with private bathrooms and bunk beds, 2 spacious courtyards, a games room, an inner patio, and a bar for entertaining its guests.
FAQs about hostels in Cusco
What's the best hostel for solo travelers in Cusco?
Traveling on your own? Then, Intro Hostels Cusco is the spot for you. It features a perfect ambiance for relaxation and socializing. Thanks to its central location, you can also meet fellow travelers when you go out.
How much is a hostel in Cusco?
Cusco is generally an affordable destination. A bed in a dorm in Cusco usually costs around USD$ 10, while private rooms can cost anything between USD$ 20 and USD$ 50.
Are hostels in Cusco safe?
Cusco is one of the safest Latin American cities, and so are its hostels. However, it is recommended to take regular safety precautions, such as not walking alone at night and being aware of petty crime in the tourist areas.
---
Above are the best Hostels among all the available options in Cusco City. The above list is prepared based on the authentic reviews and ratings given by the backpackers.
These are the best hostels in terms of price, comfort, cleanliness, and amenities.