Hawaii is one of the top choices when it comes to spending your summer vacation. With Hawaii's pristine environment, salty sea air, and year-round sunny weather, it is genuinely something that backpackers would want to visit, especially since summer is near.
It's possible to spend a week, or more, exploring the many trails on the scenic islands. While there are plenty of options for a brief adventure to a specific destination, Hawaii has diverse geography with level and steep terrain, so choose hiking gear accordingly.
In preparation for your Hawaiian trip, it is essential that you have prior research for your destination. Talk with locals about the best areas to hike. Study trail maps, and other topography diagrams of the island which you planning to visit. Have an idea of what the terrain will be like before embarking on the journey. As for your transportation, some visitors to the big island of Hawaii opt to rent a car from one of the region's car rental companies. Hawaii's free Hele-On bus system can also be an economical way to get around the big island of Hawaii. Another tip when riding buses is, always carry exact fare when boarding the bus, as the driver doesn't give change.
One of the most important things that you should have prior research is with the accommodation that you will have when you stay in Hawaii.
Traveling in Hawaii on a budget is not as easy as you would maybe imagine. Especially, accommodation can get very pricey. Therefore we prepared and reviewed some of the best budget options!
Best Hostels in Hawaii for Backpackers
There are several backpacking hostels on the island of Hawaii; you can try and have a quick look on hostelworld.com, or booking.com for possible places that you could stay when you travel to Hawaii. To give you further details and insights about the different hostels in Hawaii, here are some suggestions for you.
---
JUMP LINKS:
---
Oahu
Oahu is primarily defined by the state capital of Honolulu, as well as Pearl Harbor and the famous Waikiki beach. These areas attract tourists by the thousands daily. Oahu boasts of a fantastic climate, inexpensive accommodations, a large variety of shopping options, amazing hikes, and world-renowned beaches – it's fair to say the island entices visitors from around the world.
Price starts at $52 for an 6-bed dorm in mid-season (July)
This fully-renovated hostel is located near the center of Oahu, twenty minutes from the airport and steps away from Waikiki Beach.
Accommodations include private rooms, dormitory-style rooms, a shared kitchen, and a common area. The private rooms have twin beds, while the dormitory rooms have standard bunk beds. Staying at The Beach Waikiki comes with some free perks, such as continental breakfast, complimentary Wi-Fi, and concierge service.
The rooftop bar and lounge hold a pizza social on Thursday nights, where guests can mingle over dinner and a drink. Guests can also rent recreational equipment like stand-up paddleboards, snorkel gear, and surfboards from the on-site activity center, or receive a discount from the scooter rental store across the street. Visitors new to Oahu can acquaint themselves with the island through the daily excursions offered by the hostel.
The vibe here is fun and lively with many chances for guests to socialize with each other. The hostel's proximity to the beach makes it the perfect spot for adventure-seekers, while its schedule of social events makes it a great place to meet new and interesting people.
Prices start from $40 for a 10-bed mix dorm in mid-season (May)
Located in Honolulu and just steps away from Waikiki Beach, Polynesian Hostel Beach Club is a hostel that caters exclusively to students and travelers.
Yes, that's right – you must present proof of ongoing travel or a student ID during check-in. In exchange, you will get the perks of staying in one of the most affordable hostels in Oahu with like-minded guests.
It offers shared dorms, each of which has its own bathroom, private rooms, and studios. There is also a large communal kitchen and outdoor seating area.
The beach is just one block away, and you can borrow various beach equipment in the hostel, such as surfboards and scuba gear. What's more, there are several convenience stores within walking distance.
If you decide to explore other parts of Honolulu, the electric scooter parking spot is just outside the building, and so is a bus stop.
Prices start from $46 for a 6-bed mix dorm in mid-season (July)
This family-owned hostel prides itself on its warm, homey atmosphere and affordable rates. Facilities include mixed or female-only dorms, private lockers (guests must bring their own lock), communal kitchen, and common area.
Guests are provided with linens and one bath towel upon check-in. A continental breakfast of toast, tea, and coffee is available every morning at 8 a.m., with additional breakfast items available for purchase. Budget-minded travelers can also grab a free pasta dinner on Thursday nights. Many guests have praised Seaside Hawaiian's convenient location near the center of town through their reviews. Bars and public transportation are a minute's walk away, while the beach is two blocks' distance from the hostel's front door.
Seaside Hostel provides 24-hour, on-site security and a lockable outer gate, leaving travelers feeling safe and secure during their stay. A beautiful, banyan tree courtyard offers shade during the day and a lively place to socialize at night during the nightly movie screening.
For a very reasonable price, anyone heading to the ocean can rent snorkel gear or boogie boards from the front desk. Seaside Hawaiian offers everything you need except for a bar and a daily schedule of activities, which makes it ideal for anyone looking for a quiet, safe place to stay.
Price starts at USD$ 25 in a 6-bed dorm in mid-season (July)
This property is a 4-minute walk from the beach. This hostel is in Haleiwa, Hawaii and across the street from Three Tables Beach. This hostel features a kitchen area and cable TV.
The Backpackers Vacation Inn and Plantation Village provide free parking. The Backpackers is within a 5-minute walk to Sharks Cove and Waimea Bay. The Pipeline is 1.6 km away. Sunset Beach Park is 4.8 km from the hostel.
Maui
Maui is the second most visited island in Hawaii, with around 2.4 million visitors each year. Tourism greatly affects the nature of Maui and it boasts an extensive assortment of resorts, hotels, condos, and private rentals available across the island.
The eastern portion of Maui has enriched with the lush green paradise that most travelers are amazed with and gives them the pleasure of experiencing nature therapy with their family or friends.
Aloha Surf Hostel (Best Hostel for Surfers in Hawaii)
Price starts at USD$ 57 in a 6-bed dorm in mid-season (July)
Visitors to Maui's North Shore can't go wrong with Aloha Surf Hostel in the walkable town of Paia. Guests can identify the hostel from the colorful surfboards lined up along the fence outside. Inside, the hostel is decorated in an inviting island theme. Rustic, turquoise walls and beachy details serve to remind guests of the Maui's beauty. Aloha Surf Hostel is a smaller property with a maximum capacity of about 40 guests.
Accommodations include three private rooms, one female-only dorm, and one co-ed dorm. Shared spaces include a living room with a T.V., a game room, coin laundry room, communal bathrooms, and a fully-stocked, communal kitchen.
While the gorgeous landscape and stylish, Instagrammable rooms can't be beaten, this hostel's biggest advantage is its catalog of free daily activities. Whale-watching, blowhole tours, snorkeling, and hiking are just some of the excursions offered by Aloha Surf Hostel. These excursions operate on a first-come, first-served basis and are completely free, though tipping the guide is highly encouraged. Other free perks include free parking, Wi-Fi, luggage storage, and pancake breakfast. The property is in the middle of historic Paia, close to Ho'okipa Beach, which boasts some of the world's best surfing.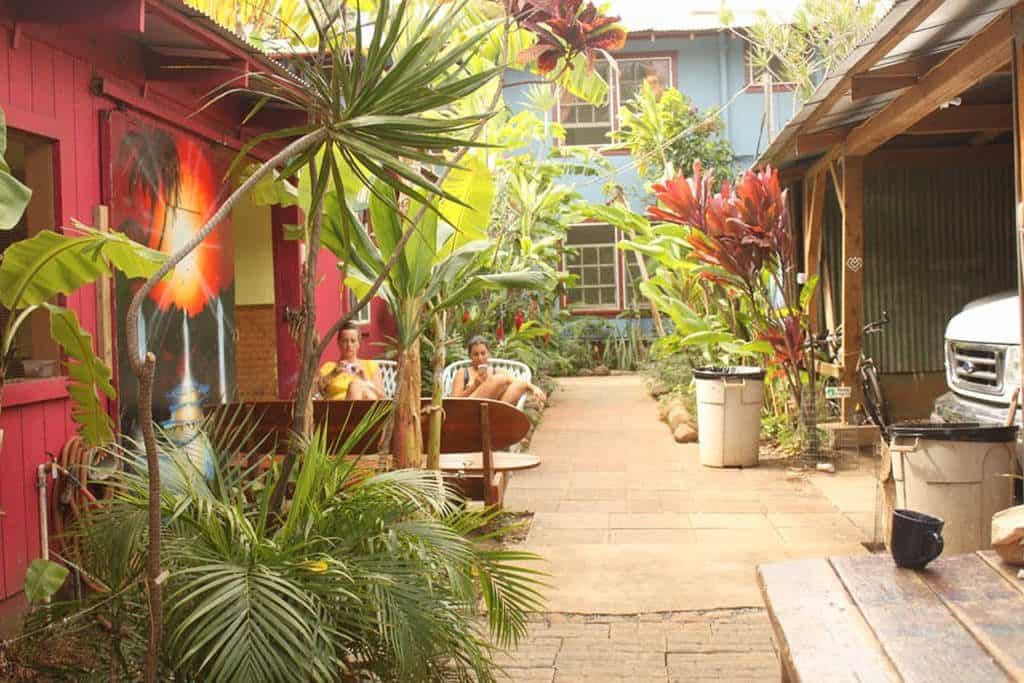 Price starts at USD$ 59 in a 6-bed dorm in mid-season (July)
The Banana Bungalow Maui Hostel is close to all, being centrally located in the historic town of Wailuku in the north, central Maui. It's located about 3 miles from Kahului Airport (Maui's main airport) and Kanaha Beach, 7 miles from Paia and Hookipa, 7 miles from Kihei, and 17 miles from Lahaina. The hostel is a short drive from some of the best windsurfing in the world! So, whether you want to visit Hana and Haleakala, windsurf Hookipa and Sprecks, or enjoy the beaches of Makena and Kaanapali, Banana Bungalow Maui Hostel is the place for you.
Price starts at USD$ 69 in a 6-bed dorm in mid-season (July)
This unique hostel is located at the West of Maui in Lahaina. It has shared accommodations with air conditioner, guests can also access free Wi-Fi during their stay, and the hostel also allows guests to use boogie boards, and access to beach chairs and snorkeling equipment. Besides these, there is also a separate activity desk available to help guests to learn more information about the different local events in Maui.
Check TIKI BEACH HOSTEL on INSTAGRAM.
Kauai
Kauai is the fourth most visited island in Hawaii with over 1.3 million visitors annually. The island is easily identified by its amazing scenery and relaxed persona. The dramatic cliffs and pinnacles of its Na Pali Coast have served as a backdrop for major Hollywood films, while 10-mile-long Waimea Canyon and the Nounou Trails traversing the Sleeping Giant mountain ridge are hiking destinations.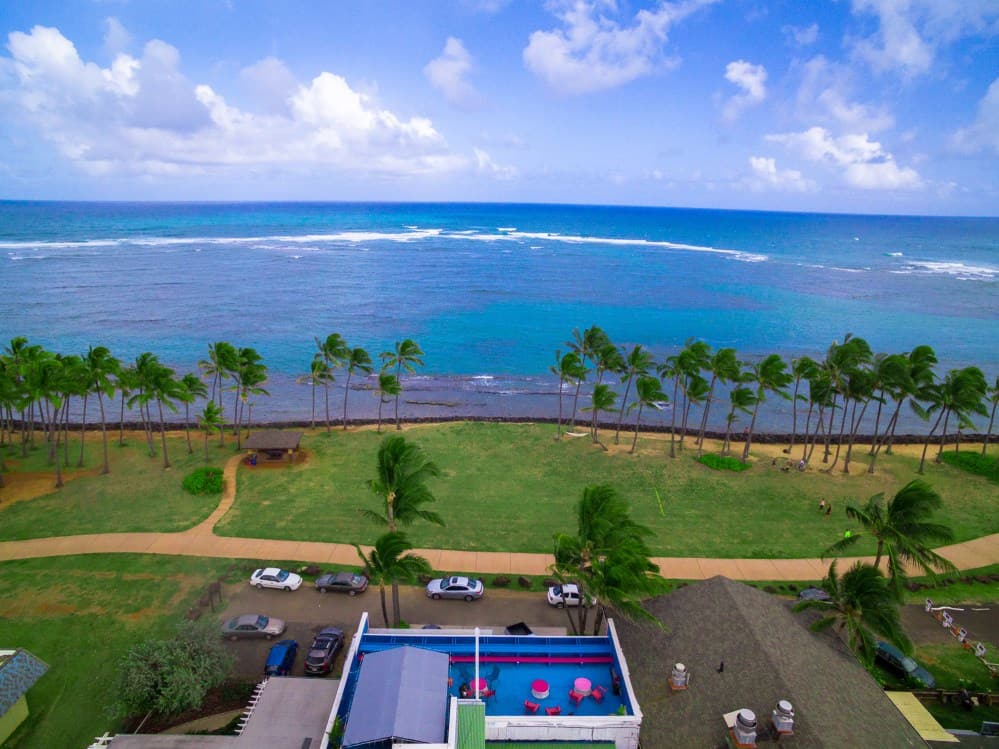 Price starts at USD$ 50 in a dorm in mid-season (July)
This hostel in Kauai is located on the Blue Lagoon of the island. The hostel also offers an overlooking view of the Blue Lagoon, mountain, volcano, and the ocean. Guests can also try different active activities within the island. Facilities include an open-air, covered full kitchen with barbecue grills and a picnic table, and parking is complimentary for every guest.
Hawai'i the Big Island
The island of Hawaii is the third most popular choice amongst visitors, with over 1.6 million travelers annually. Most of the Big Island's visitors stay in the Kailua-Kona area with for fantastic weather, abundant shopping areas, and a vast array of dining options. It also hosts a wide assortment of accommodations, from high-end resorts to condominiums. The ocean off the Kona coast is clear and great for both snorkeling and diving. To the north of Kona is the "Gold Coast" of Kohala
Price starts at USD$ 37 for a single hammock cabana in mid-season (July)
Set on the south end of Hamakua Coast, Hamakua House is a rustic, off-the-grid property with ocean views offering various types of accommodation.
You can stay in private rooms, outdoor camping cabanas, private cabins, or an outdoor hostel-style dorm. In the main house, there is a shared kitchen and a common area. There are also shared bathrooms that use water collected from the rain. The electric power is ecologically sourced as well from solar panels.
Hamakua House itself is rather quiet. However, the main area attractions are easily accessible. The renowned Akaka Falls State Park is a 12-minute drive away, and so are the Hawaii Tropical Botanical Gardens and the Onomea hiking trails. Restaurants, supermarkets, and shopping can be found in Downtown Hilo, which is also only around 20 minutes of drive away.
Price starts at USD$ 50 for 6-bed dorm in mid-season (July)
Located on the west side of the "big island" of Hawaii, Big Island Hostel is a contemporary, urban property in downtown Hilo. Guests have a choice between private, semi-private, female-only, or co-ed rooms. Some details of interest include memory foam mattresses and pillows on all beds, a small library, and a special closet for international clothing exchanges.
Travelers considering a stay at Big Island Hostel should note that it is a city hostel. The beach is not in walking distance. On the plus side, there are a lot of things to do in the town of Hilo. Restaurants, shops, and bars populate the surrounding area, so being bored is simply not possible. This hostel is stylishly minimalistic, with tidy furnishings and brightly-colored walls.
Reviewers who have stayed here loved the immaculate conditions of their rooms. Achieving this level of cleanliness requires guests to vacate their rooms for 2 hours daily so the staff can clean thoroughly. With so much to do in downtown Hilo, this is only mildly convenient but still something to keep in mind. Free parking, free Wi-Fi, free towels and linens, and 24-hour security are included with the very affordable price of a room.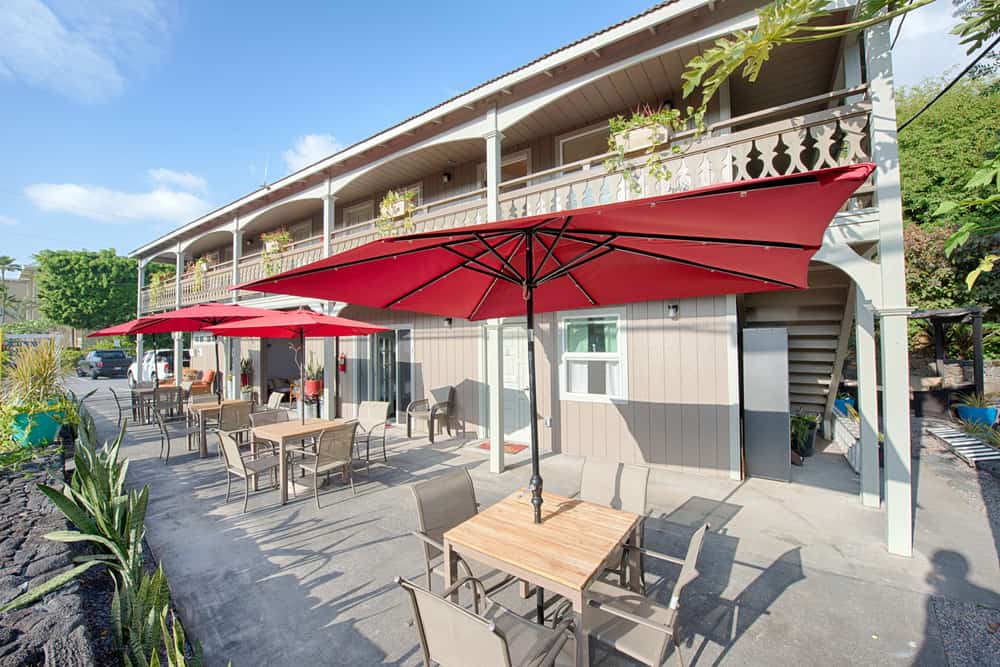 Price starts at USD$ 40 in an 8-bed dorm in mid-season (July)
The Hostel offers an indoor/outdoor lounge area is carefully designed to cater to travelers looking for an interactive and socially driven lodging experience.
The fully equipped self-service kitchen and BBQ area allow guests to prepare their meals and snacks. My Hawaii Hostel also has a commercial fridge that provides plenty of space for everyone, and top-notch appliances make food preparation a breeze. If you are traveling by bike, bike box, surfboard or other large luggage the hostel has plenty of secure storage.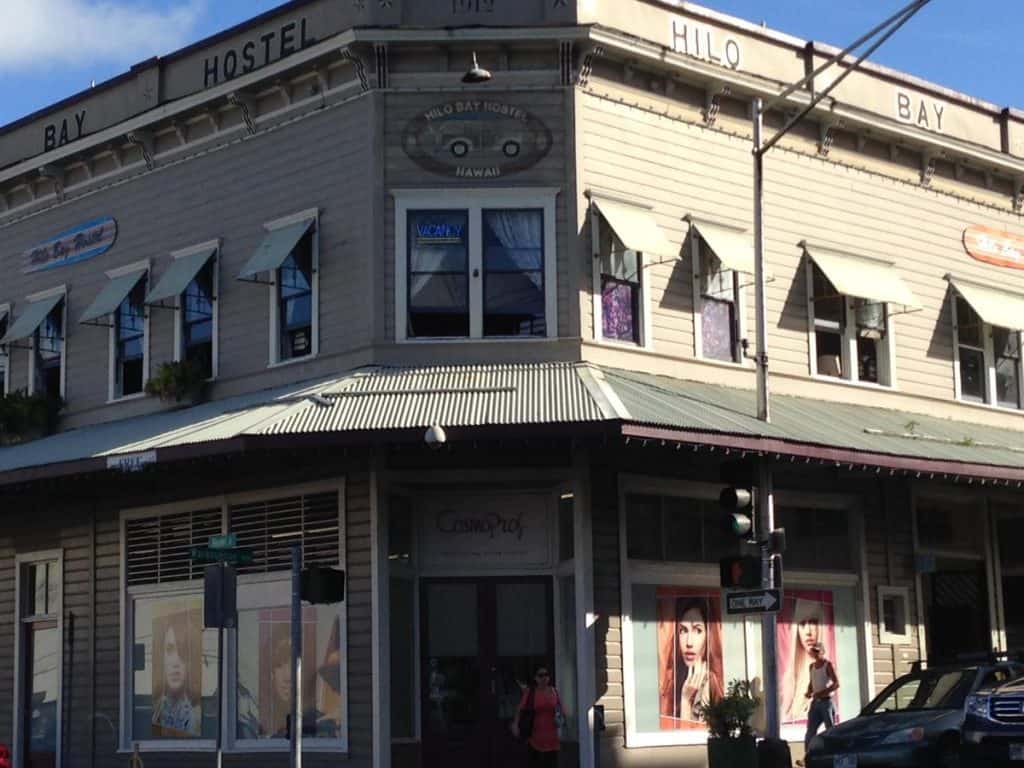 Price starts at USD$ 35 in an 8-bed dorm in mid-season (July)
Showcasing a terrace and views of the sea, Hilo Bay Hostel is in Hilo in the region of Hawaii Island, just 37 km from Volcano.
The rooms featured a sitting area for the convenience of every guest and fitted with a shared bathroom. If guests want to cook their meal, there is a stocked kitchen on the property.
---
Hostelling International Honolulu
Permanently closed
Located a 9-minute drive from Kahanamoku Beach, this Honolulu hostel features beds in all-male or all-female dormitories. Each all-male or female dormitory room provides a shared full kitchen, a TV, and a lounge at HI – Honolulu University Hostel. Towels and linens provided at check-in.
Lockers provided, and guests are encouraged to bring their padlock. Honolulu International Airport is a 15-minute drive away. Ala Moana Beach Park is an 8-minute drive from HI – Honolulu University Hostel.
Hostelling International Waikiki (2 blocks from the beach)
Permanently closed
You know what they say, same same but different! This is the same hostel but located only 2 blocks away from the beach. It's an ideal solution for backpackers/surfers who would like to experience Hawaii in the best way!
Honu'ea International Hostel Kauai
TEMPORARILY CLOSED
This hotel from Kauai is family operated and is in the heart of Kapa'a Town. It hostels also includes two dorm rooms, four private bedrooms, and two deluxe rooms. Guests also have the luxury of free Wi-Fi access, free parking, and can also experience an accurate service from the multilingual staff.
---
FAQs about hostels in Hawaii
What are the best hostels in Hawaii for solo travelers?
The Beach Waikiki Boutique Hostel is a great spot for solo travelers. It has a rooftop bar and lounge that host pizza social nights where you can meet fellow guests. My Hawaii Hostel is also a good option for those who wish to socialize. It is renowned for its interactive and friendly atmosphere and numerous common areas for guests to mingle.
How much is a hostel in Hawaii?
The prices highly depend on the location of the hostel. While Maui is generally more expensive, Oahu is the most budget island in Hawaii. However, on average, a night in a hostel will cost you USD$ 38. On the other hand, a private room in a hostel is usually around USD$ 120.
What's the cheapest hostel in Hawaii?
Seaside Hawaiian Waikiki Hostel is one of the cheapest hostels in Hawaii. A night there can cost you USD$ 17. That is around USD$ 20 below average!
Are hostels in Hawaii safe?
Even though Hawaii is a popular tourist destination, hostels there are generally safe. Nevertheless, you might become a victim of a theft incident, especially around busy areas in the city or at the beach. We recommend you keep all your valuables in a locker or any other safety box at the hostel and take precautions.
Backpackers will surely have the leisure and experience the different beautiful beaches, fantastic jungles, giant waterfalls, excellent diving, and world-class waves that the different islands of Hawaii can bring. So, book now your trip to Hawaii and explore the beauty that nature brings during your stay in these different hostels in Hawaii.
---
Author BIO: Eddie Keliinohomoku is the Director of sales and marketing and co-founder of Go Hawaii Tours and Aloha Trikke, With Direct Ties to the Hawaiian islands, Eddie's passion is sharing the islands and spirit of aloha with the world. "E Komo Mai"