Hostels are great places to stay, but the number of choices available can easily overwhelm you. Choosing the right accommodations is an important decision that will influence the overall quality of your trip.
Our guide to the six best hostels in Hiroshima will give you pricing, location, and user review information that makes decision-making easier.
Japan is, beyond a doubt, one of the top locations to visit in Asia. The many reasons that tourists, including backpackers, flock to this country every year include a welcoming atmosphere, stunningly beautiful parks, exceptional dining experiences, and a rich culture. No matter which of these aspects interests you the most, you are sure to be satisfied with your stay in this historic city.
Heading to capital? Check out also: Best Hostels in TOKYO
Hiroshima has an interesting history that has shown its resilience after the World War II nuclear bombing, with a beautiful local landscape that is a great attraction all on its own. Regardless of whether Peace Memorial Park or the Great Torii Gate and Mount Misen top your list of things to see, you'll want to check out our reviews of the top hostels in Hiroshima to find the perfect property during your stay.
Santiago Guesthouse Hiroshima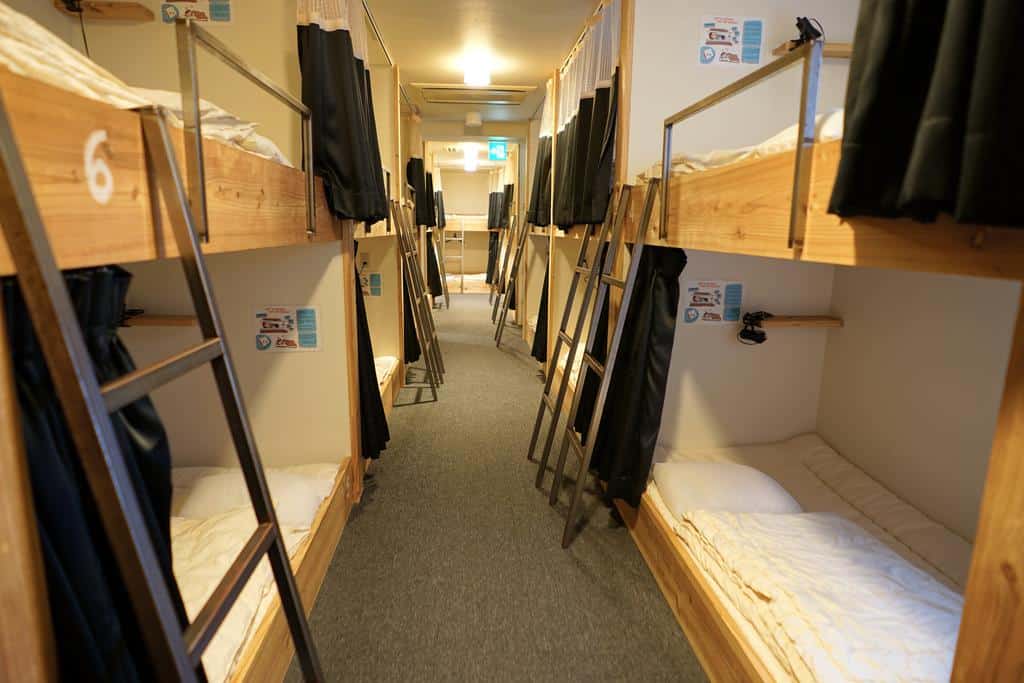 Book on Hostelworld Book on Booking.com
Highlights of the hostel:
Common area has an included kitchen that is fully equipped for all meals

Spacious rooms, even in the dorm areas for maximum privacy while resting

Private nook with reading light and curtain with all dorm beds
If you're in search of accommodations perfect for both backpackers and business travelers with a great contemporary setting, you've come to the right place at Santiago Guesthouse Hiroshima.
Guests find the staff very welcoming, enjoy being within walking distance of many attractions in the city's downtown area, and having an inviting common space, along with a rooftop terrace. One of the most significant overall attractions for this hostel is how inviting the whole atmosphere is, encouraging interaction with your fellow guests.
Check out also: Best Hostels in KYOTO
J-Hoppers Hiroshima Guesthouse
Book on Hostelworld Book on Booking.com
Highlights of the hostel:
A common PC to use, along with Wi-Fi throughout the building

Bike and motorcycle-specific parking area next to the hostel

Vending machine for inexpensive beer
J-Hoppers Hiroshima Guesthouse is a convenient 12-minute walk from the city center. All the favorite local attractions, as well as shopping and dining, are easily accessible from here. The amenities include all the top choices for travelers to make their stay as comfortable as possible.
Some of the features you'll most look forward to include bike rentals, tram and ferry passes, wireless Internet, a TV lounge, and a rooftop terrace. Dorm rooms with bunks, as well as private rooms that feature tatami mats and traditional futons, are available for $18-$22.
Users enjoy the friendly staff, location close to everything, comfortable bedding, and the accessible common area that makes a pleasing experience overall. There have been many positive comments about.
K's House Hiroshima
Book on Hostelworld Book on Booking.com
Highlights of the hostel:
Games, books, and DVDs available to borrow

Rooftop terrace with beautiful scenic views

Large common area ideal for guest mingling
K's House is near Peace Memorial Park and Miyajima, as well as offering an easy walk to the downtown area with its many restaurants and bars. If that sounds just right for you, you'll want to give this hostel a try. K's House has a variety of cozy room types, ranging from dormitories to private Japanese-style rooms with shared baths, to private ensuite rooms.
Guests enjoy the opportunities for interaction with each other and the lack of a curfew. The staff is knowledgeable and friendly, ready to help with all your arrangements. This level of service is one of the things that appeals most to visitors, along with the location and the cleanliness. Prices range from $16-$23.
Guesthouse Hiroshima Mange Tak
Book on Hostelworld Book on Booking.com
Highlights of the hostel:
Modern, Scandinavian design with Danish influences in all rooms

On-site cafe and bar, as well as coffe and tea-making supplies

Laundry room with high-efficiency machines for faster washing
Guests who stay at this hostel find that they're in a welcoming, friendly environment that attracts visitors from every corner of the world. The Peace Memorial Park and Museum are nearby, and you'll also find several restaurants and bars within a few minutes' walk from the hostel. Guests have found the staff very helpful in giving recommendations for nearby restaurants and bars.
Free Internet helps you stay in touch with everyone at home, and an inviting common area encourages you to mingle with your fellow guests. According to some guests, the beds were so comfortable that they overslept. Prices average about $22 to $23 per night.
Hiroshima Hana Hostel
Book on Hostelworld Book on Booking.com
Highlights of the hostel:
Bike and motorcycle-specific parking lot for easier access

Most private rooms are Japanese-style, with traditional decor and tatami mats

Bicycles available for hire, as this is a perfect way to see the city
If you're looking for something close to all area attractions, yet quiet, this hostel in a residential area will fit the bill. The Mazda Zoom-zoom stadium is a short walk from the hostel, and you can get to the city center with all its various attractions in about 18 minutes by streetcar.
Shared facilities include a rooftop terrace, a full kitchen area, and an assortment of games. Accommodations include private bedrooms, including ensuites, as well as dorm-style rooms with bunk beds and Western decor. Guests enjoy access to a shared kitchen area that has everything you need, as well as a short walk to the train station.
Hostel & Cafe Bar Backpackers Miyajima
Book on Hostelworld Book on Booking.com
Highlights of the hostel:
Accessible to Miyajima, an island with UNESCO World Heritage site status

Full, contemporary-style bar in the cafe with a full beverage selection

Game area with pool table in the common room
This hostel sits near an island that also hosts a shrine worth seeing. A nearby ferry terminal puts Miyajima within easy reach. If you enjoy watching sunsets or the tides, you have a perfect vantage point from this hostel. The common area is available for guests 24 hours a day, as well as the laundry room and showers. Bedrooms feature Japanese-style furnishings.
Guests who stay at this hostel have access to an on-site cafe and bar that serves food and drinks at reasonable prices. Each bunk has a reading light and curtain for greater privacy. The costs per person average around $24 a night. Guests have been impressed with how friendly the staff is and enjoyed chatting with them, as well as the guests who come from all over the world.
Hiroshima is about so much more than its World War II history, and these hostels make it easier for you to get out and enjoy the many things that make the city worth visiting. Hiroshima has its own castle, which has a park and a surrounding moat that help add to the castle's appeal. Also of note is a traditional Japanese garden called Shukkei-en, with a formal appeal.
You'll want to visit the Hiroshima Museum of Art. Japanese artists like Asai and Fujishima are represented here. You'll also be able to see works from European masters like Van Gogh and Monet. Ikuchijima Island is home to the Kosan-Ji Temple, which is known for the historic building reproductions that it hosts. No matter which attractions capture your interest the most, you'll be in for a pleasant stay when you take advantage of one of the hostels in Hiroshima.