Ibiza came into the international spotlight recently through a hit pop song ("I took a pill in Ibiza" sound familiar?) but this sunny, Spanish island is more than just party central station.
Pine forests and rolling hills partner with deserted beaches to create a paradise that you'll want to enjoy all day long. Making the best of Ibiza means waking up early enough to catch the sunset, going for a jog along the pristine beaches until you find the best (read: the least populated) beach, spending the morning hiking through mystical forests, and the afternoon floating over coral reefs.
Then, if you still have the energy for it, the parties may begin. Otherwise, tuck in for a deep nights rest before starting all over again the next day. In Ibiza, partying can be the main attraction, but absorbing every part of the natural landscape can be too (or, perhaps, a mix of both).
Whatever your vacation style, Ibiza is the setting for an unforgettable trip and stop by if you're traveling to Spain. Tickets to Ibiza are quite affordable from various destinations in Europe.
In order to best enjoy your time in Ibiza, however, you will need to find the best value accommodation. To make your search easier, find a list of the top six hostels in Ibiza below.
Amistat Island Hostel
Book on Hostelworld Book on Booking.com from $17 / 10-dorm 4.4/5 Map
**prices are shown for weekdays in Mid-season (May)
A party hostel located a bit off the beaten path, Amistat hostel has all the amenities you would expect of a hostel at the quality level you would expect from a hotel.
Officially in Sant Antoni de Portmany, not Ibiza town, the hostel is a close walk to Caló des Moro beach, Café del Mar, and entertainment venues Golden Buddha, Kasbah and Ibiza Rocks.
Hostel Highlights include a big outdoor pool surrounded by a large sunny terrace, littered with a variety of seating options for everyone in your group. At night the terrace turns into a club featuring live DJ sets. Also, this hostel has an on-site restaurant and offers dance workshops in its dedicated dancing space.
Giramundo Hostel
Book on Hostelworld Book on Booking.com from $30 / 6-dorm 4.3/5 Map
**prices are shown for weekdays in Mid-season (May)
Built by travelers, for travelers, Giramundo offers free breakfast for every night stayed which can be enjoyed on the great outdoor lounge area. Internal and external walls are painted with custom murals that display the different parts of the world so that travelers can reminisce on the places they have been or dream of places they want to go.
Located near to Playa d'en Bossa and Dalt Vila (historic downtown Ibiza), this hostel is affordable, convenient, and fun. Enjoy a beer at the bar before going out for dinner, or cook dinner in the shared kitchen. For visitors to Ibiza who want a simple and seamless stay on the island, this is your place.
Hostel Highlights include a Mini supermarket and an on-site ATM to provide the most seamless of traveling experiences.
Hostal Ibiza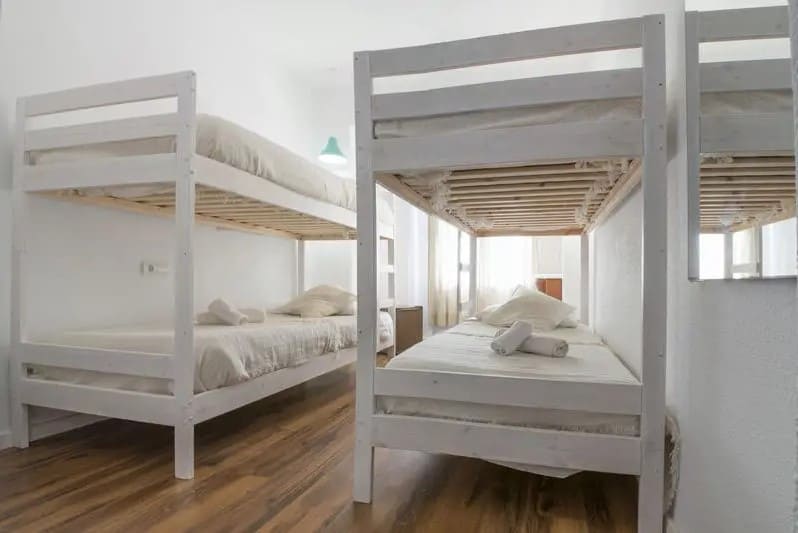 Book on Hostelworld Book on Booking.com from $48 / 1-private 3.7/5 Map
**prices are shown for weekdays in Mid-season (May)
Made for travelers who intend to spend most of their time out of the hostel and into the sights and sounds of the city on their own, Hostal Ibiza is a basic, clean hostel with a third-floor terrace for hanging out. Find comfortable beds, immaculate facilities, spacious rooms, air conditioners, and anything else you need (except a kitchen).
Friendly staff in a hotel-like environment, this hostel will provide the base you need to recharge and reset before and after all the partying and playing you partake in during your stay. Best for those traveling with friends due to the absence of a social calendar.
Hostel Highlight is the central location! Right in the center of town, walking distance to anything and everything you could want or need, this is the best spot for those who really want to soak up the city's energy.
La Bartola Guest House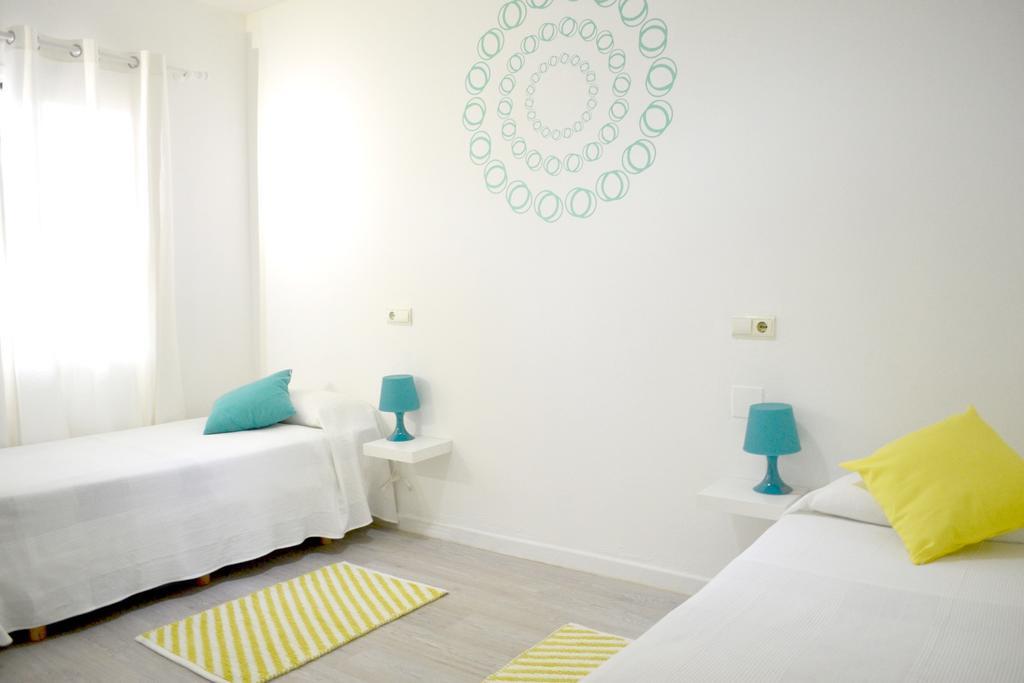 Book on Hostelworld Book on Booking.com from $22/ 6-dorm 3.6/5 Map
**prices are shown for weekdays in Mid-season (May)
Recently renovated to suit the modern travelers minimalistic taste, La Bartola Guest House is for those seeking a no-frills base from which to soak up all of Ibiza. Hotel vibes at hostel prices, this guest house doesn't have much in the way of amenities but it serves up big time on comfort, cleanliness, and cost.
If you are traveling with a group of friends, and you want to be close to the center of everything, this is the place for you. With friendly staff and quiet nights, you are certain to be glad you chose to sleep here.
Hostel Highlight is the central location, La Bartola find yourself only minutes from everything of interest.
The Purple by Ibiza Feeling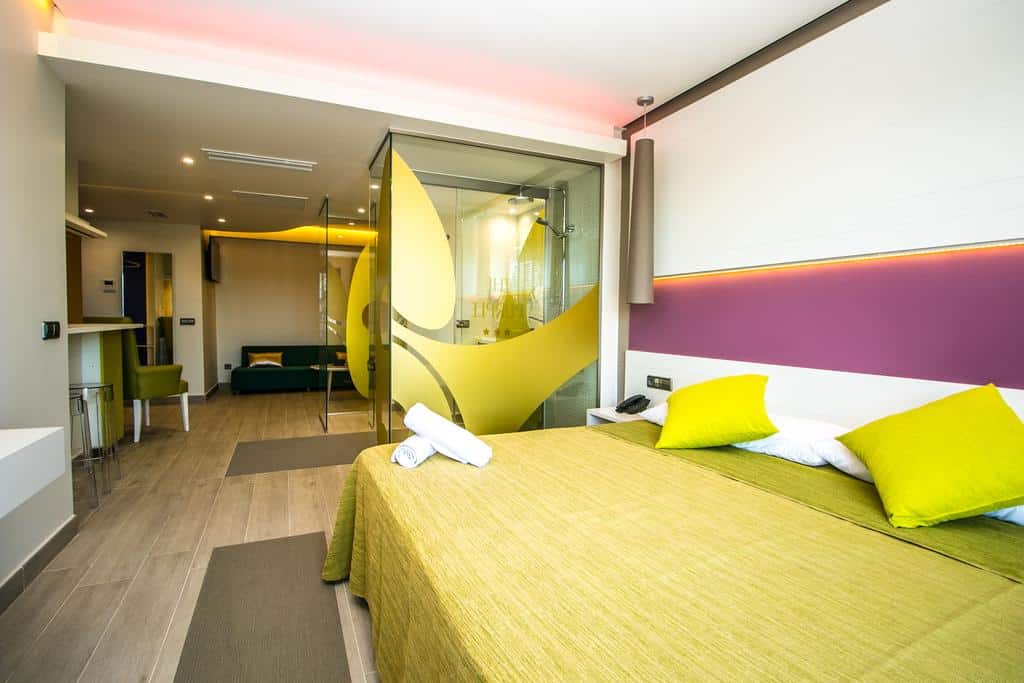 Book on Hostelworld Book on Booking.com from $56 / 2-private 4.7/5 Map
**prices are shown for weekdays in Mid-season (May)
The one and only hostel in San Antonio to cater the LGBTQ community exclusively, The Purple by Ibiza Feeling was recently renovated and now features air conditioning, satellite TVs, and new purple and white furniture and interior.
This is explicitly a social hostel, come to socialize at the bar, in the common areas or on the terrace and enjoy the upbeat, friendly, and welcoming vibe of The Purple.
Hostel Highlights include the hostels excellent location, beyond it's special catering to the LGBTQ community of course. Short distances from some of Ibiza's major attractions including Caló des Moro, Paseo Marítimo, as well as many restaurants and bars.
Ceibo Ibiza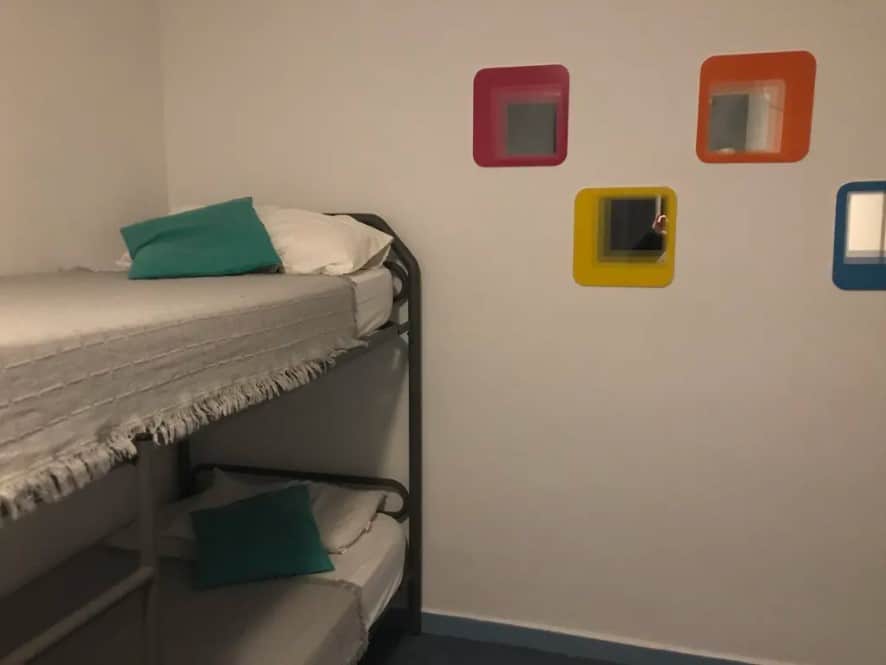 Book on Hostelworld Book on Booking.com from $20 / 5-dorm 3.9/5 Map
**prices are shown for weekdays in Mid-season (May)
Boasting the lowest prices on the island, Ceibo Ibiza is the ideal spot for those who like to keep things simple and sleep soundly at night. Clean facilities, simple rooms, great customer service in an ideal location at great prices, Ceibo Ibiza is the place for those looking to stay somewhere chill. Best for people traveling in groups or with a friend as there isn't much of a social scene or shared common spaces.
Hostel Highlights include the low price! If you are traveling on a tight budget to Ibiza, look no further. Also, the central location is a major plus. Easily walk to the port or the famous restaurants in town and connect to public transit without breaking a sweat.
---
In the end, where to stay is just one of the many decisions you will make during your trip to Ibiza. The variety of hostels goes from party hostels to extreme minimalist hostels that offer only the bare basics.
This list has been compiled to make choosing where to stay much easier so that you can focus on where to play. This is ideal, because the second you land in Ibiza, you will want to spend every minute playing in this Mediterranean paradise island off the coast of Spain. Don't waste another second sifting through websites looking for the best place, and focus on packing your bags.
As for what to do when you get there, that's up to you. Everyone knows that you can party big in Ibiza if you want to, but few know that there is so much more to this island. In fact, it is even a vacation destination for families! Sure, it is true that in Ibiza some bars open in the day and close at midnight, and others open at midnight and close during the day to allow for 24/7 partying if that is your style.
However, it can't be overstated that there is so much more to Ibiza than all night and day partying. Find hiking, swimming, paddle boarding, running and many, many other activities to fill your day that just might leave you too tired to hit up the bars. Beyond those simple pleasures, it should be noted that Ibiza also has important historical sites, an awesome aquarium, and many exciting excursions to choose from. Tour an island or ride a horse along the coast, whichever way you play Ibiza has something for you. First, of course, you need to book a place to stay and to do that all you need is already provided. Ibiza awaits!
Enjoy your stay in Ibiza and your stay in the hostel!