The sunny capital of South Africa doesn't only enjoy a reputation for its sweeping, oceanic vistas and the awe-inspiring mountains that border it: Cape Town is also known as a vibrant, cosmopolitan city with a wonderful array of cafés, bistros, and restaurants for all tastes and budgets along with a rich nightlife.
Cape Town is rapidly becoming one of the best cities to backpack in, offering a vast range of accommodations with quality and character. Whether you've come to swim in the ocean, hike up Table Mountain, or both, you have an impressive selection of hostels in Cape Town to pick from. Here are eight of the best.
Villa Viva (formerly known as The Backpack)
HostelWorld Booking.com G Maps
Another award-winning hostel, Villa Viva lies at the very center of the city. Backpackers have a choice of private rooms or dormitories, all very pleasantly and colorfully furnished. The décor is actually one of the hostel's best assets, from the vibrant wallpapers to the lush carpets. The whole hostel is well-lit, tasteful, and very cozy, giving the traveler a feeling of being at home in a new environment.
Of course, the hostel also benefits from the usual trappings: a swimming pool with a dramatic view of Table Mountain, various games, a bistro/restaurant outside area where guests can sample fresh, home-made food (the free breakfast is known as being almost unbelievably good for a hostel). This may be the place for animal lovers, too: the hostel keeps its own official (and well-behaved) dogs and cats outside. What's more, Villa Viva has long had an interest in Fair Trade and is now a Fair Trade-accredited hostel.
Zebra Crossing
HostelWorld Booking.com G Maps
Founded in 1993, Zebra Crossing is a hostel with a long tradition. It has been featured in various travel books, such as Rough Guide, South African Handbook, and Lonely Planet. It's set at the foot of Table Mountain right next to Villa Viva and is therefore another great option for those who want to stay close to the city center.
You can stay both in private rooms (including single rooms) or dorms, some of which boast very good views of Table Mountain. Facilities include a garden, a patio with BBQ, a small coffee shop serving food and drinks, and a fully equipped kitchen. You can have breakfast on-site and laundry service is also included.
The vibe is rather calm compared to the usual party hostels, so you will always get a good night's rest. The prices are good, too.
never@home
HostelWorld Booking.com G Maps
Another great example of a clean, safe, and accommodating hostel in the very center of town, never@home is located on Green Point, minutes away from the V&A Waterfront, the Green Point Stadium, and a vast array of bars and restaurants. Although 'never at home' is an in-joke at the suggestion that one may want to stay out all day and all night in an exciting city such as Cape Town, the hostel offers all sorts of amenities that make it all too tempting to stay in and enjoy: free Wi-Fi, a swimming pool, a barbecue and a bar with a dedicated team whose role it is to provide entertainment most nights of the week, including beer pong and various other games.
Some rooms have a skylight and are so luminous that they come with their own patio-style furniture and parasol. The hostel also organizes a traditional meal evening each Wednesday, which usually involves an outdoor barbecue. It's also worth noting that they offer female-only accommodation, which comes with its private outside space.
Mojo
HostelWorld Booking.com G Maps
Mojo is outside Cape Town's mountainous semi-circle, and lies some 2.9km from the center. It's still one of the most popular hostels in the city, partly because of its outstanding location in the Beach Point suburb–a mere 50 meters from the beachfront! Mojo's atmosphere is cool, young, hip, with colorful wall paintings and mezzanine-style rooms, wooden interiors, designer-like garden furniture, and a 2000 square meter terrace with a lawn clipped so neatly it's almost futuristic–all this to a jaw-dropping oceanic backdrop.
But Mojo also delivers quality of care, and pays a nice attention to details. They include free Wi-Fi, international plugs (the backpacker's best friends), quality mattresses and bed linen, an abundance of safe and lockers for your personal belongings, and particularly friendly and attentive staff. What's more, their café distinguishes itself through the quality of the coffee they serve along with a selection of food made on the premises. But the main perk may be the proximity to the beach walkway, a 3-kilometer coastal path filled with magical views.
HostelWorld Booking.com G Maps
A regular 1st place winner in national and continental rankings, Atlantic Point Backpackers is a well-located, well-furnished, well-loved place to spend some time in Cape Town. Located very centrally on Green Point, the hostel lies only a short walk away from the sea, the city's main museums, eating and drinking places—and, for sports fans, from the impressive Green Point Stadium. From Privates to Dorms, most of the rooms have a different architecture: and feel to them, which makes a stay at Atlantic Point that bit more unique: some are sunny, ground-level rooms opening onto the garden; others are cozy, upstairs cellar–type spaces with slanted ceilings.
The hostel offers the usual free Wi-Fi and lockers, kitchen facilities, and comfortable showers; but it also provides a game room with a pool and tennis table, board games and cable TV, a BBQ space on the outdoor terrace, and a swimming pool. Those who want to visit the city at an even greater speed can also rent a bicycle from the desk staff, who are always up for giving recommendations on where to go and what to do in Cape Town! Better yet, breakfast comes free with every booking.
Long Street Backpackers Hostel Cape Town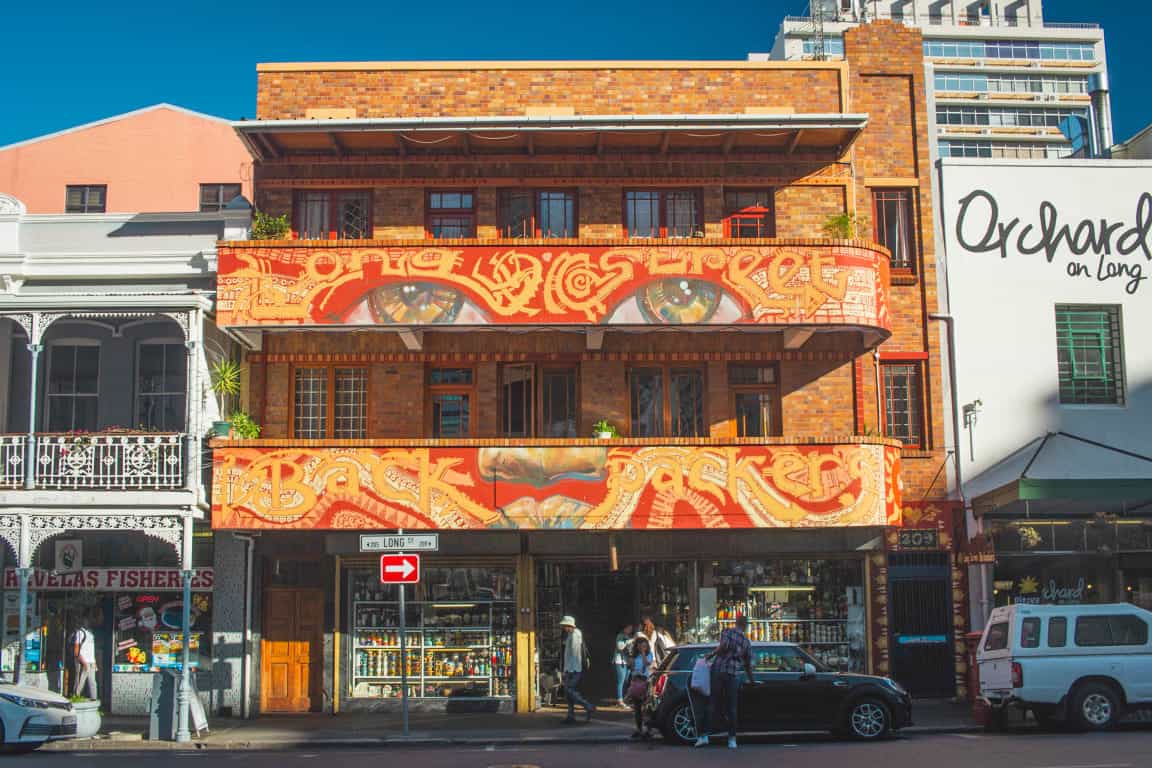 HostelWorld Booking.com G Maps
If you're looking for a party hostel in Cape Town, then the Long Street Backpackers Hostel is for you. This superb hostel is located amidst Long Road, which is home to Cape Town's party scene. On the off chance that you come to Cape Town to party, this inn and its area are an extraordinary spot to remain. Long Road Hikers is about 1.4 to 1.6 km from the long separation transport terminal and the railroad station. There aren't many parking spots outside, which makes it less perfect in the event that you have your own vehicle. Numerous destinations in Cape Town's downtown area are adjacent and taxis are easily accessible on Long Street.
The rooms of this amazing hostel are terrific. It offers two residences and private rooms. All apartments have lofts and vary in size. All rooms are ensuite. Additional washrooms are accessible outside the quarters. The rooms are their main priority and that's why they are kept clean all the time.
In addition, there is a common room outside where you can meet individual explorers and hang out. Numerous visitors typically hang out around there, mostly in the evening. There is additionally a balcony on the opposite side of the building sitting above the hostel. In the kitchen, you can set up your own sustenance, yet there are additionally numerous moderate eateries and takeaways in the lodging's neighborhood. There is likewise a bar at the lodging where you can buy drinks.
The facilities/services of this hostel include: Free city maps, free Wi-Fi, free internet access, towels, linens, BBQ, card phones, fridge, outdoor terrace, self-catering facilities, safe deposit box, hot showers, common room, book exchange, cable tv, cooker, microwave, security lockers, airport transfers, fax service, luggage storage, housekeeping, ATM, bicycle hire, late check-out, tours, bar, tea and coffee making facilities, board games, games room, and pool table.
HostelWorld Booking.com G Maps
Self-titled 'small enough to care', this fantastic hostel is the more intimate size, and feels almost more like a community: the grounds look something like a big holiday home. The location is ideal: right on the Main Road at Green Point. It was also granted four stars by the Tourism Grading Council. But although the guests can end up feeling like a family, the hostel is also equipped with all the necessary amenities for travelers who want to wind down: free Wi-Fi, lockers, a swimming pool and bar as well as a kitchen, where breakfast is served for free. There is a cable TV in the communal room and a barbecue outside.
Coffee enthusiasts: they also offer free quality filter coffee to guests all day! With the help of the very helpful staff, and close to all the action that Cape town has to offer, A Sunflower Stop is an ideal choice for backpackers with itchy feet who want to go to as many places and do as many things as they can every day while providing a background of comfort and care that is indispensable to any great hostel.
HostelWorld Booking.com G Maps
The most recent hostel on this list, 91 Loop offers everything a good modern accommodation for backpackers should provide: the wide, well-lit interior is clean, very neat, and elegant, served by Cape Town's taste for minimalist design. Although 91 Loop offers conventional double beds and bunks as well, some of their unique sleeping spaces consist of extra-long, air-conditioned 'sleeping pods' for those that like to feel like space adventurers in the night-time.
Although it's right by all the main bus stops, it's likely you won't even need them: 91 Loop is also one of the most central hostels in the city. That being said, you can arrange with a member of staff to be picked up from the airport (or driven back there) at your convenience. People working at the hostels are known to be very friendly and helpful, always willing to go out of their way to make the hosts' experience even smoother. And here, too, breakfast is free…
HostelWorld Booking.com G Maps
This hostel is exactly what it says it is: bohemian and lofty. Located in the vibrant Observatory section of Cape Town, the Bohemian Lofts offer an opportunity to stay in one of the most authentic, local parts of town while remaining in close proximity to the center and all the main attractions. One of the smallest, most community-based hostels on this list, it features cozy rooms with wooden floorboards and solid oak furniture; the whole is decorated with colorful taste.
It offers 6-bed dorms as well as private rooms, one of which even features its own balcony and kitchenette amenities. Animal lovers rejoice: it's one of the only hostels in the city that are animal-friendly. If you are after a unique experience staying at a hostel with personality and character in a part of town that feels truly genuine and local, the Bohemian Loft Backpackers may be the place for you!
Ashanti Hostel Gardens Cape Town
HostelWorld Booking.com G Maps
This hostel is a sublime hostel in Cape Town. It is very beautiful and located at the foot of Table Mountain, Ashanti Hostel and Travel Center is your portal to Cape Town. Inside the strolling separation of the downtown area and near Cape Town's brilliant shorelines, this lodging gives voyagers unthinkable and unforgettable views. Furthermore, it gives you an open-air swimming pool and a stylish bar.
It is a 21 rooms hostel with extraordinary rooms. The furniture and the bed in the rooms are of superior quality. The beds will make you fall asleep in no time. The bathrooms are great too. They are kept clean all the time. When you go to take a shower, you're provided with soap and shampoo of excellent quality.
The facilities/services of this brilliant hostel are free Wi-Fi, library, bar, picnic area, BBQ, coffee/tea in common areas, designated smoking areas, tours, cafe, laundry facilities, outdoor tennis court, hairdryer (On request), phone, linens, private bathroom, LCD TV, in-room safe, free toiletries, ceiling fan, towels, daily housekeeping, coffee/tea maker, restaurant, and free breakfast. Please, remember that a delicious buffet breakfast is served each morning from 7:25 AM to 11 AM.
In addition, you get a rooftop terrace, pool table, outdoor pool, pool sun loungers, pool umbrellas, luggage storage, free newspapers in the lobby, ATM, TV in common areas, airport transportation, and airport transportation – drop-off (Surcharge).
What are the nearby attractions? Well, you have a Theme Park, Beach, Cinema, City Centre, Cycle trails, Golf course, Gym, Hiking, Local Market, Mountainous Area, Museums, National Park, Nightlife, Parks, Restaurants, Shopping Area, Supermarket, Theatre, UNESCO World Heritage Site, and Water park.
Moreover, this place doesn't allow pets and don't provide extra or infant beds.
Cape Town Backpackers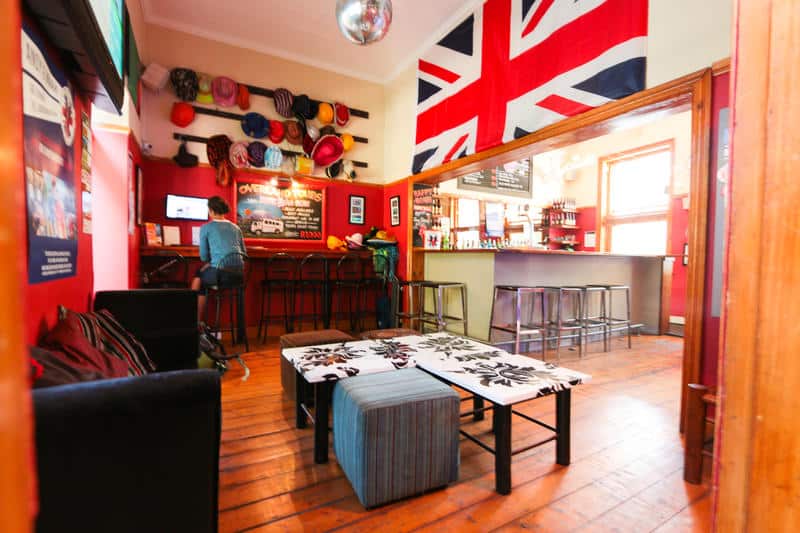 PERMANENTLY CLOSED
Located in Tamboerskloof, one of the city's safest neighborhoods, Cape Town Backpackers lies very near the city center. The hostel not only has a bar open until midnight, but it also benefits from a self-service kitchen open throughout the day and has a bit of a reputation for the quality of its food (which isn't that common with budget hostels!).
With a choice of singles, doubles, or dorms, and free Wi-Fi available everywhere on site, the hostel is a very convenient base for getting anywhere quickly. In the mornings and afternoons, the picturesque Victoria & Albert Waterfront or one of the beaches are accessible by a quick bus ride, as is the Table Mountain Cable Station. In the evening, you are as close to some of the city's best bars and restaurants as you could be. What's more, the Cape Town Backpackers is home to a thriving partying community, and regularly hosts social events (sometimes late into the night, it seems) in its beautiful, mosaic-tiled bar.
---
Author bio – David is a blogger at Flip Flops and Apple Sauce where he reviews a host of products. Anything from the latest carry-on cases to coffee filters, everything is covered.