Chiang Mai is one of the finest destinations that every backpacker should go. It's located in the heart of Thailand and has an amazing climate.
It's still a city, but it is the direct opposite of wild Bangkok. This conurbation is flourishing with culture, art, and history. Furthermore, some of the most sumptuous foodstuffs in Thailand are offered here.
Check also roundup: Best Hostels in Bangkok for Backpackers!
However, the best thing that you can probably do in Chiang Mai is backpacking. You can take a break from your erratic life here, especially if you are going to surround yourself with its sprawling historic treasures and scenic sites. The place is never dull. It is a reflection of what a tourist site should be. In fact, I can always claim that is one of the top havens for backpackers in Southeast Asia.
Fortunately, Chiang Mai is not lacking when it comes to essential backpacker amenities and it's also an ideal destination for backpacking beginners!
If you are looking for hostels that can provide the perfect food, accommodations, and ambiance, check out the following recommendations that we have prepared:
Hostel Lullaby
Best Hostel in Thailand & Most Popular Hostel in Chiang Mai
Booking.com (*9.2) HostelWorld (*9.5) Starts at ($14) for 6 bed-dorm Map
**prices are shown for weekdays in MID-season (NOV.)
Wanna stay right in the heart of the Chiang Mai old town? In that case, we would recommend Hostel Lullaby. Not only you will be a walking distance of all the attractions, such as Chedi Luang Temple and the Chiang Mai Gate, but you will also be able to enjoy the amazing amenities of one of the best hostels in the whole of Thailand.
This calm hostel features plenty of cozy common areas and comfortable private rooms and dorms equipped with power outlets, reading lights, AC, and large under-bed lockers. There is also a washer, a dryer, and a 24-hour CCTV.
Breakfasts are included in the price and so are weekly cooking classes and yoga and Thai boxing lessons. Moving around the city will also be easy for you thanks to the free bike rentals.
Slumber Party Chiang Mai
Best Party Hostel in Chiang Mai
Booking.com (*8.8) HostelWorld (*9.0) Starts at ($11) for 4 bed-dorm Map
**prices are shown for weekdays in MID-season (NOV.)
A hostel that can provide you with a minute's walk to the party regions of Chiang Mai is the Slumber Party. It's a must-go place for backpackers who want to revel in the life of the party in the old city.
We have to admit that the shindigs here are not as crazy as the ones that take place in Bangkok. However, for simple fun and celebration, Chiang Mai is a good place to go. Fortunately, you can always hop to these bars and clubs if you are temporarily residing in the Slumber Party hostel.
Slumber Party also hosts parties of its own. It can induce adrenaline-pumping energy with its electro beats. Shotgun challenges and beer pong competitions also happen in the hostel every night. Not a single lonely night can be felt here.
Stamps Backpackers
Best Hostel in Chiang Mai for Solo Travelers
Booking.com (*9.2) HostelWorld (*9.7) Starts at ($7) for 8 bed-dorm Map
**prices are shown for weekdays in MID-season (NOV.)
The Stamp Backpackers is another hostel in Chiang Mai that you should go to. Although I have never been to this rendezvous before, a lot of my friends told many good experiences while they are there. It features a cozy common area in which you can socialize with other travelers.
But despite the constant flow of people, the place's cleanliness is still properly maintained. Also, it is a good thing to know that Stamps offers semi-private rooms. Other unique services like giant lockers are provided here, too.
MINIMALIST HACK! –
Collapsible Water Bottle for Travel
Pink x station (formerly known as Na La Da Hostel)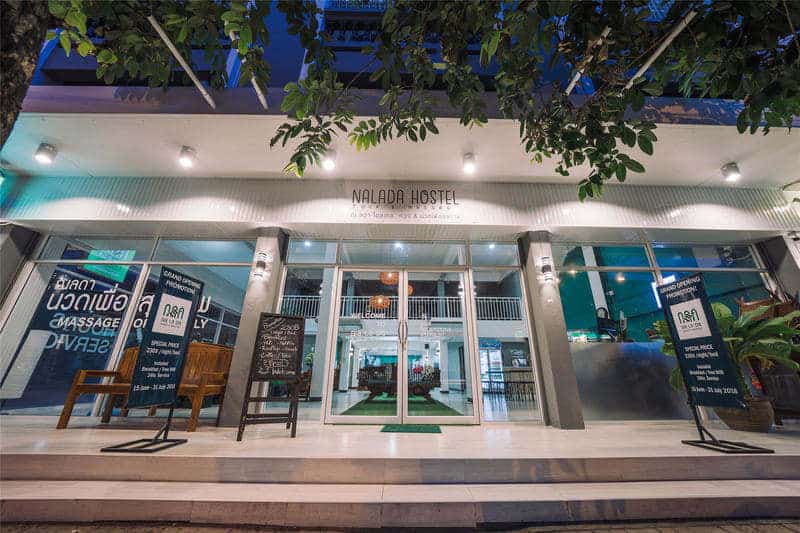 HostelWorld (*9.3) Map Starts at ($6) for 6 bed-dorm
The Pink x station just might be the Shangri-La of Chiang Mai hostels. Located only a two-minute walk from the Night Bazaar and a 15-minute walk from the Saturday/Sunday Night Markets, this hostel has something for everyone.
Hundreds of satisfied tourists have remarked on the superb atmosphere and service at the Pink x. Unlike other hostels, this one offers a variety of 24/7 services, including 24 front desk service and a continuous supply of free snacks (pineapple biscuits and breadsticks) and beverages (coffee, tea, and hot and cold water). A breakfast of fruit, cereal, and toast is provided each morning before you head out to explore the markets and temples. Additional amenities include strong Wi-Fi, a book exchange, and laundry facilities.
Another fabulous feature of the Pink x station is the tour information and recommendation service the hostel staff offers. Guests have visited elephant sanctuaries and national parks thanks to the service, and you can be picked up and dropped off at the hostel's front door by the tour providers.
Employees can also help facilitate scooter, motorbike, and car rentals for those who want to venture off on their own (a map is even provided to help you navigate around the city!). The best part, though, is that when you book a tour through the hostel, you receive a free massage! Given on-site, the massages are frequently referred to as "amazing" by contented recipients.
This truly is a backpacker's paradise!
Oxotel Hostel
Booking.com (*8.7) HostelWorld (*9.4) Starts at ($14) for 6 bed-dorm Map
**prices are shown for weekdays in MID-season (NOV.)
If you are backpacking with your partner, the Oxotel Hostel can become your instant haven. Just like the S*Trips The Poshtel, the Oxotel is quite pricey because of its high-class provisions and amenities. Specifically, the facilities here are patterned from resort-type of structures. Just by staying in this place, you can already feel that your payment has been thoroughly justified.
Private rooms are widely available in this hostel. However, I recommend that you should try their impeccably designed trailer spaces. The Oxotel Hostel is also close to other nearby stores and tourist destinations.
Backpackers will love the Oxotel Hostel because of their friendly customer service. I was able to stay here together with my travel buddy last 2015. All their service crews and personnel are polite and courteous. They try their best to speak your language, which is already a plus factor for me. Nothing beats a hostel like this.
Chiangmai Gate Capsule Hostel
Cheapest Hostel in Chiang Mai
Booking.com (*8.8) HostelWorld (*9.0) Starts at ($4) for 12 bed-dorm Map
Backpackers who desire some rest and relaxation during their travels will adore staying at the Chiangmai Gate Capsule Hostel. This charming hostel has less of a "party" and more of a "self-care" vibe, and travelers often report having plenty of time and space to themselves when staying here.
Located less than 3 kilometers from the airport, this mellow and accommodating space will provide you with all the amenities you need to fully recharge before heading back out on the road. Each of the sleeping "capsules" comes complete with its own power socket, reading lamp, privacy curtains, hangers, and a clothes rack. Hot showers are provided, although it should be noted that there is only one bathroom per floor. For a small surcharge, towels and laundry service are available.
Much to the delight and relief of countless guests, the rooms are air-conditioned, and complimentary chilled water is offered. There is a communal sitting room if you feel like being social, with free Wi-Fi and desktop computers.
In terms of location, the Chiangmai Gate Capsule Hostel is in a superb spot. Many visitors love its proximity to the city center, which allows them to easily explore the city. From the hostel, you can walk to the Chiangmai Gate fresh market, home of delicious local food stalls that are open until 23.00. Two temples, Wat Phesing and Wat Jedi Leang are also within walking distance. After a good night's sleep, an exciting day of exploration is at your doorstep!
THAI THAI Hostel
Booking.com (*9.2) HostelWorld (*9.5) Starts at ($14) for 6 bed-dorm Map
**prices are shown for weekdays in MID-season (NOV.)
It is definitely one of the coziest hostels in the area and as soon as you enter you will feel at home. The furniture is made out of Thai artisan wood, which was carved by skilled local craftsmen. Some of the furniture dates more than 20 years, which tells you a lot about the quality of the local craftsmanship, especially because it survived the hostel life, which we know can be quite rough on certain nights.
All of the rooms are air-conditioned (thank god!) and the common areas are always a good place to make friends or play a board game. Drinks are available 24/7 (yay!) which makes this hostel a perfect place to have a fun chat with other travelers or just to unwind and relax.
Beside every bed, there is a lamp which really makes things easier if you are the type that likes to read on your travels and for all your electronic devices there is a socket as well. Unlike other hostels you even get a towel for free, how awesome is that, right?
Breakfast is hearty and will provide you with enough energy to see all the important sights and conquer the whole day. It is only a 10 min walk from the old town and the night bazaar + only a 15 min walk from the Sunday/Saturday night market. We could call it a prime location. The staff is crazy but in a good way so we definitely recommend you to stay in this hostel on your next voyage!
Deejai Backpacker
Starts at ($7) for 4 bed-dorm HostelWorld (*7.6) Map
**prices are shown for weekdays in MID-season (NOV.)
The Deejai Backpacker is another favorite hostel of backpackers in Chiang Mai. It has been in the old city for quite a time already, which proves its quality delivery of services and amenities. It has a soothing ambiance that is perfect for socializing and relaxation.
However, the best thing that you can get from staying in this hostel is their swimming pool. Since Thailand is a tropical region, the climate there can get hot. A refreshing pool can neutralize all the humid feeling! What's better after all day walking around than a nice swim and chill time in the hammock by the pool?
Sleeping in Deejai is not a problem either. Each of the dorms only contains four bedrooms, which impedes the chances of overcrowding. For those aloof backpackers, this hostel also offers spacious private rooms.
---
Hug Hostel
TEMPORARILY CLOSED
Chiang Mai is incomplete without the Hug Hostel. It is an exceptional place where you can get to meet and mingle with other backpackers and locals. It is in the center of the city. Therefore, you can find other bars, restaurants, and other attractions around here. Of course, temples and other historical sites are just a walking distance of the Hug Hostel.
On the other hand, their personnel is very courteous and friendly, especially to foreign travelers! All of the rooms here are clean and properly maintained. Comfort rooms are also kept tidy at all times.
Baan Heart Thai
PERMANENTLY CLOSED
The Baan Heart Thai is the direct opposite of the S*Trips The Poshtel when it comes to price. This hostel is one of the most affordable options that a backpacker can have while in Chiang Mai. But surprisingly, the ambiance of the Baan Heart Thai is elegant and captivating. It is like you are residing in a three to four-star hotel while you are here.
Your $10 has a long way to go here. It can already give you a good sleeping bunk that comes with an ergonomic desk and power sockets. The common lounge space is quite a sight to behold. Of course, Wi-Fi is strong here!
Spicythai Backpackers
Booking.com (*8.3) HostelWorld (*8.9) Map Starts at ($7) for 8 bed-dorm
PERMANENTLY CLOSED
You can always trust Spicythai as a hostel. It has been around in Chiang Mai for a couple of years already. It has received a lot of good recommendations from many backpackers, which further solidified its reputation.
Notably, the Spicythai is actually present in various areas of Thailand. Not all will agree with me that this hostel is a good-looking one. But definitely, all the backpackers that have been here can testify to their quality amenities and accommodation.
S*Trips The Poshtel
PERMANENTLY CLOSED
Quality is the best selling point of the S*Trips The Poshtel. I find this hostel as the ideal choice for backpackers who want to explore all the finest places to hang out in Chiang Mai. Because of its close vicinity to these wonderful recreational destinations, the S*Trips The Poshtel is always considered a premium hostel.
Perhaps, the only downside of this hostel is its price. As far as I know, it is one of the most expensive hostels in the old city. But I cannot complain about it. From the services down to its location, it is hard not to claim that the S*Trips is one of the best hostels in Chiang Mai. Take note: their WiFi here is insanely fast.
D-Well
Booking.com (*9.2) HostelWorld (*9.3) Starts at ($15) for 4 bed-dorm Map
PERMANENTLY CLOSED
D-Well is the talk of the town, especially for backpackers. Most of the happiest trippers in Bangkok were able to step foot in this hostel. Well, we can attest that they are not cheap. However, the money that you will pay them can go the extra mile. D-Well is exceptionally prim and proper. No unattractive and repulsive sightings can be seen here.
If you miss the taste of your coffee from your coffee thermos, don't worry. This place got you covered. D-Well serves perfectly brewed coffee 24 hours a week!
But the real deal-sealer of this hostel is its aesthetically appealing interiors. It is simple but never lost the touch of the authentic Thailand ambiance. The place is also surrounded by evening markets, bazaars, and ancient temples.
The Pause Hostel
PERMANENTLY CLOSED
Are you a techy backpacker? Then you should try checking into The Pause Hostel. This particular hostel is situated on Nimmanhaemin Road, which is notoriously known as the digital hub of the Old City.
Most tech-savvy nomads prefer to stay in this hostel. Bullet-speed Wi-Fi connections are widely available throughout the place. A good view deck with a set of computers that you can use throughout the day is also offered here. There are also common spaces where you can post all your stories on social media pages with your newly-found friends in this hostel!
But don't think that the people who stay at The Pause are bummers. For now, it is quite hard to separate our lives from the perks of modern technology. We still like to travel!
Final Thoughts
While you are in the old city of Chiang Mai for a short backpacking experience, these hostels can provide you with the repose and extra amenities that you need.
They provide great services and facilities, without curtailing the reasonability of price. You don't have to spend much just experiencing the best out of these hostels. There are a lot of hostels that can be included in this list, but for me, these are the rendezvous that you should go to first.
Check out some cheap hotels alternatives in Chian Mai in case you would like to take a break from backpacker spots.
Before we end, let me remind you that you should pack all the essential items and gear before you fly overseas. The overall success of your trip is never dependent on the hostels you stay in. Instead, it will be in the preparations you made. If you come prepared, you can fully enjoy each of your backpacking excursions.
What do you think? What other hostels in Chiang Mai deserve the limelight? Tell me your answers in the comment section below!
---
Author Bio: I am Nora D. King – a contributor to RainyAdventures.com. I am a nature lover. I believe that it is important for people to connect with mother nature's gift of the great outdoors. I also write for several websites that focus on traveling and backpacking. I've also ghosted for other famous personalities who are known to be active in exploring nature and survival enthusiasts.
---