Costa Rica is perhaps one of the most intoxicating travel destinations available on the market. The town of Jaco is an excellent choice for your stay in Costa Rica if you're seeking a night that is just as vibrant and alive as the picturesque landscape that Costa Rica is known for.
Jaco is best known for its surf beaches and active nightlife, but it also acts as a gateway to some of Costa Rica's national parks. With so many opportunities, a visit to Jaco can feel like it has a price tag that is too high in the clouds.
Luckily, Jaco has a long list of excellent hostels that make it just a little easier on your pocket when it comes to escaping to the beautiful blue waters and lush jungles that border Jaco, Costa Rica.
What's your next stop in Costa Rica? Check some hostels we recommend:
Here are six of the best hostels for your stay in Jaco, Costa Rica:
Room2Board Hostel and Surf School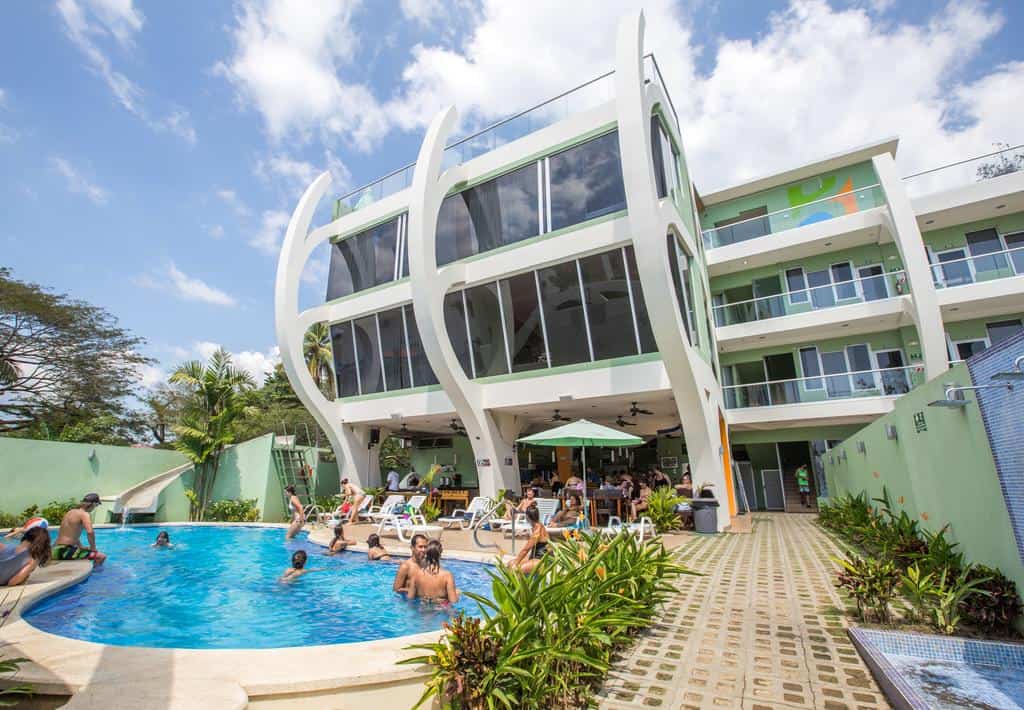 Book on Hostelworld Book on Booking.com
Highlights Of The Hostel
Book Exchange, so that you always have reading material on the beach

Yoga classes are offered twice a day during the week, and once a day during the weekends.

If you are not a fan of the beach, take a dip in the outdoor swimming pool.
With the beach and the center of Jaco only a short walk away, Room2Board Hostel and surf school are perfectly situated to help you make the most of your time in Jaco.
Catering to large groups and solo travelers, this hostel is the perfect place to make connections or make the most out of a lazy day relaxing.
No matter what originally drew you to the area, this hostel is sure to help you achieve that and find so much more to bring you back again and again. With a variety of packages to choose from, this hostel helps make your vacation suit your style.
Selina Jaco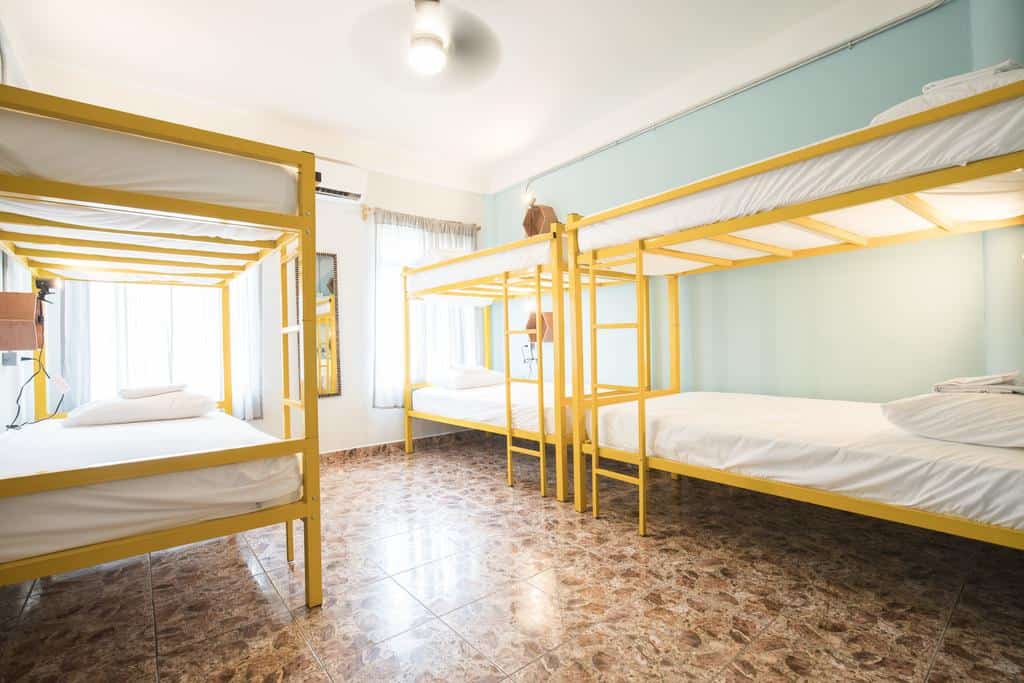 Book on Hostelworld Book on Booking.com
Highlights Of The Hostel
A swimming pool, common kitchen, and playground are some of the more popular common areas to form connections in.

Perfect location for walking to Jaco's multitude of attractions.

The Surf Club, bar and restaurant area, is a perfect place to grab a good meal.
Selina Jaco is a hostel that strives to be a natural extension of its environment in order to stay true to its ethos of sustainability.
This hostel offers a sense of community to the international guests that elect to stay in it and offers plenty of socializing spaces for travelers to take advantage of.
There are also a variety of daily activities offered to guests to help them make the most of their stay at Selina Jaco. This hostel is perfect for travelers on every kind of budget imaginable and helps them to take advantage of everything that Costa Rica has to offer.
Check out MUST HAVE gadget for minimalist backpacker:
Beds on Bohio Hostel and Surf School
Book on Hostelworld Book on Booking.com
Highlights Of The Hostel
Swell is a bar on the property where you can go to hang out, play foosball, and listen to reggae music after a long day.

There is a Games Room and a Pool Table on the property if you want to kick back and havy a lazy day socializing at the hostel.

Bicycle Hire is available for an eco-friendly and active way to get around with ease.
Beds on Bohio is a quality hostel that is perfect for backpackers and avid surf fans alike. Centrally located in Jaco, this hostel is only a short walk from the beach and ready to keep visitors entertained without them having to leave the building.
Boasting darts, foosball, and a pool table, there is plenty to do just socializing around the hostel ground and making connections with the other travelers from around the world that selected Beds on Bohio as their home away from home.
This cash-only hostel is a great choice for your stay in the fantastic town of Jaco.
Wipeout International Hostel
Book on Hostelworld Book on Booking.com
Highlights Of The Hostel
The outdoor pool and BBQ are open all year round.

There is a bar and a cafe on the property for nights where you feel like treating yourself.

If you happen to not be a morning person, then you will love the late check out option.
Located outside of the hustle and bustle of Jaco, Wipeout International Hotel is situated near a multitude of beachfront restaurants and the picturesque Hermosa Beach.
This beautiful and modern hostel has a lot to offer the myriad of international travelers that pass through its doors, the least of which is the breathtaking sunsets and sunrises of Hermosa Beach.
While it still gets crowded from time to time, overall the areas around Wipeout International Hostel are a lot quieter and free from crowds, leaving you with more time to embrace your vacation and truly have a relaxing time while in town.
Jaco Inn
Book on Hostelworld Book on Booking.com
Highlights Of The Hostel
With plenty of board games and a pool table, you will never have a boring night.

Jaco's only micro-roaster is located on the property, along with a nearby specialty coffee shop.

Conveniently located to help you make the most out of your Jaco adventure.
Nestled among lush tropical gardens and nearby to all sorts of attractions and activities, Jaco Inn is one of the best opportunities to make your stay in Costa Rica comfortable, relaxing, and exciting all at once.
Jaco Inn welcomes travelers from all around the world and aims to create a space that feels like home and is deeply inspiring to those that choose to stay.
Hostel De Haan
Book on Hostelworld Book on Booking.com
Highlights Of The Hostel
The swimming pool is always open and perfect for diving into after a long day.

The Travels and Tours desk will help you fill your days in Jaco with ease.

Private or group surf lessons are offered to all ages and skill levels.
Hostel De Haan is the perfect place to make connections with other international travelers that are trying to make the most of their Costa Rica vacation.
This hostel guarantees twenty-four-hour security and provides guests with a personal locker with charging stations in order to make sure that is very little for you to worry about while you explore all that the town of Jaco and Costa Rica have to offer.
No matter what you seek to gain from your Costa Rica vacation, this hostel is sure to aid you on that journey of a lifetime.
Closing
Staying in a Jaco hostel means that you will have plenty of opportunities to take in the majestic Bijagual Waterfall in Pura Vida park, catch the huge waves at Hermosa Beach, admire the crocodiles swimming in the Tarcoles River in Carara National Park, and walk the rocky, gray sand of Jaco Beach.
Whether you spend your time in Jaco embracing the nightlife, the surf, or the stunning natural landscapes, you will be bound to feel at home in one of these six hostels. Your first visit to the area will definitely not be your last, because Jaco is well situated in an area that has a lot to offer visitors. Return visits will come to feel like a sort of homecoming when you choose to stay at an establishment such as one of the six listed above.
You will not want to waste a single minute of the time you spend rejuvenating your life in Costa Rica. As soon as your feet touch the sandy shores, you will find that staying here is not only magical but also comforting and familiar as well.