Bangkok has its legendary attractions, and places like Chiang Mai offer visitors a laid-back vibe. But if you're a hard-core party animal who is looking for action, head straight to Koh Phangan. Close to 30,000 international backpackers flock to the island each month for Koh Phangan's epic full moon festivities. From its humble beginning as a birthday celebration on the beach, Thailand's most famous full moon event has grown into a no-holds-barred spring break-style party.
Visitors who are looking for a more relaxed party experience may want to visit the island's Half Moon Festivals which take place twice a month. Held one day before the Full Moon Party, The Jungle Experience makes a fantastic warm-up for the main event.
Check out: Best Beaches in Koh Phangan
Even though Koh Panghan's fame comes from its legendary parties, visitors can easily find a relaxed island vibe. The western coast of the island attracts the health-conscious and spiritually-oriented set. Yoga studios, healing centers, and spas abound around Srithanu. Vegetarians will find plenty of delicious and meatless meal options. Locals gather every evening at Zen Beach to play acoustic music and watch the sunset.
Despite Koh Phangan's popularity as a party mecca, the island still offers visitors plenty of natural wonders to explore. Watersports enthusiasts can head to the perfect coral-lined bays of the western coast for swimming, snorkeling, and diving. National parks covered with jungles and mountain peaks make up the central portion of the island. Animal lovers will find plenty of chances to get up close and personal with elephants, monkeys, and buffaloes.
Koh Phangan has been a popular backpacker destination since the 1970s. For decades, local guesthouses and hostels have been competing to provide the most comfortable accommodations and social atmosphere for visiting party-goers. We've compiled a list of some of our favorite hostels on the island.
Phangan Arena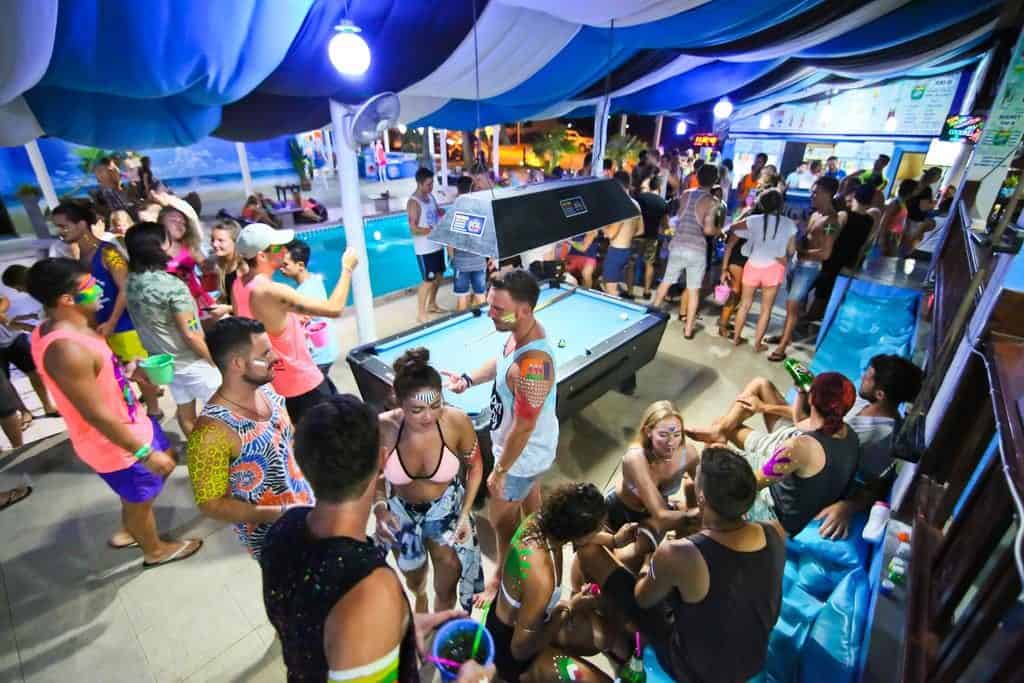 Book on HostelWorld Book on Booking.com from $14 / 10-dorm 4.3/5 Map
Highlights of the hostel
Scooter rentals

Swimming pool

Game room

Yoga classes and outdoor gym

Professional football pitch

Soccer, volleyball, and basketball courts
Any time of the day or night, it's always party time at the Phangan Arena. This hostel is internationally famous for rowdy beer-pong tournaments and nightly DJs. The restaurant and bar stay open 24/7. If you get in late and are prepared to go hard, this is your place.
Backpackers will find amenities galore at Phangan Arena. The movie room includes a big-screen projection TV with Netflix and PlayStation. The perfect place to nurse a hangover, the chill-out zone comes complete with comfortable bean bag chairs. Backpackers can pick up a good book from the onsite library and lounge by the pool before the evening's festivities.
For your convenience, Phangan Arena offers laundry service and towel and padlock rentals. Guests can work off the extra beers in Phangan Arena's outdoor gym or detox with daily yoga classes. Sports aficionados can use the football pitch and participate in soccer, ping-pong, and other tournaments. Phangan Arena is the ideal hostel for athletic types who love to party.
Slumber Party
Book on HostelWorld Book on Booking.com from $21 / 16-dorm 4.2/5 Map
Highlights of the hostel
Nightly free shots and BBQ specials
Free towels and lockers
Large swimming pool
Poolside bar
Ping-pong table
You can find this non-stop party hostel in Ban Thai, just a short drive from Haad Rin. Besides being a fantastic party hub, Slumber Party also books organized pub crawls, watersports tours, and cooking classes. Guests at Slumber Party will never get bored with the sheer number of activities offered by the hostel. Slumber Party hosts regular shows featuring traveling musicians and international DJs.
The friendly staff at Slumber Party are happy to help you with all of your transportation needs during your stay. For backpackers who are ready for a break from the party scene, Slumber Party offers several beachside private bungalows. If you enjoy your stay at Slumber Party, you can visit the branches of this popular hostel chain in Bangkok and on Thailand's other islands.
More hostels in Thailand:
Koh Phi Phi
Phuket
Chiang Mai
Bodega Beach Party Koh Phangan
Book on HostelWorld Book on Booking.com from $28 / 8-dorm 4.3/5 Map
Highlights of the hostel
24-hour swimming pool, bar and snacks
Ping-pong and pool tables
Open-air cinema nights
Game room and book exchange
Minimum stay is only 3 nights
Close to Thong Sala night market
Poolside dorm rooms
Daily activities
For travelers who want a mixture of party and relaxation, Bodega Beach Party Koh Phangan (formerly known as Good Time Beach Backpackers) offers an abundance of both. The restaurant, bar, and pool remain open for 24 hours. Visitors looking to chill out after traveling can book the cozy treehouse room or private beach bungalows. Both the private rooms and the dorms open directly to the beach.
It strives to provide the amenities of an all-inclusive resort with the social atmosphere and affordability of a hostel. The in-house restaurant serves up traditional Thai dishes and comfort-style snacks that consistently receive excellent reviews for quality and affordability. It's easy to reach nearby attractions from Bodega. The hostel is only a short walk from Koh Phangan's beach bars and markets.
Shiralea Backpackers Resort
Book on HostelWorld Book on Booking.com from $9 / 8-dorm 4.4/5 Map
Highlights of the hostel
Close to the beach

Swimming pool

Massage treatments

Private bungalows

Gym
If you prefer something a bit more chilled, we recommend Shiralea Backpackers Resort – a tranquil piece of paradise just two minutes away from Haad Yao Beach.
Depending on your budget, there are three different types of accommodation – air-conditioned bungalows, ceiling fan bungalows, and air-conditioned dorms. Each dorm has 8 private pods that include spacious and lockable closets, reading lights, sockets, and privacy curtains.
What's more, Shiralea boasts plenty of amazing facilities. There is a gym, swimming pool, high-speed Wi-Fi, and a large garden to hang out. You can also grab something to drink or eat at the on-site restaurant.
Why else do travelers love Shiralea? If you feel like wellnessing and the pool is just not enough, you can book a massage there.
Echo Beach Backpackers
Book on HostelWorld Book on Booking.com from $16 / 12-dorm 4.3/5 Map
Highlights of the hostel
Adults only

Air-conditioning in all rooms and dorms

Swimming pool

On-site mini-market

ATM

Snorkeling gear rentals
Echo Beach Backpacker's hostel boasts its own private beach with hammocks, loungers, and a volleyball net. For your convenience, the hostel sells full and half moon party tickets at the normal entry price. Echo Beach adds a bonus free taxi service to the party and one free drink upon arrival.
The staff at Echo Beach always makes sure that backpackers feel at home during their stay on Koh Phangan. Echo Beach's restaurant serves a hearty buffet breakfast and delicious specials such as their Thai Dish of the Day. The staff will happily prepare special diet menus upon request.
Echo Beach takes pride in offering backpackers a variety of entertaining activities. Daily events include yoga classes, organized games, live music, and nightly bonfires. Fun-loving bartenders will often liven up events with drink specials and free shots.
WET! a Pool Party Hostel by Wild & Wandering
Book on HostelWorld from $16 / 14-dorm 4.4/5 Map
Highlights of the hostel
Bike rentals
All-you-can-eat, full moon BBQ nights
Swimming pool with poolside bar
Inexpensive drinks
Free water, coffee, and tea
Pool table and dartboard
You can find Wet! (formerly known as Lazy House Shenanigans) right smack in the middle of Haad Rin. Surprisingly well-executed murals adorn the dorm rooms. Backpackers can even find themed accommodations such as the John Lennon room. All of the rooms in the hostel come equipped with air-conditioning and free wifi.
The movie room shows visitors' favorites around the clock. Your dorm fee includes free entry to the hostel's nearby water park. The friendly staff can help you arrange transportation to and from the island's parties.
Wet! hosts legendary full moon warm-up parties featuring renowned international DJs and buffet-style barbeques. If you book a five-night stay, you can attend the warm-up party and get three BBQ dinners free of charge. To enhance the shenanigans, Wet! frequently gives away free vodka jello shots during the holiday season. After the big party, guests can work out in the hostel's gym facilities or vegetate in front of their giant projector screen.
Mad Monkey Hostel
PERMANENTLY CLOSED
Highlights of the hostel
Free neon body paint

24-hour cancellation policy

Comfortable beds

Close to the Thong Sala Pier

Pool table
Backpackers flock to Mad Monkey Hostels in mainland Thai cities like Bangkok and Chiang Mai. The Koh Phangan branch of the popular hostel chain hosts backpackers within minutes of the Full Moon Party, Half Moon Festival, and the Jungle Experience. Among the many tours available from the hostel, Mad Monkey offers daily trips to Slip N Fly waterpark and standup paddleboarding excursions.
Mad Monkey Hostel throws lively warm-up parties before all three of the island's major events. Featuring celebrated EDM DJs, the hostel's warm-up parties include an all-you-can-eat buffet. Additionally, Mad Monkey hosts weekly special events such as karaoke, trivia nights, and beer pong tournaments. If unforeseen circumstances cause a change of plans, the hostel does not charge a fee for cancellations with a 24-hour notice.
More about Koh Phangan
Once the crowds leave after the full moon festivities, Koh Phangan's hostels continue to provide top-notch service. You can enjoy a relaxed social atmosphere with a lot more space at the pools and bars.
When you're ready to wind down after the big parties and see what else Koh Phangan has to offer, you will find plenty of options. The restaurants at Haad Rin prepare a wide selection of international cuisine. Visitors can choose from Italian, Eastern European, Thai, Burmese, and many more delicious dishes from all over the world. Sipping a tropical cocktail while viewing the sunset from Haad Rin Nai is the perfect way to end a lazy day in paradise.
Nature lovers will find excellent hiking opportunities all around Koh Phangan. Drop by Leela beach, a short hike from Haad Rin, and take the obligatory Instagram photo on the giant rope swing. A morning hike to Bottle Beach is the perfect chance to detox the day after the all-night party. Bottle beach offers backpackers the ideal location to unplug from the hectic speed of modern life. Wifi signals do not reach the beach, and electricity is only available after dark. Perhaps the best hike in Koh Phangan, the trip to Khao Ra takes about three hours round trip from the starting point in the north of the island.
Koh Phangan offers visitors plenty of opportunities for swimming and watersports. In Ang Thong National Park, adventure lovers can rent kayaks or swim through the caves. A trip to the National Marine Park and snorkeling at Mae Haad Beach tops the list of many travelers to the island. Sea turtles, reef sharks and a plethora of tropical fish make their homes in the surrounding coral reef. Several of the hostels we've mentioned offer snorkel gear for rent.
If you want to get some first-hand accounts of what Koh Phangan used to be like, visit the expats at Chaloklum Bay. Boats depart from the fishing village at Chaloklum to take divers to Sail Rock and other popular Koh Phangan diving sites. The sparsely populated beach at Chaloklum Bay makes a perfect spot to get away from the crowds after the big parties.
We hope that you've enjoyed our tour through the best hostels on Koh Phangan. Whether you're geared up for the party of your life or ready to relax after a long trip, these hostels have got you covered.