La Fortuna is a small city and tourist destination in Costa Rica. It was given its name in the sixties when it survived the eruption from Arenal Volcano. Arenal is still an active volcano laced with flows of lava that draws thousands of tourists each year. Another attraction that pulls travelers here is the hot springs that pepper the base of the volcano. Nearby is the dormant Chato Volcano that has a crater lake surrounded by rainforest.
Aside from visiting Arenal and its hot springs, there are plenty of adventures to be had in and around the city of La Fortuna. In the city proper, there are a plethora of restaurants and bars to visit for delicious cuisine and a tasty cocktail. The city itself is surrounded by lush rainforest, and activities include hiking, backpacking and horseback riding, among many others.
What's your next stop in Costa Rica? Check some hostels we recommend:
If you're considering La Fortuna for your next backpacking trip, check out these six hostels for your accommodations.
Arenal Container Hostel
Book on Hostelworld Book on Booking.com
Highlights:
This hostel is uniquely built out of oceanic shipping containers, truly giving it a one-of-a-kind vibe.

There are plenty of nice common areas for relaxing or mingling.
Arenal Container Hostel is a newer hostel, having just opened in 2018. They aim to give their guests an adventurous experience, and they do just that. Their hostel is built from modified shipping containers, giving it a unique vibe that's not like any of the other hostels. They have six shipping containers in total, each one containing dorms and private bathrooms. There's also a small kitchen available for guests to use.
They're centrally located in La Fortuna, putting you within walking distance of many of the city's restaurants, clubs, and bars. They're also not far from some of the city's main attractions, including Arenal Volcano.
They also have plenty of common areas for meeting other travelers, doing some work, or simply relaxing in a hammock.
Selina La Fortuna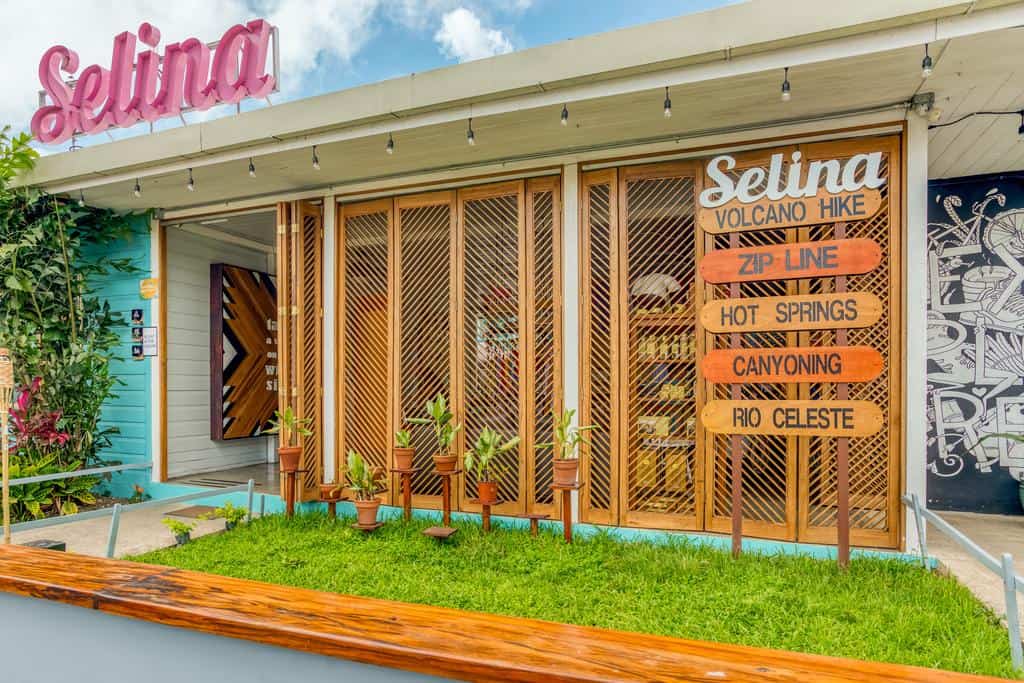 Book on Hostelworld Book on Booking.com
Highlights:
The property has a river running through it, giving it a nice outdoorsy feeling.

They host parties in the evenings with live music and happy hour.

They have an excellent co-working space for digital nomads.
Selina has a great view of Arenal Volcano, and the property it's on has a river running through it. It's in the middle of town.
The staff here will help you plan your excursions to La Fortuna's many adventures, but they also offer a range of their own activities, including horseback riding, yoga lessons, and paddle boarding at the lake.
At night, they host parties, and you can enjoy live music along with a happy-hour drink from their bar.
Selina offers many different accommodations, including private rooms, dorms, and facilities for tent camping. They're also known for their quality co-working spaces, so if you're a traveling entrepreneur, you'll want to strongly consider this hostel.
Howler Monkey Hostel
Book on Hostelworld Book on Booking.com
Highlights:
This is a great hostel for the laid-back traveler who wants a chill vibe and to be close to nature.

The staff here is amazing; they're accommodating, friendly, and inclusive
Howler Monkey is a great hostel for the more relaxed, hippie-like travelers. Their location is a bit removed from the normal hustle and bustle of the city, situated between La Fortuna and a robust rainforest. You're still within walking distance of the city proper, but you'll also experience the calm serenity of nature.
The staff at Howler Monkey is friendly, attentive, and inclusive. They're all backpackers themselves, so they're attenuated with and appreciate the culture, and that comes out in how they treat their guests and the atmosphere of the hostel.
Arenal Backpackers Resort
Book on Hostelworld Book on Booking.com
Highlights:
They have an amazing pool for cooling off when it's hot.

You can savor a cocktail or sip a beer at their fully-stocked wet-bar.

They have plenty of activities to keep you entertained, such as a pool table, a slip and slide and plenty of board and card games.
Arenal Backpackers Resort is a 5-star property located within a short distance of Arenal Volcano. The rooms are clean and comfortable with thick mattresses. For those that are a little more adventurous, they have a deluxe camping area with tents. Each tent comes with a nice double mattress, power sockets for your electronics, and your own fan to keep you cool on warm Costa Rican nights.
There are plenty of activities here for when you aren't out on an adventure: They have a pristine pool surrounded by loungers, a fully-stocked wet bar, and a plethora of games to keep you occupied. This place is a luxury hostel like no other.
La Fortuna Backpackers Resort
Book on Hostelworld Book on Booking.com
Highlights:
They have a nice outdoor common area with comfy hammocks and charming lighting.

They have an amazing fully-stocked outdoor kitchen.
La Fortuna is another hostel with a great location in the downtown area. When staying here, you'll be within walking distance from all the activities.
The hostel is quaint and comfortable and has a bohemian vibe to it. The rooms are comfy and what you'd expect from a typical hostel. Outside, there are great common areas to share stories with fellow travelers. There's a nice garden area with hammocks and whimsical lighting, and they have an amazing full outdoor kitchen for you to prepare meals.
The staff here is great, and they're always willing to help you plan your adventures and excursions.
La Choza Inn Hostel
Book on Hostelworld Book on Booking.com
Highlights:
This hostel is in a great downtown location, central to many of the activities in La Fortuna.

They provide a delicious complimentary breakfast.
La Choza has a great downtown location, putting you mere minutes away from many of the lovely shops and delicious restaurants in La Fortuna. Also within walking distance is the La Fortuna Waterfall, Cerro Chato, and the Hot Springs Hummingbird Garden.
The hostel itself is clean and comfortable and the staff is friendly and knowledgeable about the surrounding areas and activities. They can help you arrange private tours and provide city maps for your adventures.
There's a very tasty complimentary breakfast included that'll get you going for a day's worth of excitement.
Things to Do in La Fortuna
La Fortuna owes its popularity, not just to Arenal Volcano, but for the plethora of activities and adventures you can have in and around the city. Out of the possible excursions you can experience in Costa Rica, La Fortuna has them all. Whether you're zip-lining across the rainforest or taking a raft down white-water rapids, you'll have no problem finding something to feed your adventurous spirit.
While you're here, Arenal is undoubtedly going to be at the top of your to-do list. But don't forget about the amazing experiences that can be had in the rainforest surrounding the area. There are countless lakes and rivers that play host to endless activities, and there are unforgettable places to experience, such as the La Fortuna waterfall. Take the time to talk to the locals, and especially the folks at the hostel you choose to stay in, to fill your itinerary with unforgettable experiences.