The village of Manuel Antonio in Costa Rica is a hidden gem that is located near a national park that shares its name. While this oceanside town might appear tiny, that does not mean that it is not a bustling place to spend a vacation.
Nature buffs and adventure seekers are sure to find themselves a fantastic and unforgettable time among the beautiful natural areas surrounding this lesser-known getaway.
Whether you spend your time on the beaches or exploring the nearby national park, Your stay in Manuel Antonio, Costa Rica is bound to be full of memorable adventures.
What's your next stop in Costa Rica? Check some hostels that we recommend: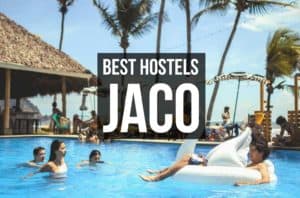 If you find that is more than a little worried about what the price tag is on a vacation like this, you can ease your mind by budgeting a bit without sacrificing comfort and choosing to stay in a hostel in the area.
The options on this list are five of the best hostels in choose from when you commit to visiting Manuel Antonio, Costa Rica.
Selina Manuel Antonio
Book on Hostelworld Book on Booking.com
Highlights Of This Hostel
Take part in daily classes in a relaxing, biodiverse environment on the yoga deck.

You can easily take a shuttle to other hostels across the country that are under the Selina brand.

There is a fully equipped kitchen and cinema room at guests disposal.

The outdoor terrace and swimming pool provide the perfect opportunity to socialize and cool off at the same time.
Blending beach and jungle experiences with ease, the Selina Manuel Antonio grants you stunning views of both the jungle around you and the nearby beaches. You will feel right at home in the beautiful, natural landscapes that surround this hostel, and in no time at all, you will form long-lasting bonds with fellow international eco-travelers.
The Selina brand will keep you comfortable in Manuel Antonio, and also make sure that you can easily reach any of the other locations if the time comes for you to move on to a different area of the country. With all that Manuel Antonio has to offer and the service and comforts that this hostel provides, You will be back sooner than you might think.
Hostel Plinio
Book on Hostelworld Book on Booking.com
Highlights Of This Hostel
Amazing Ocean views!

On Friday you can enjoy live music as you unwind at the taco bar before bed.

Take a dip in the large pool on the hostel property to beat the heat after an active day exploring.

This relaxing and quiet hostel makes sure that guests can enjoy having everything they need available on location.

Start your morning off on the right foot with a complimentary, traditional breakfast comprised of gallo pinto, eggs, bread, and a choice of coffee or tea.
Hostel Plinio is one of the original accommodation and restaurant properties in Manuel Antonio, and so they know what it means to provide sun-soaked travelers with a comfortable space to rest in.
This hostel is fully prepared to provide guests with everything they could possibly need in order to have a relaxing and worry-free time while staying there. Offering travelers the comfort of a rustic hotel that stays on the quieter side, Hostel Plinio is a fantastic choice when you are planning out your Manuel Antonio vacation.
Hostel Vista Serena
Book on Hostelworld Book on Booking.com
Highlights Of This Hostel
Amazing Costa Rica's food for very affordable prices

This hostel is perfect for international travelers, as it was designed with them in mind.

Nestled on a mountain, this hostel provides fantastic views of both the surrounding jungle and also the Pacific Ocean.

If you find yourself needing to spend a day in at the hostel, you will be able to make use of a variety of board games and DVDs to keep yourself entertained.

Socialize with other international guests in the common room or on the outdoor terrace.
Perfect for young travelers that are taking the time to wander the world and learn all that they can, Hostel Vista Serena comes with high praise from names like Lonely Planet and Hotselling International.
With fantastic views of the wondrous landscape around Manuel Antonio, this hostel is sure to help you great each and every day with excitement and wonder as well as give you a comforting welcome at the end of each and every adventurous day.
Choosing this hotel is great for youthful globetrotters that are determined to visit as many corners of the world as they possibly can.
Teva Eco Retreat
Book on Hostelworld Book on Booking.com
Highlights Of This Hostel
Located on eight hectares of primary forest, this hostel hosts a few private hiking trails on its property.

There is ample greenery at this hostel, with permaculture gardens and a jungle pool available to guests so that they can properly enjoy the flora of Costa Rica.

With abundant social spaces and a drum circle, it its incredibly easy to make lasting connections with fellow guests.

One of the best restaurants on the Pacific Coast is found on the grounds of this hostel, with the commercial centre of Manuel Antonio only a short walk away for more choices.
This premier eco-hostel is gorgeous, green, and great for socializing with fellow international travelers that have a passion for the majesty of nature.
Conveniently located to reach all the wonderful attractions that Manuel Antonio has to offer, you will not have to look far to be surrounded by beautiful jungle landscapes and fantastic views of nature's beauty.
Authentic and affordable, Teva Eco Retreat will help you to feel at home in the natural landscape of the grounds it sits on. When you stay at this resort, you feel at one with nature and find the home has rested within your heart all along.
Millenium Hostels – Manuel Antonio
Book on Hostelworld Book on Booking.com
Highlights Of This Hostel
Conveniently located a mere twenty meters from the entrance to Manuel Antonio National Park, this hostel is rich with natural wonder.

If you find yourself a little short on the local currency, you will be delighted to find that one of the amenities this hostel has to offer is currency exchange.

With late check-out (after 11 am) and no curfew, this child-friendly hostel knows that sometimes things happen and they give you a bit extra sleep.

All bedrooms in this hostel come equipped with the air conditioner and quality mattresses so that you have a comfortable night's rest without the threat of it being too hot to sleep.
Located in a way that allows guests here to make the most out of the natural wonders that the Manuel Antonio National Park has to offer. With private parking a 15 spacious and comfortable bedrooms, guests at this particular branch of Millenium Hostels are sure to enjoy their stay.
Whether you want to make the most of the jungles and beaches nearby or of socializing with fellow travelers, this is the hostel for you.
The beautiful village of Manuel Antonio and the nearby areas that you can easily visit during your visit can be a fantastic escape from the hustle and bustle of everyday life. A vacation to the area is the perfect time to take in a lot of fresh air and marvel in the wondrous beauty of the natural world.
Relax on the beaches, drink in the ever-changing landscapes, and wander the trails of national parks while you make the most of your vacation to Costa Rica. A visit to Manuel Antonio is a perfect opportunity to revel in the artful world of mother nature in both daylight and night time.
Choosing to stay in one of the hostels on this list is a great way to ensure that you are choosing comfort at a reasonable cost. you will be able to focus on enjoying your time in Manuel Antonio instead of constantly worrying about the costs. Manuel Antonio is a delightful hidden getaway destination that will leave you coming back time and time again to make the most of this wondrous secret gem of a destination.