Hostels are ideal for the backpacker lifestyle: good for keeping to a low budget, easy for meeting other people, and great for getting local recommendations.
Fast becoming a hub for digital nomads and travelers across South America, Medellín has a variety of cool hostels showcasing the city's culture and party lifestyle. We've narrowed down a list of the best places to stay to ensure you have a place to fiesta, work, or simply sleep in the city of eternal spring.
---
Check out roundup of Best Hostels in Cartagena!
Purple Monkey Hostel
Booking.com (*8.7) HostelWorld (*8.9)
Map Starts at ($11) for 12 bed-dorm
**prices are shown for weekdays in Mid-season (Nov.)
As the name might suggest, this isn't an ordinary hostel. Purple Monkey is a great place for partying in Medellín, complete with one of the largest roof terrace bars in the city and the liveliest mix of international backpackers.
Owned by a British expat, now living in Colombia for five years and knowledgeable in all things Paisa (the term given to someone from the Medellín area), the hostel can organize tours, events, and generally provide insider tips for exploring.
Portable hammocks and beanbags are dotted throughout the building, providing spaces to socialize and of course, drink. The hostel is also covered in impressive graffiti, showcasing the artistic flare of Medellín.
Two WiFi networks guarantee good internet connection, and the dormitories are spacious with each bed having 4 electrical outputs—a necessity for every backpacker.
Breakfast is included, and on the weekend travelers can join the evening bar crawl. The hostel is close to the main 'Zona Rosa' section and no curfew is enforced. Only over 18's can make reservations.
Hostel Ondas Medellín
**prices are shown for weekdays in Mid-season (Nov.)
A hidden gem in Laureles, Hostel Ondas is a beautiful, cozy place to stay, filled with art and the smell of coffee wafting in from the cafe downstairs. While clean, spacious dormitories are located on the second and third floors, the ground floor is home to Cafe Ondas, combining European and Colombian snacks and drinks.
Popular with locals, the cafe is regularly buzzing with people from different countries, savoring the cakes, sandwiches, and milkshakes. Arguably the best feature of the hostel, there is a huge balcony with oversized seating and hammocks overlooks the street below and the mountains in the distance.
Guests can quench their thirst with cocktails and draught beer, or show off their culinary skills in the well-equipped kitchen. Many travelers end up extending their stay at Ondas due to the friendliness of the staff and the ease of feeling at home right away!
There's a weekly language exchange on Wednesdays and Fridays from 7pm where backpackers can converse with Colombians in Spanish and make new friends. A tienda (Colombian shop) is open 7 days a week, just next door to Hostel Ondas. The hostel itself accepts both cash and card payments.
Ivy Hostel Medellin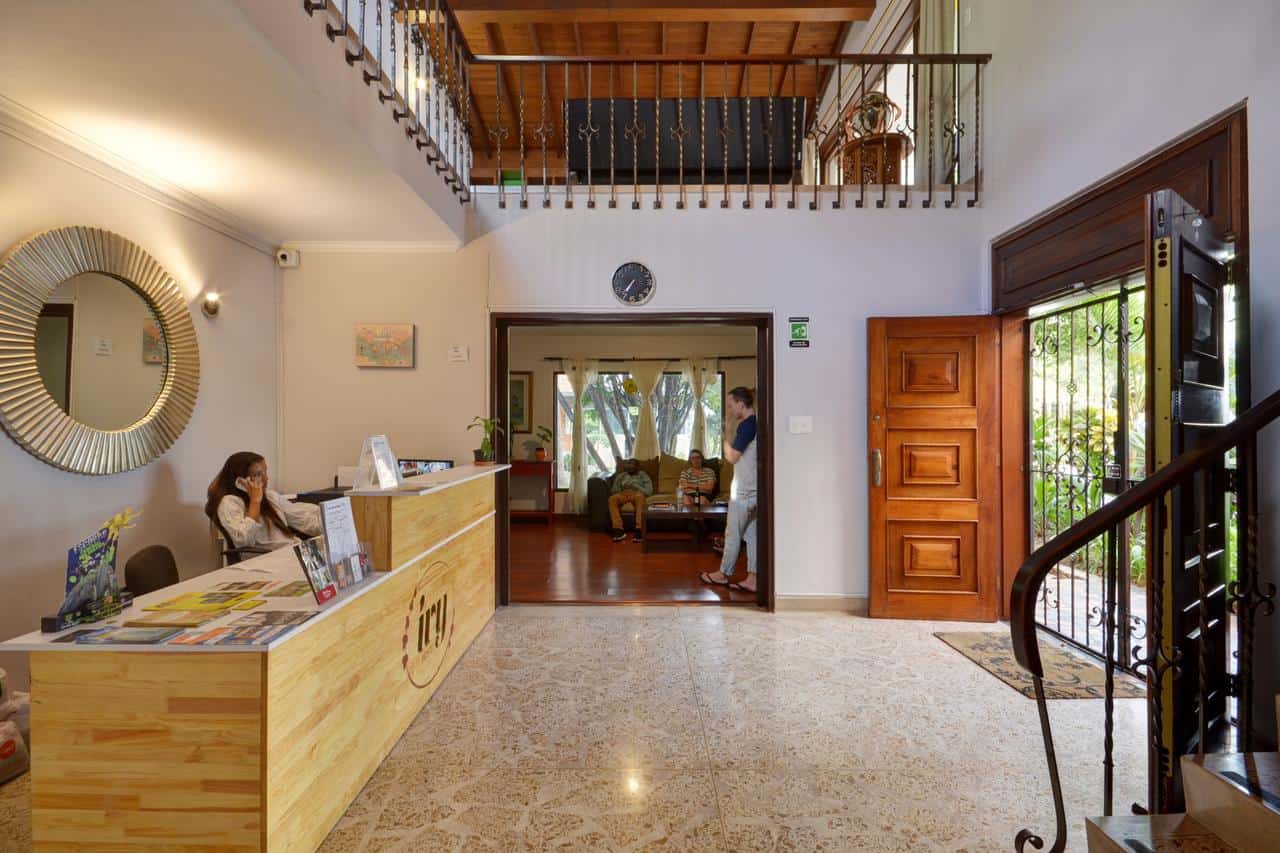 Booking (*8.8) HostelWorld (*9)
Map Starts at ($9) for 8 bed-dorm
**prices are shown for weekdays in Mid-season (Nov.)
Nestled in the Aguacatala neighborhood of El Poblado, just outside of Parque Lleras, Ivy Hostel centers on connecting guests from around the world. Boasting to be a '9 bedroom mansion', Ivy Hostel has 6 dormitories, 3 private bedrooms and 7 bathrooms in total.
There are even computers and a TV complete with Netflix for when you need to catch up on your latest binge show. Elsewhere, a custom-built bar is always stocked with international specialty beers and wines for when travelers have had a busy day of getting lost.
Delve into Spanish and take a group or private lesson with tutors at the hostel, available Monday through Friday. The classes are a fun way to improve your language skills and socialize. If you're in need of some exercise, yoga classes are also held at Ivy Hostel, helping backpackers with their (literal) heavy load, to find strength and calmness. Yoga is open to both beginners and advanced guests.
All reservations come with a complimentary breakfast, including eggs, toast, fruit and juices or coffee. From Jose Maria Córdoba Airport, a taxi to the hostel should take about 45 minutes at a fixed rate of $70,000 COP. You can also hop on a bus to San Diego and take a cab from there.
Yellow House Hostel
Booking.com (*8.4) HostelWorld (*9.7)
Map Starts at ($8) for 6 bed-dorm
**prices are shown for weekdays in Mid-season (Nov.)
Popular with the digital nomads of Medellín, the Yellow House Hostel is easily recognizable from its bright decor. Tucked away in the Floresta neighborhood, two blocks from Floresta metro station, the hostel is ideal for backpackers who want to avoid the tourists of El Poblado.
Claiming to be somewhere between a hostel and a bed and breakfast, Yellow House features sizable communal spaces to eat, plan, and talk with other guests.
There are six dorms with bunk beds, or five private bedrooms to choose from, and the WiFi throughout the hostel is strong, even reaching the garden area. Everything travelers need is on the doorstep: bars, supermarkets, banks and restaurants are all within walking distance, and quite possibly the best feature: coffee is free to take throughout the day!
Run by a small group of people, this hostel gives a personalized experience, attending to the needs of guests quickly and efficiently, catering for people who want to see the city in the day and sleep at night.
Chillin District Hostel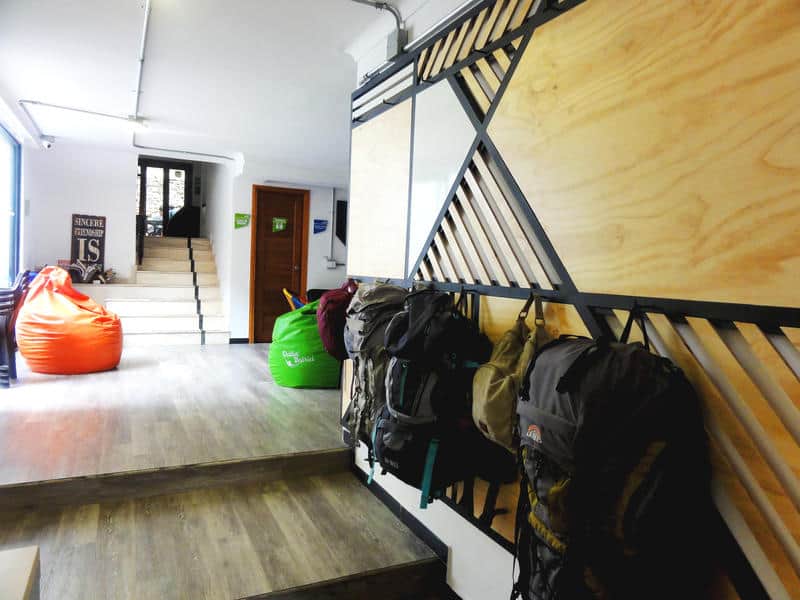 Booking.com (*9) HostelWorld (*9)
Map Starts at ($8) for 12 bed-dorm
**prices are shown for weekdays in Mid-season (Nov.)
Chillin District Hostel certainly lives up to its name. A large house in the heart of Medellín, the hostel is covered with soft bean bags, lazy hammocks, and designated areas to fully chill out. Large windows and patio doors keep the hostel well light in the Colombian sunshine and create an atmosphere of tranquil openness.
The clean, modern look makes the hostel feel more like a hotel — well-suited for backpackers looking for a little extra luxury in Medellín. Located in a safe neighborhood, guests can choose to wander around the quiet streets and enjoy the cafes and restaurants or walk a little farther to reach the thumping nightlife.
Hot showers are available, along with lockers to keep your things secure and a big kitchen to prepare your own food.
El Alternativo
**prices are shown for weekdays in Mid-season (Nov.)
Great value for money and focusing on sustainable tourism, El Alternativo is a home-from-home situated in the Manila Quarter of El Poblado. The bohemian accommodation is close to public transportation and is a creative, colorful place to unwind in Medellín. Much of the furniture in the hostel is from local artisans, or recycled from natural materials.
Breakfast is made with fresh ingredients, only biodegradable cleaning products are used, and automatic sensors help save light energy and water. Decorated with plants and art, El Alternativo is the perfect hippie accommodation. The hostel has 36 beds, a roof terrace and a kitchen for personal cooking. Breakfast is included, as well access to a book exchange, where backpackers can collect and take books from a collection in the common space — a fantastic way to share your travel literature and discover something new!
Guests can take advantage of El Alternativo's taxi service to the airport (for a fee), along with laundry services and a 24-hour reception.
The Sugar Cane Hostel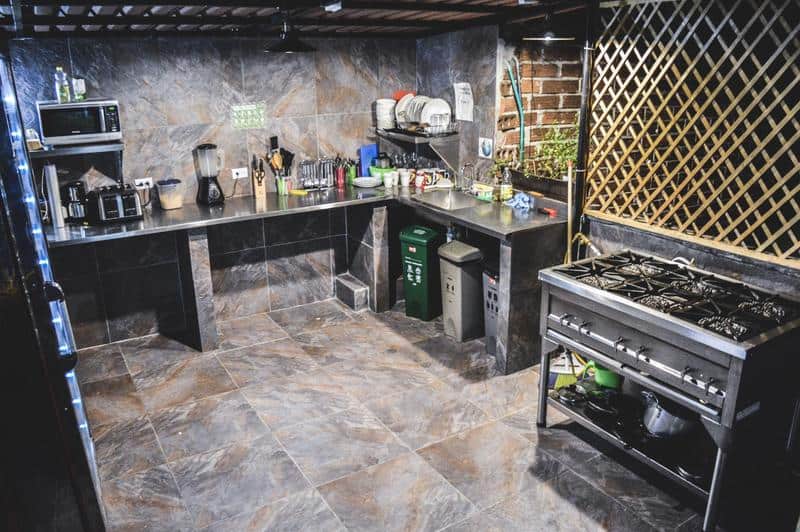 Booking.com (*9.5) HostelWorld (*9.3)
Map Starts at ($10) for 8 bed-dorm
**prices are shown for weekdays in Mid-season (Nov.)
Simplicity at its finest. Located in the popular neighborhood of El Poblado, German-Colombian owned The Sugar Cane Hostel offers a comfortable, relaxed atmosphere, perfect for weary travelers needing somewhere chilled to regroup. With a rooftop for reclining in the sunshine, visitors can enjoy views of the quaint street below, or find a quiet spot to read.
The staff is known for being especially helpful and friendly, bursting with recommendations for the city and local area. Breakfast is included with all bookings, serving up eggs, arepas (a typical Latin American maize-based snack), fruit and coffee — an authentic Colombian start to the day!
Every Sunday night the hostel hosts a BBQ, great for chatting with other people in the hostel and sharing some beers. There is no bar in the building but guests can purchase drinks from a well-stocked fridge, or alternatively the large supermarket 'Exito' is within walking distance from the property.
The Sugar Cane Hostel is only a 10-minute walk from the El Poblado metro station and is on the second floor of the building. Guests can cancel their reservation up to 24 hours before arrival. Only cash is accepted.
Black Sheep Hostel Medellín
Booking.com (*8.7) HostelWorld (*9.2)
Map Starts at ($11) for 12 bed-dorm
**prices are shown for weekdays in Mid-season (Nov.)
Open for over five years, the Black Sheep Hostel is a favorite for returning visitors to Colombia. The modern interior is clean and offers breakout spaces for playing games, getting deep into conversation, or having a drink. Kick back on the balcony or take a nap in the hammocks on the terrace, the hostel prides itself on being run by travelers and knowing what backpackers need when they're on the road.
Black Sheep Hostel is particularly great for organizing tours and day excursions. Visit a local brewery, go paragliding over the valley, or take a trip to Guatape, Rio Claro and Sante Fe. The hostel will handle all of the booking processes, you simply have to be awake and ready to be picked up from the front entrance.
Guests looking for a fiesta can begin their night with cheap beers at the hostel before venturing over to Zona Rosa. The hostel is close to two large shopping centers, as well as the EAFIT, a prestigious university where foreigners can take Spanish courses.
Find all these hostels and more accommodation in Medellín on AllTheRooms.
---
Writer Bio: Grace Brennan is a writer and copywriter from the U.K. She's had the pleasure of living in 5 countries, combining her two loves: language and travel. She currently lives in Medellín, Colombia