Paris has been attracting travelers for centuries – artists, writers, musicians, travelers and everyone else in the world find Paris inspiring and charming. Backpacking Paris is a grand adventure full of interesting people, fascinating culture, and breath-taking sights.
The City Of Light is massive but full of cafes, bars, restaurants and awesome things to do wherever you go. However, it is not cheap – and one of the most expensive factors is accommodation.lo
Check out also: Best Hostels in London
If you are backpacking Paris, hostels might be the ideal blend between affordable and comfortable. Take a look at our top list of hostels in Paris.
Le Village Montmartre by HipHopHostels
HostelWorld Booking.com Google Maps
Le Village is a charming hostel located in one of the most beautiful and historic parts of the town. They have friendly staff, which is there to give you advice on alternative ways to explore the city inexpensively and help you with anything else you need.
This hostel offers private rooms which are a bit more expensive – 144€ a night – but they can accommodate up to four people. It also has dormitory style rooms with bunk beds, which are a bit cheaper.
Travellers and digital nomads enjoy staying in Le Village because it's so close to the metro and picturesque streets and shops are just steps away. It also has free Wi-Fi and city maps.
St Christopher's Inn Canal
HostelWorld Booking.com Google Maps
While there are many great hostels in Paris, this one usually takes the prize of being the best one overall. It ticks all of the boxes for backpackers – it has friendly, helpful staff, it's not too big and not too small, it's clean and it has a great vibe.
St Christopher's has a bar and a restaurant on site where you could meet like-minded travelers and comfortable beds to rest after. It offers free city walking tours which can help you learn more about the city. It's always full of fascinating people and it's never boring in this hostel.
This hostel has a waterfront terrace, they offer discounts on food in their Belushi's bar and a good location if you want to explore the city. They also host events in their bar and club.
Generator Hostel
HostelWorld Booking.com Google Maps
Generator is a wonderfully constructed hostel that pays much attention to detail. They have a themed bar where you could sit back and enjoy the view or mingle with fellow travellers and digital nomads. The best spots in the city like Parc des Buttes-Chaumont or vintage shops and lovely streets are mere steps away from this hostel.
There is a lot of choice when it comes to rooms – from Premium ones to Shared rooms and so on. Generator offers free Wi-Fi, on site bar and guidance through the city. They have weekly events in their bars.
Overall, this hostel will offer you a true Parisian experience.
Woodstock by HipHopHostels (Best Party Hostel)
HostelWorld Booking.com Google Maps
Woodstock is dubbed the best party hostel in Paris, and for a reason – first is the hip bar where you can meet interesting people from all around the world and the second is the location. This hostel is right at the crossroads of other bars and clubs as well as the booming nightlife.
It offers a free breakfast, free Wi-Fi and a free walking tour of the city, which is an excellent starting point for anyone new to Paris. You can prepare a meal for yourself and your friends in the kitchen or enjoy meeting new friends at their bar.
Woodstock has their own computers, which you can use. This hostel is perfect if you are looking to have some fun, meet like-minded people and enjoy the city like a true Parisian.
Vintage Paris Gare du Nord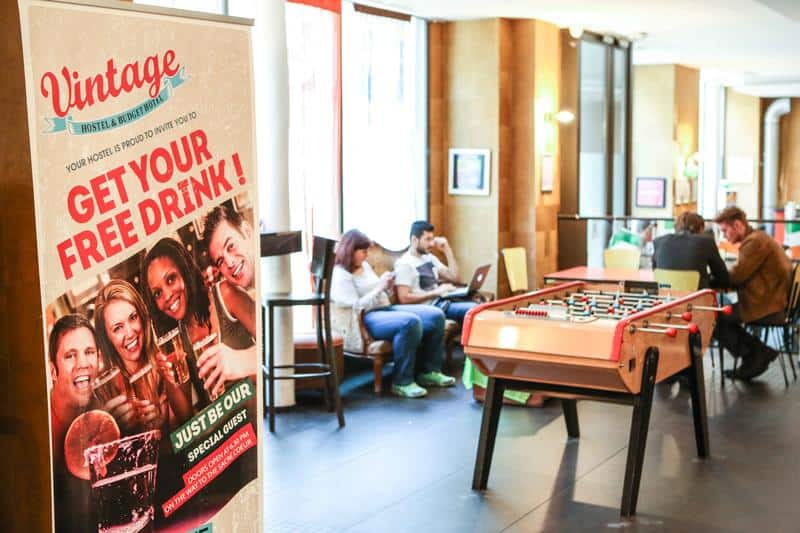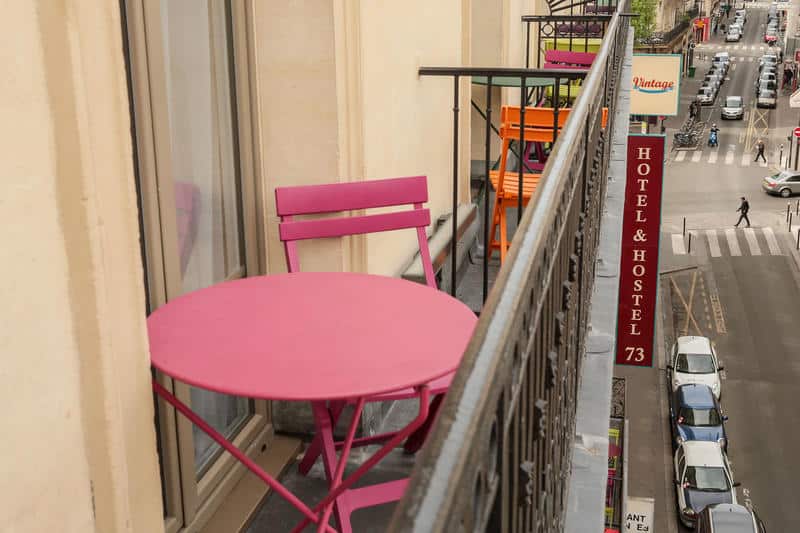 HostelWorld Booking.com Google Maps
Vintage Paris is famous for its great location where some of the most popular tourist spots like Gare du Nord and Montmartre would be at your fingertips. It's quiet and cosy and it offers a great experience of Paris – vintage shops and beautiful sights are all around Vintage Paris which is helpful for first time visitors.
This hostel is designed for modern travellers and digital nomads with its choice of comfortable rooms and amenities. The staff is knowledgeable and gladly shares information on inexpensive ways to enjoy the city. Vintage Paris also has a gym, free Wi-Fi and city maps that you'll find helpful.
If you are looking to meet some new friends, you can do so easily by going to their cool bar or playing foosball or board games with other travellers in the Common Room.
Les Piaules
HostelWorld Booking.com Google Maps
This hostel was opened by three young travelers and it's designed to fit the needs of digital nomads and backpackers. It has a rooftop terrace where you could sip wine and chat with friends while overlooking some of the most famous Parisian attractions.
There is free Wi-Fi and custom bunk beds which will ensure that you are comfortable and right at home in Les Piaules.
It's located in the artsy district of Belleville which is full of bars and cafes where creative young people like to hang out. Les Piaules is also just steps away from the metro station which means that you'll be able to reach any part of the city with ease.
They serve a wonderful breakfast and ensure that you know your way around Paris. The rooms have safe lockers and reading lights as well as curtains with beds to ensure your privacy.
Le Montclair Montmartre
HostelWorld Booking.com Google Maps
This hostel boasts a cozy and social atmosphere with a great common area. It's designed for modern travelers and located just steps away from some of the most fabulous attractions like Art-Naif museum, Clignancourt Flea Market and legendary bars and cafes of Rue de Abbesses.
This is a truly unique hostel with a beautiful, arty design and a great vibe for meeting like-minded people. The staff in Le Montclair is friendly and will help you with finding your way around the city. It has free Wi-Fi, amazing breakfast and a location that will help you get to know Paris like a true Parisian.
The 3 Ducks Eiffel Tower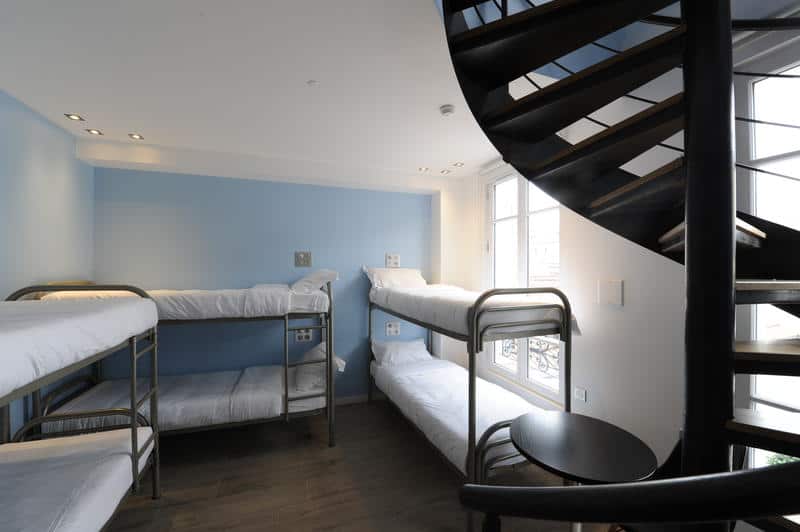 HostelWorld Booking.com Google Maps
The 3 Ducks may have a funny name but it's location sets you just 15 minutes away from the famous Eiffel Tower. The building is considered to be a historical monument which is fascinating for anyone who likes history.
This hostel is famous all over the world for its friendly atmosphere and great people that like to stay there. It was fully renovated under the directions of the Vieux Paris and in cooperation with renowned French architects and artists.
It offers all of the amenities that a modern traveler could expect – safety, comfortable rooms, reading lights, free Wi-Fi and so on. All of this paired up with a unique design and colorful decoration provides an authentic experience.
The Loft Boutique Hostel
HostelWorld Booking.com Google Maps
The Loft is one of the few boutique hostels in Paris and as such it offers a unique atmosphere and vibe. It's located in the multi-cultural part of the city Belleville which will make your experience in Paris even more authentic.
You'll be able to meet people easily in their bar and café where a lot of travellers and locals like to spend time.
The staff is helpful and they will give you the best tips on how to see the best of Paris and still save some money. The Loft has self-catering facilities, free Wi-Fi and a comfortable range of rooms where you'll feel safe and welcome.
MIJE Fourcy Fauconnier Maubuisson
HostelWorld Booking.com Google Maps
This hostel is really a trio of buildings connected by gardens and balconies. It's classy, traditional and a bit pricey but it does offer luxury to modern travelers.
Free Wi-Fi is available in all three buildings, breakfast is included in all of the price plans and even though you can't cook your own meal, they are available for purchase in the dining room.
A really distinctive feature of this hostel is the book swap which will definitely take your mind off the screen. The property is really safe and they offer all kinds of information and guidance about the city.
MIJE is located in the heart of the Marais district which means that you'll be within walking distance of the Seine, Notre-Dame, the Opera-Bastille, the Pompidou Centre and so on.
Wrapping Up
With all of these great hostels in Paris, you'll never have trouble finding the one that suits you. Whether it's party you are looking for or a cozy and comfortable atmosphere, Parisian hostels will fit your needs.
---
Author: Grace Carter is an educator at Essay Writing Service writing service, where she teaches and curates students on academic writing.
— pin it —