On Australia's west coast, you'll find Western Australia's capital, the beachside city of Perth. With a Mediterranean climate, long stretches of untouched coastline, thriving nightlife and a vibrant arts and culture community, there is plenty to see and do in the country's sunniest capital. While the city may be paradisiacal, the cost of backpacking & traveling in Australia isn't always kind to the wallet. Whether you're staying for a few days or a few weeks, if you're backpacking the chances are you want cheap accommodation that has a great atmosphere. Look no further, here are some of the best hostels in Perth.
~ Check out also: Best Hostels in Brisbane for Backpackers
Fremantle YHA Hostel
HostelWorld (*9.7) Booking.com (*9.0)
Map Starts at ($20) for 10 bed-dorm
**prices are shown for weekdays in Mid-season (Nov.)
If you're looking for a uniquely Australian and quirky hostel experience, then this is the place for you. Staying here will give you a real taste of Perth's history because the hostel is set in a former Victorian prison that was built in the 1850s. Much of the structure of the prison remains intact and it is the only accommodation in the whole state that has UNESCO World Heritage status, making it a pretty special place. If you're comfortable with it, you can actually sleep where convicts used to sleep, in converted prison cells. If this isn't really your style, there are additional buildings that have been built for accommodation purposes and there are also restored historic cottages, that used to be the prison guard's sleeping quarters, where you can stay.
The cottages have a fully equipped kitchen, which is great if you're looking to save money by cooking and their own verandah so you can chill out and people watch if you need a break from the chaos of traveling. One thing is for sure, this will be different to anywhere you've stayed before. Prices start from around $18 for a mixed, shared room.
Ocean Beach Backpackers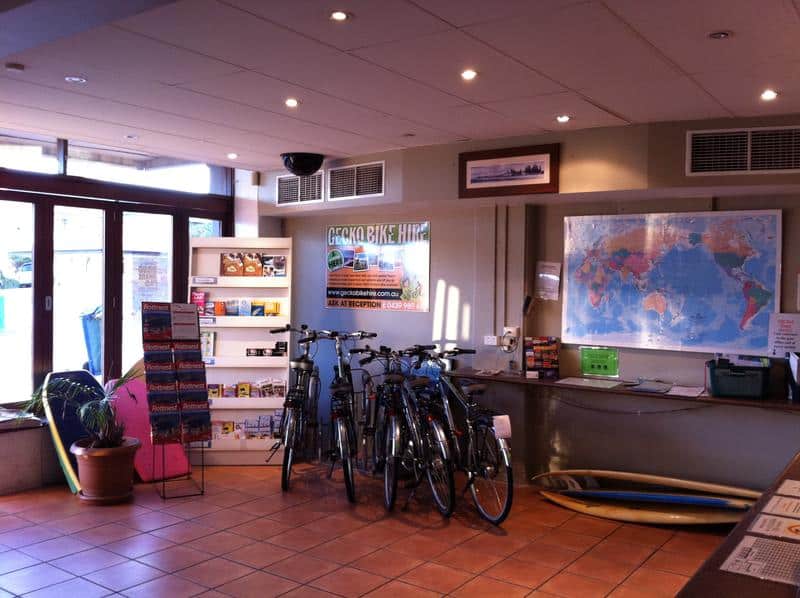 HostelWorld (*9.0) Booking.com (*8.3)
Map Starts at ($17) for 8 bed-dorm
**prices are shown for weekdays in Mid-season (Nov.)
There is nothing quite like staying right by the beach, waking up to the sound of crashing waves and getting out of bed and running straight down to the sand. On the west coast of Australia, you can also enjoy some stunning sunsets, watching the sunset over the water.
That's what makes Ocean Beach Backpackers such a great hostel option – it is literally across the road from the beautiful Cottesloe Beach in Perth so the beach is right at your doorstep. This makes it a great place if you're looking to relax and enjoy being on the coast. As well as this, the hostel has fantastic facilities for you to enjoy like a big screen movie room, an XBOX room, a kitchen and free surfboards if you want to try your hand at catching some waves.
There tend to be a lot of long-term travelers here so it has a homey atmosphere while still being super social. Prices start from $22 a night for a bed in a shared room.
The Witch's Hat
HostelWorld (*7.9) Booking.com (*8.2)
Map Starts at ($19) for 6 bed-dorm
**prices are shown for weekdays in Mid-season (Nov.)
This quirky hostel is set in a beautiful, federation-style house in Northbridge, close to the CBD and lots of nightlife. The style of the house means that the rooms are spacious, airy and light. This is a great place to stay if you're looking to explore Perth and meet some new people.
One of the reasons for this is because the hostel has its own events manager who organizes regular events and nights out, giving travelers the perfect opportunity to make friends and have some funs.
There is also a fully equipped kitchen available to guests with cooktops, ovens and microwaves so you can cook up a feast! Luckily, you won't have to worry about cooking yourself breakfast as the hostel provides this for free which is a money-saving bonus! There is also a courtyard and BBQ facilities, so you can enjoy a proper Aussie-style BBQ with your fellow guests. Rates start from around $21 for a dorm room.
Billabong Backpackers Resort
HostelWorld (*7.2) Booking.com (*7.6)
Map Starts at ($17) for 8 bed-dorm
**prices are shown for weekdays in Mid-season (Nov.)
This hostel was voted 'Best Backpackers Hostel' in Perth in 2015 and 2016 and there's a reason for it. You don't often see backpackers and resort in the same sentence but Billabong Backpackers has resort-style facilities, like an amazing outdoor pool and deck area, at budget-friendly prices. It is a great option for more long-term travelers because it has affordable weekly rates with breakfast included.
As well as this, the hostel has recently launched a program called The Social Kitchen with the aim of bringing people together over fresh healthy food. For this reason, they offer a healthy dinner for $5 or $30 for a week's worth of dinners. It's a fantastic way to meet some of your fellow travelers and give your body some nourishment. The backpackers is located in Highgate, not too far from the Swan River. Prices start from $22 a night.
Bambu Backpackers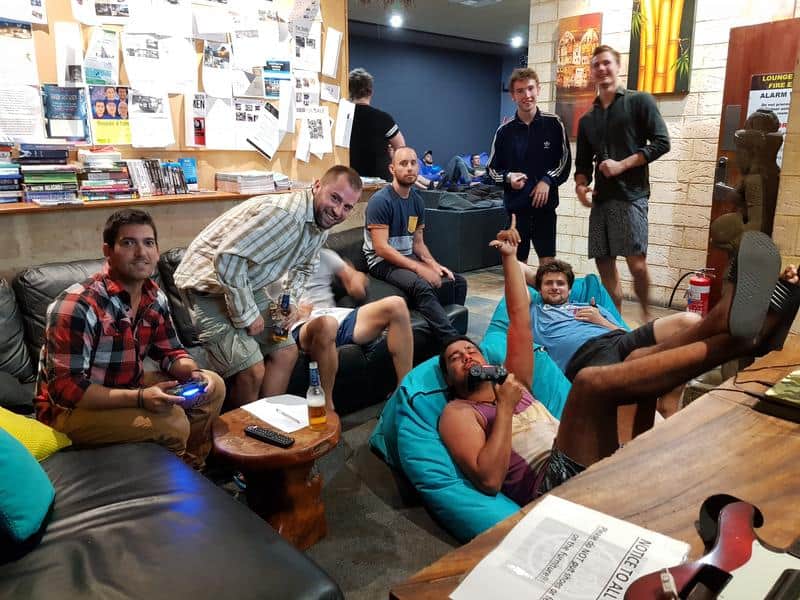 HostelWorld (*7.6) Booking.com (*7.3)
Map Starts at ($15) for 10 bed-dorm
**prices are shown for weekdays in Mid-season (Nov.)
Bambu Backpackers is centrally located, just a five-minute walk from the CBD, and surrounded by some of the best restaurants, cafes, bars and museums in Perth. With a maximum of sixty guests, this is a great spot to meet people in a more intimate setting, decked out with bohemian-style furnishings.
There is something for everyone here, whether you want to let your hair down and party or just chill out. This is because Bambu has plenty of free drink vouchers and free entry to offer for some of the best nightlight locations in Perth as well as a whole lot of fun activities going on in the hostel, such as FIFA tournaments, table tennis matches and more. If this isn't your thing, you can relax in the movie room and enjoy some Netflix and chill.
The hostel offers free breakfast, as well as free pancakes on Sundays and free BBQs on Tuesdays, so you definitely get your money's worth.
Kangaroo Inn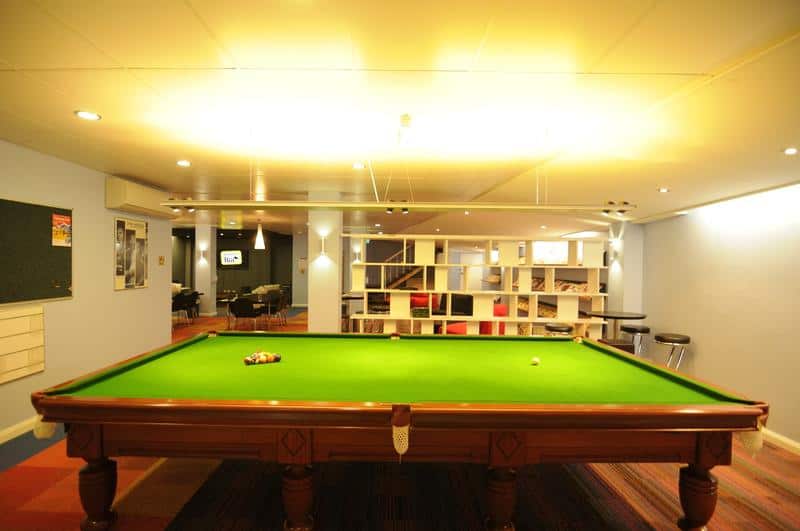 HostelWorld (*7.0) Booking.com (*8.3)
Map Starts at ($33) for 6 bed-dorm
**prices are shown for weekdays in Mid-season (Nov.)
Kangaroo Inn is the middle of all the action, located in Perth's CBD. It is a cross between a clean budget hotel and a thriving party hostel, so it's a great spot to have some fun while being comfortable. All of Perth's major attractions are walking distance away which means you can explore everything on foot and save yourself some cash! All the rooms have air conditioning, which is an important factor to consider when you're staying in Australia's sunniest city.
There is a spacious outdoor area, BBQ facilities, a library and a home theatre so you have everything you need to relax and enjoy yourself at the hostel. Kangaroo Inn also takes security seriously, which is good for your peace of mind. They use a hotel-style swipe card system and an in-house night caretaker so their guests can always feel safe. Prices start from around $25.
Perth has everything you could want from a city, a relaxed vibe, great beaches and plenty to see and do. If you're flying into the city, there are trains and buses that you can use to get around. If you're driving, some hostels offer parking. Otherwise, if you're staying long-term, consider renting a car spot using a platform like Parkhound. This way you don't have to stress about finding a park in a new city. No matter where you stay, make sure to do your research and catch all of Perth's main attractions in your time there. It also makes a great base if you want to explore more of what Western Australia has to offer.