Cambodia is a land of contrasts, and the nation's capital, Phnom Penh, sits in the center of it all. A day of sightseeing in Phnom Penh will take you from the peaceful tranquility of stunning Buddhist temples to heartwrenching tours of the Killing Fields and the Genocide Museum. The opulence of the Royal Palace and the Silver Pagoda lie within littered city streets populated by limbless beggars.
Friendly, smiling faces at the Central Market lift the spirits after viewing the disturbing photos of the victims of Pol Pot and his Khmer Rouge at S-21 Prison Camp. Visitors battle the chaotic modern traffic and pollution to arrive at magnificent sights like the National Museum where they can leisurely peruse the breathtaking artistic feats of the ancient Khmer.
Must have travel gadget for a minimalist traveler! Inflatable pillow 😉
There can be no better way to process the intense experiences of Phnom Penh than meeting with fellow travelers at a well-run backpacker's hostel. Here are some of our favorites.
Mad Monkey Phnom Penh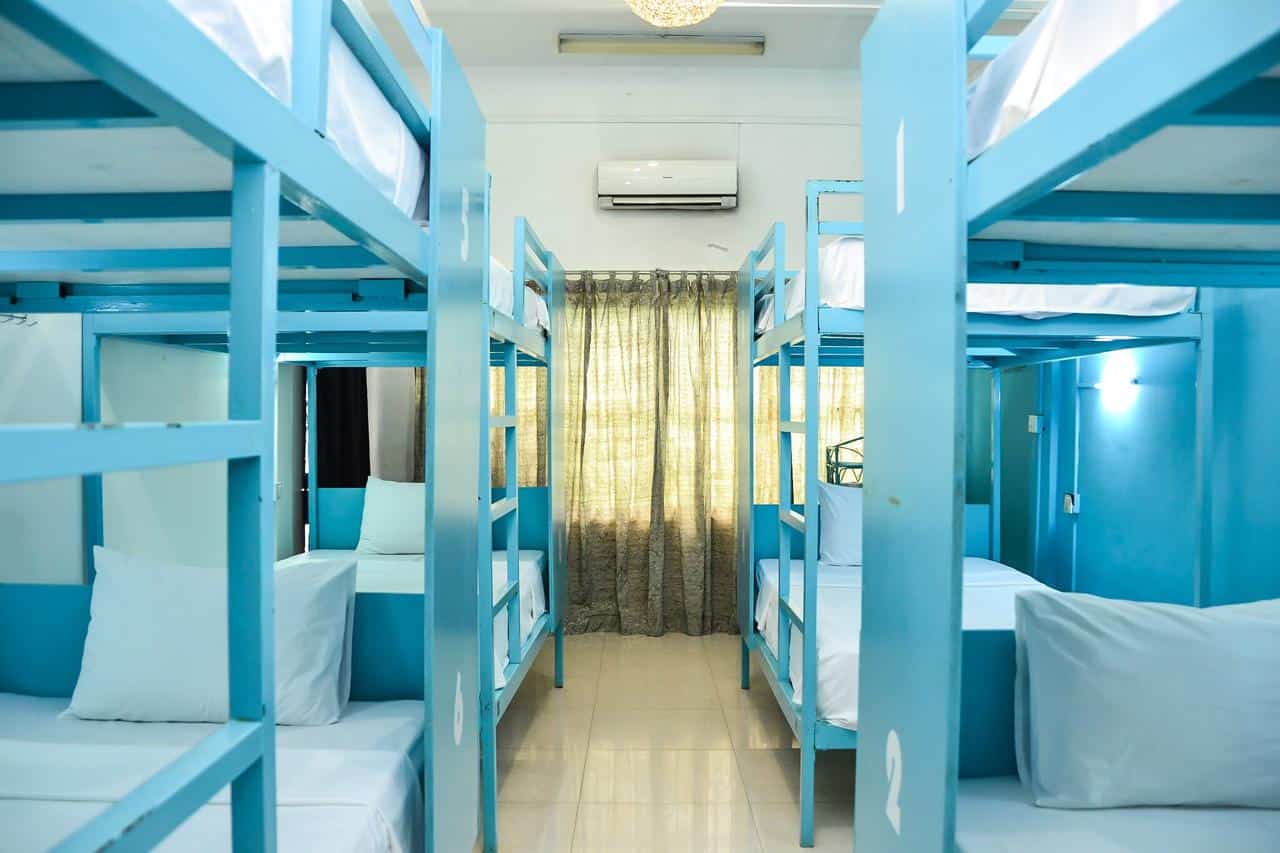 Book on Hostelworld Book on Booking.com
Highlights of the Hostel
Rooftop Sunset Bar

Swimming pool

Poolside bar
If your preferred way to forget the troubles of the world consists of joining new friends for a few stiff drinks, head straight to Mad Monkey.
Mad Monkey's chain of hostels has the reputation of being among the best party hostels in Southeast Asia.
The staff love to join in on the festivities and constantly invent entertaining activities for hostel guests.
The hostel deftly combines a fun, party atmosphere with socially-responsible programs that benefit the community.
The friendly staff at Mad Monkey can help you to arrange local tours, onward travel, and visas for neighboring countries. The restaurant serves delicious Khmer or western munchies.
Onederz
Book on Hostelworld Book on Booking.com
Highlights of the Hostel
Rooftop lounge

Inexpensive set menus

Two computers with printing service
If you're looking for a hostel that is located right in the middle of all the action, you've found it. Onederz sits right on the Siswath Quay pedestrian street. Travelers can walk to the bus station and the night market in just a few minutes.
Phnom Penh's top riverside restaurants and bars lie within stumbling distance. For those who prefer to dine in, Onederz offers five reasonably priced fixed breakfast menus. The tiki-styled rooftop bar makes travelers forget that they are staying in the middle of a bustling city. In the evenings, guests can enjoy a cocktail and a sunset view overlooking the Tonle Sap River.
Billabong Hostel
Book on Hostelworld Book on Booking.com
Highlights of the Hostel
Swimming pool

Free DVD and book exchange

Visa arrangements for Vietnam

Rooms with private balconies
Convenience is the name of the game at Billabong Hostel. Visitors can walk to Phnom Penh's Central Market in five minutes. Another five minutes in a tuk-tuk or taxi will bring guests to the Royal Palace and the National Museum.
The Billabong staff arranges daily visits to the S-21 Prison Camp and the Killing Fields. The hostel strives to take care of ongoing travel arrangements for guests, including airport shuttles and visa arrangements.
Guests can choose from comfortable modern dorms to spacious private rooms with balconies. The roomy hostel bathrooms include state-of-the-art fixtures and free towels. In the common room, guests will find plenty of lounging space on several sectional sofas adorned with silk cushions. Palms and bamboo plants surround a lovely koi pond in the pool area.
19 Happy House Backpacker
Book on Hostelworld Book on Booking.com
Highlights of the Hostel
Pool table

Free luggage storage

Use of showers after checkout

Book exchange
19 Happy House Backpacker is an excellent oasis for the weary traveler navigating Cambodia's capital city. Centrally located in the riverside area near the Central Market, 19 Happy House lies just a 10-minute walk from the Royal Palace and the National Museum. Visitors can spend the morning seeing the sites, return to the hostel in the afternoon, and relax with a refreshingly affordable on-site massage.
19 Happy House Backpacker offers on-site car hire and bicycle rentals. The restaurant and bar stay open late, and cooks can prepare custom meals for special diets. 19 Happy House offers free luggage storage and use of the showers after you check out. Travelers with late travel departures won't have to pay for an extra night just for baggage storage and restroom access.
Eighty 8 Backpackers
Book on Hostelworld Book on Booking.com
Highlights of the Hostel
All-you-can-eat breakfast buffet

Outdoor swimming pool

Pool table

Single and Double Sleep-Pods

English-style fish and chips
Eighty 8 Backpackers consistently garners Trip Advisor's Certificates of Excellence awards. The hostel provides a relaxing social atmosphere within the busy riverside tourist area. Hostel guests can walk to a wide range of restaurants and bars nearby. Every morning, the in-house restaurant offers a free buffet-style breakfast. Guests can grab a bite at the hostel and get an early start on the day's sightseeing. Visitors can walk to Wat Phnom and find plenty of nightlife options right in the neighborhood.
Eighty 8 Backpackers offers a variety of accommodations, from inexpensive shared quarters to spacious private rooms. Guests can choose from dorm bunks, sleeping pods with shared bathrooms, standard rooms or family suites. The main common area boasts a stage with a fully equipped sound and lighting system for visiting international DJs. The common area has plenty of room so that you can dance, play pool or kick back and relax in one of the comfy loungers.
Manor House
Book on Hostelworld Book on Booking.com
Highlights of the Hostel
Saltwater pool

Visa-extension service

Pool table

SIM cards available
The Manor House does an excellent job of bringing a bit of luxury to an economical hostel for backpackers. The on-site restaurant serves delicious Khmer and Western-style cuisine in its elegant bar and dining area. Guests can ease back on the sofas or play a game of pool in the sunny, palm-lined guest lounge. An enormous projection screen allows guests to watch movies while they relax in the pool.
Clean and modern dorm rooms overlook the garden. Each bunk comes equipped with a private fan and a reading lamp. Private rooms are spacious, beautifully decorated and amply furnished. The Manor House has a convenient central location near the Independence Monument, and it's only one kilometer away from the National Museum and the Royal Palace.
Conclusion..
After you have taken in all of the major sites and met some new friends at the hostel, you'll still find plenty to do in Phnom Penh. Fine dining, delicious street food and thriving nightlife await travelers at every turn. Volunteer opportunities abound in Phnom Penh. Dining at restaurants like Friends and the Daughters of Cambodia helps the women and youth of the surrounding community. Both establishments sell unique handicrafts made by children and at-risk youth.
Unfortunately, many travelers to Cambodia tend to skip over Phnom Penh in favor of Siem Reap and the country's beach destinations. A trip to Phnom Penh will enrich your understanding of Cambodian culture. Your stay in one of the capital's best hostels may be one of the highlights of your Southeast-Asian backpacking trip.