When looking for a place to stay in Mexico, there aren't many spots that stand out as much as Puerto Escondido. As a small port that is part of the Mexican state of Oaxaca, it's one of the most popular places for tourists to go in the area.
However, it doesn't mean that Puerto Escondido is a "tourist trap". In fact, there are a variety of different places you can go to that offer you experiences you'll never forget, whether it's tasting delectable food, surfing, seeing gorgeous sunsets, or even shopping for some souvenirs!
The sheer variety of things to do in this small port makes Puerto Escondido a truly unique place to go on vacation. However, with a place so varied, how do you know where to stay and what to do?
Check out also:
– Best Hostels in Mexico City
– Best Hostels in Oaxaca
That's why we're here to help—in this guide, we'll be taking you through our list of the 9 Best Hostels in Puerto Escondido while also giving you plenty of fun activities to do once you actually arrive. With our list, you'll have a variety of different options to choose from so you can find the hostel that's right for you!
Selina Puerto Escondido
**SPECIAL 10% SELINA DISCOUNT* Use Our Coupon: "TRAVELING-SELINA" while Booking on Selina's Website to Get Exclusive Discount.
Book on HostelWorld Book on Booking.com from $23 / 8-dorm 4.3/5 Map
Lockers included in dorm rooms

Beautiful standard rooms

Very fast free wifi

Classes offered on a daily basis
Those who consider themselves digital nomads will appreciate the utilitarian nature of the Selina Puerto Escondido. Not only do they have great workspaces where you can focus on projects, but their free wifi is also incredibly fast and reliable.
If you want to learn about other things or even just relax with some yoga, there are also classes offered on a daily basis that can educate you in a variety of different fields. However, the most impressive part of Selina Puerto Escondido for us was the thoroughness of the standard rooms.
The bathrooms are tidy and the beds are beautiful, allowing you to relax while you keep on top of your workload in a new environment. If you prefer to have a more traditional hostel experience, there are also dorm rooms that contain lockers so you can keep your possessions safe!
Casa Losodeli & Coworking
Book on HostelWorld Book on Booking.com from $29 / 4-dorm 4.7/5 Map
Highlights of the Hostel:
Fast internet

Swimming pool

Spacious dorms

Daily events
Similarly to Selina, Casa Losodeli is an accommodation that will please the digital nomad crowd. Not only it's located just a short walk from the beach and the downtown but it also has a coworking area with fast Internet.
The dorms are kept small, which gives everybody a bit of extra privacy. Casa Losodeli also offers modern en-suite apartments with fully equipped kitchens and flat-screen TVs.
The common areas include a garden with hammocks and a pool, a bar, a shared kitchen, and a cafeteria with vegetarian options available.
What's more, the staff is known to be very friendly and they organize various activities on daily basis, such as dolphin and turtle watching, yoga, salsa, and surf lessons, or walking tours.
Puerto Dreams Hostel
Book on HostelWorld Book on Booking.com from $15 / 8-dorm 4.5/5 Map
Highlights of the Hostel:
Free bikes

Free A/C

Free maps

Beautiful rooftop bar
If you want to truly explore Puerto Escondido, you'll be able to do just that through the Puerto Dreams Hostel. Not only does this hostel supply you with free breakfast, maps, and A/C, but they also give you free bikes so you can ride around the surrounding area. The bikes are sturdy, durable, and perfect for getting some exercise while also taking in the beautiful views that surround you!
We also love the rooftop bar in particular, as it gives you scenic views while also serving up classic cocktails (our favorite was their version of the Moscow mule)!
The bathrooms also stay clean, something we believe is the result of the positive, communal emphasis that the Puerto Dreams Hostel cultivates. In the event that you also want to make some food for yourself or others, there is a communal kitchen that is stocked with the culinary basics and is perfect for relaxing nights in! The area surrounding the hostel is tranquil but sociable, allowing you to get reading done or even socialize with others.

Tower Bridge Hostel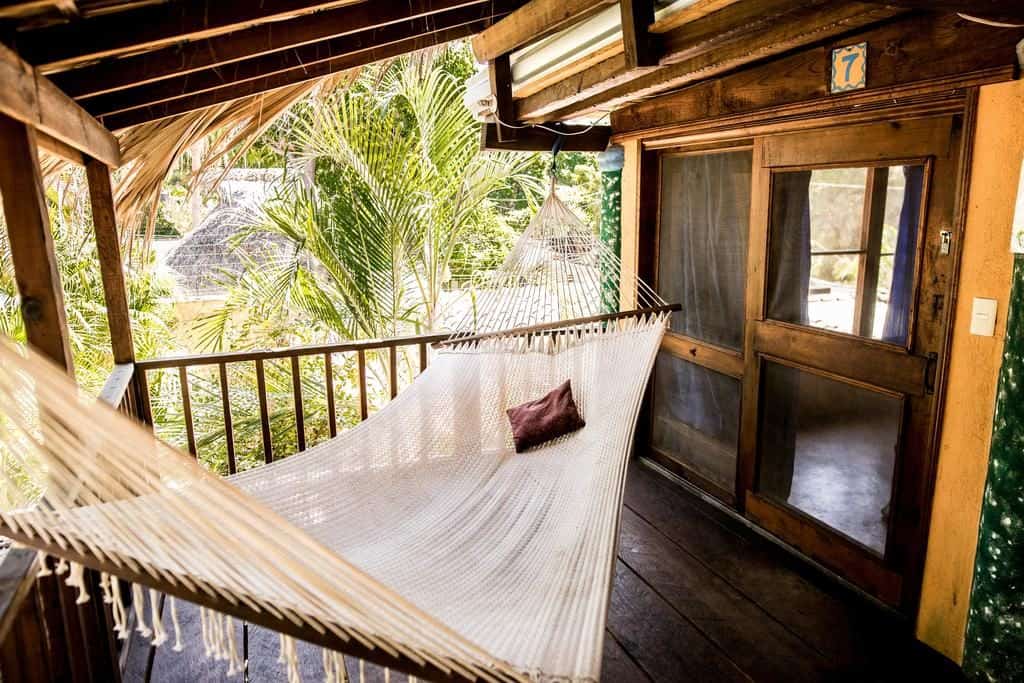 Book on HostelWorld Book on Booking.com from $9 / 8-dorm 4.3/5 Map
Highlights of the Hostel:
Incredible poolside bar

Free shuttle service to the beach

In a quiet area

Built-in fans and outlets included with each bed
If you're looking for a hostel that is just outside of the hustle and bustle of Puerto Escondido, the Tower Bridge Hostel is for you. This is a small hostel that tries to also have the notoriety of an established resort, incorporating amenities and other types of luxurious features to make you feel appreciated.
Getting to the beach while staying at the Tower Bridge Hostel is quite easy, as there is a free shuttle service every day that can take you to one of the three surrounding beaches.
However, our favorite part about this hostel is the poolside bar where visitors can indulge in a wide variety of cocktails for affordable prices! In the event that you visit in the middle of a heatwave, you'll also appreciate the built-in fans that come with each bed.
Each bed provides you with outlets and USB plugs so that if you just want to spend a lazy morning in bed, you totally can!
Pacific Buddha Hostel
Book on HostelWorld from $18 / 8-dorm 4.8/5 Map
Featuring a wide variety of comfortable rooms, Pacific Buddha Hostel has an option for everyone. Since this wonderful hostel is located right next to the beach, you won't have to walk far to stare in awe at the beautiful Pacific Ocean. Given its great location, you'll be in a prime position to visit all of the local hotspots.
A traveler has to eat, and Pacific Buddha Hostel has a ton of great dining options. There are so many tasty yet extremely affordable restaurants and dining establishments nearby that you won't run out of new things to try. However, if you just want a quick bite before your next adventure, you can always stop in at their premium café.
Pacific Buddha Hostel hosts a wide variety of engaging outings. Whether you want to ride a horse, take a trip to the mountains, or learn how to surf, Pacific Buddha Hostel has something exciting in store for you. Furthermore, they offer free Wi-Fi so that you can always check your emails and get some work done whenever you have a little downtime.
Vivo Escondido Hostel
Book on HostelWorld Book on Booking.com from $10 / 10-dorm 4.6/5 Map
Highlights of the Hostel:
Located near many good restaurants

Breakfast included

Table tennis available

Wonderful pool
If you want vivid colors, you'll find them at the Vivo Escondido Hostel. This is a beautiful hostel that is colorful and affordable.
The low price doesn't mean that you're paying for a low-quality room, though—there are plenty of amenities waiting for you. In particular, we think that table tennis is a nice and unique addition on top of the standard pool, yoga classes and hammocks.
This hostel is also very arty, with many of the rooms being covered in colorful murals and other types of locally made art.
There are also a wide variety of restaurants nearby so you can have almost any type of food you can think of!
La Escondida Hostel
Book on HostelWorld Book on Booking.com from $17 / 8-dorm 4.8/5 Map
Highlights of the Hostel:
A unique and rustic feel

A/C optional rooms

Two beautiful beaches nearby

Check-in at any time!
Many hostels in the Puerto Escondido area charge extra for late check-ins or reserve the right to sell your bed if you arrive late. This isn't the case at the La Escondida Hostel, an establishment that truly knows how to take care of its patrons.
You can check in at any time of day, with a reception service that is always open. There are also two beautiful beaches that are nearby (Playa Coral and Playa Carrizalillo) so you can make sure to get some sun in while on vacation.
In the event that you're someone who actually doesn't enjoy the chilling nature of A/C, there are separate dorms available that don't have A/C! The hostel itself also has a very rustic feeling to it, something that we think gives it a lot of character when compared to other options.
Hostal Akumal La Punta
Book on HostelWorld Book on Booking.com from $16 / 7-dorm 4.7/5 Map
Highlights of the Hostel:
Two-minute-long beach path

Foosball tables available

Surfing lessons available
If you're somebody who wants to surf during your time at Puerto Escondido, then you must stay at Hostal Akumal La Punta.
This is one of the only hostels in the surrounding area that not only offers surfing lessons but offers good ones. Depending on your personal preference, you can also stay in a private room just as easily as a dorm to ensure that you have as much flexibility as possible during your trip.
There are also a lot of amenities in the establishment, such as foosball tables and music playlists to listen to. In the event that you want to get away for some solo time, all you have to do is walk down the two-minute-long beach path!
Bonobo Surf House –
PERMANENTLY CLOSED
Book on HostelWorld Book on Booking.com from $12 / 6-dorm 4.7/5 Map
Highlights of the Hostel
A variety of classes included

Delicious breakfast included

Wonderful pool available
Are you somebody who is interested in socializing with others while on vacation? If so, you'll appreciate the liveliness of the Bonobo Surf House. There are daily activities scheduled that allow you to meet others and absorb the culture of the area (i.e. wonderful salsa dancing classes), but that doesn't mean that you can't have some alone time.
If you want to have some time to yourself, you can also take a walk around the property, a late-night swim in their pool, or take a cab to one of the beautiful beaches surrounding the town.
You should also not worry about the hostel being too loud during your stay—though there is a variety of different social activities to choose from, the bar closes at 10:30 pm each night and all activities also end around that time. However, by far the best part of this hostel is the included breakfast. Each morning you'll have access to some delicious fruits, vegetables, and savory foods!
In Conclusion
Puerto Escondido is one of the most unique surf towns in Mexico, offering many different wonderful places to stay and engage in some fun activities. However, finding a hostel is only the first step to planning a fun and engaging trip to this destination.
The tourism market in Puerto Escondido is so big that it can often be difficult to know where to start. To help you decide which activities are best for you, we've made a small list of our four favorite activities to do while staying in Puerto Escondido:
Watch a Free Movie (on a Beach): Facebook page
Watch a Free Movie (on a Beach): Watching a free movie might seem like a generic activity, but have you ever watched a movie on a beach? Believe it or not, this is a regular occurrence in Puerto Escondido! "Cinema on the Beach" is a series organized by Hotel Suites Villasol that is also open to the public. All you have to do is check out their Facebook page to be aware of which movies will be shown and when!
Eat Some Delicious Food:
Eat Some Delicious Food: Puerto Escondido is internationally known for its wide display of different types of Oaxacan food. There are many different places you can go to experience this cuisine first-hand, but we especially recommend the Espadin Restaurant and the Benito Juarez Market!
Shop Until You Drop:
Shop Until You Drop: If you're somebody who can't resist a good deal, you'll be glad to hear that there are so many different places in Puerto Escondido to get beautiful clothes at. Those looking to shop until they drop need not look further than El Adoquin, an area that is focused on shopping and features wonderful street vendors.
Be One With Nature:
Be One With Nature: In our modern, technological world, it can be difficult to know just when to slow down. However, you don't want your vacation to be stressful, right? This is why we recommend you take the time to experience nature, watch the sunset and pay attention to things you often don't have the time to see.
At the end of the day, we hope that this article helps you in making an informed decision and find the hostel in Puerto Escondido that is truly perfect for you.
FAQs about Hostels in Puerto Escondido:
What are the best hostels in Puerto Escondido?
Selina and Puerto Dreams Hostels are considered as the best hostels in Puerto Escondido because of their overall ratings.
What are the best hostels in Puerto Escondido for solo travelers?
The best hostels for solo travelers in Puerto Escondido are Pacific Budha Hostel or Tower Bridge Hostel.
How much are hostels in Puerto Escondido?
The price of hostels in Puerto Escondido starts at around $9 USD for a dorm room and $21 USD for a private room. The average price of a dorm room is $15 USD.
Is Puerto Escondido safe?
Puerto Escondido is mostly a safe destination for backpackers and travelers but it's recommended to stay aware at night.
Are you going to Puerto Escondido soon? Are you trying to plan a trip? Are there any places you're excited to stay? Let us know what you think!