Salvador is considered to be the African heart of Brazil, it is surrounded with a rich history, the country's tradition and different way of life and of course fun. It's one of the enchanting colonial cities situated on Brazil's north-eastern coast. Salvador is the capital city of Bahia – known for its notable party and nightlife and of course breathtaking coastal views.
Salvador's cathedral is one of the must-see places of Brazil aside from its Carnival which is the largest and biggest most fun party in the world. Down in history, Salvador was one of the first slave ports in the Americas. The African influence, on the other hand, is from the Lumad or descendants of the country what makes it the center of culture for the Afro-Brazilian. Salvador is also famous for its wide array of choices for their cuisine, great music, dancing, and wonderful well-preserved structures and architecture.
Check out: Best Hostels in Rio De Janeiro for Backpackers
Wikipedia wrote that Salvador forms the heart of the Recôncavo, Bahia's rich agricultural and industrial maritime district, and they continue to be the major Brazilian port.
Why you should visit Salvador?
Salvador is one of Brazil's best treasures in the country and truly one of the breathtaking and amazing places to explore and experience as a backpacker. It has been gaining much attention in the backpackers and tourists world because of that and if ever you decide to visit the place, here we have collated the 6 best hotels you should consider staying in if you decide to visit.
Hostel Galeria 13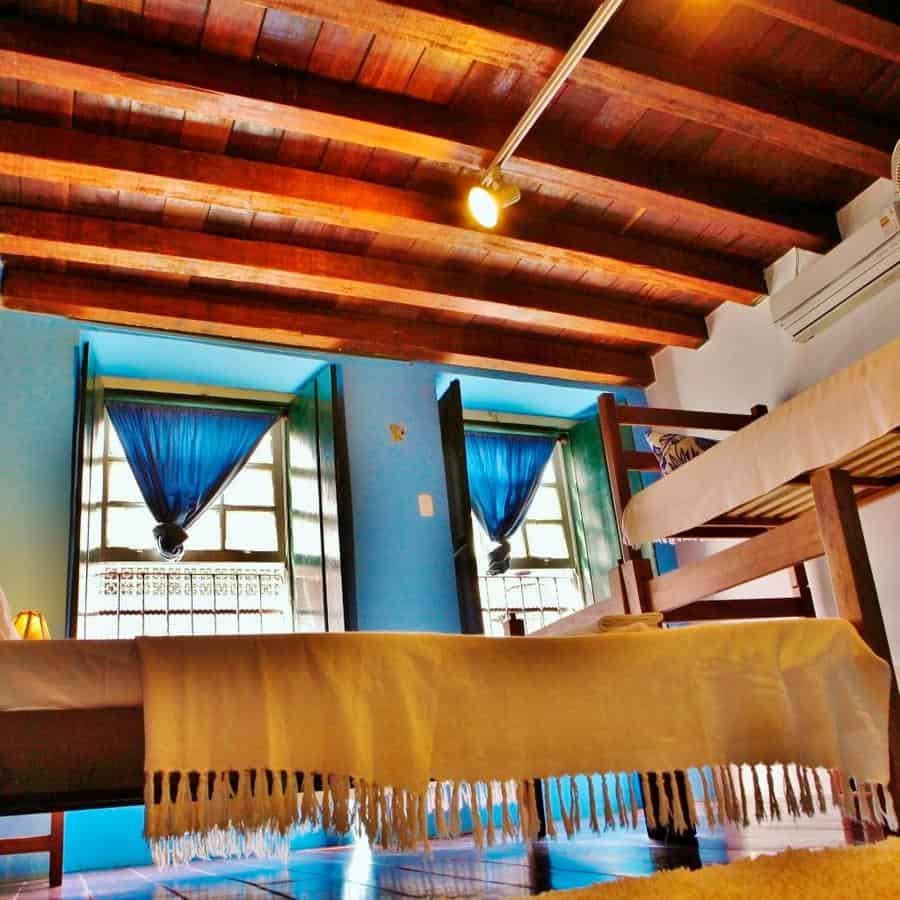 HostelWorld (*9.1) Booking.com (*8.9)
Map Starts at ($15) for 10 bed-dorm
**Prices are shown for weekdays in Mid-season (October)
Hostel Galeria 13 opened their doors in 2008 and they made a quick soar up by winning Hostelworld's Best hostel in Brazil just on their first year!
Hostel improved even more from there on, they transformed 2 colonial houses separated by a 30-second walk into one of Salvador's most important hostels they then added a pool which made them become the only hostel in Salvador having one. They also have plans ongoing, if not first, as one of the Eco-Friendly hostels in Salvador as they are about to install Solar panels for water and energy.
Hostels Galeria 13 located in Salvador's Historic and Cultural Centre, and a UNESCO World Heritage Site, the Pelourinho.
Hostel Galeria 13 boasts of their garden, a sun terrace with a swimming pool and their own bar. Among the facilities and amenities, they offer is their in-house restaurant. They have a common area where you can lounge – this area comes with free WiFi. The property is just located 2.3 km from Mercado Modelo and 5 km from Barra beach. Their reception is always readily available for you 24/7.
The Hostel Salvador
HostelWorld (*7.3) Booking.com (*8.3)
Map Starts at ($12) for 8 bed-dorm
**Prices are shown for weekdays in Mid-season (October)
The Hostel Salvador will surely welcome you with a relaxing vibe. Structures are well-planned, you can definitely enjoy most of the time while in the hostel – like taking a dip in their outdoor swimming pool, a bar with a view that is overlooking the sea.
Their services include a fully equipped kitchen which you can use if you opt to cook on your own, their receptionist will always be available for you 24/7. As for leisure and entertainment, they have their own cinema room, billiard table, and a terrace bar.
The hostel is located in the neighborhood called the Rio Vermelho a great choice for travelers interested to party, or interested to explore their local food and scenery. The notable Carnival is nearby as well. Also, the very well known beach in the area is Paciencia Beach – just 10 minutes away if traveled by foot.
This is a place where you can truly interact and make new friends in a relaxed and cheerful atmosphere.
As for their rooms, all their dormitories come with air conditioning, all have their own wardrobe and a shared bathroom. The hostel comes with modern furnishings and unique themed decor. You can enjoy a breakfast buffet every day which includes a variety of regional choices, some local specialties, as well as a selection of drinks are available in the in-house restaurant.
Acai Hostel Salvador
HostelWorld (*8.5) Booking.com (*9.0)
Map Starts at ($7) for 8 bed-dorm
**Prices are shown for weekdays in Mid-season (October)
Açaí Hostel situated in the heart of Pelourinho is widely regarded as the Historic Centre of Salvador – which is known to be a part of UNESCO World Heritage Sites. Majority if not all of Brazil's first capital (1500's history) can just be found just a few steps away from this hostel. All historical places are mostly well preserved. Their renaissance structures, churches, buildings, and squares. Definitely taking yourself to a dip on to Brazil's beginnings, even before all these tourist attention came to place. Aside from these, Pelourinho is also full of fun and life, with a wide array of music choices playing from almost every residence in the area, or even just along the street or restaurants as you pass by.
Aside from taking tour packages, you can also opt to explore the place on your own, if you decide to walk around the historic center point, you will definitely see that along the streets are artists of all forms that are putting on their different shows of art. The streets will showcase you a part of their minds – their paintings and sculptures expressed right before your very eyes. Aside from that, their markets are also there selling different kinds of clothing, footwear and a couple of Bahian souvenir choices. During the night, usually falls on Tuesdays, there are a couple of bars, squares and loud music playing across the streets.
The owners and receptionist of this hostel, after exploring the tourist practices and living in hostels around the world including Brazil, realized that their own country still lacks good hostels. Most of the hostels weren't really presentable or that livable… They are usually in bad shape, with squeaky and shaky beds, old linens, walls that are cracked, even bad toilets. They strongly believed that as a tourist or backpacker, getting home to a clean place, relaxing and comfortable ambiance is one of the must-have's to recuperate for spending so much energy and strength during the day or night. Because of what they saw lacking, they decided to find a solution to this problem and started in Salvador. Starting good hostel and preserving the historical places at the same time, including the ambiance of Pelourinho.
Best Hostels in SAO PAULO for Backpackers
Bahia Prime Hostel
Starts at ($12) for 18 bed-dorm
**Prices are shown for weekdays in Mid-season (October)
Bahia Prime Hostel is located in one of the most touristic districts of Salvador which is in Barra. Very close to the very well known Porto da Barra Beach, one of the most beautiful beaches in the region. Designed to be a very comfortable hostel, spacious, and well-decorated facilities to provide guests maximum well-being and security.
The hostel is a colonial-style Brazilian house with almost 100 years of history along with it. Their facilities have been planned and built to achieve the style and to meet guests from all over the world with excellence, make you feel at home, and their staff will definitely make your experience worthwhile.
Common spaces have cable TV in the lobby, an outdoor area with chairs and tables, space for smokers and public areas which are monitored by cameras with 24h security.
The hostels have 8 rooms in total. Dorm rooms for up to 18 guests and private rooms with a double bed or a suite are also available. Their accommodations are well equipped with air conditioning in all environments, free wi-fi, and individual lockers with the key.
Villa Praiana Hostel
HostelWorld (*9.2) Booking.com (*9.0)
**Prices are shown for weekdays in Mid-season (October)
Villa Praiana Hostel is a hostel surrounded by beaches with clear water and natural pools. The only hostel which we know of in Salvador that is pet-friendly (with fee) and child-friendly. They boast a no-curfew and 24hr reception to assist you each time. Here you can feel at home and feel the sea breeze in just a few steps away (just about 2 minutes). A chance also to connect with different people from all over the world.
A visit to Flamengo beach, which is 7km from our hostel, would also be an option. Famous for its bars and good vibe. They are also close to markets, restaurants, shopping centers and only just 8 km away from Salvador International Airport.
The hostel offers comfortable shared rooms and a private room for 2 people with their own private bathroom.
Common areas include their own swimming pool, stage, bar, garden, lounges, Wi-Fi and computers, TV room, free parking, bar service, goal guards and space for table games.
Farol da Barra Suites e Hostel
HostelWorld (*8.4) Booking.com (*7.9)
**Prices are shown for weekdays in Mid-season (October)
Farol da Barra Suites e Hostel is located in a safe neighborhood of Barra. Situated along with nature especially the beaches. Bar and restaurants are right next door, including souvenir shops. Their receptionists are readily available for you 24/7 willing to help with any tour tips and must-try or must-do in Salvador. They will also make sure your stay in the hostel would be the best and most unforgettable experience.
There's a bakery where you can enjoy bread, with coffee and fresh tropical fruits. The area is also where you can have your breakfast. Comes with free WiFi, an outdoor sun terrace, pool, common areas are also available just for you to chill, bond, and enjoy.
The nearest airport to Farol da Barra Suites e Hostel is Luis Eduardo Magalhães Airport, just about 24 km away. The historical center-point – Pelourinho, is about almost just 5 Km away from the hostel.
The hostel has different kinds of accommodations – dorm type, shared, or private rooms. All of their available accommodations are fully air-conditioned and have their own bathrooms with shower and water heater.
Couples particularly like the location. Oh, and one thing. They don't accept guests below 18 years old!
Few suggestions for Salvador:
A few of the places we suggest you should visit aside from the beaches are these:
Sao Francisco Church and Convent,
Ponta de Humaita,
MAM Museu de Arte Moderna,
Casa do Rio Vermelho,
Our Lady of the Rosary of Black People,
Praia do Porto da Barra, Santo Antonio da Barra Fort,
Nautical Museum, Mercado Modelo.
Best times to visit in summer are from December to March, which is the most common and favorite time to visit Salvador. Temperatures rarely fall below 80ºF (26ºC) or rise beyond 95ºF (34ºC).
By June to August, it's very wet due to winter, and some days temperature drops a few degrees and it gets cool enough for a light jacket.
Most popular months are between January to February where there are full of activities like Carnaval, Reveillon week, Semana Santa event. During these months the hotels are pricey and the city and beaches are full!